As a dynamic mobile satellite operator, Thuraya this past year offered the SATCOM world new products and solutions that confirm the Company's dedicated customer-centric approach. The most remarkable achievement of 2009 was the introduction of the world's toughest satellite phone, "Thuraya XT". The launch of this rugged handheld provides more competitive edge for Thuraya allowing the Company to maintain its leadership in the MSS handheld arena. But Thuraya is not just about handhelds, it is also renowned for offering the world's smallest portable broadband solution, ThurayaIP which throughout the year has been enhanced to ensure the most efficient and versatile service.
Thuraya, this year, devoted its commercial energy to targeting vertical sectors which require tailor-made products and solutions, which Thuraya has meticulously ensured are part of the Company's provided services. With professional users in mind, the Company has added specific services to its portfolio to ensure all market needs are met.
The World's Toughest Satellite Phone
Continuing Thuraya's prowess in mobile satellite handhelds, the Company launched what is known as the world's toughest satellite phone, Thuraya XT. The innovative phone has been tried, designed, and tested to endure the harshest of circumstances, which is a core feature for mobile satellite users. Thuraya XT is the only satellite phone that complies with world telecom IP54/IK03 standards, making the phone splash water resistant as well as dust and shock proof. The phone also has the longest battery life, with a talk time of as many as six hours and a standby time of up to 80 hours. Thuraya XT has an extremely professional and user-friendly menu and boasts a glare-resistant display for readability in bright environments. The phone was engineered to support the robust activity of its users across a diversity of sectors. Since the phone's launch, Thuraya XT has generated great interest from distributors and customers and has ignited huge market interest.
The Enhanced ThurayaIP
Last year, Thuraya launched ThurayaIP. Uniquely A5-sized, and the first satellite broadband terminal to enable video-streaming speeds of as high as 384 Kbps, ThurayaIP is recognized for its portability. More service however, is the backbone of ThurayaIP, which is a congestion-free network — users always have access to high-speed data, regardless of location within Thuraya's coverage area and regardless of the number of simultaneous users.
Throughout 2009, Thuraya has depended on the flexibility of ThurayaIP and has, accordingly, introduced several services and enhancements based on this competitive solution. Two main additions to ThurayaIP's services are Thuraya NettedComms and a ThurayaLease service. Thuraya NettedComms is the world's only netted communications solution in the MSS industry that integrates differing communication technologies into a single closed user group. Such enables users to communicate effectively. The service is ideal for use by disaster and relief management agencies in times of crisis when terrestrial networks have been destroyed or are non-existant.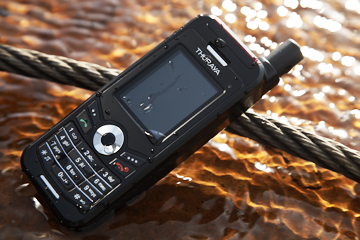 For heavy data users, ThurayaLease provides unlimited bandwidth (in multiples of 64 Kbps) for major customers in need of high-speed data. The service provides users with priority access to the satellite network. Customers may use any number of ThurayaIP terminals in their assigned bandwidth capacity. Moreover, ThurayaLease assigns accessibility to an entire satellite footprint, which permits use of ThurayaIP across vast areas and the Company has ensured the service is available in all hotspots of the globe.
With streaming speeds of up to 384 Kbps, Thuraya has deployed the necessary infrastructure and established a Point of Presence (POP) and Meet Me Point (MMP) to enhance the performance of ThurayaIP streaming customers. Through the POP and MMP, user data is well-managed, secured, and routed to the end destination with guaranteed service quality. Other additional enhancements to ThurayaIP include controlling multimedia buffering as well as flexibly determining the base IP address of the terminal.
Maritime Offerings
The largest sector within the MSS industry in need of specialized services are the maritime arenas. Thuraya this year focused on providing attractive and cost-effective call offerings for users of ThurayaMarine, the Company's specialised maritime solution. Thuraya also focused on expanding its maritime distribution chain to ensure availability of the product in key markets.
ThurayaMarine is an ideal multi-purpose communication device for cabin crew calling especially in small and medium size sea vessels. It is also a great backup for large ships who require voice, data and fax services which the solution provides. Designed with a stable omni-directional antenna, ThurayaMarine can withstand any sea movements no matter how harsh.
Glimpse into the Future
Consistently innovative, Thuraya will continue to introduce new services and products in the year to come, all combining superior technology blended with market needs. Thuraya will upgrade its portfolio of products and services to ensure it maintains its edge and leading position in the MSS industry. The Company will constantly refine its portfolio of products to make certain customer needs are met in order for Thuraya to continue to establish itself as an MSS operator offering and providing specialized services.
Furthermore, the Company will continue rolling out its products to both vertical and new geographical markets. To achieve this, Thuraya will aggressively widen its distribution chain and will continue its dedication to its customers — Thuraya intends to meet the market needs of all relevant segments to remain the operator of choice for MSS users.