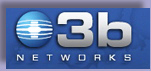 O3b Networks Limited, the developer of a new global, high-speed, satellite Internet network for telecommunications operators and ISPs will be ending 2009, its second full year in existence, on a positive note and with a great deal of excitement as the company looks forward to a pivotal year in 2010.
O3b Networks, funded by SES, Google Inc., Liberty Global, Inc., HSBC Principal Investments and Northbridge Venture Partners, is making rapid strides in its deployment of the world's first ultra-low-latency, Medium Earth Orbit (MEO), Ka-band, fiber-speed satellite network. The network is designed to improve Internet access for millions of consumers and businesses in emerging and developed markets, as well as selected vertical markets.
According to John Finney, Executive Vice President, Sales & Marketing, "O3b was started with a vision to connect the unconnected. O3b's importance is significant for the people we will serve, who without us, will not have the economic relevance, potential and opportunity which we all believe is so important. 2009 was a strong year for us in achieving this objective. Everyone member of our team, our vendors and consultants and even our customers have embraced this vision"
This year started off on a positive note for O3b, with Thales Alenia Space completing the Preliminary Design Review (PDR) of the Constellation Space Segment. This PDR demonstrates progress towards an on-time delivery of the O3b constellation and this progress also created customer confidence as the company completed the first quarter with major contracts from its target markets for a range of services. O3b was also able to make significant progress over the next two quarters of 2009 in both customer acquisition and product launch.
Some of the changes in the new organization included the appointment of Greg Clarke in November as its new Chief Executive Officer. Mr. Clarke, a former Chief Executive Officer of Cable and Wireless joined O3b with over 25 years experience in the telecommunications industry.
Mr. Clarke was asked about the momentum of his company, and he replied, "We are really excited about our progress and importantly, the response of customers to our product portfolio. We are proud to report that we have presold every application we developed for the initial launch of our satellites.
"We listen carefully to our customers ensuring that our services are available to meet the most advanced network requirements in time for O3b Service activation. This gives customers the assurance that they have a solution that is right for the growth they are anticipating. Our attractive pricing and flexible terms has also made it easy for customers to make purchasing decisions to meet their long term bandwidth requirements."
Mr. Clarke then added, "We are immensely proud of our achievements at O3b Networks so far. In just under two years, O3b has met and exceeded its internal revenue projections and raised start-up capital from leading companies across the world. We have designed a revolutionary system; one that will transform the way communications are handled in many of the world's underserved markets. As we move into 2010, we look forward to working with our partners and suppliers to ensure our project remains on schedule.
We also intend to expand the support we give to our customers to help them fulfill their business goals and vision for developing the Internet beyond its traditional boundaries."
The company also made significant progress in its funding activities, announcing in mid-September that it had secured a US$465 million credit facility, secured from Coface, the export credit agency acting on behalf of the French Government.
More recently, in November, the company announced that it received US$75 million in funding from world renowned satellite operator SES, who reaches 99 percent of the world's population via a fleet of over 40 satellites. As a major investor in O3b, SES will provide engineering and commercial support to assist the company's development. According to Mr. Clarke, "The financial, technical and commercial support of SES will help make O3b one of the most innovative communications companies on the planet, bringing broadband Internet access to the 'other three billion' who currently have no access to these services."
"O3b's positioning perfectly meets our vision of bringing people closer together through the power of satellites," said Romain Bausch, President and CEO of SES. "Through its innovative satellite technology, O3b will be able to provide emerging markets with fast, competitively priced Internet connectivity that is currently only available to the developed world. As we look to celebrate our 25th anniversary next year, and reflect on how far we have come since we were a young start-up company, we are excited to embrace and support this next generation infrastructure initiative, and to help O3b make their vision — and ours — a reality."
Having achieved a great deal in 2009, the company is now firmly focused on, and looks forward to a promising and successful year ahead.