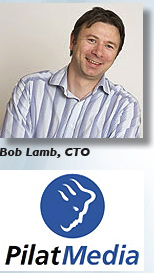 2009 was the year when everyone's worst fears did not come to pass — at least not within the satellite broadcast industry. Whatever the economic climate in the wider world, operators in the DTH market have continued to expand with new service offerings throughout the year, to make the most of the available bandwidth. Two big growth areas have been the expansion of HD services, and the developing momentum of the push-VOD sector, together with the hybrid services of push data with return path via modem.
Geographically, the biggest growth for Pilat Media's satellite customers has been in Asia Pacific, with Europe already having a fairly well-established HD sector. In our experience premium services are being spearheaded by sports: in India, China, and south-east Asia, sports events are the key draw for new subscribers, and our customers like ESS (ESPN/Star Sports) are prominent in this field.
Pilat Media's software products help satellite operators grow their businesses efficiently and cost-effectively, with comprehensive tools for managing the entire content lifecycle and advertising sales and traffic activities. Pilat Media systems are format agnostic, handling SD and HD equally, and making it easy for broadcasters to deploy new HD services and scale their operations accordingly.
Recession or no recession, we haven't seen any change in the growth pattern of HD services over the past year. The subscription model that nearly all satellite broadcasting is based on helps, and whatever the economic conditions, viewers who want HD seem to have the money for it. Broadcasters who were planning HD services were committed to it before the crash, and did not exercise the option of pulling the plug on the development.
Satellite operators have certainly been less affected by the recession: subscription revenue comes in whether the advertising time sells or not, so they are much more resistant to hard times when advertising spend drops. Consistent progress has been made in Asia and Europe, where operators such as Sky Italia and BSkyB have continued to expand their HD offering.
In terms of 2009 developments at Pilat Media, we continued to enhance our rights management functionality which with the growth of multiple platforms has become much more important for media content management. Satellite providers are increasingly offering content on their websites; in SD and HD. Each of these outputs may have different contractual agreements and usage rights have to be managed for each individual piece of content. The complexity of rights management has increased exponentially as a result, so the development of Pilat Media technology for dealing with it has been a big priority for us and our customers.
We've also launched enhanced reporting and analysis tools which give broadcasters what they need in recessionary times: the ability to analyze profitability and drill down into detail on the relationship between income from advertising and subscription, and the cost of programming. Broadcasters can now set KPIs into the schedule that set levels of desired income attainment and content type — important to operators so that they can measure the effectiveness of their schedules as part of the scheduling operation.
Push VOD services using PVR storage have been another noticeable growth area in satellite broadcasting over the year. This is where content is pushed out to the set-top box (STB), based on the broadcaster's assessment of what will be popular, and then when the viewer requests it for VOD viewing, the content is already available on the STB. In some cases the decision about which content to push is tailored to the customer profile, but the broadcaster or DBS may also decide — for example — that a certain episode of a drama contains a key plot development and should therefore be pushed out to the STB for viewers who missed it and forgot to set up a recording. In other cases, the decision to push may be based on rights: if the rights exist to push it to the STB, then it will be pushed. This year, to support the growing demand for on-demand services, Pilat Media introduced a VOD add-on module for its IBMS suite, which enables broadcasters to deploy and differentiate on-demand services that maximize the value of content across multiple delivery platforms.
For the coming year, we are already seeing the fabled green shoots of recovery. Customers who have been putting off decisions are making them now, and becoming buyers. The trend that we are seeing is that a key focus for their investment is in better targeting of customers. For example there is a lot of interest in consumer-level targeting of advertising. There will still be the demand for generic ads that everyone will get, but there is a big move toward putting targeted ads into specific programming and targeting them based upon specific consumer profiles. Especially in satellite broadcasting, the PVR space can be used for pushed ad content.
A lot of work and feasibility testing is already being conducted with installations in Europe. One of the factors driving this development is that people are watching less live television, and so this creates the opportunity to replace some of the advertising if they are watching stored material. If the ads can be replaced based on the time the content is watched, as well as the consumer profile, there is the potential to create much more effective campaigns with greater response rates. Satellite operators are in a unique position through their subscriber management systems since they know a lot about the viewer base, so their scope for targeted advertising is much greater. In fact, earlier this year we announced a relationship with a key content delivery provider to integrate our advertising solutions to offer pay-TV operators an end-to-end addressable advertising solution…and launched IBMS:OnTarget which enables content and service providers for the first time to integrate both targeted and traditional advertising using the same campaign and inventory management software.
Expect to see much more targeted advertising projects to pop up in the marketplace during 2010.