2009 was a year of challenge and change, a year where the satellite industry, both commercial and government sectors, recognized the rules were changing and we had to do more... with less. 2009 was also a year where successful partnerships and collaboration delivered remarkable results.
For 27 years, Integral Systems has set an exemplary standard of performance and collaboration with our customers and our business partners. Together with our five wholly owned subsidiaries — RT Logic, Newpoint Technologies, SAT Corporation, Lumistar and Integral Systems Europe — we are providing a COTS-based approach to product development and systems engineering. Our deep industry expertise in command & control, signal processing, network management, geolocation, interference detection and monitoring and secure communications is meeting the needs of customers globally on-schedule and within budget.
Despite the market challenges of the past year, we are pleased to have our program teams highlighted for their customer-focused work in several areas. This includes recognition as the 2009 U.S. Small Business Administration Region III Prime Contractor of the Year for our efforts on Command Control and System Consolidated (CCS-C) with the U.S. Air Force and by our partner, Northrop Grumman Corporation, as a 2009 World Class Team Supplier Award winner for GPS OCX Phase A support.
2009 was highlighted by a number of key events. In February, we closed our most recent technology acquisition, satID, which reflects our view that solutions need to be built from the ground up with customer input. Working together, we have been successful in providing solutions that allow our customers to optimize and expand their operations with little to no increase in staff. In March, we formally announced our strategic partnership with Analytical Graphics, Inc. (AGI), a producer of COTS software for analysis of space, defense, and intelligence assets. This alliance builds upon prior collaboration and allows us to leverage AGI and Integral Systems' commercial-based products to provide entirely new levels of space situational awareness (SSA) capability.
We recently announced the opening of the new Integral Systems Europe — United Kingdom facility. This new facility provides Earth Station Integrated Solutions (ESIS), turnkey ground systems solutions for all types of satellites systems from design and engineering, installation design, integration and testing, in-service maintenance support, to on-site field service, all provided by our own in-house resources. Whether it is Satellite Control provided by EPOCH IPS from Integral Systems, Network Management and Monitor and Control (M&C) from Newpoint Technologies, Carrier Monitoring and an Earth Terminal developed by SAT Corporation, and Interference Geolocation from RT Logic, we can uniquely provide the highly experienced team to design and implement the optimal mix of COTS equipment and custom-designed engineered products.
The 2010 Theme
The year ahead will be both exciting and daunting — demand for, and access to, content and information is increasing dramatically. Yet, the ability to provide access is constrained. To successfully meet those needs, industry will need to adapt to changing realities and provide solutions that are open, flexible and cost effective. It will take long term planning and vision to succeed.
As an industry, we must look to develop creative solutions to the challenges ahead. One possible solution is to partner with the international community to build a network of satellites that essentially act as an Internet in space. The new system could increase available bandwidth by dynamically shifting content feeds from overburdened satellites to underutilized satellites within the network. We must also develop innovative ways to control access and transmit data, while also addressing the challenges of protecting information. At Integral Systems, we already have technologies that can monitor and protect these kinds of satellite data links.
Adding capability to support increased demand for satellite communications brings with it an entirely new set of challenges, requiring more visibility and most importantly, the ability to react. Every satellite launch and new transponder made operational increases the likelihood of interference. Signal interference can result in lost bandwidth, degraded Quality of Service (QoS), loss of revenue and, potentially, even the loss of life. Today's economic environment simply does not allow for any missed opportunities for revenue generation or inefficiencies in operations. By developing the industry's most integrated interference detection and geolocation products — satID, Sigmon®, Monics® and SAT-DSA™ — Integral Systems helps maintain and improve QoS, revenue…and mission success.
Looking ahead, to remain in a leadership role whether satellite operator, ground segment provider, or content provider, we must have a laser-like focus on our business model and a customer-centric view of business practices to deliver premium services and new capabilities more efficiently and cost-effectively.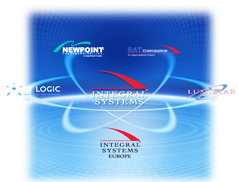 At Integral Systems, we will continue to develop commercially-based products that are open and flexible, incorporating both new technologies and the ability to integrate with legacy systems that are required to provide longevity and return on investment. We continue to consider new business models and service offerings for our customers. In particular, we see an opportunity to extend the benefits of our product lines via a managed service offering. This model could develop opportunities for satellite operators and others to extend their capabilities, increase operating visibility and control over their systems and networks without the kinds of significant investments in hardware and personnel typically required.
We see the challenges and the opportunities in the year ahead for our customers and remain committed to delivering the industry's most comprehensive and economical solutions based on a shared mission to help our customers succeed.