Over the last 24 months, we've talked about WAN Optimization moving from a nice-to-have to a must-have technology. However, 2009 was the year that Advanced WAN Optimization really embedded itself as a critical technology for satellite communications.
By taking satellite optimization beyond the traditional latency mitigation of PEPs, the integrated technologies of Expand's Advanced WAN Optimization is providing four to ten times the capacity on a satellite link. Due to this enhanced visibility and control on the network, we've witnessed continued take-up of the technology by large-scale international organizations this year and the trend is set to continue.
One such organization that stands out is Tearfund, who works in 60 developing countries. With so many staff working in the field where fixed IT infrastructure is not available, satellite communication links are imperative to the work that is carried out by the Company. This year, Expand has been deployed in Tearfund's key global locations, immediately compressing and accelerating traffic across the satellite links. With regional hub sites experiencing great improvements in network throughput, we are now moving forward with plans to optimize satellite links at all Tearfund's front-line sites across the globe.
The most notable advancement of 2009, however, is the big leap forward by service providers looking to optimize their offerings to better manage the flow of traffic over satellite links. Using optimization technology as a value-add service they can pass onto their customers, supplying improved levels of services at reduced network costs is a trend that is accelerating at pace.
As an example, we recently completed a project this tear with IPSTAR, Thaicom. This alliance has seen the world's largest and most advanced commercial satellite system provide accelerated IP services with our optimization technology. The WAN optimization technology is helping to maximize their existing broadband service to ensure fast, resilient and cost-effective satellite communications for IPSTAR's corporate customers.
This year, Expand launched new product innovations that provide further flexible deployment options that have been particularly compelling to Satellite providers. Including virtual appliances running on commodity hardware, and client software for individual workstations, Expand is now able to provide an efficient optimization capability for each and every environment.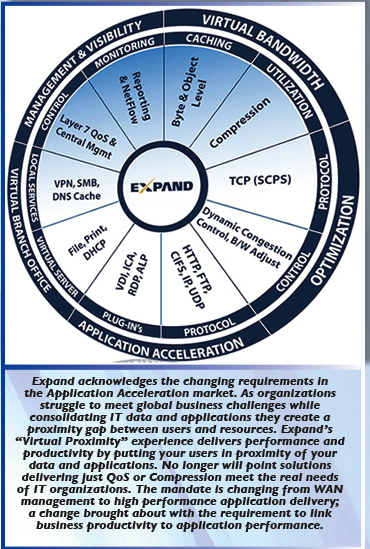 The Virtual Accelerator was a major reason Clear Channel Satellite selected Expand Networks technology to enhance its managed satellite service. Deployed within existing virtualized IT infrastructure at the datacenter and run on Clear Channel Satellite's existing server platforms, the Virtual Accelerator eradicated additional IT cost and complexity. Furthermore, the Virtual Accelerator allows Clear Channel Satellite to easily scale its services on-demand by simply adding additional instances of the Virtual Accelerator onto the existing server platform at the datacenter, while offering flexible deployment options of physical or virtual appliances at the remote sites.
We've seen that in these environments, the Virtual Accelerator improves responsiveness of applications to the end-user and delivers increased WAN capacity for applications as the mobile client software brings increased performance to the end users mobile node, providing application level acceleration, peer to peer QOS, while also delivering efficient TCP optimization at the network edge.
Regardless of the type of organization — from charity, military, service provider and everything in between — the understanding that Advanced WAN Optimization technology can overcome the inherent challenges of application delays and connectivity problems on satellite networks has become widespread.
For us, the stand out trend for 2009 is that WAN optimization is adding clear value to satellite managed services. By increasing service levels, managed service providers are helping all organizations to increase efficiency while reducing complexity now and into the future, without the need for large upfront investment. This is definitely something to watch for 2010.