The recent Amsterdam IBC was dominated—in more ways than one—by 4K/Ultra-HDTV (3840 x 2160 pixels). Booth after booth showed off their latest equipment, and the 4K screen sizes seemed to grow to quite breathtaking proportions—and strong hints that, by the time of CES in January, their prices might even be affordable!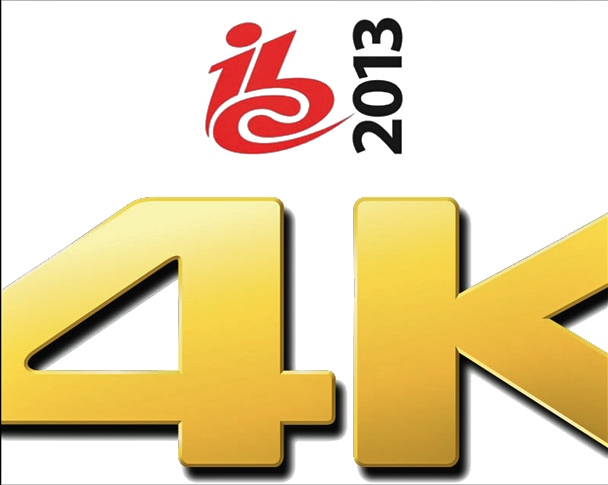 What was also fascinating was how many broadcasters were happy to talk about their own plans for incorporating 4K transmission into their schedules. No firm dates were given, of course, but you could sense from their testing and experimenting that they were not investing this cash on a mere whim.
The fact was that IBC was simply awash with test transmissions. The word from some exhibitors is that Europe will see regular 4K transmissions within 18 months, or perhaps sooner. SES on September 12 announced a pair of Ultra-HD channels using High Efficiency Video Coding (HEVC) for IBC. One of the channels, set up with Fraunhofer HHI, was broadcasting HEVC at much higher frame rates.
Ferdinand Kayser, SES' CCO, in a press briefing at IBC said, "Europe will be an early adopter of Ultra-HDTV and with around 111m displays in use by 2025." He added that SES expected Europeans' preference for ever-larger screens would make Europe "the most attractive market" for early UHD channel launches. Quoting IHS Electronics & Media data, he said UHD display sales were already being made in modest numbers but would ramp up in 2014 and 2015 and would—in Western Europe—achieve 37 percent penetration by 2025.
Eutelsat and Intelsat were also showcasing 4K at IBC. Just about every heavyweight hardware, software and display vendor was also demonstrating a 4K kit. Japan's NHK also showed its Super Hi-Vision 8K transmission system and was happy to talk about the impact this technology would have on the 2020 Tokyo Olympics.
Eutelsat used IBC to announce that one of its key broadcasting clients, NTV Plus, would use the upcoming Russian Sochi Olympic Games to transmit 4K images to cinemas and public viewing areas.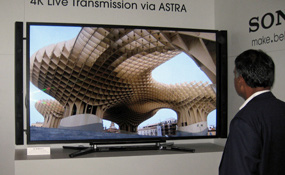 Intelsat also showcased their technology, attracting a huge crowd for a live transmission (brought to IBC by Globecast) of a rugby match that was also shown in the Ericsson, Sony and Intelsat booths on a variety of UHD displays that included a JVC, seven-foot, 4K UHDTV and a Sony, 6-meter projection setup.
UK broadcaster BT sent the rugby match signals from three Sony F55 4K cameras to a vision mixer, which were then sent to Ericsson AVP2000 encoders and RX8200 advance modular receivers. After encoding, the signal was transmitted as a 100Mbps video from BT's Global Media Network to Intelsat's Point of Presence (PoP) in London, then hopped to the IntelsatOne terrestrial network to Intelsat's teleport in Germany.
From Germany, the signal was uplinked to Intelsat's Thor6 bird and delivered to a 2.4m dish situated on the roof of the RAI Convention Center. The result was a picture of stunning clarity that, quite literally, stopped booth visitors in their tracks.
"This was a live production and we wanted to do it with technology that would show what the capabilities of 4K are," said Matthew Goldman, SVP/Technology for Ericsson. "If you're going to wow people with something new, why go to 4K if you're not going to show the immersive technology. It has four times the spatial resolution, twice the temporal resolution and is 10-bit precision. When we talk about how beautiful HD is when compared to SD, the experience we had on the floor reminded me of what it felt like when I first saw HD in a production. This [UHD demo] made HD look like SD," he added.
Leading the European charge is Sky Deutschland, and its 4K session lined up SES, Pace, Harmonic and Sony TV to show off the technology. Also presenting was US broadcaster 3net, which is already investing in 4K new productions for TV, including its flagship production 'Space' as well as other factual programming in 4K.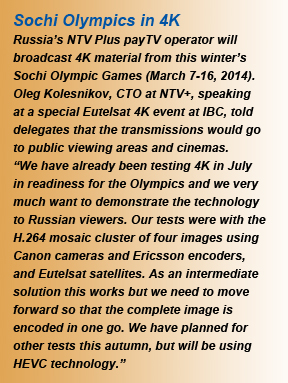 Sky Deutschland's CEO Brian Sullivan maintained the same enthusiasm for 4K that he showed at IBC a year ago. He said, "There has been a huge amount of progress during this last year although mostly driven by the industry rather than broadcasters. We have to deliver these technologies to the consumer and they need to be reliable, and cost-effective. We will be continuing on this path for the next year or three. But this doesn't mean that things will take that long to materialize. You don't always wait until a technology is fully developed [to bring it to market]. We take risks and we have to create the market."
Sky Deutschland's SVP/Technology has described the importance of the new Ultra HD technology to the payTV platform's armory. Gerard Duffy told a Cisco press lunch that the ability of Ultra HD to screen multiple views in high resolution, alongside a main high definition (HD) screen, was as important as the picture resolution itself.
"4K is central—being able to do that offers another potential—it's not just the picture quality but the other things the platform can do," said Duffy. He explained how the launch of an Ultra HD service might be used to renew the set-top box (STB) inventory that, in turn, offered a whole new opportunity that could be used to bring extra value to the customer proposition.
However, he cautioned that there needed to be a strong element of backwards compatibility. "You can't just rip up the platform every three years and start again." Sky Deutschland has used technology, much of it from Cisco and its predecessor, NDS, to make its mark after years of payTV stagnation. Forty percent of new subscribers come from recommendations, with total subscriber numbers now standing at three-and-a-half million.
Indeed, the Sky Deutschland efforts on 4K were highly visible. One session, a popular 'Beyond HD' presentation, showed off Sky-D's impressive test footage, with Stephan Heimbecher, the broadcaster's head of innovations and standards, suggesting that 50/6 fps was a minimum for sports coverage in 4K.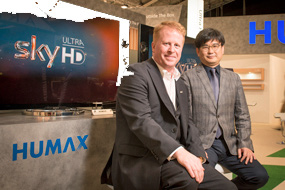 Tom Cosgrove, president/CEO of 3net Studios, showcased 'Space,' a CGI production now being wrapped in 3D, 4K, and eventually set for IMAX release. "We have 20 hours of 4K production underway. We might argue that we are at the beginning of the production chain, but we are also at the end, and what each of us has to remember is to ask whether the viewer is having a good experience in the home. Our goal is to provide that top-notch experience and help drive the sector."
Harmonic's Ian Trow (senior director/emerging technology) said that while there had always been a drive to improve resolution, and that cinema resolution at 24fps had more than satisfied cinematographers and audiences, attempts to push that to 48fps had left some audiences unhappy. "The real litmus test for us all is whether 4K migrates from the very high-end 'man cave,' where the biggest and best might dominate, and into the mass-market living room. That move depends on more than pixels—frame-rate, bit-depth, color imagery—so that we can genuinely manage rapid motion."
Thomas Wrede, VP/reception systems at SES, while recognizing that there was still much to do, also argued passionately for urgent progress to be made on a branding campaign for retailing 4K displays in order not to confuse or disappoint the buying public. "We at SES love innovation and are already showing 4K on satellite. We must all support HEVC, which I believe is the absolute DNA of 4K as this allows high-quality transmission within 20Mb/s of transponder space. We all recognize that satellite is the natural first step for 4K. But as an industry we must ensure that UHD is a true improvement in the TV experience. We must work beyond just the addition of pixels."
Sarah Simon, media analyst at Berenberg Bank, in a note to clients in September, reminded them of Sky-Deutschland's past work, saying, "SkyD first experimented with Ultra HD with a test broadcast of the FC Bayern Munich vs Borussia Dortmund football match in December 2012 and is gradually approaching full Ultra HD live production capability."
Brian Sullivan, SkyD's CEO at IBC 2013, expressed his view that Ultra HD is set to be transformational. He said, "This is an exciting time in our industry. There are so many new and innovative ways for customers to access and enjoy content, and Ultra HD—while still at an early stage of development—is one of the most promising." SkyD management has previously said it expects at least half of the current portfolio of 65 HD TV channels to be showing 4K content within five years of launching a dedicated 4K channel.
Simon's bottom-line advice, and the impact 4K might make on satellite operator SES, states: "We believe Ultra HD could launch commercially as early as 2015. In our view, SES will be first to reap the benefits given its exposure to the UK and German markets—the two countries which seem likely to be early adopters, along with the U.S., which market accounted for 23 percent of SES's 2012 revenues."
Also showing confidence in 4K was Cisco Yves Padrines (VP/Service Provider, Video, EMEAR) who had no doubts. "I can tell you that some broadcasters are looking very enthusiastically at 4K, and for it to start as soon as possible, and within the next 18-24 months. 2016 is going to be an important year for 4K."
Caution Urged
That 2016 date cropped up from many participants, and the Rio Olympic Games is bound to motivate 4K display buyers into the stores. But there were some opposing views. 'Viewers can't tell the difference between HD and 4K—they won't pay a premium for it and there are much better uses of spectrum.'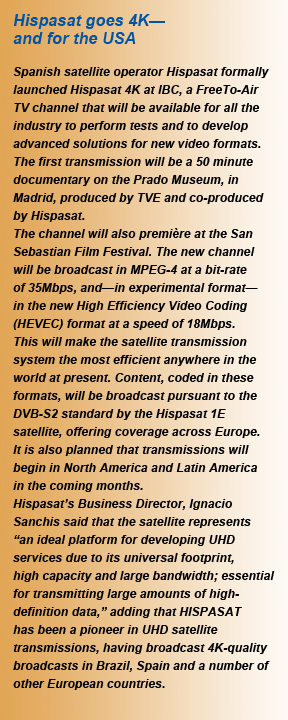 This was a motion introduced into the Great Quality Debate, at IBC, and asked 'Do we really need to go beyond HD?' In a closely fought contest—which was only narrowly won by the opposing motion, the BBC's head of technology for HD and 3D, Andy Quested, presented the case in favor of the technology—arguing that Ultra HD would bring "an emotional quality" to big events such as football.
"Soccer is more than a game of two halves—it's about the emotion and seeing the entire field of play continuously. It's about the position of every player on the pitch and what the linesman is doing. It's about the sweat on goalkeeper's face and the faces in the crowd as a goal goes in… I want to be in the image, be part of the image and have a real sense of presence."
Dr. Giles Wilson also waved the flag for Ultra HD from a business perspective. "In trials capturing sports in ultra HD, we always see the same reaction—the 'wow' factor—people talk about how real it seems, the added depth and how it feels like 3D but it's not. They talk about the color, the sense of presence. Can we afford not to go Ultra HD? Consumers will always go where the compelling experience is to be found."
However, ad man Rory Sutherland, vice chair of the Ogilvy Group in the UK argued that, like 3D, the human brain can only perceive a marginal difference between HD and 4K. He said, "The additional resolution would not add much at all—and people won't pay a premium for it. It's just like there is something about human psychology that really doesn't enjoy 3D. If you cover up one eye you do not become shocked by how flat the world is," he argued.
For media journalist Ray Snoddy, Ultra HD was a "technological inevitability"—but it was all a matter of timing. As well as "not being the best use of spectrum," he argued that introducing 4K when the majority of consumers were still enjoying their HD sets would be "premature ejaculation that would leave everybody in a sorry mess." He added, "My Sony Bravia is staying firmly screwed into the wall for the next five years."
Pixel Quality
There was also disagreement about bit-depth, considered to be of crucial importance in the battle for 'better pixels', and not just more pixels. The minimum bit depth recommended by Digital Europe (a trade consortium designed to back the technology) was that 8 bits was enough. Howard Lukk (VP/production technologies at Walt Disney Studies) was just one voice amongst many who said that 8-bit was "a bad start, and a possible false step."
The BBC's head of technology (HD & 3D), Andy Quested, said he was concerned that the public was in danger of suffering "consumer fatigue, unless we can give them something that represents a big, and I stress, a major step change in quality. We have to be offering a package that includes additional frame rates, a dynamic range that will help sports coverage take off, and that can also show movies and other acquired programming in the way it should look. [If we fail] then we might as well all press the 'vivid' button on the sets that will be sold. We must add increased color imagery into the dynamic range."
Sky Deutschland's Stephan Heimbecher (head of innovations/standards) added that broadcasters were under great pressure from the display manufacturing sector to "get the whole thing rolling. But it is quite disappointing for me that we are not taking a sufficient major step forward. What we are seeing is just an 'up-polished' version of HD, and not much more than that. We can live with 50/60p at the moment, but we mustn't stop there. The other parameters must include much better pixels, and not extra pixels. I doubt that [8-bit] gives us enough of a playground."
BSkyB's chief engineer, Chris Johns, argued that if minimum standards were specified and adopted, then "would the public again be confused in two or three years when higher qualities became available? If there was just HDMI as a logo on my screen, who would know whether it was compatible with HD, UltraHD or some future generation of UltraHD? There has to be greater clarification. We have to create a very positive impact. We can deliver the extra resolution, and improved frame rates and bit-depth because the one thing that catches us out is the lack of dynamic range."
The panel, chaired by the EBU's Dr. Hans Hoffmann, called for much greater clarity on these variables and even a customer education program, and "do a better job than we did on HDTV."
Elsewhere at IBC, Massimo Bertolotti, head of Engineering/Innovation at Sky Italia, stressed that it was looking ahead to 4K, and test transmissions (soccer, Formula 1, motor-bike racing) had already occurred. "We at Sky see 4K as the new viewing experience. Today, the system isn't stable, because all of us are cutting and pasting existing technology and we have yet to see a complete 4K eco-system. We are discussing the FIFA World Cup with Sony for next year, but I am not sure the full chain will be in place for the soccer."
The enthusiasm from the likes of Sony, Samsung, LG and Panasonic is to be expected. The high-end camera makers see IBC as a key showroom for their products. However, Samsung's comments were typical. Vassilis Seferidis, Director, European Business Development of Samsung Electronics, said, "Ultra-HD is the future of television because, not only does it offer a superior user experience, but it also creates exciting new opportunities for the whole TV industry. The Ultra-HD technology is now a commercial viability and we hope that our collaboration with Eutelsat will become the tipping point for a wider cooperation across the industry for the acceleration of the standardization and deployment of Ultra HD TV services."

About the author
Senior Contributor Chris Forrester is a well-known broadcasting journalist and industry consultant. He reports on all aspects of broadcasting with special emphasis on content, the business of television and emerging applications. He founded Rapid TV News and has edited Interspace and its successor Inside Satellite TV since 1996. He also files for Advanced-Television.com . In November 1998 he was appointed an Associate (professor) of the prestigious Adham Center for Television Journalism, part of the American University in Cairo (AUC), in recognition of his extensive coverage of the Arab media market.