In the Maritime VSAT market, the two most attractive segments are Containerships and Tankers. Both classes of vessels owners see significant value in fixed priced Broadband, and together they represent a potential market of over 14,000 vessels. In fact, other then Bulk Carriers, they are the only segments where high concentrations of vessels can be found under single owners or managers.
Individual Tanker and Containership companies can own or control hundreds of ships, and even the small and mid-size firms have fleets large enough to justify the complex and extended consultative sales process required to consummate a sale. Without reasonable success in these two critical markets, it will be difficult for any VSAT vendor to achieve the critical mass of customers required quickly enough to support the high fixed capital cost of market entry. Hence, competition is intense and an understanding of the needs of these prospective buyers is critical to sales success.
At
Gottlieb International Group
, we have met with dozens of Tanker and Containership operators around the world, and here are what we believe to be the most important elements to winning a sale.
Justify The Investment
Contrary to the popular belief that vessel owners are spending thousands of dollars per/month on Inmarsat, the truth is that most are currently spending US$1,000 or less. Due to the high cost of charged "by-the-byte"
Inmarsat
, use has been limited to the most critical types of communication. Therefore, in reality, acquiring a VSAT service represents a substantial increase in costs, not a reduction in cost as may outside the industry may believe.
A key element of the selling process is to demonstrate to the prospective buyer how the investment in VSAT can be justified. To accomplish this, vendors must be prepared to offer a comprehensive economic analysis of how VSAT can improve operational efficiency and lower costs. Suffice it to say that, due to the industry downturn,
Crew Welfare
is no longer the critical purchase motivator.
Offer A Robust Commercial Class Platform
The ideal VSAT platform must be sufficiently robust to permit expansion of the corporate network to all of the Company's vessels in a fleet. The vendor should be able to provide guaranteed bandwidth — or
Committed Information Rate
(
CIR
) — sufficient to support a VPN, two to three voice channels, remote PC maintenance, and any other time sensitive applications the user must run, no matter the location where the ship travels.
To determine how much bandwidth is needed, the network can be modeled in a laboratory environment.
YR20
is one such firm specializing in such analyses. Typically, to deliver CIR at a commercial level, an
iDirect
or
Vipersat
hub is required as well as a
SeaTel 1
meter antenna.
While the iDirect platform produces a relatively high level of quality of service in an environment where sporadic use allows for sharing of bandwidth resource, in environments where many heavy users tend to transmit time sensitive data (i.e., voice) simultaneously, the Vipersat SCPC capability makes it worthy of serious consideration. Generally, the addition of an Inmarsat or OpenPort back up solution completes the preferred infrastructure for trans-oceanic vessels.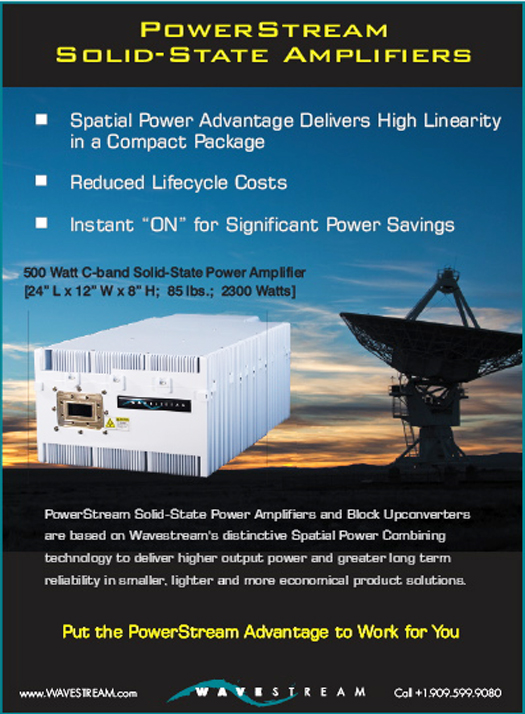 Establish The Network
Given the size and global distribution of the customer base, direct sales by themselves are unlikely to be effective, especially true when dealing with far flung markets.
Based on past experience, we believe that the best approach to use is a combination of distributors and direct selling. Careful selection of distributors is vital and we prefer small, highly motivated firms to the larger firms handling dozens, or even hundreds of, products or services.
Under an ideal scenario, day to day contacts are handled by the local distributor and supplemented by sales calls in which both regional management and distributor salespeople share responsibility for success and participate in appropriate incentives.
Avoid Restrictive Policies
Major fleet owners with robust commercial demands are becoming increasingly wary of Fair Access Policies that give the vendor the discretionary authority to degrade service in cases where "large files," web conferencing, or other bandwidth intensive applications burden the network. While restrictions on such activities as downloading movies, streaming, or
Skype
use are reasonable, limits of other activities can be serious barriers to the sale.
Differentiate Your Service
Shipping companies are seeking more than bandwidth and hardware. Sales strategies that focus on price alone, while typical in the VSAT industry, are not likely to succeed in the commercial shipping markets.
Above all, differentiation can be achieved through a thoughtful consultative selling process in which the vendor provides assistance and consultation on all issues relating to use of VSAT aboard the vessel including bandwidth management, control of access and network security.
A Single Point Of Contact
The shipping community tends to avoid vendors who are only willing to take on the responsibility of their own hardware and the associated bandwidth. IT managers desire a solution that includes bandwidth, hardware, bandwidth management software and any other value added service, all managed through one point of contact. The ultimate nightmare for shipping IT management is to be bounced between software and hardware providers with each leveling responsibility for a system failure on the other.
Provide Remote Capabilities
Given the fact that maritime VSAT systems are dependent on several network elements, the potential for system failure always exists — most vessels operate in a trans-oceanic environment and critical systems may go down far from shore. Consequently, inclusion of a remote maintenance capability, or "back door" to the system, is a crucial requirement.
Essentially, vendors need to be able to access the hardware and software infrastructure aboard the vessel if the VSAT system fails and reboot the system or a system element if a crash occurs, typically through a backup L-band satellite system such as Inmarsat. A clever product, developed by
Uplogix
of Austin, Texas facilitates not only this sort of remote access but performs automatic maintenance as well.
The
Uplogix Automated Remote Management Platform
not only allows remote access via an L-band backup system, but also performs continuous "health checks" on system components by "pinging" each element of the VSAT system on a regular and frequent basis. If a network element is found to be unresponsive, the Appliance automatically reboots it. If, on re-boot, the element is still down, the element can be accessed via the L-band and the necessary link and remote maintenance performed.
Customer Network Visualization
Providing the customer with the ability to continuously monitor available bandwidth and Quality of Service (QOS) via a web portal can be a powerful sales incentive.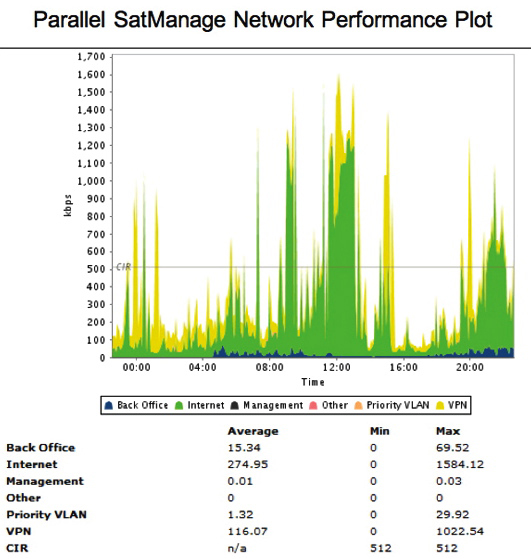 To provide this functionality, several of the major VSAT vendors offer
Parallel SatManage
under their own brand name. Using SatManage, customers can graphically visualize connectivity to every vessel on their network over any period in time thereby confirming contracted performance levels. In addition to confirming bandwidth availability, the software provides valuable diagnostic tools to identify specific types of usage aboard the vessel.
While lack of available bandwidth may result in a downgrade of performance, abuse of available bandwidth can generate a similar downgrade in performance. As SatManage can identify and track the types of usage, it can be invaluable in identifying and curtailing abuses.
Hence, the provision of this sort of application can provide assurance to the customer that the vendor is providing the level of service specified under contract.
In Conclusion
Containerships and Tankers are the only sectors of the maritime industry where ownership of vessels is highly concentrated and who have also demonstrated the most interest in fixed priced VSAT services.
To be successful, maritime VSAT providers must win a significant share of these markets. To do so, they will need appropriate packages of bandwidth; hardware and value added services along with the consultative input designed to support a complete solution. Ultimately, vendors successful in Containership and Tanker markets will have the economies of scale necessary to penetrate large but less concentrated markets such as fishing and leisure.
About the author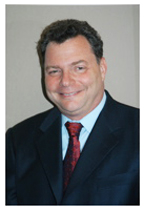 Mr. Gottlieb is CEO of Gottlieb International Group. His firm, Gottlieb International Group Inc., specializes in market research, business development and sales of satellite and wireless communication technologies to the Maritime Industry. His firm has performed major research and sales projects in European Tanker and Containership markets and maintains an extensive network of contacts among ship owners and managers as well as software and hardware suppliers.
Major consulting clients have included KVH Industries, Intelsat, Inmarsat, Verestar, Globecomm Systems, Sonic Telecom, Frontier Technology, and THISS Technologies, (Singapore) and numerous Private Equity firms.
He served as Vice President of Sales for Audiovox Communications, Director of Sales for Southeast Asia for COMSAT and Aether Systems, and Corporate Market Research Manager for a Division of Baker International (now Baker-Hughes). Mr. Gottlieb has been responsible for initiating and managing successful market entries into Southeast Asia and the South Pacific Markets and assisting satellite related companies with diversification into new market niches and geographies.
He holds a Masters Degree in International Business from Thunderbird Graduate School and a B.A. from Stetson University. He has published numerous articles in Sat News and is a frequent speaker at Offshore Communications, ISCe, the Washington Satellite Exhibition, and other industry events. He can be reached at +1-703-622-8520.
Website
.