Similar to satellite TV and satellite radio, mobile satellite communications will soon allow Americans nationwide to enjoy the reach and breadth of satellite services. Although satellite phones have provided an important service to government, enterprise, and some consumer users for years, the recently introduced TerreStar™ GENUS™, (currently available through AT&T) offers a feature-rich approach to satellite communications of the mobile kind.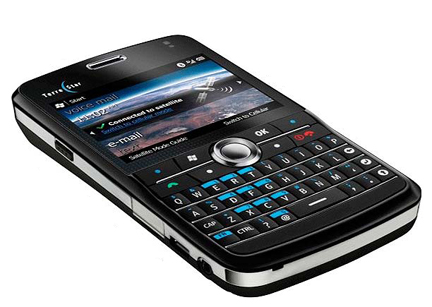 The
GENUS
is an innovative dual-mode smartphone device with cellular wireless capability as the primary default mode and satellite access capability as a secondary option for voice, data and messaging. With just one phone number and one contact list, all on the one device, users with a line of sight to the southern sky where TerreStar's satellite is located, can gain access to expanded voice and data roaming coverage in the United States, Puerto Rico, U.S. Virgin Islands and in territorial waters. The GENUS runs on the
Windows Mobile 6.5
operating system to provide rich features and functionality, including a touch screen, Wi-Fi, Bluetooth®, camera and GPS.
Was bringing satellite to the masses TerreStar's primary objective?
According to
Dennis Matheson
, chief technology officer at TerreStar Networks, the answer is no. "Our primary objective was to provide public safety agencies, first responders and disaster recovery groups with integrated cellular-satellite backup communications capabilities; yet the consumer interest we've seen since the GENUS launch in September 2010 has been a great bonus."
TerreStar's intention was to partner with traditional wireless operators to bring its mobile satellite service competencies to government, energy, utility, transportation and maritime users, by enabling these audiences to access the TerreStar satellite network when cellular coverage became unavailable. The opportunity to extend the satellite-cellular service beyond this niche group became more relevant when rural-based consumers, outdoor adventure types and general consumer interest in satellite as an 'insurance' policy became a reality.
"The GENUS is the smartest smartphone we've seen in satellite communications, as the device pushes the envelope and satellite communications in new directions across the wireless ecosystem," said
Daniel Longfield
, senior analyst at
Frost & Sullivan
, a research consultancy. "It's lightweight, has the same look-and-feel as a traditional smartphone, is small enough to fit in your pocket, yet offers the combined innovation of satellite and cellular communications – something no other satellite communications company has figured out yet."
However, is the mass market truly ready for 'the genius of GENUS?
Frost & Sullivan believes so. Research conducted within the past few years showed a high interest in 'everywhere' wireless services achieved by adding satellite connectivity into traditional mobile devices. The study explored user interest in a ubiquitous wireless service across a range of prices above a user's existing cellular subscription.
Frost & Sullivan found that for an incremental monthly fee over their current post-paid voice and data plans, 24 percent of the addressable consumer market was interested in an integrated satellite-cellular mobile service. When looking at usage intentions, consumers reported they would most likely use a ubiquitous wireless service on road trips (64 percent) followed by using this service when traveling to remote locations for hiking or other outdoor activities (59 percent).
"As our society becomes more inter-dependent on mobile devices, having an 'always on,' reliable connection source will be paramount in a user's future mobile service and device purchasing decision,"
Longfield
continued. "And although operators continue to build-out more towers to augment current cellular networks, their wireless footprints still do not offer the same level of ubiquitous coverage, failsafe features or capacity management as satellite networks. In fact, cellular network limitations have become satellites, and in particular, TerreStar Networks' opportunities."
Matheson
commented further saying, "We have come to an era where the infamous 'dead zone' is nearly non-existent in the U.S. From the most desolate sections of the Grand Canyon and the heart of the black hills of South Dakota to the uppermost regions of Maine to 200 miles off the U.S. coastline, we can deliver wireless communications. Consumers — especially outdoor adventure enthusiasts — are seeing our vision, service and GENUS as the best way to connect during any potential situation. For these cases, the benefit of having a sleek, small cellular-satellite device on their hip remains the reassurance they need to feel connected no matter where they are in the U.S."
TerreStar expects to offer its service to consumers by the end of the year. The
AT&T Satellite Augmented Mobile
service and the
TerreStar GENUS
are available today to Enterprise, Government, and Small Business customers and require standard AT&T cellular voice and smartphone data rate plans, as well as a monthly satellite subscription feature. Usage of the satellite network for voice, data and messaging is not included in the monthly feature charge and is billed as per-minute, per-message or per-megabyte roaming charges.
Mr. Dennis Matheson is responsible for TerreStar's corporate planning and drives the technical direction and delivery for development of the satellite and network systems and handset technologies for TerreStar Networks.
Back on October 19th of 2010, TerreStar Corporation announced that its majority-owned subsidiary TerreStar Networks Inc. and certain other affiliates, had filed voluntary petitions for reorganization under chapter 11 of the U.S. Bankruptcy Code. This was part of a strategic plan to strengthen financial positions and achieve long-term success in the mobile satellite services market. Through the restructuring, TerreStar Networks will lessen its debt obligations in order to place greater focus on delivering the future of 'always available' mobile communications through its recent launch of the world's first integrated satellite-cellular smartphone.


Jeffrey W. Epstein, president and chief executive officer, TerreStar, said, "After careful consideration of all available alternatives, we determined filing chapter 11 was a necessary and prudent step to strengthen our balance sheet and gain financial flexibility in order to access liquidity and position TerreStar Networks as a stronger, healthier company. As part of this initiative, and as a result of receiving our debtor-in-possession financing facility, we will be able to conduct business-as-usual with customers and partners, and ensure the highest customer service is provided throughout the reorganization."

Concurrently with its chapter 11 filing, TerreStar Networks entered into an agreement with EchoStar Corporation, its largest secured creditor, to provide the Company with a $75 million debtor-in-possession financing facility. TerreStar Networks will use the debtor-in-possession financing to maintain business-as-usual operations during the restructuring process. The Company believes its current and anticipated cash resources will be suitable to pay its expenses and maintain its business operations during chapter 11.

In addition to the debtor-in-possession financing facility, TerreStar Networks has also entered into a Restructuring Support Agreement with EchoStar Corporation, under which EchoStar has agreed to support a restructuring premised on a debt for equity conversion by the Debtors' secured noteholders, and backstop a $100 million rights offering that will provide the funding for TerreStar Networks' exit from chapter 11. TerreStar Networks believes that the Restructuring Support Agreement will provide the foundation for an expeditious emergence from chapter 11. All is operating as "business as usual".