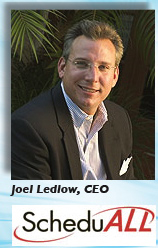 ScheduALL continues to dominate the global landscape relative to resource and transmission management and our growth is a testament to our commitment and execution to serving the Broadcast and Satellite industries. In the tough economic climate of 2008, ScheduALL grew at a 32 percent clip. In 2009, ScheduALL listened to its customers and invested heavily in R&D and client satisfaction to enable greater collaboration and to streamline business workflows by extending our core application's capabilities.
With an existing community of more than 1,200 leading broadcasters, satellite, and post production businesses around the globe, ScheduALL continues to develop technologies that address specific workflow, interoperability, and profitability needs facing our client partners. A few recent examples include our development of the ERM appliance which allows ScheduALL systems to interact, share resources and make bookings in real time anywhere within the enterprise. This solution was launched in September at IBC and received critical acclaim in its ability to improve resource utilization and manage projects and resources in real time from any geographic location, or business unit within the corporate domain. Now Operations and Financial management can gain visibility on ROI, how often assets are used, and projects can be accelerated at less expense. Additionally, areas of expertise and geographic price points can be developed to deliver even greater quality and improved profitability.
In early 2010, this unique functionality will extend beyond the corporate domain and into a vendor supply chain. Studios, broadcasters, crewing companies and SNG truck companies who own ScheduALL will have the opportunity to publish and/or book resources as an "opt in" feature. Each business will continue to run their individual operation as before, but should they choose to work with a specific crewing, SNG Truck or satellite vendor, they will be able to establish a real time booking interrelationship.
Additionally, digital or "file based" work flows are further enabled with our Weave (Work Flow) solution which is due to market early 2010. This toolset allows for faster project and process management by leveraging templates, dependencies and alerting functionality that reduces duplication of entry for the same work. With Weave, a user or manager can build a process one time and reuse the template over and over by easily dragging and dropping into a larger workflow process.
2009 has proven to be yet another exceptional year for ScheduALL. We have seen significant growth and the products we are bringing to market are poised to deliver sizeable gains for our client community. One area I am most proud of is our employees and delivering on our client commitments. When times are tough it is easy to overpromise things that are just not possible, in order to achieve revenue objectives. At ScheduALL, I am so very proud of our ability to remain vigilant to client needs. I am proud to know we have stood shoulder to shoulder with our client partners to deliver on our commitments. This speaks volumes about who we are, our culture, and our future potential — this is why our ScheduALL solutions will serve a greater good for many years to come.