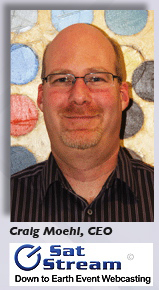 The close of 2008 saw the birth of a new company, SatStream. Over recent months, we have witnessed a growing trend for live events to stream via the Internet. This is, in part, due to the nature of the Internet itself. Technology has developed at a startling rate over recent years, allowing wide accessibility across the globe — additionally, much faster last-mile connectivity has occurred for developing countries. A few years ago, watching a football event over the Internet, for example, would have been practically impossible. Now, viewers can experience a premium rate broadcast on their PC or mobile phone.
This is where SatStream comes in. The Company's founder, Craig Moehl, one of the pioneers in the European webcasting market, realized there was a gap in the market for providing content owners and rights holders with a turnkey solution for making satellite broadcast content available for use on the Internet. From its bespoke broadcast-standards facility in London, SatStream is able to provide the entire package, from acquiring the satellite feeds, adding commentary and security where required, encoding to web formats (such as Flash or Windows Media) to a bespoke player on the clients' website. In addition, SatStream manages the entire delivery process, guaranteeing delivery of the streams to the global viewers in the most reliable, yet cost-effective way possible.
Since its launch, it has been a busy year for SatStream, with projects including the signal acquisition, transcoding, and streaming of the BUPA Edinburgh Great Run in May. In June, SatStream provided a two-hour briefing to the world media and viewers of Microsoft XBOX EMEA and disclosed not only the newest games releases, but also new collaborations with sites such as fast.fm, Facebook, and Twitter. This year also saw SatStream provide Endemol Sport with webcasts of a number of Manchester City Football Club matches, including three from South Africa that formed part of the Vodacom challenge, a pre-season football tournament. The matches were beamed live over satellite, received at the facility in London, then encoded into high-quality Flash and distributed globally over specialised networks to the web. SatStream will be ending the year with an open day at its London facility. Broadcasters, digital agencies and streaming companies are invited to attend. For more information, please contact helen@bithammillpr.com
What does 2010 have in store? The recent success of the Internet-only England vs Ukraine match confirms that SatStream is in the right space at the right time, offering the right services to rights owners. This demand for Internet streaming will continue to grow, as EPG's become more and more overloaded and broadcasters look to webcasting to add value and augment revenue streams. SatStream is well placed to assist broadcasters augment their current services by adding editing, commentary, chat/feedback facilities, and new encoding technologies to different platforms. Looking even further forward, SatStream already has interest from broadcasters looking to book services for London 2012!