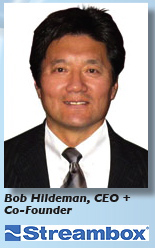 As 2009 draws to a close, Marshall McLuhan's concept of a "global village" is closer to reality than ever, thanks to satellite technology. Even in the furthest-flung corners of the world, humans now have unprecedented capabilities for receiving and sharing up-to-the-minute information thanks to the latest in satellite-enabled live newsgathering systems. Technologies that can improve the quality and reliability of newsgathering via satellite have been a strong focus for Streambox this year, and will continue to be so going forward. A case in point is our new Streambox Advanced Distribution Service (ADS), which provides a cost-effective and efficient method of receiving broadcast-quality IP video over a public Internet connection — therefore bypassing the expense of a leased line.
A little background: Streambox's business is dedicated to providing a software-based platform for live and file-based newsgathering and IP base video transport and acquisition. Our solutions are based on the industry-leading ACT-L3™ codec, which provides unrivaled performance, reliability, and quality over low data rate IP networks for fast transmission and playout of video streams in HD and SD. For mobile newsgathering, a Streambox encoder-equipped laptop and a low-bandwidth Internet connection are all that's needed for non-technical news teams and reporters to file breaking news from rugged field locations — presenting a powerful and inexpensive alternative to deploying microwave trucks.
As reliable Internet services are often not available in remote and less developed locations, low-bandwidth (up to 384 kp/s) satellite terminal solutions such as Inmarsat BGAN and Thuraya IP can bridge the gap between the laptop encoder in the field and the ground station or POP in the nearest major city. Although the Streambox encoder provides easy-to-use tools for field reporters to add forward error correction (FEC) to help prevent packet loss, the additional overhead will affect its quality when forced through the BGAN terminal's narrow uplink pipe. The problem is solved with Streambox ADS, which adds FEC to the video stream immediately after it is downlinked from the satellite to the BGAN or Thuraya IP Earth station. From there, the stream can traverse the much-higher bandwidth of a public Internet connection to be delivered to customers' receivers without packet loss, with minimal latency, and at the highest-possible picture quality. As customers don't have to invest in servers, leased lines, or virtual private networks (which can rack up prohibitive installation costs and monthly service charges), Streambox ADS provides the most cost-effective approach available for satellite newsgathering. For customers who already have a VPN or leased line return path infrastructure in place, the solution provides a reliable backup IP service. Streambox ADS is currently offered by Vizada as part of a bundled BGAN or Thuraya IP service package and is directly connected to Vizada's network infrastructure.
The demand for services such as Streambox ADS will only continue to increase with the proliferation of global information and the increasing competition among news outlets to deliver live, breaking news to viewers as events unfold. Streambox's objective is to partner with satellite providers to make this task easier and more cost-effective without compromising video quality — especially for news that is breaking from remote or difficult locations.