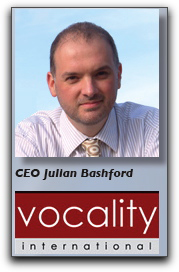 Vocality designs and manufactures routers and multiplexers for the satellite industry user — primarily mobile SATCOM, such as military tactical or satellite news gathering. The Vocality kit is widely used in Paradigm Secure Services's defence communications platform operated for the U.K. MoD, along with the Army and Navy users in a growing number of countries as well as by some of the largest NGOs and the majority of the main "three letter" broadcasters for communications in North Europe and the U.S. Everything hasn't been plain sailing at Vocality in the last couple of years. The company has been required to mature to address the technology demands of its client base — demands that include a broader range of router technologies, high product stability for demanding environments and ever reducing costs of products — more bang for their buck.
However, the last 12 months have seen an astounding revolution at Vocality. Core multi-function products such as the V150 are the backbone communications platform behind a large number of welfare, tactical, and satellite news gathering networks. These products are stable and highly functional. That said, for the OEM integrator or tactically deployed, they sometimes needed something else. Vocality's CEO Julian Bashford explains. "The U.S. market, in particular, has been a very tough market for Vocality, for a number of reasons, but as our key partners are aware, Vocality makes really solid and highly specified products. This means explaining how a product which is a router, a multiplexer, a voice gateway, an ISDN Extender, and a secure voice platform — can be offered all in one box. It's too much for many users to work with. For a start — it's not CISCO!!" For a small company in a market where CISCO is king, it is easier to work with CISCO than against, so we gave users the option not to use Vocality as the router, but to use CISCO, which is pre-approved for use in defence applications. This epiphany moment has defined and shaped our growth strategy for the coming years."
With the support of many — what seemed at times like the entire satellite industry — Vocality released BASICS, a range of single function devices, offering tactical voice, four wire or IP services within a very small form factor (PC104). Importantly, for users — there's no router, is what the customer wishes. The kit is ideal for integrating into third party systems. With the launch of BASICS in 2009, Vocality was able to provide a 'kit of parts' to the industry, providing low cost voice over satellite. These solutions have been taken straight to the hearts of key decision makers in tactical networks worldwide.
Vocality has completed some critical restructuring and Vocality is ready to address what we believe will be the most significant years of growth in Vocality's history. Vocality has been awarded some significant contracts recently, including one which could be valued at up to 11million pounds. The fundamentals of the company remain the same as we enter 2010. We save customers satellite and bandwidth space, time in training, time in deploying and, best of all, we save customers money Vocality is ready to take these fundamentals to a significantly larger audience and enter 2010 in a very fit, cash positive and solid fashion, with plans for new products, markets and technology which are sure to excite our users over the coming 12 months.