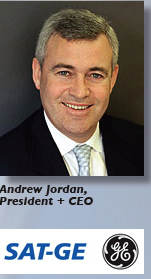 Amidst the global economic downturn of 2009, satellite demand in the Pacific Ocean Region (POR) remained robust — SAT-GE experienced yet another year of significant growth. GE-23 is positioned directly over the region with broad C-band coverage as well as unique Ku-band coverage. The Ku- array serves the entire pacific with interconnected spot beams from Los Angeles to Beijing and Alaska to Perth. Leveraging the unique capabilities of GE-23, SAT-GE benefitted from expansion in many sectors that included the following particulars.
U.S. Government
The U.S. Government increased their use of Netcentric and Communications on the Move (COTM) applications. Such drove demand at a time when cancellations or delays of Government-owned satellites resulted in more overall reliance on commercial satellite providers. We saw an increase in demand for our services that support remote operations, maritime, and aeronautical applications in key Asian theaters of operation across the POR.
Cellular Backhaul
The expansion of mobile phone usage in developing nations continued unabated during 2009. Satellite's ability to provide 'instant' infrastructure resulted in strong growth in this application area. Among regions seeing significant expansion of cellular services, Indonesia emerged as an important market for SAT-GE.
Maritime + Aeronautical Broadband
The insatiable need for ubiquitous, Internet connectivity was a key driver for broadband demand in the maritime and aeronautical sectors in the major transpacific airline and shipping routes. While the growth in newly installed platforms was impacted by economic conditions, incremental growth in usage of existing platforms continued.
Looking forward, we expect to experience continued growth in 2010 and beyond. Demand for the type of Ku-band connectivity provided by GE-23 today is expected to grow dramatically. For C-band, the picture is less dramatic, but given the world's appetite for video & other C-band drivers, the outlook is good, nonetheless. We remain very optimistic about our prospects for future growth.
SAT-GE, the only U.S.-based operator to provide international fixed satellite services, offers capacity on the GE-23 satellite at 172 degrees East, via 6 individual beams (5 Ku- and 1 C-band) and provides continuous land and oceanic coverage from Perth, Australia, to Los Angeles and from Alaska to South New Zealand, encompassing East Asia and the Pacific rim.