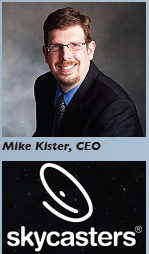 Skycasters is a leader in broadband satellite Internet solutions for businesses that require more than traditional terrestrial landlines. Everything in Skycasters' infrastructure, including teleports, hubs, and the network operating center, is business-grade and company-owned. Even the equipment at the customer's location is business-grade, and designed to meet the unique challenges of industry, no matter how rugged the conditions. Skycasters is headquartered in Akron, Ohio.
During 2009, the world seemed gripped more in fear than in actual turmoil. Acting in the face of fear, Skycasters chose to keep building and improving. We continued our infrastructure development, our facilities improvements, and strove to deliver the best possible service to our customers. We hired new staff, purchased new equipment, and spent the money necessary to run our business the right way. While we were pursuing this course, we found that many customers were doing the same thing. Sure, some belt-tightening was occurring everywhere around us, but our customers were retooling or wholly revamping their IT processes to include satellite broadband Internet as either a primary connection or as a business continuity solution.
Skycasters' mobile communications trailer and our business continuity and failover services were the brightest stars in our year. Some customers purchased the trailers for primary connectivity at remote job sites, but the key momentum was with the first responder community. VSAT trailers are maintained for disaster response on the premise that terrestrial connections will either be too distant or wholly or partially compromised by the event that prompted the emergency response. Fully deployable in minutes, first responders gain broadband Internet access within cable reach of the trailer, or within 1,000 feet via the wireless hotspot standard on all our trailers. These customers find that deploying an auto-acquire antenna on a trailer, rather than on a vehicle (van, bus, mobile command center), leaves the tow vehicle free to leave the scene. Painstakingly engineered and refined during a 24 month R&D cycle, this trailer represents our best thinking in terms of quality and value. The standard size trailer may be equipped with C-Com's .98m or 1.2m iNetVu auto-pointing antenna. Our slightly larger trailer accommodates the 1.8m iNetVu. The antenna rides between the rear mechanical utility box and the removable front electronics box on an ultra strong boxed aluminum frame with diamond plate decking. A rigid cover is available for additional protection and peace of mind.
In 2009, Skycasters moved into the business continuity market. Educating business owners that redundancy of terrestrial connections is not truly redundancy for the simple reason that whatever knocks out the first connection is likely to knock out the second, has been particularly effective. Few businesses consider the risks of having only a landline-based Internet service provider. When made aware that a simple water main break, routine road construction or a natural disaster can accidentally damage or disconnect a landline, most agree protecting their business with a less vulnerable Internet connection makes sense. Skycasters' unique formula of end-to-end business grade equipment, managed network, and committed information rates makes our backup Internet solution the most reliable for business continuity. Our VSAT systems are high-speed (up to 5.5 megabits per second), reliable, cost-effective, secure and always available. Some of the solutions we offer include optimizing the customer's system for VoIP; helping the customer set up a VPN; creating a secure, private network with VLANs that restrict how the connection can be used; and connecting the customer's VLAN to a corporate-based VPN or a dedicated line back to their corporate data center. Traditionally, customers setup their business continuity relationship using our standard service plans. However, our flexible and affordable business continuity service options priced from $59 to $99 per month, and suggested by our customers, put the customer as ease because it's "true high speed satellite Internet that's there when I need it."
Skycasters is looking to 2010 to break the mold of Internet service providers in three service sectors.
Communities. In the 21st century, universal access to the Internet is as important as rail lines, telephone service and electricity were in the last century. Communities are being intrigued by the $7.2 billion broadband stimulus portion of the American Recovery and Revitalization Act, and want to better serve their unserved and underserved residents. Providing broadband Internet access to every citizen in a community doesn't have to be hard.
Internet Cafés. In many parts of the world, the Internet café plays a key role in the local communications infrastructure. We should know. We've been working behind the scenes, providing service to cafés for years.
Travel Destinations. In today's always-connected world, if a resort, park, campground, or other vacation destination that's off the grid can't provide broadband access, they can't attract the best guests.
Skycasters can establish a Point-to-Multipoint WiMAX service in about 90 days. A turnkey solution, Skycasters handles all billing and administration, as well as end user credit card transactions. Communities may receive access credits that can be used by police, fire, EMS or governmental offices. Internet cafés and travel destinations can receive a percentage on the revenue. The Skycasters Point-to-Multipoint (PTMP) solution is fully compatible with any existing distribution architecture. Our PTMP solution works well with fixed (wired) networks as well as wireless. Our hybrid WiMAX solution can cover over 25 square miles. We even help customers design it.
It will be years before fiber goes everywhere. When it does, the PTMP infrastructure will be 100 percent reusable, with Skycasters satellite remaining on site as a backup. Call it obsolescence protection. When the end user accesses the Internet, they are taken first to a secure login and payment page, customized for each community or business. It takes only a minute to sign up, and no special software is required. Designed to help stimulate your local economies, the installation includes a free community news web site, with free unlimited access for all citizens. Local businesses could manage various aspects. The local newspaper could manage the news site, a local phone company could run a VoIP PBX, and the local video rental store could co-locate a Video on Demand server. Or if a business, they could run it all.
Custom rate plans help the community choose the rate plans offered, and how to use the access and maintenance credits they receive. They can even provide pre-paid cards to disadvantaged members of their community, and apply for ARRA stimulus funding to subsidize the costs. Skycasters will be with you every step of the way.