Nearly 2,000 delegates converged on Australia's mining capital Kalgoorlie recently for Diggers and Dealers 2013. The event highlighted a focused optimism for Australia's resources growth and was a perfect opportunity for NewSat to announce that the launch of the satellite Jabiru-2 is not far away. Expected in orbit in late 2013, Jabiru-2 is focused on the communication requirements of the Australian resource industry.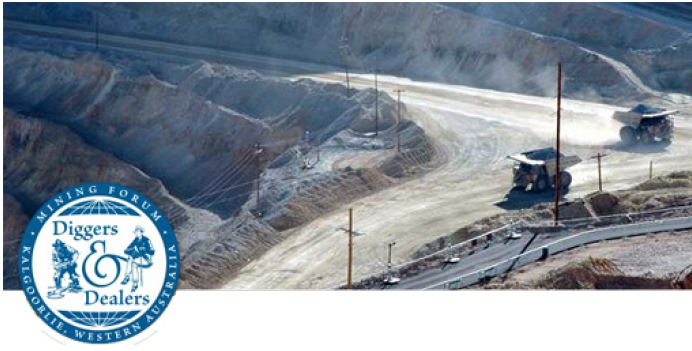 NewSat's Senior Vice President of Global Sales, Andrew Matlock, who was in Kalgoorlie for the three day event, said, "We are very excited by Jabiru-2 as it has fresh capacity over Australia. Providing for mobile exploration and larger bandwidth application requirements, Jabiru-2 will help to support the ongoing operations of the Australian mining sector."
Fresh Capacity
NewSat's new Ku-band satellite Jabiru-2 will deliver further enhanced coverage at 216MHz capacity to satisfy the demanding communication requirements for resource projects in and around Australia. Jabiru-2 is designed specifically for key resource regions in the Pilbara, Kimberley, North West Shelf and Timor Gap.
The availability of high-powered satellite capacity, which will provide more efficient solutions to support large bandwidth applications over these hot zones, is essential for the operational efficiency, employee productivity and future evolution of the resource industry.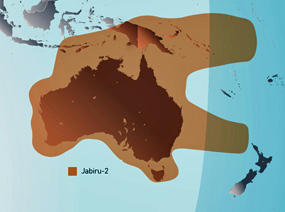 Jabiru-2 further strengthens NewSat's position as the leading satellite communications company servicing Australia's mining and exploration sector. NewSat's recent developments, such as their new satellite trailer infrastructure, are transforming remote mine site operations. This is particularly true in the current industry environment which is witnessing increasing cost pressures and a growing demand for operational efficiency.
Auto-tracking For Efficient Exploration
One of the most common challenges mining companies are faced with is the delivery of communications and logistics to their remote and mobile teams. With communications of critical importance for operational efficiency, as well as the safety of all personnel on and off-site, satellite technology provides the solution with fixed and mobile high-speed Internet, voice, video and data for end-to-end communication in and around mine sites.
NewSat provides a range of VSAT services that include the new satellite trailers that can be deployed almost anywhere, making them ideal for business continuity and connectivity in remote, hard to reach locations or temporary sites. The satellite trailers provide maximum flexibility and are built for off-road endurance. They are self-contained quick deploy communication units that can be towed anywhere, establishing instant broadband connectivity within minutes.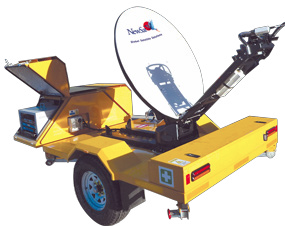 From the Diggers and Dealers event, Andrew described why infrastructure developments and Jabiru-2's "new" capacity are so important for the Australian mining industry, "with 'brownfield' investment on the rise, the ability to extend communications is essential. Auto-tracking satellite trailers equipped with wireless networks, voice services and job-specific technology enable small teams to extend their area of operation, without losing the technological edge. Reliably mobile, NewSat understands and provides flexible, secure and efficient connectivity through all stages of mine site evolution from exploration and frequent site relocations to construction and established operations."
Remote Mine Site Evolution
Satellite communications has played an increasingly important role in remote site evolution; from initial mobile exploration to complex mine site operations. Satellite communication infrastructure supports mining operations from on-site office requirements and welfare services, to remote asset monitoring to backup and safety systems. Never before has the need to communicate in real-time been more important and satellite has evolved with the requirements of today's resources companies.
NewSat has already partnered with one resource company, Atlas Iron, who are an independent Australian iron ore company based in Western Australia. NewSat is providing Atlas Iron exploration teams with satellite communications trailers that deliver instant mobile broadband whenever and wherever their assignments may be.
The satellite trailers give Atlas Iron teams the freedom to tow their communications infrastructure for immediate connectivity at various stages of mine-site exploration and construction. The VSAT dish readily deploys and aligns with the relevant satellite, providing instant connectivity including Internet connectivity, real-time data transfer, video conferencing and information-sharing, thereby maximizing efficiencies in iron-ore discovery.
New Australian Mining Landscape
Andrew also highlighted the new Australian mining landscape he observed at Diggers and Dealers 2013, "The recent investment slowdown in the Australian resources market has resulted in significant cuts in exploration spending and mining operations. The mining industry requires communications that meet their growing demand for cost effective, uninterrupted connectivity. NewSat's proven track record in the resources sector of supporting small and large mining projects is about flexible and reliable satellite solutions that are specifically designed for remote locations, ensuring the safety of all personnel on and off-site and optimizing productivity."
For further information, access NewSat's Mining Industry Flyer infopage at: http://www.newsat.com/Industries/mining.html