---
By Pacôme Révillon, Chief Executive Officer
Finding a single qualifier for the year 2014 would be a challenge in an industry that is much more diverse than one may think. Overall, it would likely be difficult to simply call it a great year, as early indicators suggest a limited revenue growth for the sector. One cannot consider it as a bad year either, as certain segments and players have still performed well and a number of investment projects have been progressing. Let us have a look at some salient features of the last few months.

Likely moderate revenue growth for satellite operators
This year should be another year of slow growth for satellite operators on a consolidated basis. Revenues posted by the top three operators (Intelsat, SES and Eutelsat) for the first nine months suggest a growth of less than 1 percent. Even if regional operators have tended to post higher growth rates in recent years, the overall industry performance should remain limited.
The rationale for that slow growth has already been presented and includes a mix of:
• No growth in historical largest satellite markets (North America, large parts of Europe)
• Overcapacity in certain areas such as Africa due to the recent surge of capacity supply and in the case of Africa to the recent spread of fiber networks, which results in pressure on capacity pricing
• Lower demand from the US government for military communications, which has not been fully compensated by other verticals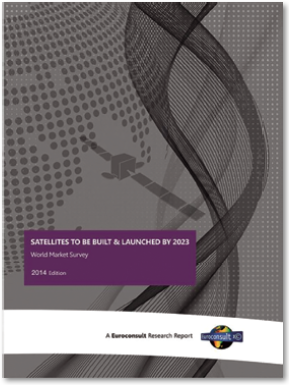 Still, while data is not yet available, our review of different regional and national markets in the course of the year suggest that the growth in capacity used remains at least as high—or even higher—than the current revenue growth, with a mix of leases on regular and HTS satellite systems.
HTS progressively moving from the investment to the business phase
HTS systems have dramatically increased their reach this year. HTS supply has increased by 50 percent outside of North America and Europe, and each world region will have at least two operators offering HTS capacity by the close of the year. In Latin America, HTS supply has more than tripled. This matched the announcements of full payload leases on two Eutelsat satellites.
In parallel to geostationary satellites, O3b could start commercial operations in the summer, following the launch of its second batch of satellites. Although HTS systems still represent a limited part of the overall capacity leases and revenues, their share should rapidly increase.
Reducing transmission costs a strong priority, but it will impact revenues in the short term
Repeatedly, a number of satellite operators, service providers and manufacturers have emphasized the need to reduce transmission costs in order to maintain the competitiveness of satellite solutions and to open new growth opportunities.
This supports the interest for optimized solutions, from high throughput payloads to electric propulsion, lower cost launch services. This also triggers the launch of new systems as operators try to penetrate new markets. The combination of multiple entry strategies and of the availability of new satellite assets has started to result in a higher volatility in pricing conditions.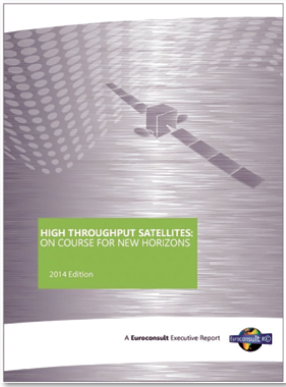 Still a robust year for satellite orders
Satellite procurements remained high in 2014, with 18 GEO comsats ordered at the end of October, and likely up to 22 by year-end (vs. 24 in 2013). While satellite orders remained stable in recent years, the nature of the orders has changed, with more diversity in terms of operators, of payloads, and of financing schemes.
Government-backed satellite operators continue to emerge in Asia, Middle East, Africa and Latin America, while the 40, existing, privately-owned GEO comsat operators renew and/or expand their fleet size and fleet coverage. High throughput payloads multiply, rather on multi-mission satellites than on dedicated HTS, and flexible payloads start to become affordable for commercial operators with some forms of digital processing. In order to allow for lower, individual capex, what we call "CondoSat" has also multiplied, with funding and capacity sharing by two operators.
Competitive changes for satellite manufacturing and launch
Competition experienced change in 2014 for the manufacturing and launch of GEO comsat. Order taking is still dominated by the North American satellite integrator MDA/SSL, with the two European integrators closing in, those being Airbus Defense & Space and Thales Alenia Space. While Orbital Sciences Corporation (OSC—currently being merged with ATK) booked its first two HTS orders, Boeing and Lockheed Martin are busy delivering multi-satellite orders for commercial operators (Intelsat and Inmarsat) and the U.S. government, respectively. Mitsubishi Electric had its second commercial order outside Japan in 2014 with the operator of Qatar.
For commercial launch services to GTO, the duopoly of Ariane 5 and Proton has changed into a duopoly of Ariane 5 and Falcon 9, as Proton experienced another launch failure, while Falcon 9 had three launches for two Asian operators.
The spectrum challenge
This year has seen a new rise in the tensions on the use of spectrum. The claim of telecom operators for the use of C-band has reached a new level, and lobbying efforts have taken place by a number of industry stakeholders in preparation for the World Radiocommunication Conference (WRC) 2015.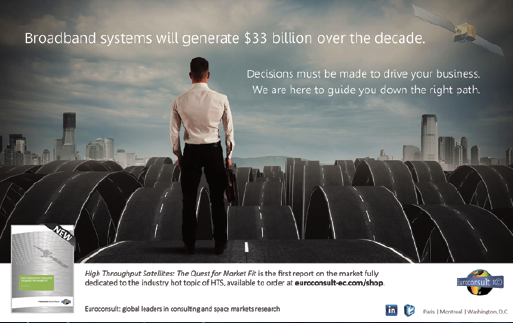 Both the preparation activities of the terrestrial and satellite industry have become more organized, and intense discussions have started with regulators in the different world regions.
Some thoughts for the year 2015
Anticipating short term dynamics can be as challenging as identifying long term structural trends. A few important facts should, however, have a significant impact on the industry.
• Available capacity from HTS systems will further increase by around 20 percent, with growth of regular capacity supply also standing at around 8 percent. Considering global operators, Inmarsat should have completed the deployment of its Global Xpress Constellation, while the first EPIC satellite of Intelsat should also be in orbit. The NBN satellites should also start serving the Australian market.
• Larger capacity supply could contribute to a new growth in demand, also boosted by new generation terminals and the availability of higher spectrum efficiency. However, the next year should still be challenging for satellite operators, as pricing conditions and economic models will remain under pressure.
Few transactions took place in 2014, with most of them targeting small size service providers. More might however take place in 2015, as a number of companies will aim at rationalizing their activities and/or reaching a critical size. A first event could be the potential sale by the Airbus group of part of its SATCOM services as stated by the group following its recent strategic review.
• The outcome of spectrum decisions during WRC 2015 will have a strong impact on the industry. It could impact the middle term usability and then investments in the C-band, but also create a reference case suggesting that the same threat could apply to other frequency bands.
Pacôme Révillon is CEO of Euroconsult, which is based in Paris, France. Pacôme leads Euroconsult's strategy and operations and consults with high-level clients, particularly in satellite broadcasting, communications and finance. Under his management, the company has experienced a continuous global expansion and has strengthened its position as an international reference on the strategic, economic and financial aspects of space activities.
---
"The Best Of Times" For Satellite Actors
By Chris Forrester, Senior Contributor
Each year has its fair share of headaches for satellite operators, and 2014 was certainly no exception. The year was blisteringly good for SpaceX, and not so good for Russia's Proton, while French-operated Arianespace faced continuous squeezing on its charges and political pressures on plans for the updated Ariane-6 heavy-lift rocket, now seemingly as far away as ever.

Michel de Rosen, President and CEO at Eutelsat, summed up the position regarding SpaceX, saying, "There were some considerable anxieties in the early days about SpaceX. We all remember the ads saying 'Some launch, others talk,' which appeared a year or two ago. I was surprised at how skeptical some people were about SpaceX, but the reality is that Mr Musk had the courage to go ahead and with his concept of frugality, and succeeded. Look at the car industry where the manufacturers always want their latest models to have a more sophisticated this or advanced that. The genius in Musk's case is that a competitive launcher did not have to be more sophisticated or offer more luxury—the launcher just had to work and be cost-effective. Our industry needs this frugality. We all experience very real pressures from our customers to keep their transponder prices low, and so need to transfer these downward pressures on our own suppliers."
Mr. De Rosen is far from alone in his comments. Martin Halliwell, SES' CTO, has also grumbled about Arianespace's lack of progress. Halliwell, speaking at an SES investors' day on June 25th, said that over the past 12 years ,the European Space Agency had required a budget of $1.6 billion in order to complete design work on a new upper stage rocket engine (the Vince engine). Halliwell said in that same 12 years, SpaceX of California had come from nothing and created a complete rocket launch system. "Europe has to change gears, and get going," Halliwell said. "I think they are now, finally, getting the message. They have to step back and make this thing happen. They are saying, 'Look, we're not going to survive if we stay like this.'"
Indeed, SES CEO, Karim Michel Sabbagh, bluntly told readers of the French daily Le Monde in September that "launch prices could halve" due to SpaceX's innovation. He explained that the typical cost of a rocket launch, of $100 million, had come down to about $60 million because of SpaceX and it could tumble to $30 million if SpaceX's re-usable first stage comes into play. "SpaceX's new feature is its industrial model, not its launcher," said Mr. Sabbagh. "The Europeans are not lacking on any front. They have the technology and the ability to reinvent the industrial model. What is needed now is the will."
Time will tell whether Arianespace achieves this new goal. However, 2014 was also a year of further consolidation in the business. Top of the list was the Eutelsat purchase of Satmex which started in July 2013 and wrapped up on January 1st of this year. The $831m (plus $311m in debt) purchase was considered 'brave' at the time (Eutelsat's share price immediately fell 6 percent) and many wondered how Eutelsat would transform this—mostly—telco-serving satellite into a profitable concern. After all, it was not that long ago that Satmex was facing bankruptcy. This past year has shown what can be done with re-invigorated local management and solid backing from a powerful parent. Eutelsat Americas is healthy and helping boost profitability, as well as expand Eutelsat's coverage over the Americas.
2014 also saw peace break out in terms of a long-running dispute between Eutelsat and SES over transmission rights from a key 28.5 degrees East spot over Europe. The dispute centered over access to 500MHz of frequencies at the 28.5 degrees East orbital position. A Eutelsat craft was occupying the position and had been responsible for dozens of channels being beamed into the U.K. and Ireland.

On Sept 16 2013, following a decision by a French Chamber of Commerce arbitration tribunal, SES announced that they had won the dispute and would start transmission on October 4, 2014, on its own satellite, which the company duly did. Eutelsat's clients switched to the SES craft. Eutelsat contested the decision, saying they would also appeal an earlier August 30th verdict achieved by the actual rights holder (Media Broadcast) at a Bonn, Germany, court where Eutelsat were ordered to not interfere with SES' transmissions. These somewhat ancient rights extend back to transmissions "owned" by Deutsch Telekom's T-Systems Business Services, and subsequently acquired by Media Broadcast. Readers with extremely good memories will remember they were originally part of the Kopernikus German geo-satellite system. Media Broadcast holds the license for the frequencies issued by Germany's licensing authority (Bundesnetzagentur).
A January 30th announcement from both parties clears away those complaints and reinstates a working relationship between the two giant satellite operators. In essence, the dispute is completely settled, and fresh "long term" commercial terms agreed.
4K, more than just a talking point
2014 also saw a greater number of tests of 4K transmissions, helped by the largest soccer event in the world, the World Cup from Brazil. There were additional experimental trials at NAB, IBC and other special events.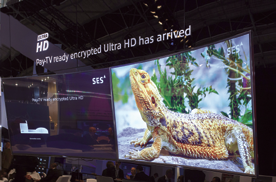 As the year has progressed, it is now clear that the 'Age of 4K' is almost upon us. SES COO Ferdinand Kayser, speaking at IBC in September, said that SES is convinced that Ultra-HDTV will make a major impact, and that satellite will play a significant part in winning audiences for 4K viewing. "Satellite will be very relevant for delivery in the future," he said. Kayser based his argument on the challenges faced by IPTV and (to a certain extent) cable delivery of 4K signals.
Kayser firmly expects some key European broadcasters to have 4K channels on air during 2016. "The catalyst will undoubtedly be the UEFA soccer and that year's Olympics from Brazil." He said he expected some important payTV broadcasters, such as Canal+, to start closing their Standard Definition (SD) services soon. Kayser admitted that, even with the arrival of 4G and perhaps even 5G, as well as digital compression, Ultra-HDTV on these networks would be less than perfect. "No single technological answer ticks all the boxes," he said. "But satellite is very strong and also represents value for money and maximum choice. By 2025, we expect 1,000 Ultra-HD channels to be on air, and around 500 million Ultra-HD displays in use."
October also witnessed the giant MIPCOM programming market devote four days to the discussion and showcase of 4K material. The event was kicked off by 21st Century Fox's Co-COO James Murdoch, who spoke about how excited he was by the prospects for more "immersive" television. His colleague at Sky Germany, Gary Davey (EVP/Programming), told delegates that he had no doubt that 4K broadcasting would be the new TV standard. "We are going to be very active in 4K. We have not picked a launch date yet, but we will definitely be in the 4K business because we see it as a natural evolution of delivery very high quality content. We now know enough about it, and understand the scale of the problems so that we see it as a manageable transition."
"We are absolutely committed to 4K," added Davey. "My view is that people love the idea of big screens today. And as they buy these screens they are going to want content! One of my favorite stories, being an old-school linear TV guy, is with today's kids going to university and having their only connection with what we would call television is through a tablet or laptop computer. This is scary, I know. But the good news is that as soon as they leave college and get a job the first thing they do is to buy a huge TV set. There's a genuine desire for bigger screens and higher resolution. If [producers] have the choice to future-proof their output into 4K, they will."
2015 promises to be just as interesting. No doubt there will be challenges a-plenty—and more than a few opportunities!
Senior Contributor Chris Forrester is a well-known broadcasting journalist and industry consultant. He reports on all aspects of broadcasting with special emphasis on content, the business of television and emerging applications. He founded Rapid TV News and has edited Interspace and its successor Inside Satellite TV since 1996. He also files for Advanced-Television.com.
---
By Erez Antebi, Chief Executive Officer
For more than 25 years, products powered by Gilat technology have shipped to over 90 countries. We design and manufacture ground segment equipment and solutions, including VSAT systems for High Throughput Satellites (HTS), mobile terminals and components.

The satellite industry sits at a turning point: The frequent launches of high-throughput satellites have resulted in a situation in which HTS supply is expected to more than double within the next two years (Comsys, 2014). The initial consumer broadband market in North America is an example of what is occurring due to the abundance of satellite capacity—costs are down and the applications market is quickly broadening. We are seeing worldwide demand for HTS applications in a wide range of markets: Cellular Backhaul, Mobility, Government, Education, Emergency Response, SMEs, and Enterprise applications.
In response to such growing demand for Ka-band and HTS worldwide, Gilat has developed SkyEdge II-c, a comprehensive VSAT platform that supports multiple applications, a one-stop-shop for applications spanning from consumer to enterprise markets, and includes cellular backhaul and mobility. Gilat's multi-platform hub has been designed and optimized to operate with new multi-spot-beam satellites in addition to traditional wide beam satellites. SkyEdge II-c delivers high-throughput service speeds and very fast browsing capabilities using advanced web acceleration techniques.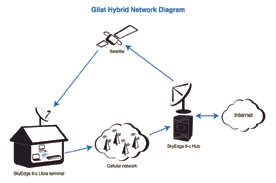 The SkyEdge II-c platform has the flexibility of scaling up to serve a full satellite with one million VSATs, as well as the competitive option to support a network consisting of only twenty VSATs. Gilat's scalable hub is managed by TotalNMS, a comprehensive network management system. TotalNMS supports fast service introduction and effortless maintenance while maximizing network potential and assuring end-user satisfaction. It brings a complete set of network management functions into one simplified interface, streamlining service fulfillment and assurance operations, thus saving time and reducing costs.
Gilat has established strategic partnerships with HTS operators such as Thaicom, Inmarsat, HISPASAT and SES Broadband Services, to deliver HTS solutions worldwide. This year, multiple hubs and thousands of terminals were deployed for a diverse range of ISPs throughout Europe and Asia. As an example, we received a hub expansion order this year from SES Broadband Services for its "Astra Connect" network and we also signed on new ISPs and received orders for VSATs from new and existing ISPs who subscribe to the SES service.
Everyone can agree that providing a region with broadband access brightens its economic outlook. Indeed, the satellite industry has led the way in delivering broadband to the most remote areas of the world. However, the Customer Premise Equipment (CPE) price point is often far out of reach in the developing world. This year, Gilat addressed this need with SkyEdge II-c Libra, an innovative, hybrid satellite-cellular terminal, priced at under $200 per terminal, less than half the CPE price of a regular VSAT. The terminal was designed to deliver broadband Internet to lower-income households unable to afford a regular VSAT terminal. Gilat expects this product to significantly extend the reach of broadband to underserved areas in developing countries. The Libra solution leverages existing networks and provides growth paths for Mobile Network Operators (MNOs), Direct-To- Home (DTH) providers, and satellite ISPs.
• MNOs can leverage their existing infrastructure to offer high speed broadband
• DTH service providers can enrich their offerings by adding broadband services
• ISPs can increase ARPU and customer loyalty by offering affordable, high-speed, fixed broadband Internet services
Libra takes advantage of the asymmetrical nature of residential broadband traffic by transmitting the heavier download traffic (like video) via satellite, providing vastly improved download speeds of up to 20Mbps. The lighter upload path from the end-user is routed via the existing cellular network. As the latest addition to our SkyEdge II-c family of products, Libra exemplifies the multi-purpose, multi-application nature of the platform. Additional information is available at: http://www.satmagazine.com/story.php?number=511281538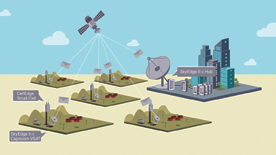 During the 1990s, Gilat brought voice communication to the most remote locations around the globe; today, the challenge is to deliver to these areas high throughput data over LTE networks, and at a speed that matches handset device potential. The requirement is performance as well as providing cost-effective solutions and fast deployment. Gilat has met this challenge by introducing this year two unique solutions that enable MNOs to engage in quick network expansion. We have identified two distinct needs which we have addressed:
• CellEdge—A full turnkey solution targeted at developing countries to extend 2G/3G networks to unserved rural areas
• Capricorn—Satellite backhaul for quick 3G/LTE deployment in the developed world, where time to market means success
• CellEdge—Integrated and Optimized Small Cell over Satellite
Gilat is unique in the satellite communication industry by offering the small cell base-station in addition to the satellite backhaul. Small cells enable operators to increase coverage and capacity where needed at a fraction of the cost of deploying additional macro-base stations. In hard-to-reach, sparsely populated areas, small cells with satellite backhaul are not just the only economically feasible solution, but are also the fastest to deploy.
CellEdge, introduced this year, is a full turnkey integrated solution optimized for efficient bandwidth usage and an enhanced user experience. Gilat offers an integrated solution with full turnkey services to support the needs of developing countries to extend 2G and 3G cellular coverage to unserved rural areas. This need often comes from Universal Service Obligations (USO) mandating coverage to the most remote regions to assist in closing the gap of the digital divide. Additional information is available at: http://www.satmagazine.com/story.php?number=1806247148
CellEdge offers a complete turnkey installation, combining the small cell, the VSAT, the energy solution, the infrastructure and logistics was deployed in record time in the Amazon rain forests of Brazil. TIM Brasil, the second largest operator in Brazil, was under an Anatel obligation to quickly provide 3G coverage to the remote regions of Santa Catarina and Paraná. Twenty rural sites were deployed under a two month tight deadline, followed by a repeat order an additional 30 sites. For more information, please see:
http://www.gilat.com/Gilat-Deploys-3G-Small-Cell-Network-for-TIM-Brasil-in-Only-Two-Months
Gilat has brought to market this year an outstanding 200Mbps TDMA VSAT that quickly provides a high-performance, cost-effective, backhaul solution. SkyEdge II-c Capricorn was designed with the backhauling requirements of 3G/ LTE networks in mind. This solution is especially effective as an alternative to the challenges faced by MNOs who are required to deploy multiple microwave links.
Gilat's SkyEdge II-c Capricorn offers mobile operators a method to provide LTE deployment ahead of their competitors. In developed areas, mobile operators are expanding their LTE networks to keep up with the ever-growing demand for more data, delivered at higher speeds. Handsets on LTE networks can reach extremely fast download speeds and must be supported by a reliable, high-speed backhaul infrastructure. With our patent-pending acceleration technology, built into our SkyEdge II-c hubs and terminals, we have succeeded in overcoming satellite latency issues to support the high-speed requirements of LTE networks. Gilat's SkyEdge II-c Capricorn successfully completed tests for LTE/4G cellular backhaul at a tier-one operator in East Asia. The 200Mbps Capricorn demonstrated an outstanding sustainable speed in a single-session FTP download, reaching the handheld device's maximum performance. The demonstration took place over an LTE network based on the technologies of different, leading, equipment providers. The end-to-end test proved the capability of Gilat's acceleration technology to overcome both satellite delay and device limitations. Accelerated and encrypted data was delivered via satellite at speeds previously associated only with terrestrial networks.
The bursty nature of data traffic on LTE networks requires TDMA channel access instead of SCPC. The combination of 200 Mbps data rates and TDMA translates into much better economics for mobile operators deploying satellite for LTE networks. Additional information is available at: http://www.satmagazine.com/story.php?number=1523386243
The number of mobile units worldwide is projected to double within eight years (NSR, 2014). Leading the way in terms of revenue will be units enabling commercial airborne communications, as the expectation of constant connectivity expands from the U.S. to the rest of the world. Gilat sees growth potential in several mobility market verticals in which it is involved. Gilat possesses a strong differentiation in Mobility by meeting market demand for terminals with smaller sizes, lighter weights and lower power consumption.
Gilat sees great opportunities in Airborne and is working on further increasing its presence in that segment by adapting our antenna technology to this market. As our antennas are primarily made of plastic instead of aluminum, we believe the benefits of reduced weight and cost will be particularly attractive to potential customers. This year we have already supplied Wavestream BUC solutions to Tecom and Aerosat for inflight connectivity served by Global Eagle and Gogo. Outside of the U.S., we are noting a strong demand for our SatTrooper manpack terminals, which are available in Ku- and Ka-bands. SatTrooper is one of the smallest and lightest auto-point terminals in the market. A primary reason for this is the unit's low power consumption, which reduces the weight of the energy pack. At the same time, SatTrooper enables very high-speed transmissions, such as is required for video transmissions. Also, Gilat's Wavestream BUCs have been delivered this year for various OTP applications to our longtime customers L3 and General Dynamics, among others. Our BlackRay solutions for unmanned platforms are based on either our low-profile panel antennas or our new small, lightweight parabolic antennas. They are available in Ka- and Ku-bands, providing operators flexibility when choosing satellite capacity. The BlackRay terminals relatively small size and weight extends the operational range of UAVs, all the while increasing mission payload capacity.
2014 has been an exciting year for Gilat with many innovative products and solutions. We look forward to presenting additional pioneering solutions during 2015, with many additional and successful deployments of our groundbreaking offerings.
Erez Antebi serves as Gilat's Chief Executive Officer. He has been with Gilat for over 17 years.In his latest role as executive advisor to the CEO, Erez has been leading Gilat entry to the new market of spot-beam satellites and Ka Band VSAT technology. Previously Mr. Antebi served as Gilat's Chief Executive Officer for Gilat Network Systems (GNS) and Spacenet Rural Communications business units. Mr. Antebi previously served as the CEO of Clariton Ltd, Gilat's Chief Operating Officer (COO) and other executive positions in Gilat Satellite Networks LTD.
---
By Roger Boddy, Chief Executive Officer
2014 has been a significant year for Global Teleports. High Throughput Satellite (HTS) have reached the point where the technology is reliable, efficient, and cost-effective enough to provide a broadband service to become a true competitor to existing offerings.

At Global Teleports, we have been supplying reliable commercial satellite services to the industry for nearly 20 years. However, we didn't rush to enter the domestic satellite broadband market until we were satisfied that we could provide a truly viable service.
HTS has been much talked about over recent years and, during the past couple of years, we have seen some significant developments in the technology. During 2014, HTS technology developed to provide greater accommodation of adverse atmospheric conditions, thereby underwriting the use of higher frequencies that were previously impractical for implementation.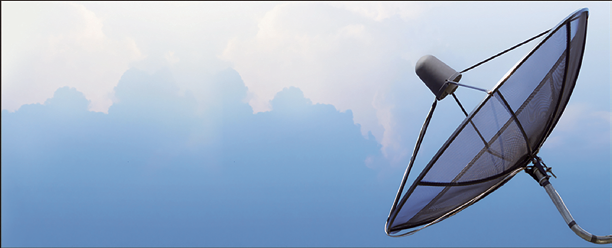 The advent of HTS meant that we now have many times more capacity than traditional satellites, meaning the technology has an important role to play across a wide range of applications. During 2014, we started to see many more of these satellites emerging, with more and more users getting on board with HTS services to extend their reach.
In the world of broadband, HTS fills a gap not currently well-served by traditional satellite or by other broadband services. There are still an alarming number of communities and areas who cannot obtain decent broadband coverage through other means. Thanks to recent developments in HTS, and the fact that more and more satellite operators have launched HTS capacity, we can now move broadband to almost every corner of the world. Also, prior to HTS, satellite broadband has been extremely costly—now we can present a cost-effective and reliable offering across the globe.
At Global Teleports, having engaged in an HTS trial with a major client in Q4 2013, we officially launched our new broadband service for commercial and domestic users, Vip3Play, in March 2014. The service uses HTS technology with capacity now able to reach even the most rural of areas, and all at a competitive price. We are now delivering services into all sectors across U.K. and Europe—in Afghanistan, we are delivering services for the Fire, Crash and Rescue Services at Kandahar Airport.
As HTS has become increasingly available and deployed, we are also seeing the launch of additional, rapidly deployable, consumer class terminals, which are able to provide much greater throughput than their predecessors.
During 2014, there have been some significant developments in antenna design, allowing manufacturers to drastically reduce the cost of user terminals. Our service uses Newtec terminals with the firm's Point&Play® device, which is simple enough that anyone can set it up. In an industry where satellite interference is widely discussed, having a system that automatically directs to the correct satellite is a huge advantage, helping to drastically reduce the potential for errors.
At IBC 2014, Newtec launched its next-generation modem,
MDM3100, which includes a number of technology enhancements. Their new modem is ideal for Enterprise, larger businesses and community service delivery, offering:
• Superfast broadband at speeds of up to 45Mbit/s
• Greater than 1000 simultaneous windows open
• Integrated 4 port, 1GBit/s LAN
Global Teleports is the first service provider in the world to offer the MDM3100 modem to our commercial customers.
There has been a great deal of dismay from rural communities who are drastically lagging behind in the provisioning of broadband. In the U.K., the government has supposedly teamed up with BT to roll out superfast broadband across the country—unfortunately, during 2014, there has been much discontent throughout the country with this plan. Many rural areas have suddenly discovered they are either left out completely when the roll-outs are completed in their areas and they find they are still not connected, or they have to wait an additional two years before they will see the new services arrive for their access.
This year, we have been focusing much of our efforts on bringing our service to those disenfranchised areas, initially in the U.K. Thanks to HTS, we can cover the entire country. We were accepted for the U.K. government-led Urban Broadband Fund's Connection Vouchers Scheme. This program enables customers in the covered cities to fund the cost of broadband installation.
We have also been working with local councils and chambers of commerce to explain how we can assist in offering reliable broadband to rural communities. We are shortly due to start a trial in Wales with a local business, which is currently struggling with poor service. Once up and running, we hope the connectivity becomes the hub of the community.
The story is similar across the globe, with many businesses and consumers struggling with meager connections that can be solved by HTS.
Demand for our services has been extremely positive throughout 2014. To better accommodate our new services, we have expanded our U.K. operation into new, more secure premises, where we will be installing additional antennas, as well as hub and network monitoring facilities, all to enhance our global service delivery capability.
Our intention is to finish the year with this new facility fully operational—we will be well prepared and ready for what promises to be an exciting year in 2015.
---
By Jay Monroe, Chairman and Chief Executive Officer
This has been a great year for Globalstar—2014 was all about continuing the upward trend that was started with the completion of our second generation global network in 2013. That was no mean feat and we have since been working hard at building upon this foundation.

Our team has been energetic and creative in leveraging our resources to help our customers—individuals and businesses—communicate better, in more places and at less cost. We are excited by the momentum we're witnessing. Our credo at Globalstar is to make satellite services relevant to everyone, and it's gratifying when folks say that we're putting our money where our mouth is with this commitment. The process of bringing new and different satellite-based products to the market continues apace at Globalstar. Our ever-present goal is for these products to be economical for our customers to use every day.
In 2014, we saw the launch of SPOT Trace, an economical consumer market tracker that helps monitor any asset. Whether it is keeping tabs on a remote construction excavator, or ensuring your motorcycle is safe in a parking lot, Trace can keep users informed 24/7.
SPOT chalked up its 3,000th rescue in 2014. This is a milestone we're all proud of—there are people alive and walking the planet today, thanks to SPOT messengers, including our latest model, the SPOT Gen3. This is a huge accomplishment for a product which costs just a little more than one hundred dollars a year.
Also launched in 2014 was Sat-Fi, which enables anyone's smartphone, tablet or laptop to become a satellite phone. Seventy-five percent of the Earth's landmass does not have cellular or other terrestrial coverage. That's three quarters of every square mile of land. Now, with Sat-Fi, that huge area is within reach.
On the B2B side of the house, the debut of the STX3 chipset was also a landmark. This little module, with its communications capabilities and long life, is delivering huge commercial opportunities to device manufacturers who embed it into their solutions. By embedding the STX3 into a range of devices, value-added resellers stand to create new business opportunities. Fleet management, intermodal cargo, supply chain, aircraft, ocean-going vessels, and other transportation companies will benefit.
In 2015, we will be making major investments in our backbone infrastructure. We've received delivery of the first two new radio access networks from an order placed with Hughes Network Systems. The North American footprint will be the first to take advantage of this purchase. Our new ground technology assets will make a whole new range of products possible and I can promise they will be as avant-garde and interesting as those we've recently introduced to the market.
For instance, our next-generation ground infrastructure will enable better, smaller and cheaper satphones. We anticipate these appearing in the latter part of 2015. This infrastructure will extend Sat-Fi's reach to an even greater number of people.
We've done a good job of bringing our space operations and engineering teams in Silicon Valley closer together with product and software development. These groups are working in tighter collaboration, the results being improved internal efficiency, but moreover, accelerated rollout of new and better products.
When looking forward to 2015, one area of the business I want to highlight is the terrestrial use of Globalstar's spectrum for Terrestrial Low Power Service or TLPS. This is a private carrier grade broadband communications channel that supports the widespread use of 802.11-compliant devices. Instead of having to build special customer devices, anyone's Wi-Fi compliant device will work on our TLPS communications network. There are already billions of Wi-Fi based wireless devices on the planet and we are adding a billion more each year, so there is an obvious need for more bandwidth. This has the potential to be a huge revenue driver for Globalstar.
Furthermore, we will integrate TLPS with Sat-Fi—people will be able to buy a device which acts like a Wi-Fi router over TLPS but in case of an emergency can operate over the satellite network. This will be a radical change in the way people think about satellite-terrestrial integration.
One of the big buzzwords recently has been BYOD—bring your own device. When you look at how we have brought innovations to the marketplace, especially with Sat-Fi, maximizing convenience for consumers, enabling remote consumers and workers to access satellites from their smartphone, and doing so at the lowest prices. While lots of people are talking about delivering consumer choice and freedom, we're actually doing it.
We are also excited about our burgeoning international growth, particularly in Europe, the Middle East and Africa. Our new gateway in Botswana is a big step forward in bringing affordable satellite communications to countless businesses and people who never imagined such could be within reach. Soon we will have almost blanket coverage of some of the fastest growing economies. On the back of the Botswana gateway, we are already seeing an upsurge in activity across Africa.
In Latin America, we are embarking on a new commercial partnership with our gateway partners for the fast-developing Peruvian market. I anticipate this will fuel further momentum in neighboring countries.
We continue to dedicate ourselves to driving equipment and airtime prices down for consumers. As testament to our commitment, we launched the industry's lowest priced, pre-pay service at the start of 2014.
In the B2B space, in ever more competitive sectors, making such low cost communications tools available helps every customer's bottom line. As for the bigger picture of the satellite industry, 2015 will be a big year with High Throughput Satellies (HTS) delivering many new services.
If you want true mobility, if you're providing emergency relief in the African savannah, for instance, or repairing a damaged pipeline, you likely won't want to set up a dedicated VSAT installation. You want to reach into your pocket, pull up the antenna on a compact, low cost device and rapidly make a call, delivering a message that's clear and reliable. That's where we make a difference.
Jay Monroe is Chairman and CEO of Globalstar LLC, one of the world's leading Mobile Satellite Services providers. He has held the Chairman position since the purchase of the assets of Globalstar by Thermo Capital Partners in April 2004, and was appointed CEO in January 2005. Mr. Monroe directs the daily operations and manages the company's long-term strategic growth. Since becoming CEO, Mr. Monroe has launched several major initiatives to extend the quality and reach of Globalstar's service and expand its portfolio of voice and data solutions.
Mr. Monroe has been the majority owner of the Thermo Companies since the group's founding in 1984. Under his direction the Thermo Companies founded or acquired companies in diverse industries including power generation, natural resource development, industrial equipment distribution, real estate, telecommunications and leasing services. Mr. Monroe is on the Board of Directors of Thermo Capital Partners and several of its portfolio companies. Mr. Monroe is a graduate of Tulane University in New Orleans.
---