Everyone can agree that providing a region with broadband access brightens economic outlooks. Studies show that joining the connected world correlates strongly with improvements in per capita income.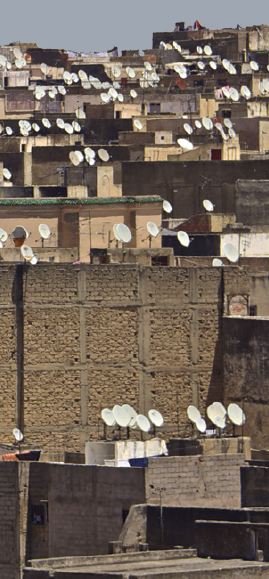 Ancillary benefits of connectivity are plentiful as well: education, political freedom, human rights and health. Why isn't every region connected? There are geopolitical barriers, to be sure, but the biggest inhibitor of growth is perceived cost. Goodwill will not suffice if the ROI is absent. Can this be overcome? Gilat believes it can.
Where Traditional Solutions Fall Short
In many developing regions, a minuscule percentage of households have a fixed broadband connection, due to a lack of terrestrial infrastructure. Laying copper wire, coax cable or fiber optic cable is expensive. In some areas, the cables themselves are prone to sabotage and theft. Additionally, the low per capita income of consumers in these areas of the world makes investment in terrestrial infrastructure highly unlikely, due to the requisite ROI yield being almost non-existent.
In light of these obstacles, it's unsurprising that an overwhelming majority of consumer connections are mobile-based. One key reason is that most consumers already use a mobile device for basic telephony services—in sub-Saharan Africa, for example, mobile penetration is more than 63 percent as of 2013 and growing (ICT Facts and Figures). This, along with the prohibitive cost of terrestrial infrastructure, makes a cellular-based network a desirable proposition.
However, cellular networks have limitations. One drawback is that reception may be spotty due to limited geographical coverage and a lack of available frequencies. Barriers often take the form of wide distances between the consumer and the nearest cellular tower, resulting in a cellular network that has not scaled to support the data transfer speeds required for Internet use. Slow data transfer speeds make Internet use a frustrating proposition, unlikely to yield the productivity benefit Internet access typically provides. When the mobile network operator (MNO) cannot provide sufficient bandwidth, the network becomes congested, degrading the user experience and creating customer dissatisfaction.
With an increased budget, MNOs could expand their network to increase their customer base and improve service to ensure customer retention. Additional cell towers would help, as would infrastructure upgrades, but in some areas, especially where the population is sparse, the CAPEX investment in additional towers or upgrading to a high-throughput system is hard to justify.
Another inhibitor is a lack of frequencies and, therefore, insufficient bandwidth to deal with throughput demand. Looking at the big picture, the perceived drawbacks mirror the facts on the ground. Expanding and upgrading a cellular network into lightly populated areas often doesn't pass a cost-benefit analysis.
Satellite Technology:
Changing the Equation for Cellular Reach
For delivering broadband to hard-to-reach regions, the satellite industry has long led the way. However, the industry has long been associated with high CPE entry costs, which is of particular concern in cash-strapped regions. But technological advances in satellite, along with a new line of innovative products, have changed the equation.

High-Throughput Satellites (HTS) offer significantly increased capacity, reducing bandwidth costs by an order of magnitude. This is achieved via frequency reuse and multi-spot beam technology, which provide higher satellite capacity than traditional single beam satellites. This breakthrough has helped position satellite communication as a cost-effective alternative for delivering broadband.
To reach a price point at which satellite communication could be considered truly viable for consumers with limited ARPU, further innovation was required. Gilat's low-TCO solution relies on an innovative hybrid terminal that combines satellite and cellular technologies. SkyEdge II-c Libra, Gilat's hybrid router, leverages the MNO's existing infrastructure to increase fixed broadband penetration while providing high-speed service.
How Does it Work?
Generally, residential data traffic is heavily skewed toward the forward path; end users generally download far more data (primarily video) than they upload. Industry estimates set the usual download/upload ratio at around 12:1. Libra transmits the heavy download traffic via a satellite link, providing a vastly improved download speed of up to 20Mbps. Because the upload path—from the end-user to the Internet—requires far less bandwidth, Libra transmits upload data via the MNO's existing cellular network, which is capable of handling the relatively light traffic typically sent in this direction.
Win-Win
The best kind of business is one wherein everyone benefits. With the satellite-cellular solution, MNOs win, as they are able to increase their ARPU and reduce churn by offering broadband Internet service to their customers. This solution has the added advantage of not straining the existing cellular network with heavy data download transmissions.
Also embedded in the Libra router is quality of service and data acceleration engines. An integrated, flexible, usage-based service definition system enables the MNO to define a wide variety of service plans. For example, customers can enjoy a home broadband Internet plan that offers 10 times more quota than their cellular plan—and 20 times the speed.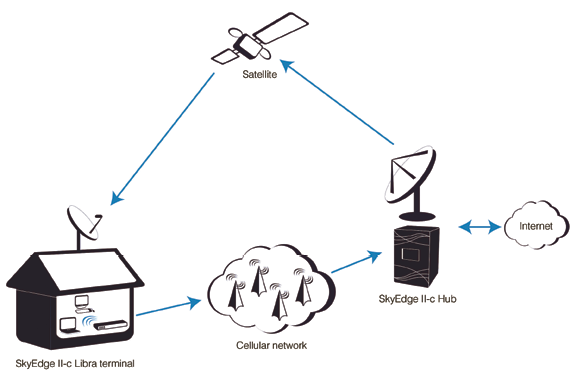 Customers can now gain broadband access with minimal investment: a simple, self-installed, one-way antenna and a standard cellular dongle inserted into the Libra router provides broadband access via the cellular network for the return channel.
As Libra is not a two-way satellite terminal, its per-unit cost is far less than its counterparts, making it a particularly attractive proposition in areas where price point sensitivity is acute.
Leveraging Direct to Home (DTH) Service Providers' Existing Infrastructure
DTH service providers accustomed to broadcasting to a household with a dish can leverage their satellite infrastructure to increase their portfolio by providing Internet service to the home. The only piece of the puzzle they lack is a return path to enable two-way communication.
Here again, Libra provides an answer. DTH providers already have the infrastructure in place to support satellite subscribers and manage a subscriber base; all they need is a Libra router in the home to complete the circuit by establishing a return-path link via a cellular network. This two-way connection enables enhanced broadband services such as Smart TV, OTT and Video on Demand (VoD), elevating the portfolio offered by DTH providers.
The Opportunity is Now
The market trends are clear: the appetite for broadband services in Africa will only grow. Despite the challenges to date, broadband technology is rapidly reaching a point where it can offer answers for a growing number of consumers of all income levels. Mobile and DTH operators are perfectly positioned to use Gilat's satellite-based solutions to meet this demand.
For more information, please visit http://www.gilat.com/Libra

About the author
Doreet Oren is Director of Product Marketing for Gilat Satellite Networks. In this role, Oren is responsible for defining product positioning, messaging and go to market strategies and is responsible for market research and analyst relations.
Oren has more than 20 years of industry experience and has held management positions in R&D, product management and product marketing for international high-tech companies. In this capacity, she contributed to next-generation product definition and was responsible for delivering the company's vision to the media and analyst community. Oren has published thought leadership articles in renowned international journals and has spoken at numerous industry conferences worldwide. Oren received a BSc in Computer Science from George Washington University. Contact Ms. Oren at doreeto@gilat.com.
---