We believe one of the most exciting new frontiers in our industry is in pushing the boundaries of broadband delivery by satellite. We took a giant leap in 2008 by starting construction of our ViaSat-1 satellite — by far the most capital efficient broadband satellite ever. We envision satellite broadband as a global and broadly horizontal market that may ultimately be the most ubiquitous of applications.
Looking back on 2009, we note a lot of progress toward that goal. It's becoming increasingly clear satellite broadband should be a core component of just about every country's national broadband deployment plans. Our key international partners such as Eutelsat, Barrett XPloreNet, IPSTAR, and BB SAT made important progress in integrating satellite broadband into national strategies in western Europe, Canada, Australia, and Japan this year.
It's noteworthy that, like the U.S., each of these markets already has high levels of broadband penetration, yet sees the potential for a high-performance satellite service. The challenge is that, frankly, satellite services have not measured up to their terrestrial counterparts. It's critical to note that in each case these countries are not necessarily embracing satellite as it is now, but are looking ahead towards the promise of what it can be in the future.
While FSS satellites traditionally have been good at reaching people where other technologies cannot, it is now evident that satellite subscribers are under-served in terms of bandwidth. The answer is to vastly reduce the cost of "manufacturing" bandwidth — and that is primarily going to happen through new space systems, increasingly at Ka-band.
ViaSat, and our partner Eutelsat, are leading that transformation with high capacity satellites launching in the last quarter of 2010 and the first quarter of 2011. We also took a decisive step in bringing this new bandwidth technology to market by acquiring WildBlue Communications, the world's leading Ka-band service provider. The combination of WildBlue and ViaSat creates an integrated satellite broadband powerhouse. The WildBlue subscriber base of more than 400,000 retail and wholesale customers, all at Ka-band, provide the distribution and fulfillment platform to bring the quantum improvements enabled by ViaSat-1 to well over a million new subscribers.
As the leader in Ka-band space networking systems and terminals, ViaSat is committed to making this new technology accessible to markets around the world. And to helping service providers benefit from the lessons learned in the fast growing U.S. market. A key event this past year was our contract with YahClick, which will commercialize the Ka-band payload on the YahSat 1b satellite, providing service across the Middle East and parts of Africa. The strategically important geographic coverage of YahSat adds to an already compelling global footprint standardizing on ViaSat's Ka-band broadband network.
In addition to consumer services, we see a number of adjacent markets where the same compelling economics can increase opportunities for satellite communications, such as military SATCOM, video distribution, and mobile communications. The emergence of Ka-band in military SATCOM markets is underway with initial deployment of the Wideband Global SATCOM (WGS) system. With two WGS satellites operational as of August 2009, ViaSat Ka-band gateway infrastructure is operating for the DoD already, and is coming soon to Australia, as part of a recently announced contract with the Australian Defence Force.
Two pervasive themes are driving growth in military SATCOM:
An ever-increasing demand for more and more bandwidth to support Internet Protocol (IP) network-centric applications, and...
Pushing the availability of high-speed IP satellite links to lower and lower military organization echelons
This combination is resulting in exponential growth in the number of military SATCOM terminals deployed, compared to the previous decade.
With the continuing launches of WGS spacecraft, along with coming new capacity from the Mobile User Objective System (MUOS), AEHF, and increased leased commercial Ku-band capacity, the demand for military SATCOM terminals has never been greater. We see significant growth ahead in the sale of ground systems to the U.S. DoD, especially for our open standard modems such as the MD-1366 EBEM, Joint IP Modem, and LinkWayS2 Current Force Modem.
In the rest of the world, where Ka-band is not yet available, ViaSat and our partners are putting the finishing touches on a seamless global Ku-band broadband mobile network. While Ku-band often looks prohibitively expensive to fixed-site broadband subscribers, compared to L-band it is very attractive for bandwidth-intensive mobile applications.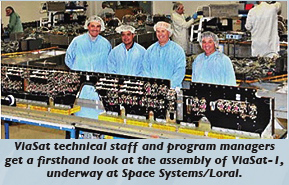 But ultimately, Ku-band systems used for airborne, vehicular, and other mass transit broadband access will eventually face the same constraints on user experience through lack of bandwidth as fixed-site systems, providing additional opportunity for the abundant, low-cost capacity that high-throughput Ka-band systems can provide.
With a new way to deliver greater volumes of bandwidth at lower costs than ever before, we're very excited about the future potential of satellite communications.
The fast pace of change in communications means we're never quite sure of all the opportunities ahead, but the underlying, universal desire for more high-bandwidth applications is undeniable, and we feel well-positioned to capitalize on that trend.