No one would have wanted to predict at the start of 2009 what the year would bring for the industry. Most people probably feared the worst and held their breath. But about halfway through the year, it became clear there was not going to be a fall-off in new infrastructure investment and, in fact, from our viewpoint, the industry seemed to have been unaffected by the crisis. Satellite broadcasters, in particular, appear quite buoyant, despite the troubled waters. A subscription-based funding model must help here — other broadcast sectors which are more reliant on advertising revenue may be finding the current situation somewhat more difficult.
If 2009 turned out to be an extremely busy and successful year for OmniBus, perhaps this shouldn't be a surprise as our flagship product — the iTX production, automation, and transmission platform — offers a next-generation approach to getting high-value channels on air. The technical and financial advantages of the all-software iTX platform over a traditional transmission system are enormous. And while broadcasters are still launching channels with no sign of slowdown, they are increasingly wanting to accomplish this task in the most efficient and cost-effective way — to some degree, the economic circumstances are working in favor of iTX.
When it was launched in 2006 as the industry's first software-based, full-featured automation and transmission solution, there was some natural skepticism about committing critical broadcast transmission to software driven systems. Never mind that many other areas of broadcasting had accepted the software revolution and been the better for it: transmission, the traditionalists felt, needed proprietary hardware.
Three years and nearly 1,000 installed channels later, this view has been largely superseded by a widespread realization that the old approach to transmission infrastructure is no longer viable. The high-profile example of large-scale iTX operators in the USA, such as DIRECTV, pointed the way for others attracted by the benefits of iTX's IT-based alternative to the traditional transmission and automation chain.
The largest satellite broadcaster in the world, DIRECTV, also currently has the largest iTX installation to date. DIRECTV'S launch this year of its new HD services also saw an industry first: the first commercially-available broadcasts in 1080p24. This advance meant that for the first time, high-end consumer sets could receive broadcast content at the highest supported quality, and DIRECTV'S successful launch was a great validation of the iTX platform's ability to power demanding, high-performance applications.
In the satellite sector in particular, where the launch of new and often innovative channels and services continues apace, dictated by market logic, iTX offers the most attractive solution for channel launches. Technically, its capabilities outstrip the previous generation of transmission solutions, but it's also a good fit for the times because, like-for-like, an iTX installation requires around 50 percent less investment than a traditional transmission chain. Ongoing costs are also significantly lower, both in energy consumption and maintenance, and in operator expenses.
At movie channel operator Starz Entertainment, where the obsolescent transmission infrastructure has been replaced by an all-new iTX installation, the company has freed up 45 bays of equipment space — that's a lot of real-estate. With all the cabling, power supply and cooling that 45 ceiling-height bays require, that represents a considerable impact on investment and running costs. And the benefits increase with scale — the larger the installation, the greater the savings.
Broadcasters carving out new market share with channel launches and new services in the current climate are also acutely aware of the need to closely gear infrastructure roll-out to growth in the subscriber base. With traditional transmission chains it's been difficult to do this: not only is the hardware expensive in itself, it's also difficult and time-consuming to weld disparate components from a variety of manufacturers into a workable, broadcast-ready system. It takes time and a lot of engineering input to do it — an area of cost and delay that loses a fast-moving broadcaster a lot of money. By contrast, new iTX channels can be installed and on-air within a matter of hours of taking the decision to launch. Every 'component' of the transmission chain is provided within the unified iTX software suite, and the IT hardware required to run iTX is readily available at the drop of a hat anywhere in the world from industry-standard suppliers.
While the conditions are hardly auspicious for infrastructure investment, broadcasters in the satellite sector have marched on through 2009 with new launches and expansions. New technology such as iTX fits their needs perfectly, allowing them to create the services they want to launch, but significantly faster and more cost-effectively. While the HD market has driven growth in the U.S., which is rolling out through Europe and Asia, operators have had to become far more cost-conscious, ready to adapt to market opportunities more quickly, and able to evolve in ways not constrained by unwieldy and inflexible infrastructure.
We see no sign of this trend weakening in the coming year and beyond, even as recovery gathers pace. In fact, the efficiencies and new technical potential offered by the new technologies are essential to that recovery. Meanwhile, ground-breaking developments such as the 1080p24 service from DIRECTV will surely inspire imitation, as providers strive to carve out market share and reach new audience sectors.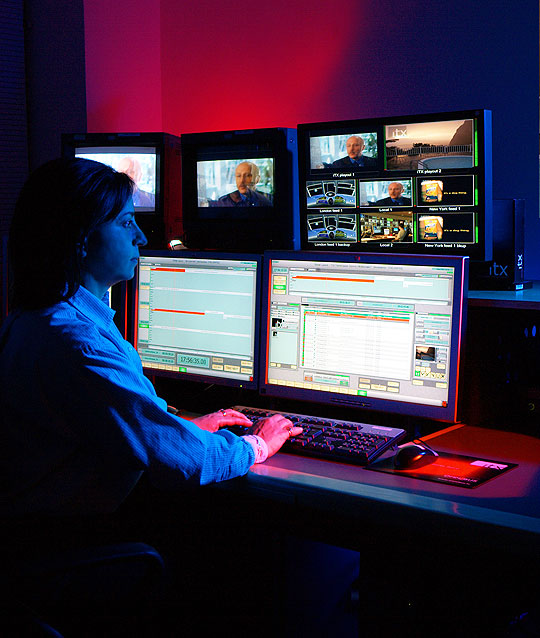 Satellite operators, in particular, are well-placed to develop tightly customized services as they know a great deal about the viewer profile — this will allow them to use highly-tailored content and service provision as a way of maintaining profitability. With the highly adaptable transmission platform now available to broadcasters, there is vast new potential for creating tightly customized services that would have been impossible to implement until recently. The repercussions of the economic crisis may not yet be fully played out, but it's fair to predict that broadcasters will use the new cutting-edge IT based technologies to help them drill down into ever more targeted services that will keep the subscriber base growing throughout 2010.