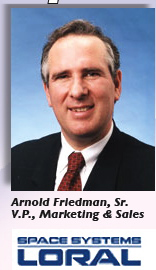 2009 was a significant year for Space Systems/Loral (SS/L). Starting out the year, it was uncertain what impact the world's economic climate would have on satellite manufacturing, but our sales remained strong and it was a record year for launching some of the world's most complex and powerful satellites.

Industry analysts agree the satellite industry, in general, was not hit by the financial crisis the same way other segments of the economy have been... at Space Systems/Loral, we were able to respond to the strong demand for replacement satellites, particularly for fixed satellite services (FSS). While start up companies had a harder time obtaining financing, the incumbents, with steady revenue streams and proven business plans, such as AsiaSat, Intelsat, Hughes Network Systems and Telesat continued to actively expand their fleets. It was also a year of building interest in the value of hosted payloads for government services.
The Space Systems/Loral 1300 satellite platform is based on a modular design that makes it very well-suited for a broad range of applications including broadband, fixed satellite services and DTH Television, satellite radio and mobile satellite services. The 1300 accommodates a range of satellite sizes and over the years has been developed to provide the highest power available for commercial satellites with several 20-kW satellites launched and the capability to go to 25-kW. SS/L was driven to develop this high power capability to meet the needs of the DTH video market and now our 20-kW satellites help satellite operators maximize the number of high definition channels that they can provide. Our sweet spot is for satellites that generate 8-kW or more — SS/L often wins more than 40 percent of the contracts awarded each year in this market.
In 2009 we started the year off with a contract to build a satellite for AsiaSat. With AsiaSat 5 ready to ship in the late summer, the company wanted to protect itself in the event of a launch failure by having a replacement satellite underway. Now AsiaSat 5R will be used to expand the company's services in the Eastern Hemisphere. We expanded our list of blue chip customers with a contract to build the new Jupiter satellite for Hughes Network Systems. Our third and fourth satellite bookings for the year were Intelsat 19 and 20, which will be among the most powerful FSS satellites ever built. They will replace existing satellites that currently provide services to five continents and will offer services for broadcast television and telecommunications. The satellites also will have the capacity to support mobile communications and higher data rate network services. When Telesat Canada decided to replace Telstar 14 with a larger and more powerful satellite for fixed satellite services in the Americas and over the Atlantic Ocean, SS/L was the manufacturer selected and is scheduled for launch in late 2011.
In addition to full satellite awards, SS/L was also awarded a contract to add a government payload to Sirius 5, a multi-mission communications satellite being built for SES. The primary payloads provide high performance coverage for DTH broadcasting, broadband, point-to-point, and VSAT services in Europe and Africa. The added government payload provides navigation services for the European Union. The hosted payload is part of the European Geostationary Navigation Overlay Service (EGNOS), which is being developed by the European Space Agency (ESA) and the European Commission (EC). SS/L also demonstrated its hosted payload capability with the integration of a Cisco IP Router on Intelsat 14. Completed and launched on November 23rd, Intelsat 14 is an FSS satellite replacing an older satellite in the Intelsat fleet. The Internet Router in Space (IRIS), the first of its kind on a commercial satellite, is designed for government use, enabling converged, space-ground network services to obtain more efficient bandwidth usage, anytime-anywhere on-demand broadband services, last-mile connectivity solutions, efficient one-hop communications, and next generation voice, video and data applications. The timing complexities to integrate this payload without impacting the satellite's crucial schedule requirements were quite an accomplishment.
In 2009, the company delivered to launch seven completed satellites. Among the most challenging projects for the year was the success of SS/L's simultaneous missions for SIRIUS XM Radio and TerreStar Networks, whose satellites were launched on June 30th and July 1st. As these satellites were designed to provide service to mobile devices, they have very large S-band antennas that were folded like an umbrella for launch and then had to be unfurled once the satellites were in their orbital slots. These post launch maneuvers for the satellites were handled simultaneously — in orbit testing confirmed the large antenna reflectors are performing according to plan.
TerreStar-1 is the largest commercial satellite ever launched and will be used to provide satellite phone service using a regular cellular phone. Ground breaking ground based beam forming technology, developed by SS/L in conjunction with Hughes Network Systems, enables the satellite's power to be focused where it is needed the most to provide service to a phone that is approximately the size of a Blackberry device, with no external antenna. 2009 also included two successful launches of SS/L built satellites for Telesat — Telstar 11N launched on February 26th and was designed to help meet growing demand for mobile broadband from commercial and government customers in shipping and aviation. Nimiq 5 was delivered ahead of schedule and launched on September 17th to deliver a variety of HD and specialty DTH television services in North America. Launched on August 11th, AsiaSat 5 was built by SS/L to replace AsiaSat 2 at 100.5 degrees East. NSS-12 launched on October 29th to replace NSS-703 at 57 degrees East and is the largest satellite in the SES WORLD SKIES fleet, designed to enable communications services for an estimated two-thirds of the world's population.
Looking forward to 2010 we believe that there will be a steady demand for our highly reliable spacecraft and there will be an ongoing need for replacement satellites going out for the foreseeable future. We believe more satellites will be funded as the capital markets recover. We also see the potential for the U.S. government to glean more benefit from commercial satellites. With a backlog of US$1.6 billion reported at the end of September 30, SS/L continues to have excellent business prospects and we expect to deliver about a dozen completed commercial satellites over the next two years. SS/L continues to provide the infrastructure needed to support continued growth. We are proud to be a leader in putting commercial satellite communications capacity into space and have made a commitment to continue providing the most powerful, advanced and reliable, spacecraft available today. We also thank all our launch partners who helped make these satellites successful including Arianespace, ILS, Land Launch and Lockheed Martin Commercial Launch Services.