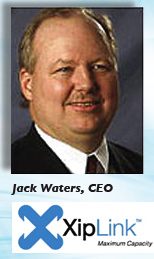 Another change of decade is upon us and the satellite industry keeps rolling right along and re-inventing itself with new applications that result in tangible, positive results to customers.
As we entered 2000, the "dot.com" bubble was about to burst — and so were many business plans within the satellite sector. Today we can look back at the exciting growth of the mid 90's and the steady market movements forward in the last few years that resulted in significant new or shifted markets:
• ISP Backhaul stagnated, but converted to broadband IP access Direct Broadcast Satellite continued to be highly successful with higher take rates.
• The IP-TV Industry was born with the first production implementations deployed.
• Surprise! Residential Broadband was a huge success…and not just for rural access.
• Capacity glut turned into limited capacity…creating a market for wireless optimization.

The immediate future also offers some exciting new opportunities in the satellite sector. In our opinion, Mobile IP for Communications On The Move (COTM) will be an explosive growth opportunity, as users demand continuous broadband connectivity. Another exciting and related area is simply the competitive position of satellite capacity via lowering the cost per bit by a 10x factor as new generation Ka-Band satellites are launched in the near future.
From a XipLink perspective, the last 12 months were particularly exciting, with a number of key accomplishments. Strategically, XipLink completed the asset acquisition of our partner company, Trispen Technologies of Centurion, South Africa. This acquisition has allowed us to migrate our XA appliances from traditional accelerators to fully featured wireless optimization products, thus enhancing the existing TCP traffic to fully use available capacity, while also exceeding that capacity with XipOS integrated stream compression, caching and web optimizations. Another key strategic accomplishment was release of XipLink version 3.0, which allowed our customers to scale their networks to very high capacity levels (155 Mbps+), while adding Class Based Queuing capability for more complex networking and reduced box count through elimination of some packet classifiers in the network — all at the lowest capital cost in the marketplace. Other major accomplishments in 2009 include:
Expansion of employee count by another 50% to continue XipLink innovations.
Release of the lightest, full function portable optimizer for MSS networks—XipStick.
New account growth exceeding 40% of our revenues in the last 12 months.
Deployment of embedded XipLink (XE) to new Military, Aeronautical and Maritime devices.
Winners of the Frost & Sullivan "Innovation Award" for Military applications.
We are still on the planet.
All of us at XipLink thank our employees, customers, partners, and other friends and wish you great success in 2010!