For more than 10 years, Signalhorn has been providing satellite communications to rigs operated by KCA Deutag, one of the world's leading well drilling contractors.

The challenge faced by KCA Deutag and other businesses operating in this demanding sector is that drilling rigs are almost always constructed about as far as a company can get from normal terrestrial communication networks.
Operating climates range from the arctic cold of Siberia to the baking deserts of the Middle East and North Africa—with the stormy waters of the North Sea somewhere in between. These harsh, remote conditions place exceptional demands on crews and equipment and also makes reliable communications all the more important for drilling operations, crew morale and safety requirements.
Unlike many of Signalhorn's enterprise customers, installation of a VSAT antenna and other satellite network equipment on an oil rig is always temporary. The rig typically will be constructed at a remote site, operate anywhere from three to 18 months, and then be dismantled and moved to another location to start another drilling operation.
In its years working with KCA Deutag, Signalhorn has focused on developing a range of procedures to assure the customer of two things: That the equipment will work immediately when it is installed on a newly-positioned rig, and that Signalhorn's support staff will be available to deal immediately with any problems that occur during the time the rig is in operation.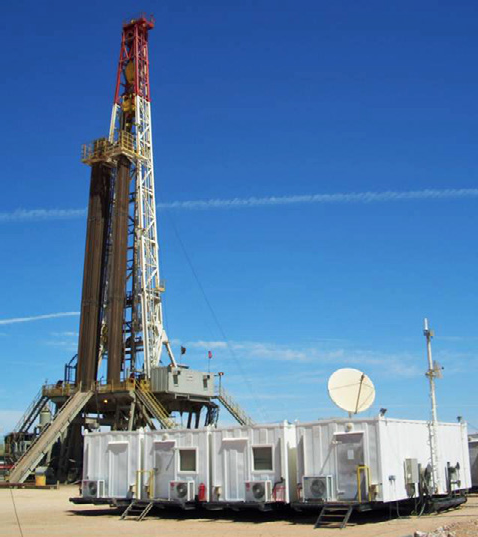 This focus on the highest level of reliability and customer service has allowed Signalhorn to grow its business with KCA Deutag over the past decade and to expand to other oil and gas operators.
The company now provides service to 47 of KCA Deutag's land-based drilling rigs in Europe, North and West Africa, the Middle East, Russia and Central Asia.
KCA Deutag also has 39 offshore platform rigs worldwide. Signalhorn recently had several of the employees certified to be able to work on these off-shore locations in anticipation of expanding into that sector, as well.
Signalhorn dishes at their Leuk, Switzerland, network operations center. Photo courtesy of Signalhorn.
The solution Signalhorn delivers to the rigs is a combination of Single Channel per Carrier (SCPC) and iDirect networks. The network is supported out of Signalhorn's owned European teleports in Backnang, Germany, and Leuk, Switzerland.
From these points, the customer's data flowing from the rigs is transmitted by terrestrial leased line to KCA Deutag's offices in Bad Bentheim, Germany. Satellite capacity for the network is provided by a number of different operators due to the global nature of KCA Deutag's operations.
These networks allow KCA Deutag to share drilling, engineering and other critical data as well as maintaining voice contact with remote rigs using VoIP.
The company can also use the link for video conferencing and can make it available to a rig's 30+ crew members for voice calls, emails and other electronic communications with family and friends at home.
The use of iDirect and SCPC technology guarantees data rates and fixed monthly costs independent of the amount that the network is used.
When KCA Deutag sets up a rig in a new location, an approved local service partner is dispatched to conduct a primary site survey and to determine exactly what equipment will be required for installation.
Back at the build-and-test facility, located at Backnang, the environment on the drilling rig is simulated by setting up and testing the antenna, RF equipment, modem, switches and any additional telephone or video equipment that will be installed at the rig.
Once the required hardware has been vigorously tested and quality checked, the equipment is shipped to the customer's site. It is essential that all the shipped equipment is pre-built, pre-tested, pre-configured with a final quality check conducted before it leaves Backnang.
At the customer remote site, the installation is performed by either a technician from one of Signalhorn's service partners, or one of Signalhorn's own qualified and certified engineers. This ensures correct installation procedures are followed in cooperation with the Signalhorn Network Operation Center (NOC), with final connection with the customer's network once the antenna is aligned to the appropriate satellite.
Along with the company's own, highly trained field staff, Signalhorn's strong relationships with local service partners in the vicinity of oil and gas exploration has allowed the firm to support KCA Deutag while also providing communications services to other companies in the industry.
Signalhorn has a global network of 60+ service partners in more than 130 countries who understand the culture, business practices, and regulatory framework peculiar to a particular locale. This enables customers to quickly navigate local regulations governing the approval and support of network installations, equipment upgrades, and ongoing operations.
The service partners, ollectively, have over 1,000 highly trained employees located in the countries where Signalhorn customers—such as KCA Deutag—operate. This enables Signalhorn to dispatch the technical expertise necessary in-country to ensure a projects is completed to the customer's satisfaction—first time, every time.
Just recently, Signalhorn announced that a major customer, one of the world's largest fully integrated oil and gas companies, has expanded its requirements to extend terrestrial and cellular 3G services from Signalhorn to thousands of locations across Europe to ensure round-the-clock commercial connectivity.
The locations will be connected with Signalhorn's Xtend solution, utilizing fully integrated terrestrial, cellular 3G and satellite technologies to deliver cost-effective and fail-safe communications required for critical point-of-sale and other terminal technologies. The service will conform to the strong security benchmark set by the Payment Card's Industry Data Security Standard (PCI DSS).
The customer is one of the world's leading oil producers and gasoline retailers. The company requires a robust and global solution that can be rolled out country-by-country with guaranteed connectivity to support its network transactions activities. Signalhorn, with its global reach, deep operational experience, and proven expertise, has successfully rolled out thousands of other customer sites while meeting the high quality-of-service requirements of its customers.
"This project award further validates the strong value proposition provided by Signalhorn's hybrid solution combining terrestrial, cellular 3G and satellite technologies," said Robert Kubbernus, Signalhorn's CEO and President. "The fully managed service allows our clients maximum control of their network services in a way that exceeds their requirements from a technical and commercial perspective."
Commercial connectivity between company locations and headquarters must be up and running at all times so that transactions can be processed," Kubbernus continued. "We optimize our customers' networks based on a combination of the available technologies and we have the talent and global expertise internally to design, build, install, and maintain such large networks."
As part of the services expansion, Signalhorn will start the roll-out of its Xtend network, with an expected completion in 2015. Signalhorn Xtend provides all the essential hardware, software, portal solution, licensing and management services to allow an existing VSAT network to incorporate terrestrial connectivity and cellular 3G for 100 percent availability.
For additional information regarding Signalhorn and the company's services, please access their website: http://signalhorn.com.previewdns.com/