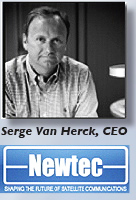 In what has been a challenging year for broadcasters, operators and service providers, demand for satellite based services has remained high even as operators look to improve their bottom line. Satellite service providers, broadcasters, telecos and ISPs are facing the need to diversify their service offering, delivering content to consumers via a range of platforms from IP to mobile.
Thanks to our technological innovations, Newtec has strengthened its leadership position in the broadcast and IP markets as market leaders when it comes to TV and IP applications over satellite. FlexACM® helped Newtec penetrate the IP trunking market as well as winning us a WTA Technology of the Year Award. In the broadcasting world, we scooped the Innovation Award with ASBU & Arabsat for MENOS at this year's IBC. Newtec also strengthened its position as European market leader in the Internet consumer business with 65.000 Sat3Play® terminals shipped through offerings by SES Astra and expansion into Africa, while our new modulation and coding technology 4CPM enabled us to start accessing the business market. Thanks to our customers providing us with more business, we have been able to increase our revenues to end our fiscal year with a revenue increase of about 15 percent, breaking the barrier of 50 million Euros, even in this tough economic climate.
In 2009, Newtec launched a highly advanced modulation and coding scheme called 4CPM. The coding scheme increases the speed and bandwidth efficiency of the return link of the Newtec Sat3Play® system. The development of this new modulation scheme started back in 2006, and was developed by Newtec in cooperation with the France's Ecole Nationale Superieure des Telecommunications (ENST) and the Italian universities of Parma and Bologna. TurboConcept, Newtec's subsidiary in Brest (France), designed and implemented the core 4CPM algorithms. 4CPM enables return rates of 1Mbps and higher making the terminal a perfect fit for the consumer as well as the professional markets.
IP over satellite networks based on Elevation equipment can start as basic IP trunking networks and easily be upgraded at a later stage with the Variable Coding and Modulation (VCM) technology to save more on bandwidth. The additional data throughput made available by using FlexACM technology can be used to increase the data throughput of the network or to add more remote sites to the network within the same satellite capacity. It's even possible to provide fixed speed services to the end users, while still enjoying all the advantages FlexACM offers.
In the MENA region, Horizon Satellite Services in the UAE successfully upgraded its link facilities with Newtec's redundant FlexACM solution, which connects several sites in the Middle East with uplink in Europe. In the broadcasting world, independent Iraqi satellite TV station Alsumaria TV invested in Newtec's IP over satellite solution as part of its migration towards tapeless news production. In Africa, a leading satellite communications company providing carrier and business network solutions is using our IP Elevation equipment with FlexACM in multiple IP trunking networks to increase the bandwidth efficiency of its intercontinental data links between Europe and Africa, increasing the bandwidth by 50 to 100 percent.
In Latin America, Alcatel-Lucent selected Newtec's high-speed IP modems and active L-band combiners to provide high-speed IP backhaul over satellite for one of Brazil's major telecom operators. Newtec's equipment is also being used in difficult and demanding locations: live satellite broadcasting from a ship close to 90 degrees North, with wind speeds of up to 250 km/hr and freezing temperatures of -40°C, requires extremely reliable equipment. Thuraya Telecommunications Company has selected Newtec's TelliNet solution as part of its ongoing efforts to enhance the performance of its ThurayaIP broadband offering. Thanks to the TelliNet upgrade, Thuraya is able to offer its customers an increase in speed when web surfing and a 50 percent reduction in data download times.
To facilitate the migration towards IP, Newtec developed DualFlow, an innovative option available on all Azimuth broadcast products. This option provides support for the IP-based workflows of today and tomorrow for DSNG, contribution, and distribution services. Qualcomm subsidiary FLO TV has selected Newtec's multistream technology and products for an upgrade of its mobile TV content distribution network. Newtec is FLO TV's main supplier of Multistream Satellite Receivers, with multiple ASI and GbE interfaces, installed in all the company's terrestrial UHF transmitter towers. The GbE interface delivers true IP connectivity to the transmitter sites for future applications, such as the distribution of IP services and IP networking applications. As well as robust coding and modulation, the receiver offers operators the flexibility to match QoS to the type of content being delivered via the VCM (Variable Coding and Modulation) functionality.
Newtec, with its partner Lumina Broadcast Systems Australia, won a contract from GlobeCast Australia to design and deliver Newtec's AZ110 Modulators, and AZ750 Combining Upconverters to create a flexible and cost effective uplink system. The project enables GlobeCast Australia's Sydney broadcast operations to offer new services to clients that are uplinking and downlinking HD program content. The installation is part of a massive upgrade of the GlobeCast Australia master control and teleport, to cope with current and future demand. As a result, GlobeCast Australia's MC has doubled in capacity. The Newtec systems installed at GlobeCast Australia allow the service provider to ensure interference free combining of multiple carriers, low losses and minimal spectral regrowth.
Mobision launched the Middle East's first commercial mobile TV service delivering more than 20 of the region's most popular TV channels to subscribers in four cities in Iraq. With the help of Newtec's Horizon HZ420 equipment, signals broadcast via satellite are converted into DVB-H, which are then transmitted using medium and high power terrestrial transmitters.
2010 is set to be another exciting year for Newtec as the number of TV channels, satellite broadband consumers and the IP traffic worldwide are expected to experience continued growth. Broadcasters look forward to drive increasing end-to-end efficiency across their infrastructure. As switchovers occur from analog to digital, terrestrial TV and Mobile TV are expected to experience further growth, as well. The technology FlexACM is bringing to the IP world, and the increasing need of countries to close the digital divide, combined with the availability of Ka-band satellites, will see further potential for double digit growth in the coming year. I am, therefore, convinced that 2010 will be another year of exciting growth for Newtec.