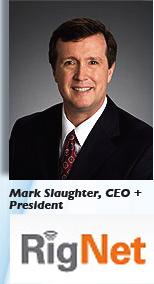 RigNet, a leading global provider of managed communication services exclusively to the oil and gas industry, experienced yet another year of remarkable growth in 2009 — in spite of the economic recession. RigNet's international business accounts for the majority of revenues, which allowed the company to be relatively hedged from the recession in 2009 while maintaining enough exposure to the U.S. oil and gas market to participate meaningfully in the inevitable upturn moving forward.
We are proud that, once again, RigNet has been recognized in 2009 for its record-setting revenue growth, ranking again as one of America's fastest-growing private companies by Inc. Magazine's distinguished Inc. 500, Deloitte's Fast 500, and the Houston Business Journal's FastTech 50. The accolades and success are driven by our key differentiators, engineering prowess, cutting-edge networks and global positioning of talented and energetic resources. Our managed communications solutions make it possible for clients to share mission-critical information between remote sites and offices.
Most important to our solutions is our commitment to service and quality. RigNet deploys top-of-the-line satellite equipment and designs solutions using Cisco® gear for networking. RigNet holds the prestigious Cisco Powered Network designation for its managed IP service, meeting the most stringent standards for network reliability and performance. A global MPLS terrestrial network, over which runs an Internet Protocol (IP) layer end-to-end, connects rigs to offices. This all-IP network is unique in the industry, providing greater reliability, scalability and flexibility worldwide as compared to conventional transport networks. Furthermore, we monitor the entire network out to an IP-device level on rigs, allowing RigNet to diagnose any issues quickly and precisely. If a problem cannot be resolved from a desktop, proper technicians and replacement equipment may be dispatched as efficiently as possible.
In 2010, RigNet will continue to provide superior service while expanding its geographic locations and market share. Recognizing a greater need to make drilling rigs smarter and more productive, RigNet will provide increased productivity for customers as well as improve the quality of life for their employees in remote locations. The upstream energy market provides ample growth runway for the next several years and, next year, RigNet will strengthen its primary segments: offshore communications (including SOIL — a private extranet that stands for Secure OIL Information Link) and onshore remote communications. We expect the offshore segment, our flagship division, will continue to drive the company's success for the foreseeable future. There will also be significant opportunities for RigNet to expand this business internationally beyond the company's strong U.S. base as well as participate meaningfully in the expected U.S. industry upturn.
We are excited about the opportunities and challenges that 2010 brings and look forward to continuing RigNet's story of success.