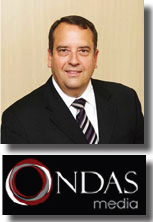 Ondas Media, the would-be European pay-radio service, has signed up the U.K.'s Jazz FM to its planned service. Ondas Media's strategic plans are also rapidly firming up. In November Ondas, complete with some of its key automobile, broadcast and technology partners, participate in financial road shows in Munich and Paris. "I am stunned at the level of support, and interest being shown," said Dave Krueger, CEO at Ondas Media. That enthusiasm extends to Ondas' car manufacturing partners who are stressing to investors their views of the importance of the Ondas plan. "It's a common message and that it is time to get started," said Krueger.
The pressure on timing could also be down to a little outfit called
Liberty Global
, and its strong position of influence over
Sirius Satellite Radio
in the U.S., and now control over the assets of Chapter 11 business
Worldspace
and its pair of orbiting satellites. October saw Liberty pick up Worldspace's financial obligations and it is likely to have complete control by the New Year of 2010. Quite what will happen thereafter to Worldspace's assets is anyone's guess, but a fresh investor can only mean a re-think as far as Worldspace is concerned.
Meanwhile, the Jazz FM deal includes a cooperation agreement where Jazz FM and Ondas will create additional specialist radio channels, "as well as working together in relation to sample radio programming content for Ondas' test and demonstration projects in Munich and Paris in 2010." Krueger, speaking exclusively to us, said the fact that Jazz FM's signals already go out digitally on DAB frequencies in the U.K. helps.
Krueger
said Jazz FM's content will be added to other programming that is already testing through the Internet, and ready for more widespread testing in other certain markets, and this activity is firmly scheduled for expansion in 2010. While Ondas is still targeting 2012 for a full service launch, Krueger said that some of its auto partners will be installing test radios in cars next year, and picking up signals from satellite as well as terrestrial repeaters.
The satellite capacity had hoped to be from
Solaris Mobile
(the joint-venture between
Astra
and
Eutelsat
), but that satellite's deployment hit a technical anomaly earlier this year that is still the subject of various insurance claims.
Krueger
says that Ondas is looking at a couple of alternate broadcasting methods currently.
"Hopefully we will be on the air for demonstration purposes around the middle of next year."
Krueger
said it will probably be about 10-20 channels of programming. "We could be looking at an accelerated introduction of some services, perhaps in 2011, because we have so much coming together," he added.
"It is a very safe assumption to make that each of our car customers are now procuring our radios to put into their future models. Some of the time lines are inevitably different, but Q3-Q4 2012 is one of the more aggressive schedules already in place [by one car-maker]
The volumes are large, and much larger than we had originally envisioned when we originally signed the agreements," added
Krueger
, who explained that Ondas now has "more than a dozen radio manufactures, including high-end units, which are bidding for hundreds of thousands of radios a year.
The process is somewhat complex to manage, but we are helped by having
Delphi
as a key partner and they already have the lion's share of the U.S. satellite radio market, so they're a wonderful partner to have on board. They have created our reference design."
The situation with Solaris Mobile rather muddies the water as far as Ondas is concerned. The operator made an insurance claim on the S-band payload on July 1, based on the problems caused reportedly by the non-nominal deployment of the giant
Harris
-supplied reflector. The problem is that at least a portion of the reflector is working.
However, the dilemma still to be resolved is the extent the Solaris Mobile project can access the Eutelsat-based reflector (on Eutelsat's
W2A
craft).
It is understood that Ondas hopes to access at least some of this capacity, despite the challenges, in order to provide some demonstration, and non-commercial, services. However, first the insurance claim has to be sorted out.
SES
and
Eutelsat
have a couple of options open to them (other than abandoning the project), which includes another so-called 'piggy back' mission repeating the Eutelsat W2A scheme. Option #2 is to build a dedicated S-band satellite, which might be a favoured option given the possibility of Ondas as a key 'anchor tenant'.
Back in May 2009, as expected, the
European Union
issued a pair of S-band pan-European operating licences to
Inmarsat Ventures
and
Solaris Mobile
covering a total of 60MHz of spectrum (30MHz for each operator).
But the Jazz FM deal is music to Krueger's ears. "Jazz FM has half a million U.K. listeners," confirms
Krueger
. "Crucially, Jazz FM is mainly available on DAB radio, so we know that the listeners interested in this music genre are discriminating, demand superb quality, and have already purchased a DAB radio to ensure they can listen to their preferred content. Therefore, this affluent and discerning demographic is a hugely attractive proposition for pay radio."
"If Jazz FM is as popular in the 27 countries in Europe as it is in the U.K., this partnership could potentially result in several million subscribers," says
Richard Wheatly
, Chief Executive, Jazz FM. "Ondas Media's research has already confirmed that there is a significant interest in Jazz throughout Europe and our offering is an excellent example of content which can be commercialized on a mainstream basis. We are excited to partner with Ondas Media to expand our market significantly, allowing new listeners to enjoy Jazz FM's high-quality content, in a superb digital quality format wherever they live, work or travel in Europe.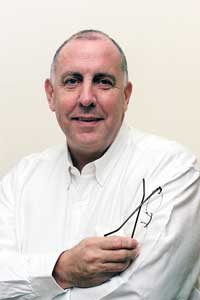 About the author
London-based Chris Forrester is a well-known entertainment and broadcasting journalist. He reports on all aspects of the TV industry with special emphasis on content, the business of film, television and emerging technologies. This includes interactive multi-media and the growing importance of web-streamed and digitized content over all delivery platforms including cable, satellite and digital terrestrial TV as well as cellular and 3G mobile. Chris has been investigating, researching and reporting on the so-called 'broadband explosion' for 25 years.