For many years, the satellite industry has faced the challenge of transitioning from providing a niche technology to a community engaging in a broader, more pivotal role in global communications. Fortunately, we have closed much of the gap today:
Satellite-powered in flight broadband is being embraced by major airlines and is making headlines in thousands of media outlets worldwide from The Wall Street Journal to the BBC.
VSAT broadband is quickly becoming the new standard for maritime communications. This year, we saw a rush of maritime companies moving to VSAT to improve core operations and boost crew welfare.
Satellite networks are proving to be a cost-effective, reliable way for mobile service providers to expand their networks into rural areas, where more than 2 billion people worldwide still need to connect to the global telecommunications grid.
DVB-S2 efficiencies are allowing service providers to expand their opportunities and grow their revenues. In many parts of the world, this is spurring social and economic developments as more businesses, government agencies and educational institutions are benefitting from access to satellite broadband.
Given these successes, we can all relax for a while and soak it in, right? Hardly. We're making progress on the satellite industry's overall value proposition and increasing demand. However, success creates a fresh set of challenges. For the last 12 months, the iDirect team has addressed critical aspects of the industry and have enjoyed several significant victories.
Extending Next-Generation Bandwidth Efficiencies
One of the most significant breakthroughs in advancing satellite IP communications was the recent introduction of the next-generation DVB-S2 standard. This is changing the economics of satellite capacity distribution and is providing new growth opportunities for the industry. This past year, many of our partners migrated to iDirect's Evolution DVB-S2/ACM platform. With Evolution deployments gaining critical mass, this year we also expanded our Evolution product line with several advances in performance, efficiency and flexibility.
The centerpiece was the new Evolution X5 Satellite Router, engineered to help service providers support bandwidth-intensive applications and greater traffic volumes, key to meeting increased customer demand across a wide range of growing vertical markets. The iDX 2.0 release featured a new inbound coding technology called 2D 16-State FEC coding, which delivers improved efficiencies over Turbo Product Coding (TPC) and provides existing customers with a 10-20 percent increase in inbound IP throughput without sacrificing link performance. Another iDX 2.0 achievement was integrating iDirect's Group Quality of Service technology with Adaptive Coding and Modulation, allowing service providers to create more flexible service offerings to help customers address adverse weather conditions.
Reducing The Cost + Complexity Of Managing Remote Networks
The challenge of remote system failure was addressed with the introduction of the iDirect Remote Management Solution. Through a partnership with Uplogix, iDirect is helping to reduce onsite network maintenance costs and strengthens service reliability. The solution uses an Uplogix appliance installed at a remote site to integrate and control the various devices that are part of a remote network. Through a serial connection, the Uplogix appliance constantly collects and analyzes hundreds of performance variables and can automatically resolve about 70 percent of issues that cause network downtime. When a network technician is required, the Uplogix Control Center device located in the NOC provides direct, centralized access to network devices.
Using VSAT For Cost-Effective Satellite Backhaul
iDirect took a major step in helping mobile operators gain rural subscribers and grow revenues beyond core markets in 2009. Ericsson announced a new product for GSM operators: the MiniSite, which integrates an Ericsson GSM base station with an iDirect satellite remote into a single weather proof enclosure. The MiniSite is designed for small- to medium-sized sites (up to 4 TRX) and can be powered by a number of methods, including AC, solar or wind. The solution has been environmentally tested for extreme temperatures and is ideal in areas where terrestrial connectivity is prohibitively expensive or difficult to obtain.
Making SATCOM More Portable For Military Applications
iDirect unveiled the e850mp, a small form-factor satellite router half the size of current product standards, which features iDirect's full suite of mobility and advanced platform features and supports military-grade security specifications. When combined with a bi-directional antenna, the e850mp extends high-speed data, voice and video connectivity to a wide range of mobile solutions. These include high portable "man-pack" satellite communications systems that enable soldiers in the field to communicate with base command. They also include applications for medium- and small-size aircraft, cargo planes, UAVs, deep water fleets, manned and unmanned submersible vehicles, Coast Guard shallow water fleets, and emergency response vehicles.
Flight Broadband Takes Off
iDirect and Panasonic Avionics teamed to develop the eXconnect in-flight broadband system for airlines. Panasonic leveraged the iDirect platform: DVB-S2/ACM efficiency gains, our spread spectrum mobile waveform that greatly reduces bandwidth transmission cost, Automatic Beam Switching to support seamless coverage on long haul flights, and Group Quality of Service to ensure network applications can be reliably prioritized and supported. Panasonic has already announced an agreement with Lufthansa to offer broadband connectivity and other in-flight services 50+ long haul aircraft.
What's Next?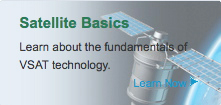 We are preparing new features that will allow our satellite routers to automatically switch between TDMA and SCPC modes as network traffic demands change and support adaptive TDMA on the inbound channel. Our goal is to understand how end user demands are changing. Our team focuses on making satellite connectivity more efficient, reliable, and cost-effective for service providers, while developing specialized features to meet the needs of specific industries. We'll strengthen our global partners' current operations, preparing them for future opportunities and ensuring they continue to gain value from their investment in the iDirect platform.