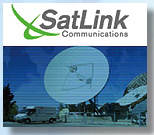 As the satellite industry progressed through the economic quagmire that was 2009, (as well as that of 2008), SatLink Communications Ltd.'s business provided a ray of light emanating from the Middle East. In 2009, the company continued to grow by providing value added services for channels, broadcasters, networks, IP providers, satellite operators, governments and other content providers to assist them enlarge their reach around the globe. From the company's early years, CEO David Hochner realized that global content distribution was quietly changing from a transmission service to a value added business proposition. And in 2009, he continued to lead the group by adding new skill sets, expanding operations, bringing new equipment on-line and by taking advantage of business opportunities.
This past year, SatLink succeeded in becoming a more full partner with its customers and more than just a strategic geographically located facility in the Middle East that reaches Europe as easily as Asia and Africa. With more options opened this year, the company offered additional flexible transmission solutions over multiple satellite platforms, fiber and IP, in a worldwide network covering five continents. 2009 was definitely the HD year for SatLink. Following implementation of a full set of 12 HD simultaneous streams (that included encoding, decoding, and multiplexing), the organization added a new layer of technologically advanced services, making it a major gateway for sports, news, and special occasional events. The systems enable the insertion of different languages into the streams prior to re-transmission and distribution, as well as down conversion of HD to SD and vice versa. With HD in place, SatLink began broadcasting the 2009-2010 season of UEFA Football Cups to Asia. In addition, during the fourth quarter, SatLink's HD crews worked with the BBC in the Old City of Jerusalem and throughout other sites in Israel to support a full HD production for the broadcaster's Christmas and Easter holiday specials.
2009 brought added recognition as the World Teleport Association announced the company was the world's fifth fastest growing teleport. In addition, SatLink was ranked 15th among the world's Top Independent Teleports for the year. "It is a great honor to be among the world's top players in the teleport market. Being included in these two lists is a tribute to our team's abilities to provide the right solutions with the highest service level in a global market," commented Hochner. During the past 12 months, the company expanded services with new bouquets over Asia on AsiaSat 5; in Africa with a new platform on the ASTRA 4A (Sirius 4) satellite; and continued to add to its neighborhood in Europe on HotBird and in the U.S. on Galaxy 19, among other platforms.
"Our strategy is to provide networks, broadcasters and governments from around the globe our comprehensive satellite and fiber capabilities for worldwide coverage. SatLink is highly attractive to channels and satellite operators seeking to add markets and thus create more value to their offerings," said Hochner. "In a dynamic business world, we are a global content distribution provider positioned perfectly at the intersection of the fast growing markets in Africa and the developed markets in Europe, the Middle East, North America and Asia."
This articles was written by Yael Shamos, V.P. Marketing, SatLink Communications