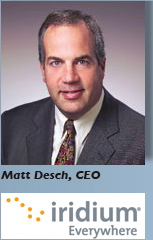 I think I can safely say that 2009 has been a landmark year for Iridium. In September, Iridium went public and is now listed on the NASDAQ under the ticker symbol IRDM. Our transaction brought in significant capital and created a strong foundation for developing our next-generation satellite constellation, Iridium NEXT. It also aligned us with an excellent new investor and sponsor, with executives from Greenhill & Co., Inc. significantly contributing to the success of our business today.
Despite the difficult economy, we continued to demonstrate impressive growth. We rolled out new products and services for our commercial customers and we initiated significant new programs with U.S. Department of Defense (DoD) customers. We secured our license to sell Iridium products and services in Mexico and pursued other licensing initiatives that will open further potentially enormous geographic markets. Our data business continued to outpace all others, as our service partners developed and deployed an amazing array of new products and capabilities built for machine-to-machine (M2M) applications. And, finally, we continued to make progress regarding our next-generation satellite program, Iridium NEXT.
Each quarter in 2009 brought new subscribers. Following Q1 of 2009, we announced 328,000 subscribers, and then 347,000 subscribers following Q2 of 2009. During Q3 of 2009, our subscriber base grew to approximately 359,000 — 16.1 percent above the total at the end of the Q3 of 2008. In addition, following 2009's Q3, our revenues from commercial services rose 23 percent over the same period last year.
Early this year, we completed beta testing and moved into full commercialization of our Iridium OpenPort® high-bandwidth product for the maritime industry. Iridium OpenPort offers a combination of global coverage, multiple independent phone circuits, scalable data to 128 kbps, lower capital acquisition costs, and affordable service plans. The product has been well received in the maritime market, meeting the increasing demand for cost-effective, high-bandwidth, ship-to-shore satellite connections for ship operators, commercial fishing fleets, and even private yachts. As of this writing, we have just activated our 1,000th Iridium OpenPort terminal.
In 2009, we also brought our new Iridium 9555 satellite handset into full production. Introduced in late 2008, the Iridium 9555 provides a number of enhancements over the Iridium 9505A, including a space-saving, internally retractable antenna; large illuminated weather-resistant keyboard; SMS with predictive text entry capability; integrated speakerphone; and a built-in mini-USB port for data. The Iridium 9555 is 30 percent smaller and 27 percent lighter than the previous Iridium 9505A model. While equipment sales have been affected by the weak global economy, the Iridium 9555 puts us in an excellent position to capture market share as the economy rebounds.
In June, the U.S. Navy Surface Warfare Center Dahlgren Division awarded Iridium a development contract for Phase 2 of the Distributed Tactical Communications System (DTCS). Also known as Netted Iridium, DTCS leverages Iridium's constellation of cross-linked, low-Earth orbit satellites to enable over-the-horizon, beyond-line-of-sight, push-to-talk radio nets for warfighters on the move in mountainous terrain. The DTCS program started in 2006 as an industry-funded Cooperative Research and Development Agreement (CRADA) with the U.S. Marine Corps Warfighting Lab in Quantico, Virginia. About 100 prototype DTCS transceivers have been tested and deployed with U.S. forces in Afghanistan and Iraq. Under the Phase 2 contract, Iridium is working with Boeing to upgrade Iridium's satellite software and ground infrastructure to support more than 2,000 user nets with an expanded range out to 250 miles. In November, the DoD awarded a contract to Iridium's partner, ITT NexGen, to produce and deliver 1,450 DTCS handsets by March 2010.
In 2009, Iridium pursued licensing initiatives that will open significant markets in Russia and Mexico. In Mexico, we formed a private company called Iridium Comunicaciones de Mexico S.A.P.I. de C.V., which is a joint venture between Iridium and Spacenet Communications Services de Mexico S.A. de C.V., through which we officially began offering Iridium products and services in Mexico. In Russia, we formed a new company called OOO Iridium Communications in May and we have applied for a frequency and operating license to provide mobile satellite services (MSS) there. We are working to activate and upgrade the Russian gateway, which is owned and operated by Krunichev State Research and Production Space Center. Pending completion of the gateway and licensing efforts, we hope to launch service in Russia next year.
In Q3 of 2009, our M2M subscriber base grew by 45.2 percent and our data service revenues grew by 48.3 percent over the same period last year. Our value-added service partners continue to amaze us with a range of applications that leverage our global, low-latency data connections, enabling operations in areas beyond the reach of terrestrial wireless networks. We are still in the early days of the telematics revolution and we expect to see strong continued growth in this sector, driven by burgeoning demand for tracking, monitoring and controlling remote assets on a global scale. Late this year, Iridium joined with a number of other MSS industry companies to form the ProTECTS Alliance (Promotion of Two-way Emergency Communication and Tracking Systems). The main goal of this initiative is to work collaboratively with the public-safety community, industry groups, trade associations, NGOs and government regulatory bodies to create standards based on duplex data links to foster the orderly growth of the emerging market for satellite personal location, tracking, messaging and distress alerting products.
Finally, let me turn my attention to Iridium NEXT, our next-generation satellite constellation, which we expect to launch in late 2014. We have been working closely with two companies — Lockheed Martin and Thales Alenia Space — who are competing to become the prime contractor for Iridium NEXT — we have been enormously impressed with the engineering talent and innovative thinking shown by both teams and will make our decision and award a contract in the coming months.
As we close out a successful 2009, we look toward an exciting 2010. Our robust and resilient satellite network and strong operation results, combined with our strong balance sheet, put Iridium in an enviable position in the MSS sector. Our public listing gives us an excellent platform from which to embark on financing, building and launching Iridium NEXT. Our focus for 2010 will be growing and servicing our subscriber base, growing our revenue stream and moving into full development of Iridium NEXT.