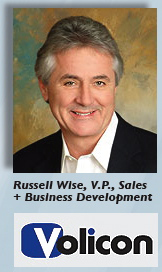 Maintaining the highest-possible video quality in the most cost-effective manner possible has never been a greater challenge — not only for companies that distribute video content via satellite, but the cable providers and TV stations that must answer to their viewers when something goes amiss. The explosion in linear, on demand, and interactive content coupled with the pressure to reduce the operating cost per channel puts enormous demands on the content provider. Even with the global economic downturn in the mix, these dynamics presented Volicon with a "perfect storm" of opportunity in 2009 as we experienced unprecedented demand for our award-winning digital content monitoring and logging solutions.
For example, the Volicon Observer® RPM for cable and telco operators represents the state of the art in digital video monitor and logging solutions because it provides automatic, around-the-clock scanning and monitoring of video content. These systems afford proactive monitoring capabilities at the point in the delivery chain that is most important: the output that viewers are actually seeing on their televisions. The Observer RPM enables cable and telco operators to evaluate the quality of their NOC/headend and remote hub site broadcasts from any location, automatically scanning hundreds of channels around the clock and testing signal integrity. When a video fault such as macroblocking, black screen, frozen video, no video, no audio, or violations of audio thresholds occurs, the system automatically issues alerts (via email and SNMP) to the on-call engineer together with a clip of the offending video, so that faults can be resolved before they turn into customer complaints.
The Volicon Observer replaces inaccurate and inefficient manual approaches with an automated process — an operator can realize significant cost savings in labor savings and related increases in quality. As a case in point, Italian digital satellite TV provider SKY Italia implemented the Volicon Observer to provide 24/7 monitoring and fault detection to help maintain quality of service standards for aired content, a move that has greatly streamlined the provider's monitoring capabilities and delivered greater flexibility in identifying and accessing recorded clips. In addition, SKY Italia has identified another compelling application for the system: proof of compliance with government communications regulations. As a replacement for SKY Italia's former tape-based monitoring process, the Observer archives instantly accessible content from 52 channels for up to 90 days via RAID 5 storage hardware, with four spare recording channels at the ready. The move to server-based monitoring eliminates the need to change out videotapes manually and saves space, occupying a smaller footprint than the facility's old VCR systems and requiring no external storage area, as the broadcaster's tape archives once required. The system can easily be scaled to accommodate additional channels.
Going forward, the demand for powerful and yet easy-to-use tools for validating and confirming video quality will only grow as content continues to proliferate and viewers become more discriminating. The digital/HD revolution is here to stay, and content distributors as well as cable providers must continue to abandon costly and manual processes in order to maintain the quality levels their viewers expect.