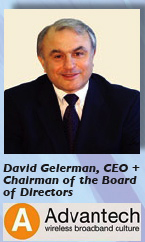 As a leading Canadian company, we position ourselves amongst the top solutions providers worldwide, this international focus, allows us to meet industry trends and upcoming challenges with carefully implemented strategies that secure our place in the market.
During 2009, the economic slowdown was noticed and a shift in priorities was put into action. Our main concerns being customer satisfaction and our ability to continue to bring them cutting edge and cost effective products, we turned inwards for inspiration and decided to carefully review our internal processes, which resulted in a series of improvements and additional benefits that will be passed on to our clients. In terms of products, this year we released the 3rd generation DVB-RCS which provides three different platforms bringing to our clients growth and flexibility through out the product line.
In terms of sales, being an international company, we leverage our presence abroad as market fluctuations arise, presently; demand from BRIC (Brazil, Russia, India and China) countries continues to rise. One of our wins this year came from Latin America, where we were awarded a $14M project for a major telecommunications operator, consisting of a fully integrated satellite gateway communications system to be provided and installed for the existing satellite network at the customer's teleport. The award also includes 3,200 remote VSAT stations, designed to transmit Internet, voice, video, data, videoconferencing and television services.
In North America, we were selected by the U.S. Army as the key technology for critical deployments in Afghanistan. In Europe, we signed an agreement with Arqiva, the U.K.'s provider of infrastructure for the television industry, in which we will supply DVB-S2 modulators and demodulators to be used in the Digital Switch Over(DSO) project in the United Kingdom. In terms of equipment, we remain leaders in IP encapsulators and ACM controllers, compact BUCs and the supercompact 8-16W Ku Band BUC.
We are very optimistic regarding the upcoming year, we believe the effects of the economic crisis will not be as challenging as in 2009, therefore, we expect to see customers having easier access to capital and being less hesitant to spend. To meet our clients demands we will continue to provide cutting edge, cost effective solutions, taking a targeted approach towards telecommunications providers and the MILSATCOM market. Our continued commitment to improvements of satellite access schemes and broadening our waveform capabilities are positioning us to be a key provider of satellite communications equipment into both the commercial and military markets. Our commitment to open standards and willingness to partner is our key to addressing a much larger market share than we have pursued to date.
We also expect to leverage the benefits of a renewed approach to marketing, which will be manifested in upcoming improvements to our website and an increased participation at key trade shows worldwide.