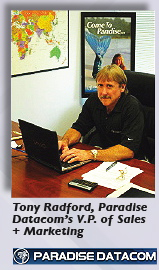 Few would argue that 2009 has been a challenging year. Though SATCOM has purportedly fared better than many industries, some of our commercial markets are witnessing increasingly frugal customers tightening their belts. This has slowed previously ambitious plans for upgrades or expansion, resulting in fierce competition across the board. For Paradise Datacom, market diversification has been a key element in maintaining a healthy market position. Long-term government programs go a long way in smoothing out the rough spots in a turbulent commercial market as working capital and consumer confidence begin to rebound.
In spite the difficulty of today's global economic plight, opportunities for some of the more fortunate players have surfaced. With many SATCOM service providers seeking ways to gain operational efficiency through cost reductions without having to decimate staff, the availability of new products containing bandwidth-saving technologies are creating frenzy in the market. Paradise Datacom released two new modem features this year that can drastically reduce the amount of space segment required to support many satellite-based services.
Our teaming agreement with ViaSat to incorporate their patented Paired Carrier Multiple Access (PCMA) technology into our line of satellite modems offers customers the possibility to achieve up to 50 percent savings on transponder costs by allowing transmit and receive carriers to be superimposed upon one another. In addition, the release of our Sat-Abis, an embedded Abis optimization feature, gives cellular operators who use satellite links to backhaul traffic the opportunity to realize additional savings without the need for external components and associated system complexity. Internal diagnostics and graphing tools allow operators to see exactly how much they are saving.
Paradise Datacom, well known for our line of RF products, continued to raise the bar with the release of PowerMAX — our solid state power amplifier (SSPA) system that delivers soft-fail redundancy, hot-swap removable RF modules, and field expandability that can generate thousands of watts for extremely high power applications or any application that requires the ultimate in maintainability and service reliability.
In addition, 2009 saw the initial release of our new line of SSPAs based upon Gallium Nitride transistor technology. GaN devices offer the ability to produce higher power levels in smaller packages with reduced power consumption.
At Paradise Datacom, we pride ourselves on our perpetual efforts to stay ahead of the curve by incorporating the latest technologies and forward-looking features into both our RF and modem product lines.