2009 was marked by the deepest economic crisis of the last decade, with its roots in the financial and early phase of the real estate crisis in 2007 and 2008. While a number of observers note signs of recovery, the economy remains fragile and uncertainty persists.
In general, the satellite sector has held up well during this difficult economic time. This is particularly true for satellite operators and manufacturers, although the impact on service providers requires a more detailed review. Satellite systems operators of all types (FSS, MSS, EO) posted revenue growth on a consolidated basis, with that growth rates tending toward the higher end of averages of the current decade. A number of operators were confronted with capacity limitations which constrained their short term growth (as opposed to a lack of demand).
Still, the satellite sector has so far benefited from relatively long business cycles and from multi-year contracts signed by most of their customers securing short term revenues. Over time, the current crisis should have a noticeable impact on certain customer segments, and could result in a decline in industry growth rates, at least in the short term.
A Few Companies Affected...
In the course of the year, a few companies in the satellite sector filed for bankruptcy — including operators
Protostar
and
ICO North America
(now
DBSD North America
), as well as launch service provider Sea Launch. While the economic and financial crisis is not the only reason for their downfall, it has certainly significantly complicated their ability to find financing. Even before the crisis exploded, all three companies were all in relatively fragile situations due to various technical, regulatory or commercial factors.
The SATCOM Market Is Strong — However...
Satellite operators (on a consolidated basis) are likely looking at another strong year in 2009. While complete data on capacity usage is not yet available, the four leading operators' revenues — which represent close to 70 percent of the total industry — underscore the resilience of the satellite business model. For the first nine months of 2009,
SES
and
Intelsat
posted revenue growth of 5 percent and 8 percent respectively, while
Telesat
posted revenue growth of 17 percent.
Eutelsat
also confirmed these strong results, with 11 percent growth for the first quarter of its fiscal year 2009-2010. While less data is available for national operators, current information (including the number of satellites under procurement) tends to confirm this trend.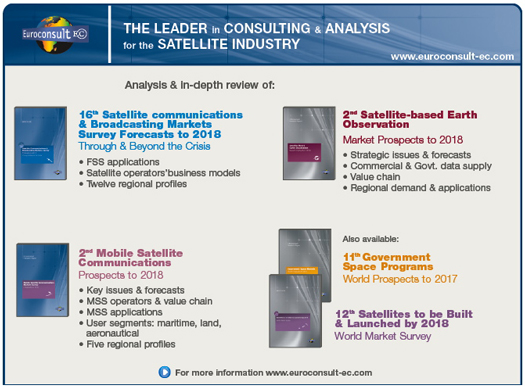 The sector's resistance to the crisis can be explained by the fact that their core customers, mainly pay-TV broadcasters and telecom operators, are not affected by the crisis as much as at the end of the Internet bubble in the early 2000s. Subscriptions to pay-TV services for example are projected to grow by 14 percent in 2009 — lower than in 2008, but still positive growth at a time when many sectors are struggling. Emerging countries are a major driving force in this growth. This growth is backed by increasing capacity demand and prices that are stable or increasing, thanks to high fill rates worldwide, estimated to exceed last year's 74 percent. Intelsat's fill rate of 85 percent in the third quarter of 2009 is a good illustration of this.
In general, despite the tight credit markets, financing was still largely available for larger FSS operators and for those with a robust business outlook. However, for small- and medium sized operators, it is much harder to raise funds for new satellite projects through debt financing, as lenders have become generally more risk averse and thus have tightened up their requirements. A number of satellite operators have secured satellite financing, though there has clearly been a move away from exotic and innovative funding toward more traditional project financing, often with the support of export credit financing agencies
(e.g.
,
COFACE
and
ExIm Bank
).
Meanwhile, M&A activity partly resumed in the second half of 2009. The main event was the agreement for Viasat to acquire WildBlue. Other smaller transactions at the satellite or company level also took place, including auctions for the Protostar satellites (with the second one planned for December) and the acquisition of
Mabuhay
by
ABS
.
The MSS market globally maintains its growth and secures fresh financing. MSS operators have posted a relatively good consolidated performance for 2009 so far. The market leader Inmarsat, for example, posted revenue growth of 8.3 percent for the first nine months of 2009 — including 8.7 percent growth in the third quarter alone.
Nevertheless, tough economic conditions have still impacted some operators' performance. For instance, while reporting growth in service revenues,
Iridium
reported a sharp drop in satellite equipment sales in the third quarter of this year. The M2M system operator
Orbcomm
also reported a weakened performance in the same period, primarily due to a 89 percent decline in subscriber equipment sales for the third quarter of 2009 compared to the same quarter in 2008.
Despite the challenging market environment, two MSS operators have raised significant funds in the last few months.
Globalstar
has achieved full funding in 2009 with the support of the French export credit agency Coface. The closing of the transaction between
GHL Acquisition
and
Iridium
brought a first round of financing to the company, with further funds expected for the
NEXT Constellation
program.
In order to stabilize business performance, MSS operators have been actively promoting new products and services to generate more revenues from anchor customers and attract new customers. In the handheld sector, operators have turned their focus to military and professional users whose communications usage has been only moderately impacted by the crisis.
In September 2009,
Thuraya
released a new handset,
Thuraya XT
— which has a more industrial design — is promoted as the toughest satellite phone in the world. Iridium continues to market its new 9555 handset to professional users, and Inmarsat plans on releasing a new satellite phone service next year.
In the M2M sector, Globalstar released a new generation consumer satellite communication terminal,
SPOT 2.0
, in July 2009. The company is pushing this one way communication device hard, and has now about 10,000 distribution points.
MSS broadband solutions are still driving a significant part of growth, especially as the volume of data transmitted is growing steadily. Inmarsat stands out as the current market leader in that segment.
The EO Satellite Market...
Earth observation data sales will surpass the US$1 billion mark for the first time in 2009 as demand for commercial high resolution data continues to grow. Despite reaching this record level, there remains a reliance on government customers particularly for defense and security purposes. Thus, leading commercial operators and data distributors must each look to expand their client base and service offerings in order to grow market share and mitigate against any major policy shifts.
In reality this means operators such as
DigitalGlobe
,
GeoEye
and
SPOT Image
have sought to develop their international distribution networks in order to meet prospective clients locally. These leading providers are also growing activities in order to best position themselves to supply complete geospatial services, including incorporating aerial data and/or distribution of data from third parties and also increasing their portfolios of value-adding products. With 260 Earth observation satellites forecast to be launched over the coming decade and increasing competition anticipated from both commercial operators and government programs seeking to commercialize data, this expansion of services is deemed necessary as competition in the market place increases — and the sector continues to mature.
DigitalGlobe's successful IPO confirms investor interest in the sector.
Astrium Services
' acquisition of SPOT Image and the subsequent teaming of the company with Infoterra, creating the SPOT Infoterra group, will provide both optical and radar high resolution data solutions. New satellite ventures have also been realized, with DigitalGlobe and GeoEye successfully launching capacity with
WorldView-2
and
GeoEye-1
, respectively, and Astrium Services confirming it will proceed with
SPOT-6
and
SPOT-7
.
The Manufacturing + Launch Market...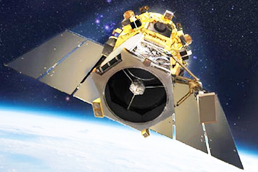 The year 2009 will, again, be a good year for GEO ComSat manufacturers, with 21 to 25 orders expected by the close Of This year, depending if SES' four satellite order is awarded before year's end. This is the fifth consecutive year of satellite orders exceeding 20 units, which is a record in the industry's historical cycle.
Orders for 2009 are still dominated by replacement and expansion of in-orbit capacity with no new entrants. With the exception of two satellites to be provided by ISS of Russia, all other orders are for high performance satellites, either high power (
e.g.
,
IS-19
and
20
for Intelsat), multiband (
e.g.
,
Express-AM 5
and
6
for
RSCC
,
ABS-2
) or multispot beam (Jupiter for
HNS
).
Interesting changes are occurring on both the supply and demand sides, with new GEO ComSat satellite integration capabilities emerging in several countries (Canada, Argentine, Brazil) and more governments backing projects for domestic ComSat systems (Pakistan, Angola, Laos, Columbia, Bolivia, Sri Lanka). The European, Chinese and Russian satellite industries take advantage of this market opening by providing bundled solutions (satellite and launch service, as in the case of
Telkom 3
or
Paksat
), or critical subsystems and parts (the case of
Arsat
).
On the launch side of the industry, a total of 30 satellites should be launched into GTO by year-end 2009, of which three quarters will be commercial ComSat. The commercial launch industry has met high demand with seven single launches of
Proton
and four dual launches of
Ariane 5
handling most of the activity for the year.
Challenges — 2010
Despite strong industry performance this year, 2009 has revealed that the satellite sector is solid, due in part to its longer business cycles compared to other sectors. Growth in satellite applications in emerging regions, as well as innovation at the service level both in satellite broadcasting and telecoms, will also support future growth.
Still, the current crisis could begin to impact demand for satellite services and capacity, especially if there is not a significant recovery next year. At the same time, the end of large orders for replacement communication satellites could begin to impact that level of the value chain. The industry can be legitimately very satisfied with its global performance this year, but must also begin preparing for 2010.
Data and figures from:
16th Satellite Communications & Broadcasting Market Survey – Forecasts to 2018
2nd Mobile Satellite Communications Markets Survey - Prospects to 2018
2nd Satellite-based Earth Observation - Market Prospects to 2018
12th Satellite to be Built & Launched by 2018 – World Market Survey

About the author

Pacôme Revillon spent several years as analyst and consultant at Euroconsult before accepting his current position as the Company's CEO, with a specialization in satellite communications, TV broadcasting and financial analysis. Pacôme has contributed to numerous consulting assignments in the satellite broadcasting and communications markets for international companies including satellite operators, satellite TV platforms, TV channels, media groups, manufacturers, investment banks, private equity funds and public institutions.