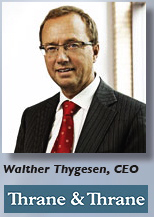 2009 will be remembered as the year that broadband SATCOM came of age. Demand for Inmarsat's BGAN services continued to grow as users in the maritime, aeronautical and, indeed, land mobile segments began to truly understand the efficiency improvements and cost savings that broadband satcoms enable across a massive range of applications.
The growth in interest and use of BGAN was improved by the late 2008 launch of the Inmarsat I-4 satellite, which went online in February 2009, making it a truly global service. This was a significant push to the global SATCOM market.
Our two new BGAN satcoms product launches in 2009, SAILOR® 150 FleetBroadband for the maritime segment and Aero-SB Lite (SwiftBroadband) for the aeronautical segment, were very successful and boosted our business significantly. We have huge expectations for these products going forward.
Interestingly, Inmarsat's launch of Fleetbroadband 150 also helped to drive sales for our existing SAILOR 250 and 500 FleetBroadband products. We found, on many occasions, that once a potential user had initiated dialogue regarding SAILOR 150 FleetBroadband, they soon witnessed the benefits and return on investment that could be gained from using the 250 or even the 500. Having said that, for smaller vessels, SAILOR 150 is performing exceedingly well and we expect this to improve as users that previously might not have considered a broadband connection at sea can now do so at a very reasonable cost.
Despite the tough economic climate we have all faced, Thrane & Thrane was positioned well to supply new users of BGAN with brand new products via our well-proven, existing portfolio. Due to our viable product lineup, we had a strong 2009. Based on our 2009 performance, I feel positive about 2010. I don't believe all of the issues we've seen in the market during 2009 will disappear in a flash, but we do see a more positive trend now than we saw six months ago. I feel that demand for broadband at sea, on land, and in the air — where we already have an exciting product introduction lined up for January — will continue to grow.
We introduced several exciting new products in the latter half of 2009, which will make a positive contribution when they reach users next year — company confidence is already high as we enter 2010 with a stronger product roadmap than ever before. One of the key drivers for the continuing growth of broadband SATCOM next year will be that more and more people are switching to IP networks. By having the correct communications package, people can save time, increase their efficiency and, in some of the more hazardous industries we supply, improve health and safety. For instance, within the maritime segment, it's not just crew welfare or communications for passengers, as everything on the ship needs to be connected these days in order to run at maximum operational efficiency.
With a quick and high return in several areas, users are now, more than ever before, prepared to invest in broadband SATCOM.