DigitalGlobe Sees A New and Improved World(View-2) Successful Launch!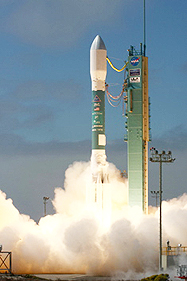 Delayed by a second stage battery check, the launch of WorldView-2 occurred at 11.52 a.m. PDT at Vandenberg AFB, California, making DigitalGlobe the only commercial world-imagery provider with high-resolution, eight-band multispectral capability. United Launch Alliance provided the launch services for this mission on behalf of Boeing Launch Services. Delta II rockets previously launched both the Quickbird-2 mission in October 2001 and the WorldView-1 mission in September 2007 for DigitalGlobe. The additional multispectral band capability of WorldView-2 is expected to enable higher levels of feature identification and extraction and more accurately reflect the world's natural color, with the potential to benefit many applications, including environmental monitoring, change detection, and defense and intelligence.
WorldView2 takeoff photo above: Vandenberg AFB, Calif. (Oct. 8, 2009) – A United Launch Alliance Delta II rocket, on behalf of Boeing Launch Services, blasts off from Space Launch Complex-2 with the DigitalGlobe WorldView-2 spacecraft at 11:51 a.m. PDT today. The Delta II successfully deployed WorldView-2 into a sun-synchronous orbit where the spacecraft will perform its mission of collecting high resolution commercial digital Earth imagery from space. (
Photo by Bill Hartenstein, The Boeing Company
)
DigitalGlobe is a global provider of commercial, high-resolution, world imagery products and services. Sourced from their own advanced satellite constellation, DigitalGlobe's imagery solutions support a wide variety of uses from mapping and analysis to navigation technology. With advanced collection sources, a comprehensive ImageLibrary and a range of online and offline products and services, clients are able to access and integrate imagery seamlessly into business operations and applications. With a mission life of 7.25 years, and operating at an altitude of 770 km, the WorldView-2 system is expected to bring agility, capacity, accuracy and spectral diversity to commercial earth imaging.
Ka-OTM SATCOM Specs Released By EMS Solutions
EM Solutions announces preliminary specifications for a Ka-band On-The-Move Satellite Communications System being developed under Round 12 of Australia's Defence Capability & Technology Demonstrator (CTD) Program. The CTD offers the ADF an opportunity to investigate and demonstrate a Mounted Battle Command On-The-Move satellite communications system at Ka-band, suitable for operation with the Wideband Global Satcom (WGS) System, and examine its potential as a key system supporting the ADF's Network Centric Warfare strategy.
Acquiring Minds Want To Know... ViaSat + WildBlue Communications
ViaSat + WildBlue logos ViaSat Inc. (Nasdaq: VSAT) has signed a definitive agreement to acquire privately-held WildBlue Communications Inc., the premier Ka-band satellite broadband service provider, in a cash and stock transaction valued at $568 million. The combination sets the stage for accelerated growth and expansion of the WildBlue broadband service using ViaSat nexgen net technology, which features the high-capacity ViaSat-1 satellite scheduled to launch in early 2011.
In acquiring WildBlue, ViaSat gains one of the most successful and fastest growing wholesale and retail broadband service providers in the United States. In less than five years, WildBlue has become one of the top twenty broadband U.S. ISPs with more than 400,000 customers (as measured by total subscribers according to data compiled by Leitchman Research and ISP Planet). WildBlue pioneered the use of "unprocessed" Ka-band spot beam technology to increase capacity and lower bandwidth costs, portending the value potential for the technology innovations ViaSat-1 will make possible.
SATCOM On The Move Aided + Abetted By Thales Group For France
The French Defense Procurement Agency has contracted Thales Group to develop a program to equip armored vehicles with a mobile satellite communication system. The SATCOM On-The-Move (SOTM) program gives mobile units a permanent tactical link on the battlefield, even without conventional radio links, Thales announced.
The program, dubbed VENUS, makes it possible for vehicles in the field to connect to a secure link for simultaneous voice and data transmission. It uses a conventional antenna, modem and transmission network adapted for mobile operations. "Nowadays, On-The-Move satellite communication is essential on the theaters of operation," said Jean-Michel Lagarde, Thales's Director of Network Infrastructure, Satcom & Security activities. Thales said the system provides a guaranteed command link, meeting the requirements of mobile land units on the battlefield. First deliveries of the system are scheduled for 2010.
A Downright Smashing Day For NASA + The Moon
The LCROSS Centaur and Spacecraft impacted the moon at approximately 4:30 a.m. PDT. LCROSS Centaur Separation occurred at 9:50 p.m. EDT (6:50 p.m. PDT), October 8. After separation, the spacecraft performed a 180 degree pitch maneuver (turning around) to reorient the LCROSS science payload towards the receding Centaur. The twin impacts on the moon's surface occurred early Friday in a search for water ice. Scientists will now analyze data from the spacecraft's instruments to assess whether water ice is present. The satellite traveled 5.6 million miles during an historic 113-day mission that ended in the Cabeus crater, a permanently shadowed region near the moon's south pole. The spacecraft was launched June 18th as a companion mission to the Lunar Reconnaissance Orbiter from NASA's Kennedy Space Center in Florida.
Moving at a speed of more than 1.5 miles per second, the Centaur hit the lunar surface shortly after 4:31 a.m. October 9th, creating an impact that instruments aboard LCROSS observed for approximately four minutes. LCROSS then impacted the surface at approximately 4:36 a.m.
Boeing Wants The Navy To Find That Sub
The Boeing Company [NYSE: BA] received a US$275,000 contract last September from the U.S. Naval Air Warfare Center Aircraft Division (NAWCAD) for a study of the magnetic noise associated with the heavy-fuel propulsion system on Boeing's MagEagle Compressed Carriage (MECC) Unmanned Aerial System (UAS). The MECC, designed and built to be magnetically quiet, is a special-mission variant of the company's ScanEagle Compressed Carriage UAS.
"MECC's mission is to help locate, track and attack submarines," said Ron Perkins, director of Advanced Unmanned Airborne Systems for Boeing Phantom Works. "This contract is a crucial first step to identify risks associated with a UAS equipped with a magnetic anomaly detector system." Boeing envisions MECC as an extension of the manned P-8A aircraft's combat systems capability, providing P-8A crews with additional validation and supporting the P-8A in simultaneously conducting both low and high altitude anti-surface warfare, anti-submarine warfare and command-and-control intelligence, surveillance and reconnaissance missions. Boeing will start testing the MECC sensor system, vehicle integration and magnetic noise reduction in 2010. (
Image: ScanEagle Compressed Carriage UAS—Boeing
)
Asia Broadcast Satellite To Acquire Mabuhay Satellite Corp. + Agila-2 Satellite
Mabuhay Satellite Corporation (MSC) and Asia Broadcast Satellite (ABS) have signed an agreement for the sale and purchase of the business of MSC. The closing of the transaction will occur upon the issuance of the necessary regulatory U.S. governmental approvals.
Agila-2 satellite (ABS) MSC's Agila-2 satellite is a Space Systems/Loral FS-1300 spacecraft that was launched in Aug 1997. The satellite has a payload consisting of 24 Standard C- and 6 Extended C-band transponders covering Asia from India to Philippines, Japan to Indonesia, and a C-band spot beam over Hawaii to provide connectivity to the USA. The satellite also has 24 Ku-band transponders covering the Philippines, Coastal China, Taiwan, and Hong Kong, providing capacity for TV distribution, DTH and VSAT services. The MSC Subic Space Center is a state-of-the-art satellite communications facility in the Philippines providing full satellite operations, payload and client monitoring, tracking, telemetry and control services, and a full Network Operations Center (NOC) managed 24/7 by highly trained professionals. Mabuhay Satellite Corporation (MSC) was the first Philippine entity to own and operate a communications satellite.
Intelsat Garners ProtoStar 1 For US$210 Million
ProtoStar 1 (I-25) satellite Intelsat, Ltd. is the successful bidder in the October 29th public auction for the ProtoStar 1 satellite, with a $210 million, all cash offer, that out muscled the offer from Eutelsat. Upon conclusion of the transaction, the satellite will be re-named Intelsat 25 and will join Intelsat's global fleet, serving with the company's other assets in the Atlantic Ocean region. The satellite, built by Space Systems Loral, has 22 Ku- and 38 C-band transponders. Upon its launch in July 2008, the satellite was expected to have a 16-year life span. The transaction is subject to certain regulatory and bankruptcy court approvals. Intelsat expects to close the transaction within the next 30 days.
ULA Launches SS/L Produced IS-14 For Intelsat — Solar Arrays Deployed
Space Systems/Loral (SS/L), a subsidiary of Loral Space & Communications (Nasdaq:LORL), announced the satellite the Company built for Intelsat is performing post-launch maneuvers according to plan. The satellite deployed its solar arrays as planned early this morning, following its successful launch aboard an Atlas V rocket from Cape Canaveral, Florida. Tomorrow (November 24), the satellite is scheduled to begin firing its main thruster in order to start maneuvering into geosynchronous orbit.
Also announcing the launch success is United Launch Alliance — the Company has now deployed its fourth commercial mission of 2009 as an Atlas V rocket successfully launched the Intelsat 14 (IS-14) commercial telecommunications satellite at 1:55 a.m. EST, November 13th. Blasting off from Space Launch Complex-41 at Cape Canaveral, Florida, the launch was provided on behalf of Lockheed Martin Commercial Launch Services, which procured the Atlas V for this mission. Previous ULA commercial launches this year included the Delta IV GOES-O launch for NASA/NOAA on June 27, the Atlas V PAN mission on September 8th, and the Delta II WorldView-2 mission October 8th.
IS-14, to be located at 315 degrees East, will provide high-powered communication services through its C- and Ku-band, serving Intelsat network and government customers throughout the Americas, Europe and Africa. IS-14 will replace Intelsat's IS-1R satellite, once it enters service. The spacecraft also carries a hosted payload for the Internet Router in Space, or IRIS program, for CISCO, which expands on SS/L's experience integrating hosted payloads on commercial satellites. The payload, on the Intelsat 14 satellite, is a demonstration of Internet Routing in Space (IRIS) for the U.S. military, which is expected to open up a number of commercial and military opportunities to improve communications connectivity around the globe The spacecraft also carries a hosted payload for the Internet Router in Space, or IRIS program, for Cisco.
Iridium Is NEXT To Host Multi-Agencies' Payloads
Iridium NEXT Iridium Communications Inc.'s [Nasdaq:IRDM] results indicate success in numerous technical studies while working with independent technology partners, that demonstrate the feasibility of hosting Earth observation and remote sensing payloads on its planned/proposed next-generation satellite constellation, Iridium NEXT.
"Independent, detailed technical studies led by Iridium for the Group on Earth Observations (GEO) have confirmed that Iridium's planned next-generation constellation of 66 low-earth orbiting (LEO) cross-linked satellites can provide a unique and unprecedented capability for a wide range of remote sensing missions for monitoring global climate data and other environmental data," said Dr. Jose Achache, director of GEO, an intergovernmental organization based in Geneva, Switzerland. "GEO is creating a framework for governments and industry to explore how new data-providing sources, such as Iridium NEXT, can support the Global Earth Observation System of Systems (GEOSS) by delivering required water and climate observations."
"The earth observation community has a unique window of opportunity, starting now, to augment our ability to capture Earth climate, weather and environmental data through hosted payloads on Iridium NEXT," said Achache. "It's important to act quickly to ensure the secondary payloads can be included on the Iridium NEXT satellites, which will be launched between 2014 and 2016."
In addition to the GEO studies, Iridium has completed several technical studies for U.S.-based space agencies examining specific hosted payload possibilities with Iridium NEXT. These include Global Positioning System radio occultation (GPSRO) to measure global atmospheric temperature and humidity profiles; broadband radiometers for measuring the earth's radiation budget; solar total and spectral irradiance measurements; radar altimetry to detect sea surface and ice heights; multi-spectral imagers for ocean and land color, deforestation and desertification; and to validate the feasibility of commercial monitoring of ozone levels in the earth's atmosphere.
The U.S. Department of Defense (DoD) is also investigating the feasibility of hosted payloads on the Iridium NEXT constellation to support requirements for space situational awareness.
Lockheed Martin and Thales Alenia Space are competing to become the prime contractor for Iridium NEXT and both companies are designing hosted payloads accommodation in their proposed Iridium NEXT satellite design. Iridium plans to announce its Iridium NEXT prime contractor selection in the coming months . . . stay tuned.
SES WORLD SKIES Orders Four To Go From Astrium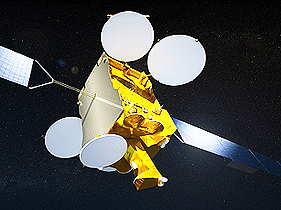 Astrium, a wholly-owned subsidiary of EADS (Euronext Paris: EAD) has announced SES has ordered four multi-mission satellites from them, to provide replacement as well as incremental capacity for its SES ASTRA and SES WORLD SKIES divisions. The new satellites, to be designated ASTRA 2E, ASTRA 2F, ASTRA 2G, and ASTRA 5B, will allow the release of the existing satellites at two orbital positions (28.2 and 31.5 degrees East) and add new capacity as well as fleet deployment flexibility for the SES group over the coming years. The satellites are scheduled for launch in several steps between 2012 and 2014. The design life of each satellite is 15 years. Three of the new spacecraft, ASTRA 2E, ASTRA 2F and ASTRA 2G, will serve to deliver nexgen broadcast, VSAT and broadband services in Europe and Africa, and will carry Ku-and Ka-band payloads at 28.2 degrees East.
The four new satellites will be built on a Eurostar E3000 platform, the latest version of Astrium's Eurostar series which has proven to be highly reliable in commercial service. A total of 60 Eurostar satellites have been ordered to date. SES has already ordered three Eurostar E3000s: ASTRA 1M, which entered into service one year ago; ASTRA 3B, ready for launch early next year; and ASTRA 1N, which was ordered last year and is currently under construction.
The satellites' Ku-band capacity will allow SES ASTRA to enhance and secure its existing offering to major DTH markets in the U.K. and Ireland. With a Ku-band payload specifically designed to meet the requirements of some of Europe's largest DTH broadcasters, the satellites will have spot beam and pan-European beam switching capabilities to accommodate both pay-TV and free-to-air broadcasters, and to provide these customers with increased functionality.