Close your eyes and picture yourself in a tropical paradise taking a leisurely morning stroll along a beautiful stretch of deserted beach. You're immersed in the pristine ambiance of brilliant flora, the soothing warmth of the sun and soft caress of a gentle ocean breeze when all of a sudden you detect the faint whisper of a distant song.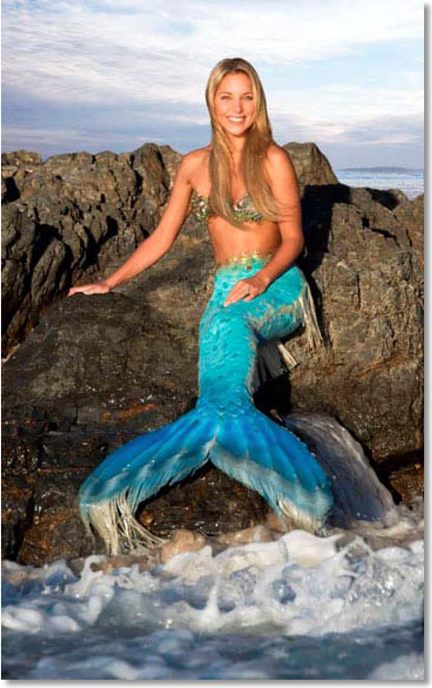 You walk amidst a flock of seagulls fighting over a breakfast buffet of minnows trapped in shallow pools created by the receding tide, but even their noisy chatter can't compete with the serene, but penetrating melody riding gracefully on the air like a colorful bird, stirring your curiosity, beckoning you to come closer... closer.
Your senses afire, you continue your trek as you seek the origin of this aural delight when up ahead in the distance, a mysterious silhouette partially obscured by the mist from the crashing waves begins to take shape.
Soaking wet from the cloud of salty spray, you cautiously make your way along the rocky shore as the enchanting melody aimed directly at your very soul draws you ever closer to the answer you seek, an answer that seems more elusive with every step you take – then as the veil of mist begins to clear, you see her - the embodiment of the best the sea has to offer.
You stand in speechless amazement, gazing upon the epitome of grace, beauty and an appearance so striking that you can't help but be mesmerized, hopelessly imprisoned in the fear that what you see is merely a figment of your imagination.
That which you behold is a sight and sound that has captivated the attention of seafaring mariners for as long as captains have sailed the vast seas in search of that yet known - a captivation so strong that the ocean floor is littered with the shattered remains of vessels that failed to avoid the perils of a jagged shore, instead choosing to focus on nothing more than locating the source of these mystical lyrics sung in such an alluringly angelic tone.
For centuries, the very word "Mermaid" has struck a primal chord in the minds of everyone who possesses an imagination. Countless stories, books, movies and plays based upon this mythical creature have passed from generation to generation showing no signs of diminished popularity.
When I washed up on the Paradise Datacom beach six years ago, the "sea creatures" theme had already been adopted by the new management and thanks to the artistic skills of KC Murphy, a successful ad campaign was well under way. "Success" was proven by statistics pulled directly from the metrics used by mainstream advertisers to convert buyers' behavior into a tangible form – a clear indication that new heights had been reached in capturing the interest of the viewing audience. No surprise, it was a sensible theme. After all, any anecdotal reference needed to propel a SATCOM product into the market like speed, agility, intelligence and flexibility, could easily be analogized with a well-known ocean dweller.
From the fearsomely aggressive power of a Great White Shark, the blinding speed of a dolphin or the majestic aura of a Killer Whale to the strikingly vivid colors of a school of angelfish, attributes aplenty bode so well on the printed page. And since the spectrum of sea-life spans the smallest to the largest of earth's creatures, the list of available images is as endless as the imagination of the engineers who architect the very products that make all of this necessary.
After working within this theme for several years and having full appreciation for the success our company was receiving, I challenged myself to find a new sea creature, a transcendental image that could push our message into uncharted territory. I wanted an enhancement to our theme that would introduce an even more vibrant tone to the benignly stoic field of satellite communications. But with a legacy of such success, how does one raise the bar even further?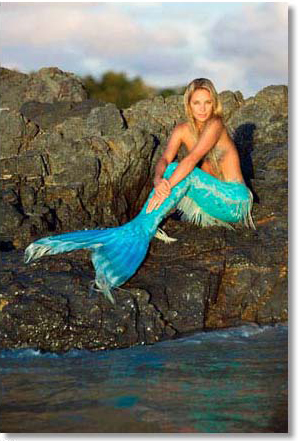 Well hey, no epiphany required here. Anyone who's been alive for more than a week knows that there is but one sea creature that "exists" (albeit in a proverbial sense) that would stand a chance at fulfilling such a mission. Yes, a mermaid. And not just any mermaid, but one that would embody without compromise the very traits that define the enchantress - beauty, grace, agility and form. But how would the market react to a campaign based upon such a genre?
Being a veteran member of the industry, I thought it likely that my own perspective would be shared by my peers who comprise the SATCOM family. If modern day architects of SATCOM systems who must constantly navigate the long list of available products in search of the perfect solution were cut from the same cloth as the ancient mariners who navigated the high seas in search of spices, the fountain of youth or whatever else would cause you to spend your life living on a wind-powered wooden boat, how could the result be anything other than success?
But in the interest of cultural sensitivity, multi-gender, multi-national focus groups were formed and subjected to the imagery for reaction prior to launch. All feedback was positive.
My second challenge was the internal sell. I would soon learn that espousing such a concept would garner little more than expressions of belief that I had completely disassociated myself from reality, probably appropriate as reality was no place to look for a mermaid. And that brings me to my third challenge. Where does one find a mermaid on 21st century earth? As a kid growing up in central Florida, my folks used to take me to an attraction in Weeki Wachee famous for the live mermaid shows performed inside a huge aquarium theater. But when I visited their website, I was quick to learn that the mermaids pictured were likely the same ones that performed when I was a pre-teen. Decades of sub-aquatic performances had not done them justice. Scarred from some of the images I witnessed, I pressed on, though my lack of instantaneous luck combined with an incredibly short attention span drove me to toss the challenge to KC.
Months would pass before I would learn that KC had achieved success in his search that ended in a small coastal town of eastern Australia. Still faced with internal resistance, I asked him to create an ad for our satellite modems based on a picture selected from the portfolio we had recently received. It was a gamble that the impact of the ad alone would be sufficient to sway my naysayers from a stance of opposition to one of acceptance. KC in his characteristic style succeeded in bringing to life a mental image that seemed at the time to be shared only by me. The results of his efforts were profound.
"Calling from Paradise" set in the scene of a beautiful mermaid resting on a Bali beach was the first of a series of ads designed to promote modems and amplifiers manufactured by Paradise Datacom. What started as an enhancement of a years' running campaign became an iconic symbol that would become well recognized through countless ads, banners, booth graphics, posters and even the front covers of two industry magazines. For the next couple of years, "Hannah" would be a treasured member of the Paradise team even if only in JPEG form.
I will return SATCOM to the place it once stood – stark, unimaginative and void of flair. But unlike the many mythical creatures that fade from the spotlight, our mermaid will always hold a position of notoriety at Paradise. The SATCOM community will never forget her thanks to the vast array of images that brandish books, magazines and electronic media, not to mention the hundreds of "Hannah" mouse pads that grace the desks of SATCOM professionals around the world.
So Hannah, I bid farewell and thanks for an act that will be impossible to follow.