CET Teleport is one of Europe`s major teleports and was built by Deutsche Telekom in 1987 for satellite broadcast and VSAT services. The Teleport is located in northwest Germany giving it a commanding view of the skies, with visibility from the Eastern Pacific, the West Coast of the USA, South America, and covering Europe and Africa all the way across Russia and China, and all of Asia and down to Australia.
The Teleport is host to more than 50 antennas from 15m downwards, operating in C-, Ku-, Ka-, K- and X-bands, fully integrated into
Deutsche Telekom
's German fiber network, providing CET with access to the terrestrial network for Internet connectivity as well as data and voice backhaul.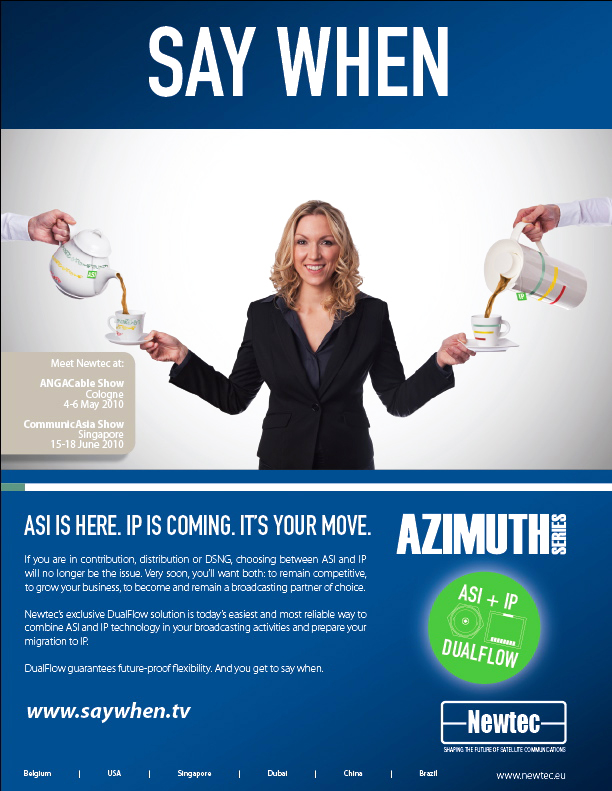 Access to
BT
's
Global Media Network
(
GMN
) via
BT Tower
allows for the transmission of video enabled MPLS data & voice services. The STM fiber between the CET hub and the Tower is bi-directional and fully redundant. The teleport has a potential of accessing more than 200 geostationary satellites, located from
58 degrees West
to
76.5 degrees East
, providing coverage and connectivity across most of the visible globe.
CET Teleport GmbH
(
CET
) is a teleporting services provider whose
Hameln
teleport has enjoyed an excellent reputation for the quality of the network operations that it has offered to its users over the years. The teleport is run by a management and operations team of highly experienced and respected satellite industry professionals who can devise and implement solutions to most of the satellite based communication problems encountered by organizations.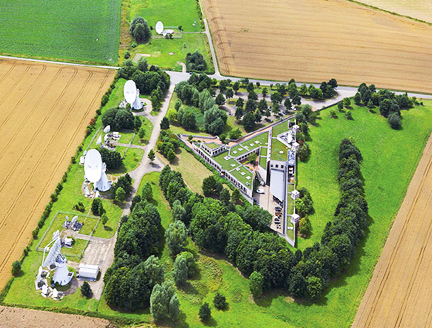 The Teleport provides a wide range of media broadcasting and corporate VSAT services. However, in contrast to most teleports, CET sees its major VSAT market not as the ultimate end-user, but as a solution for organizations, including other teleports, who are unable to provide the service their customers require. Such challenges include...
Satellite that is to be accessed that is not visible from designated remote locations or hub
There is a lack of space for additional antenna(s) at the hub
Shorter and/or more reliable backhaul
Accessible space segment unable to be obtained elsewhere
CET already has a fully redundant dish pointed at the required satellite
CET also provides, monitors, and manages remote-to-remote, roof-top to roof-top SCPC links, and can connect ISPs to the Internet as well as offer GSM backhaul and connection to the PSTN or to VoIP switches for voice and voice and data services. Once contracted to provide a service, CET is able to manage as much, or as little, of the project as the customer may require. This can range from site survey through installation and commissioning to the provision of licencing and on-going maintenance.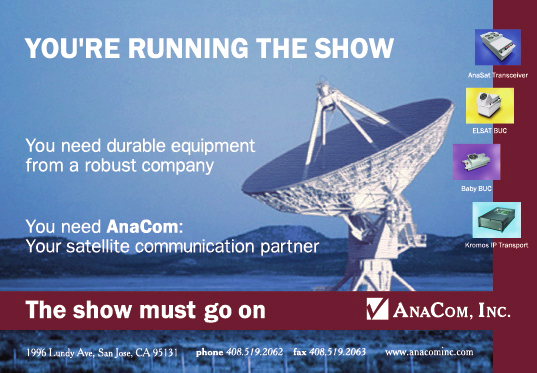 The Teleport has extensive disaster recovery facilities plus a 24/7 Help Desk that is backed by a large and highly experienced engineering team who manage and maintain the satellite and hub equipment on site and at numerous remote locations. CET has both
iDirect
and
HNS Directway
hubs installed at its Hameln facility in order to offer a full range of shared hub facilities to its customers, as well as providing SCPC star or full mesh networks when required.
Services
Broadcast Services
CET Teleport is expanding its range of broadcast services to provide tailored solutions to broadcasting organizations across the industry, offering Direct-to-Home (DTH) Multiplexed Services as well as facilities for Playout and Distribution, Turnaround, and Occasional Use/SNG services. CET can also provide access to some of Europe's premier DTH bouquets and multi-point content access and storage facilities. By using the latest hardware technology and software solutions in its studio and editing suite, CET can provide global content distribution.
VSAT and Carrier Services
CET provides the following services and more...
Hubbed and SCPC VSAT Corporate and Enterprise Services
GSM Backhaul Services
Voice Services — Carrier and VoIP
Disaster Recovery Networks
The Company can arrange local licensing, installation and maintenance with Service Level Agreements guaranteeing the highest level of availability.
Government, Military, and NGO Services
For many years, the Hameln teleport has provided voice and data satellite services for government agencies, non-governmental organizations (NGOs), and various branches of the military
These organizations prefer to use satellite links, even when terrestrial ones are available, as they can have virtual private networks (VPNs) and highly cost-effective 'actual private networks'. In this way, they can enjoy much more secure communications over their own exclusive links than is possible using public voice and data networks.
Other Services
CET Teleport also provides all the services required to ensure customers obtain a system that is tailored to satisfy specific needs, including project management, installation, licensing, field service and maintenance, network monitoring and management, third party hosting and data storage and, for satellite operators, telemetry, tracking and control (TT&C) services.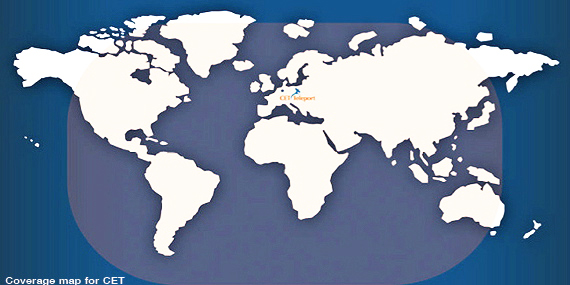 Co-Location + Hosting
CET is able to provide co-location and hosting facilities to service providers whether they want to locate a major antenna system at the hub or rent rack space for their own electronic equipment to handle traffic being brought down or sent up using a CET antenna
Back-Up Power System
CET`s warm stand-by 1 MW generator is more than capable of providing all the power the teleport requires to continue operating in the highly unlikely event both of its independent mains power supplies fail. To cover the time between a power failure and the generator coming on stream, the battery pack installed is capable of supporting all the systems at Hameln for at least 30 minutes.
Fiber Connectivity
Having been built by Deutsche Telekom, the CET teleport is naturally directly connected to the DT fiber network by multiple links to ensure complete continuity of service at all times. In addition, the teleport can offer fiber connectivity directly to the BT Tower in London and Telehouse — no matter where in the world traffic has to be ultimately taken or backhauled, CET has the connectivity in place to handle such needs. Through its Internet portal, CET can provide high speed and high capacity access to various Internet portals using diverse routing to ensure that Internet connectivity is always available.
Ken Armstrong, CEO
In 2008 Ken spearheaded negotiations with Stratos to conclude the acquisition of the teleport facility. Ken started his career at British Telecom in 1965 and was involved in the development of its backbone System X switching system. He later moved to Audio Conferencing and then Broadcast Services.
Matthew Ivey, V.P. Sales
Matthew joined CET Teleport in March of 2010 to manage all of CET's sales activities.
Neil Ashworth, Dir. Business Development/Strategy
After a career with ICL and Rank Xerox, Neil became a founding director of BankNet in Hungary, which installed the first shared hub in Central and Eastern Europe in 1992. His last position prior to the CET appointment was as Regional Director responsible for CEE, Russia & CIS and the Middle East at Paradigm Communications.