What is the value of geospatial data?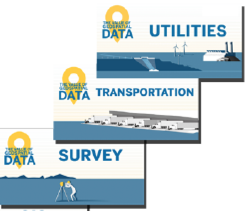 The way people view data has certainly changed over time. Industries with a history of operating in silos are now intertwined, woven together by the collection, analyses, sharing and selling of data. Certainly evident is that looking for value in the numbers alone no longer benefits an organization.
Today, with widespread technology deployed and built for geospatial intelligence purposes, a single data point is likely connected to billions of other data points, creating vast information that can be obtained, examined and used for an organization's benefit. The value is found in what the data can tell an organization about their operations.
Organizations that operate in critical infrastructure markets and collect data have a much bigger job ahead of them. They need to look at all of the facets of operations and information technology, analyze data and turn it into actionable intelligence. Data today allows operators to examine costs, production and manpower and find how to scale business operations in a way that ensures success. Perhaps the easiest way to understand this is through the concept of the Data Value Chain.
The Data Value Chain is a framework through which people can view the flow of geospatial data from the instant that data is collected throughout its entire lifecycle. Each vertical industry has their own flow (and needs) of data, but eventually, that data intersects with analytics that can turn individual points of information into all different kinds of actionable intelligence.
The Data Value Chain depends on a blended
technology ecosystem that acts as disruptive force throughout the global marketplace to root out traditional, static practices and supplant them with innovative, purpose-built solutions based on data analytics.
With modern geospatial technology in place, data touches almost every aspect of a business, enhancing productivity, safety and compliance, and precise management of internal resources. Geospatial data is used by billions of people around the world, either directly or indirectly. Essentially, any device that tracks location becomes a part of the Data Value Chain.

Think about the common technologies people use every day here in the US:
— Navigation functions on a cell phone? Geospatial data...
— Restaurant or entertainment recommendations in a specific area? Geospatial data...
—City bus route coordination?
Geospatial data...
The end result of geospatial data usage is often seen, but what isn't seen is just how many people have touched that data to even get it to the point of deployable information. This Data Value Chain has changed the way people and groups of people interact in their daily lives, as a whole, internally and externally.
The industries that use geospatial data can have the opportunity to become highly innovative by leveraging and understanding the Data Value Chain. These industries are directly responsible for building and maintaining the critical infrastructure upon which cities—and countries—are built and maintained.

For example, did you know an innovative geospatial cleanup app was used for sprucing up San Jose, California, during the 50th anniversary of the Super Bowl? The City of San Jose wanted to present the best face possible to visitors and devised a cleanup campaign to ensure a positive impression for more than a million people where they viewed a clean, safe city in action. Following this major event, this initiative would become part of the city's improved processes.
The above example is just one of many to demonstrate the value in the Data Value Chain—this extends from the boots on the ground mapping geographic terrain and gathering data in urban and rural settings—to the engineers and project managers transforming the data into actionable use and developing creative solutions for difficult infrastructural dilemmas. Even the back-office decision makers tasked with solving the problems of today can keep an eye on the obstacles of tomorrow. When the Data Value Chain is recognized and used, work can get done faster.

The Data Value Chain is the summation of many individual companies and applications and is ubiquitous to anything that touches an industry or company in today's global marketplace. The Data Value Chain shapes the way humans interact with the world around them at a micro and macro level.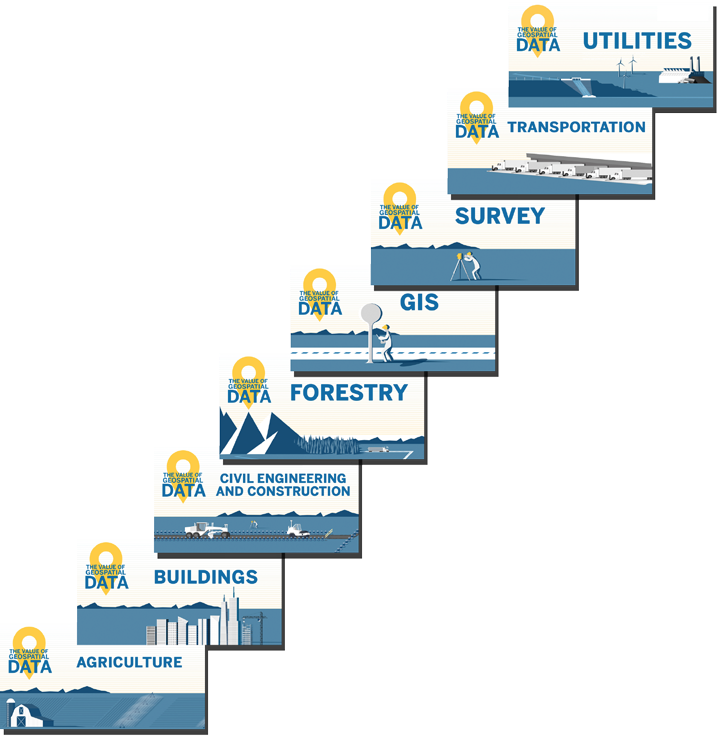 The Data Value Chain has the power to disrupt industries with new ways of thinking and doing as well as the ability to unify disparate business practices by transforming data into intelligence and placing that information into the hands of decision makers across each workgroup or department. The data informs them about daily workflows, from simple deployment of resources, to the strategic placement of those resources and ultimately the value those resources provide in return.
By embracing and cultivating a Data Value Chain, industries across all verticals will reap the benefits. The Data Value Chain provides a conceptual framework that ignites a greater capacity to disseminate valued information across an organization (vertically and horizontally) and helps industries derive actionable intelligence from all points of operation. When this is accomplished, organizations see scheduling and manpower improvements, increased regulatory compliance, overall cost reduction, efficiencies in the use of heavy machinery and much more. As data points continue to expand and grow, so does the importance of understanding the role of the Data Value Chain in the ecosystem of the global marketplace.
trimble.com/dvc
---