Astrium—Making Things Fly... On The Ground
You can't take a spacecraft that needs to perform a docking maneuver while traveling at a speed of 28,000 km/hr for a test run, so how can you make sure that once it gets aloft it performs exactly as it needs to?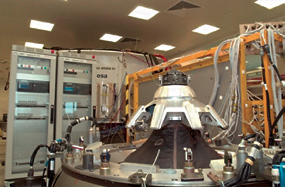 The answer is simulation—effectively executing an entire mission without leaving the cleanroom.
The ATV (Automated Transfer Vehicle), the Astrium-built cargo supply craft for the International Space Station (ISS), heading for rendezvous
Take the example of the ATV (Automated Transfer Vehicle), the Astrium-built cargo supply craft for the International Space Station (ISS). It is the biggest, most complex spacecraft ever developed and built in Europe – an unmanned 20-tonne space freighter that once launched makes its own way up to the ISS where it performs a completely autonomous rendezvous and docking maneuver with a remarkable accuracy of only a few centimeters!
And there's more. The ATV is not only the space vehicle itself, but a vast interconnected system: there are ground control centers in Toulouse (ATV mission control), Moscow (supervision of docking with the Russian Zvezda module on the ISS), and Houston (ISS mission control); the ISS astronaut crew also have an ATV control panel; a satellite network relays commands and data between the ATV, the ISS and the three control centers.
The ATV program involves many companies from all over Europe, providing equipment and support services.
Astrium, industrial prime contractor for the program, is responsible for ensuring that all this comes together to create a perfect whole, and works as smoothly as clockwork, during every single phase: integration, qualification, launch, ISS approach and docking, and through out the entire mission of the ATV, right up to the craft's ultimate separation and controlled burn-up in the atmosphere.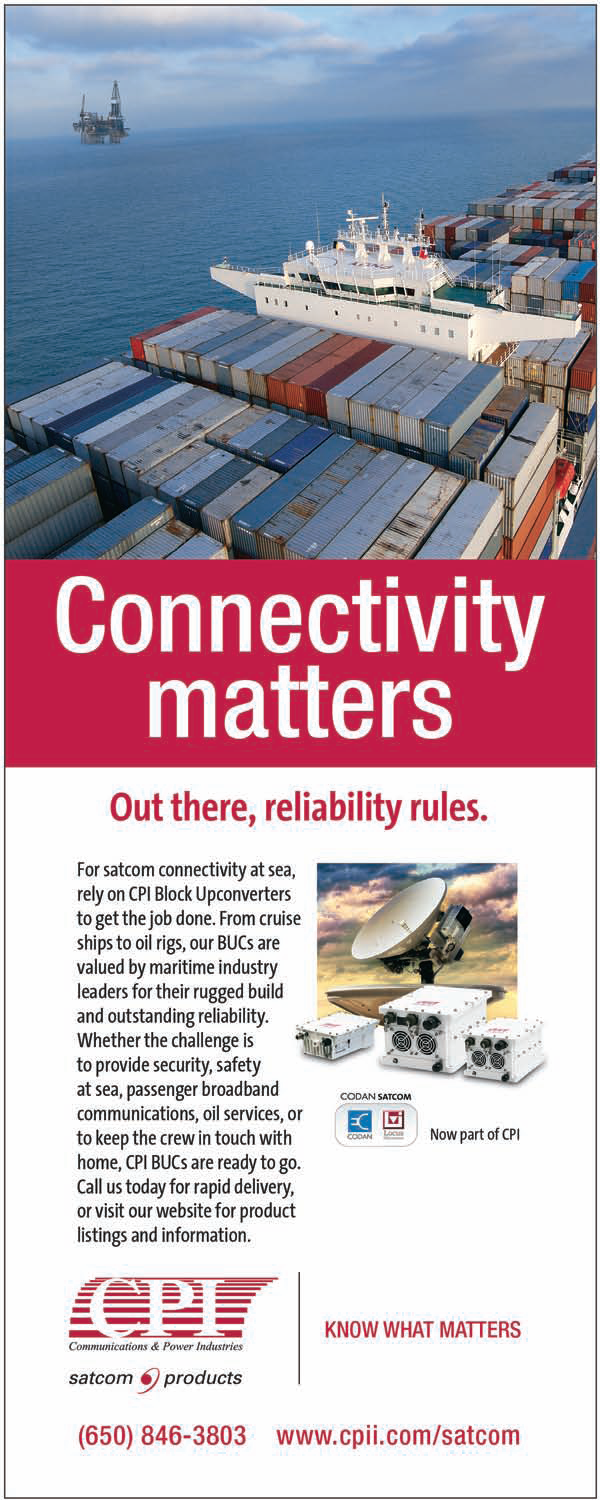 When the ATV sets off aboard its Ariane 5 launcher, everybody and everything must be 100 percent ready. Astrium uses a highly sophisticated Functional Simulation Facility (FSF) at its Les Mureaux site near Paris to 'fly' an exact mock-up of the ATV which houses nearly all the on-board electronic equipment through all the stages of a full virtual mission (first orbit injection, orbit transfer, rendezvous and docking, attached to the ISS, undocking and leaving the Station), checking out the complete system and previewing all possible nominal and 'off-nominal' scenarios. The FSF platform, with its hundreds of cables and umbilicals, dozens of ground computers, and controlled by some 50 engineers, replicates all aspects of the functional environment that the ATV will encounter. In the simulations, which are performed at 'real' speeds, it is as if the craft is actually flying in orbit. Myriad permutations enable all conceivable anomalies and failures to be virtually introduced into the scenarios to test out and plan for all eventualities.
The ATV mock-up that is used with the FSF does not look like the spacecraft that will take to the skies. The outer structure is dispensed with for these purposes, and the parts that constitute the ATV's electronic 'brain' and 'nervous system' are connected up to the platform.
The platform models interfaces with the Ariane 5 launcher, the ISS, and with the ground and satellite communication network. Various modules delivered by industrial partners are also integrated. The core simulation software is installed and fine-tuned on more than 15 real-time simulation platforms – not just at the Les Mureaux site, but also in Moscow, Toulouse and Houston – some of which include real on-board computers and most of the real equipment to ensure electrical compatibility, flight software validation, system qualification and the development of integration procedures.
As well as the spacecraft, many of the human beings participating in the ATV program are virtually put through their paces. Real-time numerical simulations are used for training the controllers at the ATV Control Centre in Toulouse and for large Joined Integrated Simulation (JIS) exercises with the other centers. Creating a common simulation over a secured pan-European network infrastructure and involving hundreds of operators, JIS links together the Toulouse (ATV control) and the Moscow (Russian ISS module) simulators, with the Houston (ISS control) center also in the loop for the fullest, most representative simulation of the mission.
This simulation activity is a major part of the preparation of the mission and mandatory for obtaining Flight Acceptance. From ATV design to vehicle integration tests and mission qualification, each phase of the lifecycle requires simulations. Once the ATV is in flight, simulation platforms support in-depth analysis in case of any anomaly and are used to validate new contingency procedures. At the end of the mission, after the ATV has re-entered the Earth's atmosphere and safely disintegrated, simulations are a vital component of post-flight analysis … and then it's time for the next ATV mission qualification campaign!
* * * * * * * * *
Gilat Satellite Networks—Spacenet Goes To SageNet
Gilat Satellite Networks Ltd. has entered into a definitive agreement to sell its Spacenet Inc. subsidiary to Tulsa, Oklahoma-based SageNet.
The aggregate consideration for the sale is approximately $16 million, subject to certain post-closing adjustments and expenses. The transaction is subject to regulatory approval and the satisfaction of customary closing conditions and is expected to be completed within the next three (3) months. The transaction is expected to result in a capital loss of $1 million to $3 million, which includes banker's fees, legal fees and other transaction related expenses.
In fiscal 2012, Spacenet's business generated revenue of approximately $77 million, approximately $2 million operating loss and EBITDA of approximately $2 million. Upon closing of the transaction, Gilat's management objectives for 2013 will be updated accordingly. The sale of Spacenet, which currently operates as part of Gilat's Services Division, is expected to strengthen Gilat's strategic focus as a satellite communications technology company with innovative commercial and defense products and solutions for Internet access and on-the-move applications.
As a long-term operator of Gilat products and solutions and with over 20 networks and over 100,000 VSATs currently supported, post-closing, Spacenet is expected to become a major customer for Gilat and to continue to offer services based on Gilat's products as part of the expanded organization's solutions portfolio. Spacenet customers should continue to receive the same quality of service to which they have become accustomed.
"The sale of Spacenet will allow us to better focus our assets and management attention on our core business strategy and strategic target markets," said Erez Antebi, CEO of Gilat Satellite Networks. "I look forward to the combined Spacenet and SageNet organization becoming an important customer and look forward to continuing to provide them products and solutions in support of the large enterprise customer base that they service."
For Spacenet, which has transitioned over the last few years from primarily a VSAT services company into a managed network services company, the acquisition will serve to increase its position and growth potential in the market. Since 1981, Spacenet Inc. has designed, implemented and managed some of the largest communications networks for US-based business, industrial and government customers and today manages communications at more than 160,000 locations for customers including many Fortune 500 companies and major government agencies.
"This is a marriage of two exceptional companies with the ideal combination of tools, technology and talent," said SageNet President Daryl Woodard. "Both firms enjoy a proven track record for network services leadership and expertise, combined with company-wide commitments to customer service. We look forward to continuing to work closely with Gilat as we work to create North America's premier Managed Network Services provider delivering the fastest, most reliable and secure network coverage available, at the lowest total cost of ownership possible."
"It's been a privilege to be part of the Gilat organization over the last 20 years," said Spacenet CEO Glenn Katz. "We're looking forward to both a new beginning with SageNet and to a lasting strong and mutually beneficial relationship with Gilat. We believe this is a great fit at the right time that will provide added value not only for our organizations, but more importantly, for our customers."
* * * * * * * * *
Space Systems/Loral—The Silence Is Broken
The company was tight-lipped for a while—it was "mum's the word"—and all that, but now the reveal...

Space Systems/Loral (SSL), provider of commercial satellites, has named its previously undisclosed customer for a multi-mission communications satellite. The satellite is being manufactured for Brazilian satellite operator Star One, a subsidiary of Embratel, a leading telecommunication company from Brazil.
The satellite, named Star One D1, is equipped with C, Ku and Ka-band payloads and will be used for telecommunications, television broadcast, broadband, Internet access and other services such as digital inclusion in Brazil and in the Latin American region. Star One D1 will be the first satellite of Star One´s fourth generation and will support the Olympic Games in 2016 that will take place in Rio de Janeiro, since Embratel, in a co-participation with Claro, has been selected as the Official Telecommunication Sponsor for this worldwide event.
"We are very pleased to have this opportunity to help Star One provide much needed services that will improve the human experience in Brazil and throughout Latin America," said John Celli, president of SSL. "This is the second satellite that we are building for Star One, and there is no better endorsement of our success than a customer returning to work with us again. Star One and SSL share a commitment to high quality and reliability and we look forward to continuing our close working relationship."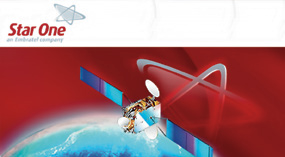 Star One D1 is based on the highly reliable SSL 1300 satellite platform that provides the flexibility for a broad range of applications and technology advances. It will be located at 84 degrees West longitude and is scheduled for launch in early 2016. The satellite is designed to deliver service for 15 years or more.
"We are glad to announce this new satellite and to increase our presence not only in Brazil but in all Latin America´s region," said Gustavo Silbert, president of Star One. "The D1 will help transform the lives of many people in Latin America who currently do not have access to the high speed communications necessary for both economic and social well-being."
* * * * * * * * *
Advantech Wireless—The Extended Family
Advantech Wireless Inc. has extended its line of S-Band Indoor (Rack-Mount) and Outdoor (Hub-Mount) Solid State Power Amplifiers.
The extended product line is available for a full range of output power up to 1250W in a single package. For higher power, Advantech Wireless provides phase-combined systems offering an output power up to 12kW.
Intended for indoor or outdoor operation, Advantech Wireless' S-band Solid State Power Amplifiers are built in a compact size. The design of the extended line of SSPAs is based on Advantech Wireless' proven techniques, resulting in high linearity and operating efficiency.
These S-band Amplifiers may be configured to operate in 1:1 or 1:2 redundancy modes, with built-in microprocessor controller in each unit for redundancy operation and capability for serial port interfaces (RS485) or Ethernet for remote monitoring and control.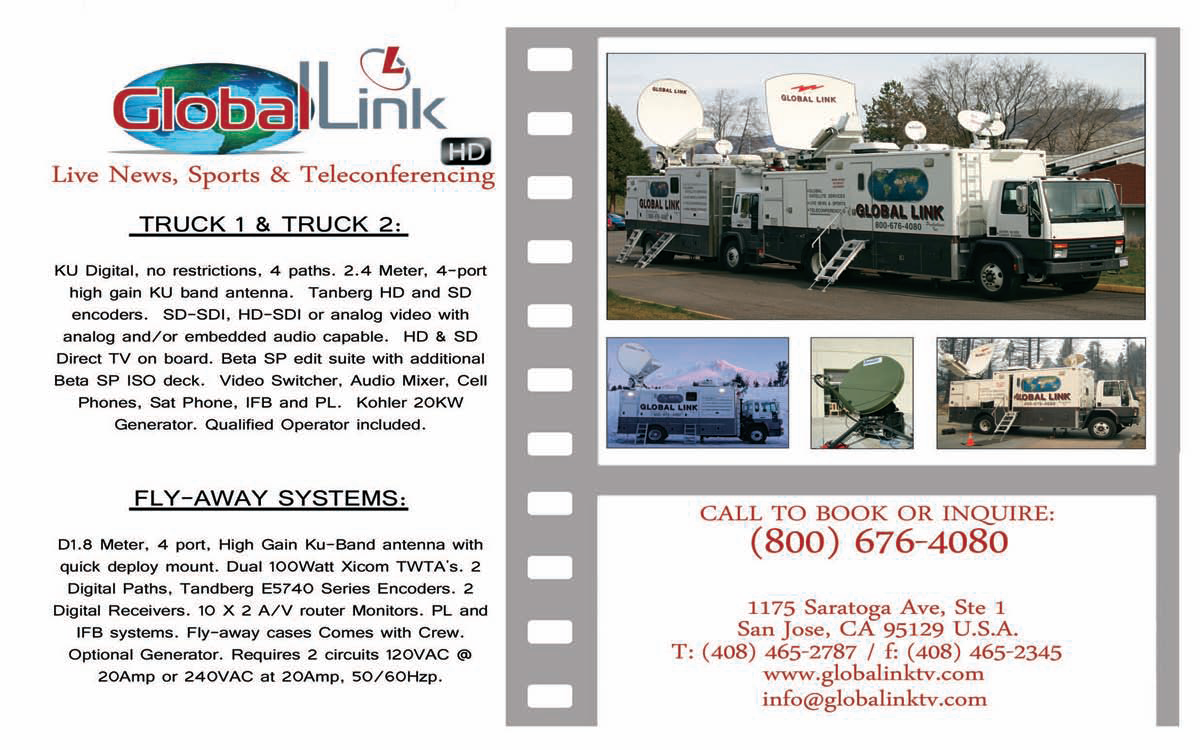 Advantech Wireless' extended line of S-band SSPAs provides maximum flexibility for the new generation of LEO satellites on critical applications like Remote Sensing, Earth Observation, Topography, Telemetry + Control, Weather Services and Digital Imaging. Combined with Advantech Wireless' S-band Frequency Converters and S-Band LNAs, it offers a complete one stop shop solution for operators and system integrators.
* * * * * * * * *
Niagara Thermal + ViaSat—A Heated Exchange
Niagara Thermal Products has been selected by ViaSat Inc. as a key process technology supplier to bring next generation Ka-band satellite technology and architecture to the aerospace market.
ViaSat's new technology, which enhances its award-winning Exede® Internet service, is expected to significantly improve the speed and availability of broadband services over a greatly expanded coverage area.
Drawing upon more than 25 years of product and process engineering experience in high performance vacuum-brazed products produced in its AS9100C certified facility, Niagara Thermal Products has developed proprietary braze process technology that is critical to the performance of new ViaSat products.
"We are extremely pleased that we have been able to assist ViaSat in the development and introduction of this exciting improvement in broadband capabilities for the aerospace market," said Mark Parisi, Vice President of Business and New Product Development for Niagara. "While not directly in our mainstream thermal technology area of heat exchangers, heat sinks and cold plates, this technology development is another example of Niagara Thermal Product's commitment to providing important solutions for difficult challenges in the aerospace industry."
* * * * * * * * *
iGT—Speeding Up Innovation
iDirect Government Technologies (iGT), a wholly owned subsidiary of VT iDirect, Inc. (iDirect), today announced that it is increasing its investment in product development engineers to speed innovation and develop specialized market solutions for the Department of Defense (DoD) and civilian agencies.
The new team, located at iGT's headquarters here, will bring nearly 120 years of collective experience in management, digital, field-programmable gate array (FPGA) and software engineering disciplines to iGT. The team will develop next-generation products to meet demand for smaller, faster and more powerful mobile and portable devices. This suits the specialized needs of the DoD and government where, increasingly, troops need technologies to communicate on the move. The engineering team will research, develop, design and test new products and solutions for their feasibility and profitability.
iGT has been building its engineering base since January 2012 when the company spun off from its parent, iDirect, in order to better serve the needs of the U.S. federal government. This investment in engineering resources puts iGT in a position to ramp up products based on customer feedback and need, and to collaborate with iDirect on engineering expertise.
* * * * * * * * *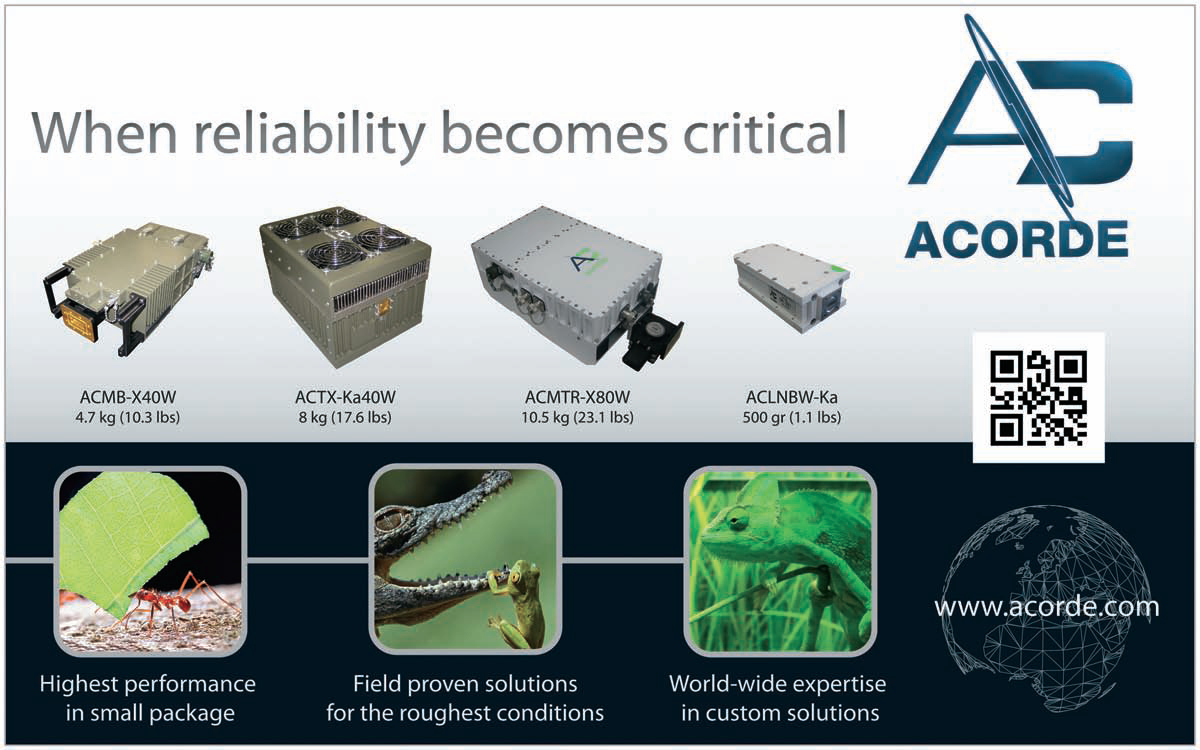 ImStrat + GeoSoluciones—Imparting ISR Intelligence
ImStrat Corporation has announced that it is expanding its Intelligence, Surveillance and Reconnaissance (ISR) training course offerings to the Chilean market through an agreement with Chile's GeoSoluciones. The company will be ImStrat Corporation's exclusive Chilean business partner for ImStrat Corporation's world class ISR courses and training programs.
"GeoSoluciones has an excellent reputation throughout Chile in remote sensing, imagery and photogrammetry. GeoSoluciones has developed its reputation through its professional training and consulting practice to the environmental, educational, government and military sectors. We believe that our world class ISR programs will complement GeoSoluciones' geomatics training by extending an even stronger value proposition to its military clients with this business relationship" said Tom Last, President and CEO of ImStrat Corporation.
"We are very excited about this new relationship which strategically positions us to provide Geospatial Intelligence (GEOINT) training courses to military organizations in Chile. This is a good panorama to serve the Chilean market with the experience of ImStrat in remote sensing and image analysis knowledge through their original and wide-ranging training programs" said Walton Edwards, Managing Consultant of GeoSoluciones.
* * * * * * * * *
Sierra Nevada Corporation—Dream Chaser's Two New Milestones
Recently, NASA announced that it has added additional milestones to Sierra Nevada Corporation's (SNC) Dream Chaser® Space Act Agreement (SAA) under the Commercial Crew Integrated Capability (CCiCap) initiative.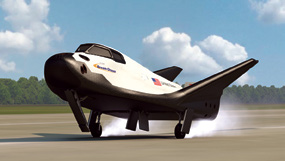 NASA amended SNC's SAA to include two additional milestones totaling $15 million, bringing the value of SNC's CCiCap SAA to $227.5 million.
The two optional milestones will extend the SNC CCiCap period of performance from May 2014 to August 2014, advancing the design and testing of the Dream Chaser Space System. Specifically, the optional milestones will fund work associated with the Critical Design Review (CDR) for the vehicle and additional testing of the reaction control system.
SNC is one of three companies funded under the CCiCap initiative to develop a next generation crew transportation vehicle and the only reusable, lifting body vehicle with runway landing capability. The Dream Chaser space vehicle is on the forefront of the commercial human spaceflight industry, offering safe, reliable, and cost effective crew and critical cargo transportation to low-Earth orbit.
* * * * * * * * *
NOAA—GOES Goes
GOES-12 has seen it all, from Hurricane Katrina that hit the Gulf Coast in 2005, to the Christmas blizzard that crippled the Central United States in 2009.
The satellite even traveled south of the equator to provide coverage for South America that started in 2010. Now, after more than 10 years of stellar service, NOAA's Geostationary Operational Environmental Satellite (GOES)-12 spacecraft is being retired.
Launched on July 23, 2001, the satellite lasted well beyond its original operational design life of two years for on-orbit storage and five years of actual operations to support forecasters and scientists in NOAA's National Weather Service.
GOES-12 captured this visible image of Hurricane Katrina on August 28, 2005, at 11:45 a.m. (EDT). At that time, the storm was at Category 5 strength and projected to impact New Orleans. Image credit: NOAA.
"GOES-12 gave the Western Hemisphere many years of reliable data as the operational eastern GOES for accurate forecasts, from small storms to those of historic proportions," said Mary Kicza, assistant administrator for NOAA's Satellite and Information Service.
Built by Space Systems/Loral, GOES-12 became operational April 1, 2003 as the GOES-East satellite, monitoring weather across the U.S. East Coast and part of the Atlantic Ocean.
On May 10, 2010, when GOES-12 was no longer able to be maintained to meet the requirements of the National Weather Service, it was shifted to a new position, where it provided coverage of weather conditions affecting South America, including volcanic ash clouds, wildfires, and drought.
On January 29, 2010, GOES-12 captured a powerful storm developing in the U.S. mid-west. In the coming days, two blizzards hit the East Coast resulting in historic snowfall totals. Image credit: NOAA.
When NOAA decommissions a geostationary satellite such as GOES-12, it is boosted further into orbit, the remaining fuel is expended, the battery is disabled and the transmitters are turned off. These maneuvers reduce the chances the satellite will collide with other operational spacecraft.
Additionally, decommissioning lowers the risk of orbital debris and stops the satellite from transmitting any signals that could interfere with any current or future spacecraft.
NOAA continues to operate GOES-13, which serves as the GOES East satellite for the United States and GOES-15, which is the GOES West satellite—both hovering 22,300 miles above the equator. NOAA also has an orbital backup geostationary satellite, GOES-14, which can be activated if any of the operational satellites experience trouble.
Kicza added, "The NOAA-NASA partnership is making steady progress toward developing and launching the more advanced GOES-R satellite series to position us into the future."
GOES-R is expected to more than double the clarity of today's GOES imagery and provide more atmospheric observations than current capabilities with more frequent images.
Data from the GOES-R instruments will be used to create many different products that will help NOAA meteorologists and other users monitor the atmosphere, land, ocean and the sun.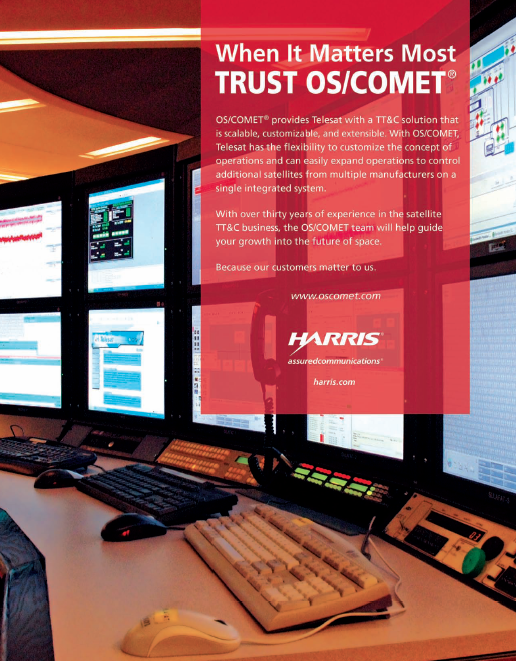 GOES-R will also carry a new Geostationary Lightning Mapper that will provide for the first time a continuous surveillance of total lightning activity throughout the Americas and adjacent oceans. In addition to GOES, NOAA also operates the polar operational environmental satellite (POES) program satellites, the Defense Meteorological Satellites Program series satellites and the Suomi NPP spacecraft.
NOAA's mission is to understand and predict changes in the Earth's environment, from the depths of the ocean to the surface of the sun, and to conserve and manage our coastal and marine resources.
* * * * * * * * *
USGIF—GEOINT Lightning Talks
The USGIF Interoperability Outreach Subcommittee and Emerging Technologies Subcommittee invites participation in a session of Lightning Talks during GEOINT Foreword on Sunday, October 13th, in Tampa, Florida.
GEOINT Foreword is the science- and technology-focused forum that runs as a preface to the GEOINT Symposium. The deadline for abstract submissions is Wednesday, August 21st, 11:59 p.m., EDT.
Lightning Talk presentations proposals are open to any USGIF Members as an opportunity to collaborate and educate colleagues on technical topics relevant to the GEOINT Symposium's theme: Operationalizing Intelligence for Global Missions.
Lightning Talks are limited to five minutes each and will be presented from 5:00 to 7:00 p.m. on Sunday as a capstone to the GEOINT Foreword event. Lightning Talks must focus on advancing the GEOINT tradecraft for scientists, analysts and other professionals.
Marketing pitches will be ignored by the proposal review process, but individuals and their organizations will be recognized for innovative efforts by GEOINT Foreword attendees and credited for their contributions within the GEOINT 2013 program guide.
This year's talks will have a focus on Interoperability + Standards as well as Emerging Technologies. We encourage you to submit an abstract. A PDF of the Submission Guidelines is available at: http://usgif.org/eblast/geoint/lightning.pdf.
* * * * * * * * *
United Launch Alliance—Congratz To Delta Clipper Team
The Delta Clipper Experimental was constructed in 1991-93 at McDonnell Douglas' Huntington Beach facility. It was intended as a one-third scale model of a proposed SDIO single-stage launch vehicle. It first flew in August 1993 and had completed three flights when SDIO terminated the Delta Clipper program. After additional funding was procured, the vehicle flew five more flights before being returned to Huntington Beach for conversion into the DC-XA.
United Launch Alliance (ULA) congratulates the entire Delta Clipper Experimental (DC-X) team, which includes 11 current ULA employees, on their induction into the International Space Hall of Fame by the New Mexico Museum of Space History.
The DC-X was developed and built by McDonnell Douglas for the Ballistic Missile Defense Organization as an unmanned prototype for a reusable single stage to orbit launch vehicle.
"Congratulations to the entire DC-X team," said Michael Gass, president and CEO of ULA. "Delta Clipper was truly an innovated achievement 20 years ago. It was a not just about lifting off the ground and demonstrating flight, but DC-X ascended vertically, moved laterally, rotated to demonstrate flight up to an angle of attack of 70 degrees and then descended vertically to the same position it launched from, an achievement not yet replicated even today nearly two decades later."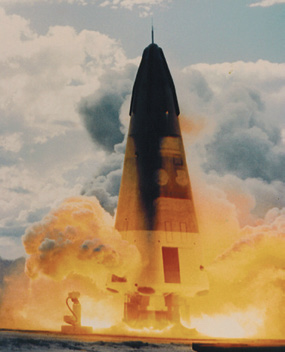 "I am grateful I had the opportunity to be part of the team that worked on this tremendously successful program and I am grateful to the New Mexico Museum of Space History for its recognition of the anniversary of this ground-breaking achievement," said Art Breinlinger, ULA Delta II production leader. "The data we learned from that program provided the basis for initial concepts of operations for Operationally Responsive launch systems investigated in the 2000-2010 timeframe."
The innovative approach and key technical demonstrations achieved by the DC-X and DC-XA vehicle were enabled by the use of the nation's most reliable engine, the RL-10, which continues to support critical National Security, NASA Interplanetary and Earth Observation and Commercial systems on the Atlas V and Delta IV launch vehicles.
ULA program management, engineering, test, and mission support functions are headquartered in Denver, Colorado. Manufacturing, assembly and integration operations are located at Decatur, Alabama, and Harlingen, Texas. Launch operations are located at Cape Canaveral AFS, Florida, and Vandenberg AFB, California.
* * * * * * * * *
Inmarsat Government—Miller Is New President + CEO
Inmarsat Government has appointed Susan Miller as president and chief executive officer. In this role, Miller will be responsible for the overall business strategy and direction for Inmarsat Government, a wholly-owned, independent subsidiary of Inmarsat plc, responsible for all direct U.S. government business.

Miller has more than 20 years of senior executive leadership experience across a wide range of technologies that serve the U.S. government and commercial sectors. Prior to joining Inmarsat Government, Miller held leadership positions in the satellite and telecommunication industries, including MTN Satellite Communications, where she served as executive vice president for strategy and corporate development; Spacenet Integrated Government Solutions Inc, where she was chief executive officer; and Intelsat General Corporation, where she held the position of president and chairman of the proxy board.
Other well-known organizations Miller worked with include LightSquared, Lockheed Martin and Hughes Aircraft Corporation. Miller holds a MS, Electrical Engineering from the University of Southern California and a BS, Electrical Engineering from the Rensselaer Polytechnic Institute.
* * * * * * * * *
Inmarsat—Solar Challenge Ahead
Inmarsat is now sponsoring the University of Michigan's World Solar Car Team, as they race across Australia this October in the World Solar Challenge.

Inmarsat will provide the team with access to its Broadband Global Area Network (BGAN) service, a global 3G network delivered by a constellation of advanced satellites. BGAN will enable the race team to communicate and share data between team members in Australia and back in Michigan, while at the same time keeping fans, friends and families up-to-date with their progress.
The University of Michigan is the second team competing in the world's toughest solar endurance race for solar powered vehicles to be supported by Inmarsat.
The World Solar Challenge is a biennial race across the 1,864 miles of the Australian Outback and the University of Michigan's car, 'Generation', is one of 28 entrants in the 2013 competition.
The University of Michigan's solar car going through its paces. Photo courtesy of the University of Michigan.
The University of Michigan's World Solar Car Team is an entirely student-run organization, which designs and builds solar electric vehicles. Since its establishment in 1990, the team has built 11 vehicles, won the American Solar Challenge seven times and has achieved third place in the World Solar Challenge five times.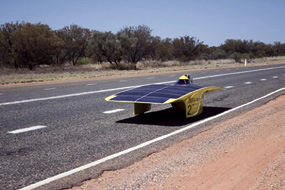 For their journey across the Outback, the University of Michigan team will be equipped with three Cobham Explorer 300 BGAN terminals provided by Satcom Direct and 25 GB of data allowance from Inmarsat. During the race, the team will use the BGAN service to share information on weather forecasting, road conditions, potential hazards along the race route and details on the performance of the vehicle. BGAN will also enable the team to post images and videos and post on social media sites to keep fans and sponsors up-to-date on progress.
"Reliable communications is a vital part of the World Solar Challenge and with Inmarsat's BGAN network we have the advantage of having real time knowledge of conditions that might affect performance," said Jeffrey Cwaganberg, Director of Meteorology, University of Michigan Solar Car Team. "We are grateful to Inmarsat for their support."
Recognizing the importance of harnessing solar power as an alternative means of energy, Inmarsat has taken an active role in supporting the World Solar Challenge by providing communications support to other entrants. Together with manufacturing partner Cobham, Inmarsat is outfitting Netherland's based Team Twente with mobile satellite connectivity for their car, The RED Engine. Additionally, Inmarsat partner JSAT Mobile Communications is working with Addvalue Technologies to sponsor the Solar Car Project Team from Kogakuin University in Japan.
* * * * * * * * *
ESA + UK Space Agency—Live In Edinburgh
The Living Planet Symposium in Edinburgh, Scotland, will be held from September 9th through the 13th at the Edinburgh International Conference Center.

Organized and hosted by ESA, with the support of the UK Space Agency, the event brings together more than 1,500 scientists and users from across the globe to present their latest findings on Earth's environment and climate. The versatility of Europe's Earth Explorer missions will be the main focus. The three missions in orbit are CryoSat, GOCE and SMOS. Over the past few years, these satellites have been providing new information on Earth's cryosphere; gravity and soil moisture; and ocean salinity, respectively, but there have also been several achievements that surpassed the original scope of these missions.
While CryoSat continues to measure the thickness and extent of sea ice and continental ice sheets, it has also proven capable of profiling land surfaces and inland water targets, monitoring sea-level changes and even contributing to the mapping of ocean floor topography.
Earth's gravity mission, GOCE, has gathered enough data to map Earth's gravity with unrivalled precision. Scientists further exploited these data to map the boundary between Earth's crust and mantle—called the Moho. GOCE also detected sound waves from the massive earthquake that hit Japan on March 11, 2011.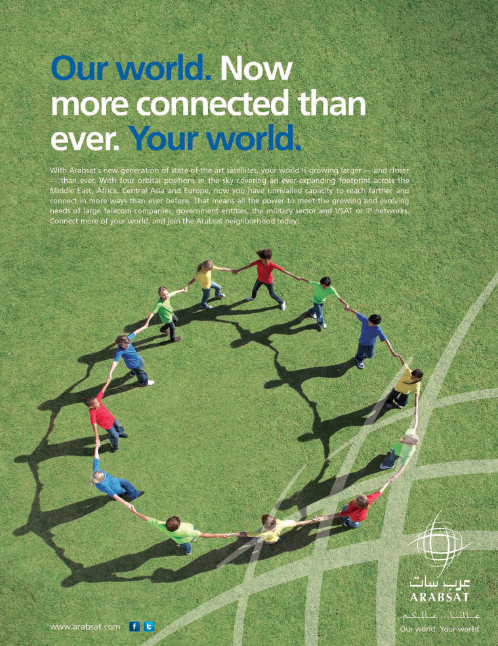 The Soil Moisture and Ocean Salinity satellite, SMOS, has been helping us to understand the water cycle. But the mission is also being used to monitor Arctic sea-ice extent and thickness, and can even determine wind speeds inside hurricanes.
The next Earth Explorer, Swarm, is planned for launch later this year. The three-satellite constellation aims to unravel one of the most mysterious aspects of our planet: the magnetic field.
The symposium will also see special sessions dedicated to ESA's programmes and initiatives, including ESA's key contribution to the Global Monitoring for Environment and Security programme, recently renamed 'Copernicus.' Financing for this ambitious programme was secured earlier this summer when European Parliament approved the multiannual financial framework budget for 2014–20. Copernicus relies on the provision of robust data, predominantly from Earth observation satellites. ESA is developing the series of Sentinel satellites for this purpose, and the first satellites are expected to be launched within the next year.
The latest results from ESA's missions and overview of the Earth Observation and Copernicus program will be presented during the opening plenary session on Monday, September 9th, 10:30 a.m. to 12:00 p.m. The agenda includes:
• Welcome Address by the UK Minister of State for Universities and Science, David Willetts
• Welcome Address by Jean-Jacques Dordain, ESA Director General
• "Earth Observation at the beginning of the 21st Century" presented by Volker Liebig, Director of ESA's Earth Observation Programmes
• "Copernicus, the European Union Flagship Program" by Philippe Brunet, Director at DG Enterprise and Industry, Directorate of Aerospace, Maritime, Security and Defence Industries, European Commission
• Highlights of Earth Explorer scientific results by Alan O'Neill, Chairman of ESAC
The full technical program will follow after the opening plenary session, and is open to media. The entire program is available at http://www.livingplanet2013.org.
* * * * * * * * *
Millennium Space Systems + Sinclar—Wheel-y Good News
Millennium Space Systems and Sinclair Interplanetary announced at the AIAA/USU SmallSat Conference held in Logan, Utah, that Millennium is the exclusive U.S. manufacturer and distributor of Sinclair's RW3-1.0 small satellite wheel.

The company sees vertical integration as a means of reducing cost, schedule, and risk for its own satellite programs, while also bringing highly competitive satellite components onto the open market.
This agreement caps a successful technology transfer program under which Millennium has produced a batch of six reaction wheels, and tested two units to full NASA qualification levels. The arrangement also provides small satellite developers an American supplier for Sinclair's high quality, precision mechanism.
Millennium Space Systems, developer and operator of the National Reconnaissance Office's Rapid Pathfinder satellite, is currently expanding the scope of its subsystem manufacturing. The Company sees vertical integration as a means of reducing cost, schedule, and risk for its own satellite programs, while also bringing highly competitive satellite components onto the open market.
"Millennium and Sinclair make excellent partners," says Dr. Jeff Ward, Millennium's Vice President of Product Development. "We both demand the highest quality materials and workmanship, while still producing the affordable components necessary for today's budget-constrained missions."
"Millennium allows us to meet our customers' demands for high-volume, U.S.-based manufacturing for the microsatellite wheel," commented Doug Sinclair, owner and principal engineer of Toronto, Canada-based Sinclair Interplanetary. The two companies inked the agreement following a daylong manufacturing and qualification data review held at Millennium's space manufacturing facility in Torrance, California. The review covered details of the technology transfer, supply chain logistics, and the qualification test results.
* * * * * * * * *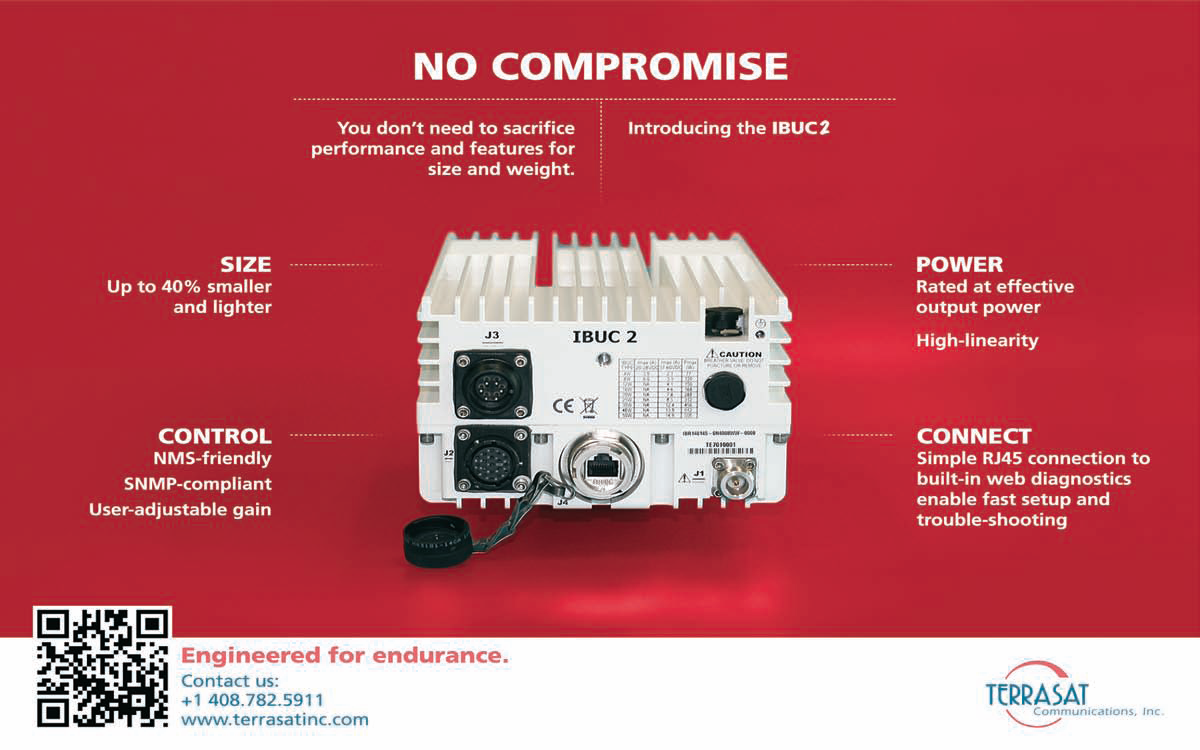 NewSat—Brown To Senior Vice President, Strategic Planning
NewSat Limited has appointed Don Brown as Senior Vice President of Strategic Planning.
The appointment of Don to the NewSat leadership team will further support and enhance the Company's transition from a teleport operator into a global satellite operator.
Don has more than 20 years of experience in satellite communications, with significant expertise in government solutions and defence systems. Don began his satellite career in the Satellite Systems Division of Federal Express Corporation, subsequently working for American Mobile Satellite Corporation and Quincy Jones' Qradio, before his role as Vice President of DoD Systems at PanAmSat's G2 Satellite Solutions. More recently, Don was the Vice President of Hosted Payloads and Business Development for Intelsat General Corporation.
At Intelsat General, Don led the team which won the $350 million UHF hosted payload contract with the Australian Defence Force, as well as the IP Router in Space (IRIS) hosted payload contract with Cisco. Don is a co-founder of the Hosted Payload Alliance.
As Senior Vice President of Strategic Planning, Don will lead NewSat's strategy and long-term priorities, from strategy formulation and market intelligence, to business case creation and financial analysis, through to the execution of complex cross-functional and cross-region projects. In this newly formed strategic role, Don will provide leadership and expertise to support NewSat's continued growth and expansion.
* * * * * * * * *
Digital TV Research—Dishes To Appear In 1 In 4 Homes By 2018
The number of pay satellite TV (DBS or DTH) homes will reach 251 million by 2018, up from 178 million at end-2012 and 103 million at end-2008, according to a new report from Digital TV Research covering 97 countries.

From the 73 million pay satellite TV subscribers added between 2012 and 2018, India will provide 24.4 million, Brazil 9.2 million, Indonesia 6.8 million and Russia 5.9 million. However, the Global Satellite TV Forecasts report estimates that pay satellite TV subscriber totals will fall in 11 countries between 2012 and 2013 as subs convert to other platforms.
India will lead the pay satellite TV sector with 61.1 million subscribers in 2018, followed by the U.S. India overtook the U.S. in 2012 to take top slot. Brazil and Russia will take third and fourth places respectively.
The U.S. will remain DTH market leader by revenues generated, although its share of the total will fall from 43.5 per cent in 2012 to 38.7 per cent in 2018. Brazil will add the most DTH revenues ($3.5 billion) between 2012 and 2018 – nearly doubling its total in the process.
However, satellite TV revenues will decline for 20 countries between 2012 and 2018. Much of this is due to greater competition, forcing satellite TV platforms to offer cheaper packages which will lead to lower ARPUs. Furthermore, low-cost DTH packages are making a significant impact in several countries.
Including free-to-air households, nearly 400 million homes will directly receive TV signals via satellite dishes by 2018, up by almost 100 million on the end-2012 figure. India will be responsible for adding 30 million over this period. A quarter of global TV households will have a satellite TV dish by 2018, up from 21 per cent in 2012 and 14 percent in 2008.
* * * * * * * * *
NASA—Temper, Temper—Showa Blows Its Top
On August 18, 2013, a large eruption sent ash 20,000 feet (6,000 meters) above Kagoshima Bay, breaking the established pattern. It was possibly the largest eruption ever from the Showa Crater, which formed in 1946.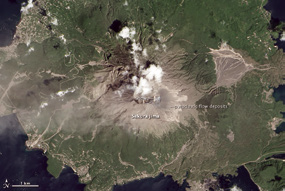 These natural-color satellite images, collected by Landsat 8, compare
Sakura-jima on August 19 (a day after the eruption) to the volcano on April 13, 2013. The most visible change is a field of pyroclastic flow deposits that stretch up to 760 meters (2,500 feet) from Showa Crater. On the eastern (right-hand) slopes of Sakura-jima light-colored, intertwined channels are visible on an older flow deposit. These are likely either from erosion that revealed light, unweathered material; or fresh ash deposited by short-lived streams.
NASA Earth Observatory images by Jesse Allen and Robert Simmon, using Landsat 8 data from the USGS Earth Explorer. Caption by Robert Simmon. Instrument: Landsat 8 - OLI