SpaceX, Orbital + SES—It's A Go—Falcon 9 Completes First Geostationary Transfer Mission
Space Exploration Technologies (SpaceX) successfully completed its first geostationary transfer mission, delivering the SES-8 satellite to its targeted 295 x 80,000km orbit.
Falcon 9 lifted off from Space Launch Complex 40 (SLC-40) at 5:41 PMEastern Time on December 3rd, 2013. Approximately 185 seconds into flight, Falcon 9's second stage's single Merlin vacuum engine ignited to begin a five minute, 20 second burn that delivered the SES-8 satellite into its parking orbit.
Eighteen minutes after injection intothe parking orbit, the second stage engine relit for just over one minute to carry the SES-8 satellite to its final geostationary transfer orbit. The restart of the Falcon 9 second stage is a requirement for all geostationary transfer missions.
SpaceX's launch of SES-8 is notably the first commercial communications satellite to be launched from Cape Canaveral in four years. A previous launch attempt on November 25th was called off after several technical glitchesoccurred, including an issue with the rocket's first-stage liquid oxygen pressurization system. The companydecided to skip a launch attempt on Monday to allow more time to recheck the rocket following a last-second abort on Thursday.
An onboard computer automaticallyaborted launch seconds before liftoff on Thursday when it detected the first-stage engine wasn't ramping up thrust levels as quickly as expected. The rocket was returned to its processing hangar for inspections. Engineers discovered oxygen had gotten inside the ground-based engine igniter system.
"All known rocket anomalies resolved. Will spend another day rechecking to be sure," company founder and Chief Executive Elon Musk posted on Twitter on Monday.
"The successful insertion of the SES-8 satellite confirms the upgraded Falcon 9 launch vehicle delivers to the industry's highest performance standards," he added on Tuesday. "As always, SpaceX remainscommitted to delivering the safest, most reliable launch vehicles on the market today. We appreciate SES'searly confidence in SpaceX and look forward to launching additional SES satellites in the years to come."
This mission marked SpaceX's first commercial launch from its central Florida launch pad and the first commercial flight from the Cape Canaveral Air Force Station in several years. SpaceX has nearly 50 launches on its manifest, of which more than 60 percent are for commercial customers,worth about $4 billion, including 10 more International Space Station cargo runs for NASA.
This launch also marks the second of three flights needed to certify the Falcon 9 to fly missions for the U.S. Air Force under the Evolved Expendable Launch Vehicle (EELV) program. When Falcon 9 is certified, SpaceX will be eligible to compete for all National Security Space (NSS) missions. The
SES-8 satellite aboard the Falcon 9, for example, is expected to fly more than 22,300 miles above Earth and provide television, cable, broadband and other services to customers in India, China, Vietnam and elsewhere in Asia.
In the 1980s, the United States dominated the commercial launch industry, now worth about $6.5 billion a year, according to a report by theSatellite Industry Association trade organization, whereas in 2012 the revenue from the global satelliteindustry was $190 billion.
All of Falcon 9's structures, engines,and ground systems were designed, manufactured, and tested in the United States by SpaceX. 21st-centuryrocket. As the first rocket completely developed in the 21st century, Falcon 9 was designed from the ground upfor maximum reliability from a blank sheet to first launch in four and a half years (November 2005 to June 20 10) for less than $300 million.
An upgraded Falcon 9 with safety and reliability enhancements and greater lift capability flew for the first time on the SES - 8 mission. Designed for maximum reliability.
Falcon 9 features a simple two-stage design to minimize the number of stage separations. (Historically, the main causes of launch failures have been stage separations and engine failures.) With nine engines on the first stage, it can safely complete its mission even in the event of a first - stage engine failure
Falcon 9 topped with SpaceX fairing is 224.4 feet ( 68.4 meters ) tall and 12 feet in diameter (the fairing is 17 feet in diameter). Its nine first-stage Merlin engines generate 1.3 million pounds of thrust at sea level, rising to 1.5 million pounds of thrust as
Falcon 9 climbs out of the Earth's atmosphere. Falcon 9 has achieved 100% success on its six flights to date: June 2010 and December 2010 flights to orbit ; a May 2012 launch of the Dragon spacecraft to the International Space Station (ISS) making SpaceX the first commercial company ever to visit the ISS; two of at least 12 launches of Dragon to the ISS as official cargo resupply missions for NASA , and launch of the CASSIOPE communications satellite for Canada's MDA Corporation in September 2013.
Why is the launch vehicle named "Falcon"? Falcon 9 is named for the Millennium Falcon in the "Star Wars" movies. The number 9 refers to the nine Merlin engines that power Falcon 9's first stage; one Merlin vacuum engine powers the second stage.
For more information regarding SpaceX: www.spacex.com
* * * * * * * * *
Orbital Sciences Corporation (NYSE: ORB), the builder of the SES-8 satellite, has reported that the Falcon 9 launch vehicle's final stage successfully separated at approximately 31 minutes into the mission, placing the satellite into a super-synchronous transfer orbit.
Over the next several weeks, SES and Orbital engineers will conduct a comprehensive series of in-orbit tests to verify all spacecraft systems are functioning properly before it is officially turned over to SES for full operational control and commencement of commercial service. SES-8 is the sixth Orbitalbuilt GEOStar satellite ordered by SES, a leading global satellite operator providing a broad range of communications services.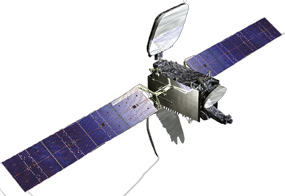 "Early in the initial check-out and testing process, the SES-8 mission is proceeding smoothly," said Mr. Christopher Richmond, Orbital's Senior Vice President of Communications Satellite Programs. "We are proud to continue to be a part of the SES team, helping increase communications capacity to meet the rapidly growing demand for telecommunications services in South Asia and Indo-China."
Orbital designed, built and tested SES-8 at its satellite manufacturing facility in Dulles, Virginia. The 3,200kg satellite features 33 Ku-band transponders of 36MHz capacity. In addition, SES-8 carries a Ka-band payload that, together with the Ku-band payload, consumes approximately five kilowatts of electrical power.
Designed for an anticipated service life of 15 years, SES-8 will be co-located with NSS-6 at an orbit location of 95 degrees East Longitude. Upon full activation, the satellite will provide expanded communications support for South Asia and Indo-China and additional capacity for Direct to Home (DTH), Very Small Aperture Terminal (VSAT), and government applications.
Orbital's highly successful Geosynchronous Earth Orbit (GEO communications satellites are based on the company's GEOStar spacecraft platform, which is able to accommodate all types of commercial communications payloads and is compatible with all major commercial launchers.
The company's GEOStar product line includes the GEOStar-2 design, which is optimized for smaller satellite missions that can support up to 5.0 kilowatts of payload power.
Orbital has also developed the higher-power GEOStar-3 spacecraft design, delivering the next increment of payload power for applications between 5.0 and 7.5 kilowatts, allowing Orbital to offer its innovative and reliable satellite design to the medium-class of communications satellites.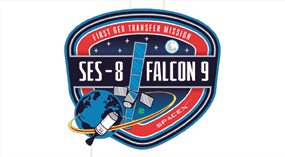 With this launch, 148 Orbital-built satellites have been completed and delivered to commercial, civil government and national security customers during the last 30 years.
The SES-8 satellite is the 36th commercial geosynchronous communications spacecraft ordered by Orbital's customers around the world—31 have been launched to date and another five are now in design, production or pre-launch preparations.
For more information regarding Orbital: www.orbital.com
Romain Bausch, President and CEO of SES, said, "SES's maiden launch on board a Falcon 9 rocket is yet another example of our company's spirit of innovation and advancement of the commercial space industry. We congratulate the SpaceX team for the success of a challenging launch campaign and our longstanding supplier Orbital for innovating with us in exploring new paths to orbit while delivering a brand-new, state-ofthe- art satellite for Asia.
"Our customers are looking forward to the new capacity, and we are delighted that SES, in collaboration with SpaceX and Orbital, is all set to deliver following today's successful launch. Through the co-location with NSS-6 at 95 degrees East, SES-8 will not only provide incremental high performance capacity, notably for DTH services, it will also create greater reliability and additional security for customers. The SES-8 satellite will significantly contribute to SES's growing presence in Asia-Pacific."
The next SES launch is slated for early next year, when an Ariane 5 vehicle will orbit the ASTRA 5B satellite from Kourou, French Guyana. For more information on SES:
www.ses.com