The evolution of O3b continued at a rapid pace in 2010 as the world's first Medium Earth Orbit satellite operator made significant strides as an organization while remaining on target for the commercial launch of its constellation. Now a dynamic, highly professional, global player, the Company looks forward to an even more successful year in 2011.
O3b will transform communications by deploying an innovative Medium Earth Orbit satellite constellation, which offers customers the highest combination of bandwidth, speed, low latency, coverage and availability — with a commitment to quality that customers can rely on and at a price accessible to everyone. O3b will reach customers in more than 150 countries across Asia, Africa, Latin America and the Middle East. O3b's groundbreaking concept is endorsed by investments from SES, Google Inc., Liberty Global Inc., HSBC Principal Investments, Northbridge Venture Partners and Allen & Company.
The year started with a focus on expanding and improving the executive management team of the Company, in preparation for the transition from a start-up to a world class, global organization that is capable of meeting its targets and obligations to customers, investors, and the telecommunications industry as a whole. In February, the Company announced the appointment of Mark Rigolle as the new Chief Executive Officer to succeed Greg Clarke, who was stepping down for personal health reasons. Mr. Rigolle is the former Chief Financial Officer of SES, the largest investor in O3b and following his appointment were the appointments of Jonas Mattsson and Christian Patouraux as Chief Financial Officer and Chief Product Development Officer, respectively.
Under Mr. Rigolle's leadership, the Company focused on strengthening its partnerships and announced an agreement with Viasat for the production of its full-motion tracking antenna systems and high-speed IP trunking terminals at the end of the first quarter. The agreement with Viasat was another indicator that O3b will remain focused on leveraging the expertise of industry leaders to ensure its network delivers on all quality of service promises. According to O3b CEO Mark Rigolle, "Viasat's leadership in Ka-band satellite technology and antenna tracking provides additional confidence that we can meet our plans. This infrastructure equipment is a critical piece of our advanced satellite network, which will bring high-speed access to those who have so far been poorly served, or completely cut off, from the Internet."
The Company also enjoyed impressive commercial success in 2010 announcing multi-year, multi-million dollar deals with Telecom Cook Islands, Pak Datacom Limited, and Netcom Africa.
"We continue to build strong relationships with our customers and prospects around the world, in Central and Latin America, Africa, Central Asia, the Middle East, South East Asia and the Pacific. This is an achievement we are all proud of and is another important step forward, towards a bright, promising future for the organization" said John Finney, Executive Vice President of Sales and Marketing.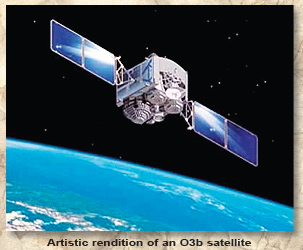 In the third quarter of the year, O3b announced the selection of Europe Media Port (EMP) — the world's fastest growing teleport in 2009 according to the World Teleport Association — to be the first provider of Gateway Teleport services for O3b's global network. According to Executive Vice President and Chief Technical Officer, Brian Holz, "We are delighted about the agreement with EMP. With over 15 years of operational expertise at the Nemea facilities, the EMP team is an instrumental partner on our way to establish a seamless data service network for our clients. EMP's services will further assist us in rolling out our new ground-breaking solution to provide fast Internet connectivity to billions of citizens businesses and organizations in previously poorly connected regions around the world."
There was great progress made with other vendors, with Viasat completing the Preliminary Design Review for all systems on schedule as well as pattern design measurements for the gateway terminals. The O3b Space Systems team and Thales Alenia Space continued to meet milestones on the equipment design reviews as well. Additionally, MDA — the satellite antenna supplier — fabricated and completed RF characterization testing of two engineering prototype antennas in addition to the design and qualification testing of the engineering unit for the antenna control electronics. Spectrolab the satellite solar cell supplier also completed radiation testing while Arianespace completed the initial accommodation studies for the configuration, validating adequate clearances between the fairing, the first coupled load cycles integrating the satellite, preliminary dispenser design and launch vehicle models to validate mechanical design, expected loads and qualification margins experienced during launch.
O3b continued to receive support from SES, beyond its financial investment in the Company. One of the areas where SES WORLD SKIES is providing support to O3b is in leading the NOC integration project while Viasat continues development on the NOC monitoring and Control equipment.
CEO Mark Rigolle said of 2010, "This has been big year for us, as an organization. We are pleased with all we've achieved in all areas of the business. 2011 will be another promising year for O3b. The Company will build on the progress of 2010 by focusing on securing landing rights in our coverage areas, developing more intimate relationships with our customers while ensuring our technical contractors remain on target. Look out for O3b Networks in 2011!"
For more information, please visit
www.o3bnetworks.com