The freedom to 'go anywhere' to capture news and events has never been more crucial—journalists and broadcasters have always needed to be mobile, but never at the pace expected today. To meet those expectations, their comms systems have to be portable enough to enable them to get to a scene, set up, and be transmitting in minutes, something that is not always possible with OB trucks, triax cable, and where there may be terrain obstacles, or even the general public.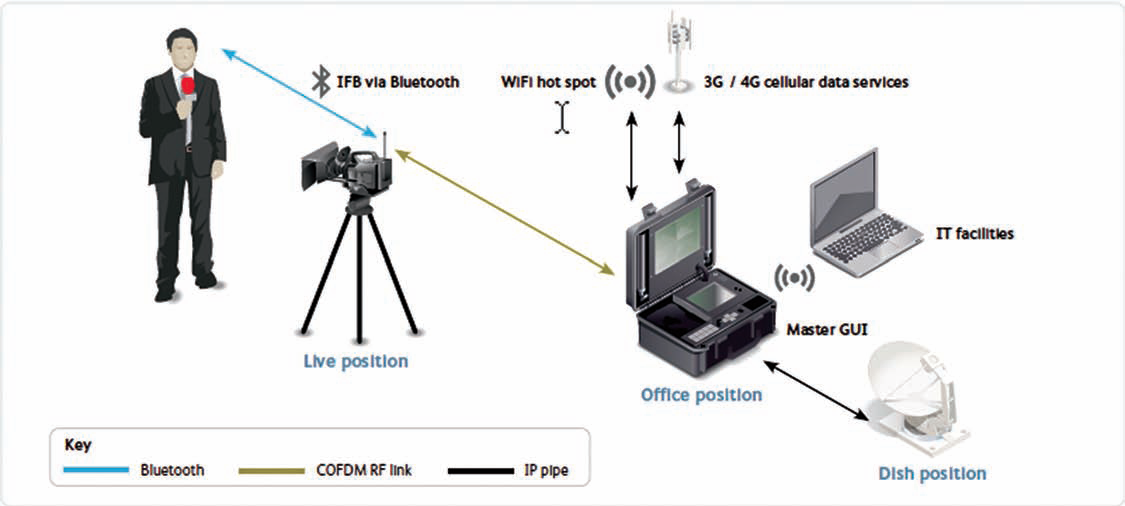 This has now changed with the advent of highly mobile, lightweight field newsroom devices.
Cobham recently introduced MediaMesh to the market. This is a new IP-based platform for lightweight, rapid set-up field newsrooms—I can honestly say that I have never had such an overwhelmingly positive response to a product launch.
MediaMesh uses groundbreaking wireless technology developed by Cobham that eliminates traditional restrictions on live production and enables journalists in the field to establish, almost instantaneously, everything required for a live broadcast. The MediaMesh transmission system includes a broadcast quality path for live two-ways; remote camera control; high quality file transfer; and a high-capacity Internet connection with access to base newsroom computers and cell phones, all from a single, easily transportable case. The fast and foolproof package is designed to be unpacked and in operation within a few minutes from virtually anywhere. Try that with an OB truck!
Apart from the technology in the box, what enables MediaMesh to perform in a way that is useful for SNG (Satellite News Gathering) and DSNG (Digital Satellite News Gathering) applications is MediaMesh has the ability to take full advantage of Ka-band uplinks. Demand for traditional Ku-band access can at times outstrip capacity, which can make it expensive. However, the development and deployment of number of large, multi-transponder Ka-band satellites and networks are increasingly offering a viable and economic alternative to Ku-band. These satellite networks have become highly reliable, secure, and provide high speed connectivity comparable to more earthly fiber-based networks.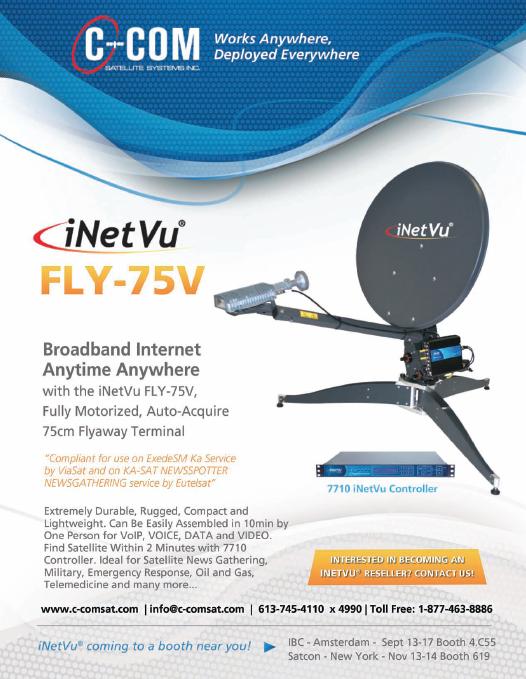 What the rapidly increasing availability of reliable high capacity Ka-band broadband-over-satellite services means to producers is that dishes of less than one meter in diameter can confidently transmit genuine HD live video—previously, such has not been possible. MediaMesh can operate with satellite antennas as small as 75cm and is compatible with all major Ka-band services, including Inmarsat's super fast Global Xpress satellite broadband service, which is being launched this year.
Small dishes and low power consumption make the logistics of transporting and getting on air with breaking news almost embarrassingly easy. The fact that MediaMesh is an IP-based platform means that file transfer, Internet/email, and newsroom IT facilities access can be incorporated in a single package. The technology and satellite time are also significantly less expensive than traditional DSNG systems.
I've been talking about smaller, faster, lighter in terms of mobile newsrooms, but it's fair to say that the miniaturization of other wireless technologies are having a similar positive impact for production crews around the world.
Take, for example, our SOLO7 Nano TX, the world's smallest HD COFDM camera transmitter. This is a matchbox-size addition to Cobham's SOLO range that features a unique ultra mobile video link (UMVL) communications protocol for highly stable, very low latency transmission of HD pictures and sound and is available as a camera back or a standalone unit that can be, for example, mounted on vehicles for on-the-go viewpoints, again—yet another way to get closer to the action.
Of course, the ability of these miniaturized transmitters to reliably transit those images, especially HD images, is dependent on transmission stability, and this little beauty is as solid as a rock. The SOLO7 Nano TX provides vital transmission stability and can also encode and transmit live broadcast quality HD video from any location with broadband access. Its ultra-low latency High Profile H.264 encoding provides outstanding image quality. This means viewers can experience news, entertainment and drama from vantage points never before possible. An SD version of the SOLO7 Nano TX is currently available for those who haven't yet quite made the leap to HD.
Cobham also recently introduced a lightweight HD MPEG4 IP Encoder that offers camera operators the ability to establish bi-directional connectivity via broadband as well as the ability to encode and transmit live broadcast quality HD video from any location. The encoder can be easily connected to virtually any camera and includes balanced audio inputs with integral broadcast-standard IFB talkback. The encoder was specifically engineered for broadcast applications and its high capacity, 3G capabilities should ensure access to super-fast wireless 3G Internet connections from even the most remote locations.
All of the above is to provide a framework as to what is now possible in satellite connectivity as well as wireless transmission of various stripes. The drive is to be smaller, fast, cheaper and—most important—extremely reliable. Cobham has a strong pedigree of success with a history of delivering all three for applications as diverse as surveillance and defense applications.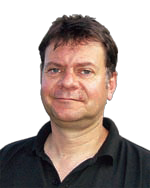 We are now bringing that depth of proven-in-the-field experience and reliability to the broadcast world—those who decide to mesh their media connectivity into a single unit and go where they've never gone before should strongly consider a unit that says "MediaMesh" on the box. It does what it says it can do on the label.
About the author
Stuart Brown has been a broadcast systems engineer for nearly 30 years and is currently Broadcast Systems Director at Cobham Broadcast.