Indonesia spreads about 5,100km along the equator, between 95 degrees East and 140 degrees East, an area that could easily cover the entire European continent and the Middle East. Indonesia consists of approximately 17,500 islands with a land size area of 1,919,440km2. In 2012, the country had a population of some 237.4 million.


The physical nature of the country poses a severe problem to telecommunications. While the country possessed a land based telephone network infrastructure, it was restricted and, particularly with the introduction of television, the country became a prime candidate for the application of satellite communications. The advent of the Internet and cell phones made the acquisition of SATCOM even more obvious.

Indonesia currently has 50 million households with television—that's approximatley more than 90 percent of the households. As far as television stations are concerned, there are currently ten Free-To-Air (FTA) stations, including the government owned TVRI and nine commercial station (RCTI, SCTV, MNCTV, ANTV, Metro TV, Trans TV, Trans 7, Global TV and TVOne), as well as numerous local stations and nine payTV stations.

Currently, there are more than 55 million Internet connections and 220 million cell phones. As far as cell phones are concerned, Indonesia is fifth in quantity, behind China, India, Russia and the USA. However, taking into account the population, more than 90 percent of the citizens are using cell phones, higher than in any of the other, larger countries.

Finally, there are about 38 million land line telephone connections, but only about 11 percent of households have such connections.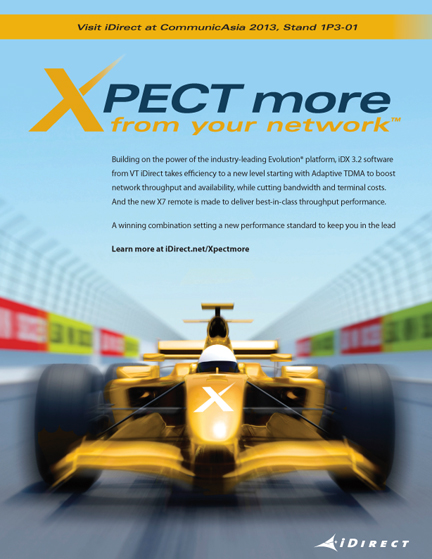 Pre-Satellite History
The first telecommunications service in Indonesia dates back to October 23, 1856, when the then colonial Dutch government established the first telegraph service between, what are now, Jakarta and Bogor. In 1882, telephone services were introduced and these were run by privately owned companies until they were taken over by the government's postal, telephone and telegraph (PTT) service.

After Indonesia gained independence in 1945, the PTT services were transferred to the Indonesia government. In 1965, the telephone services were split off into a separate company, PN Telekomunikasi, which, in 1974, was further divided into two state-owned companies—Perusahaan Umum Telekomunikasi (Perumtel), to provide domestic and international telecommunications services, and PT Industri Telekomunikasi Indonesia (PT INTI), to manufacture telecommunications equipment. In 1980 the international telecommunications business was split off as a separate company named PT Indonesian Satellite Corporation (Indosat).

In 1991, Perumtel was renamed as PT Telekomunikasi Indonesia, or Telkom, which was partially privatized on November 14. 1995. The Indonesia government retains a large portfolio of the shares of the company, including a single share that gives it special voting and veto rights over certain matters.

In 1999, the government deregulated the telecommunications industry that encouraged private investment and competition. This was followed on August 1, 2001, by the government's termination of the exclusive rights of Telkom and Indosat.

Palapa
Indonesia was the first so-called developing nation that adopted satellite technology for its telecommunications solution and the Palapa (meaning fruits of labor) system is currently owned by Indosat.

The system was started in February of 1975 when the government ordered two HS-333 satellites from Hughes. They were fitted with 12 C-band transponders and were launched on July 8, 1976, and March 10, 1977. Their respective orbital locations were 83 degrees East and 77 degrees East.

Palapa-1
The next generation, known as Palapa B, was based on the Hughes HS-376 and carried 24 C-band transponders. The first of these, Palapa-3, was launched on June 19, 1983, and was located at 108 degrees East.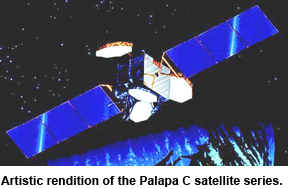 The next satellite in this series, Palapa-4, was launched with the Space Shuttle on February 6, 1984. However, the PAM-D upper stage failed to place the satellite into its designated geostationary orbit at 113 degrees East.

The satellite was retrieved on November 16, 1984, during the STS51A mission and, after having been refurbished, was launched again on April 13, 1990, as Palapa-6 with a location at 118 degrees East.

Palapa-5 was launched on March 20, 1987, and was located at 113 degrees East, while Palapa-7 was placed into an orbit at 118 degrees East on May 14, 1992.

Indosat consistently took the steps necessary to develop its existing geostationary satellite system for multiple capabilities, including new services and the third generation of Palapa satellites that commenced with Palapa-8.

Palapa C
This generation was also built by Hughes but was now based on the HS-602 platform and were fitted with 30 transponders in the C-band and 4 transponders in the Ku-band.

Launched on February 1, 1996, and located at 123 degrees East, Palapa-8 suffered a failure in the electrical system that prevented the eclipse period power back-up from operating. The satellite was acquired by Hughes Global Services as HGS-3. A procedure was developed to maintain full operations except during an eclipse itself and for brief periods of time on either side of each eclipse event. This meant that for 88 days of the year, the satellite had to be switched off for three hours per day (on average), providing 96 percent service availability. The satellite was renamed Anatolia-1 and in December 2002 was sold to Pakistan when it was moved to 38 degrees East, from where the satellite began operation as Paksat-1.

Palapa-9 was launched on May 16,1996, as the replacement satellite and it was located at 108 degrees East.

For its fourth generation communications satellite, Indosat turned to Thales Alenia and used the Spacebus 4000B3 platform for a 35 C-band and 5 Ku-band transponder payload. Known as Palapa D-1, the satellite was launched on August 31, 2009, and was located at 113 degrees East. Problems with the third stage of the launch vehicle placed the satellite in a 217 x 21138km orbit with an inclination of 22.4 degrees. Using the on-board attitude control motor, the satellite was gradually moved to its geostationary position, which it reached on September 9, 2009.

Palapa-D was built with a design life of 15 years, but due to the expenditure of fuel during maneuvers to correct its orbit, there's enough fuel for about 10 years of operations.

Telkom
PT Telekomunikasi Indonesia, the other company that had its roots in the national PTT, remains the largest telecommunications services company in Indonesia and services approximately 130 million customers.

In June 2004, Telkom began to provide international direct dial, fixed line services. This was followed in 2009 by an expansion into information technology services, media and edutainment to reflect the shift in lifestyles of its customers.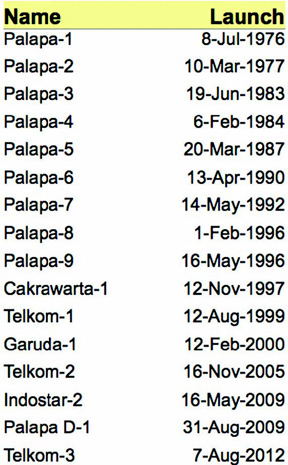 Telkom's first satellite, Telkom-1, was launched on August 12, 1999, and was located at 108 degrees East. The 2763k.g satellite was built by Lockheed Martin using an A2100 platform and carried 36 transponders in the C-band.

Telkom-2satellite was launched and placed at 118 degrees East. This satellite was built by Orbital Sciences using their Star-2 platform and was fitted with 24 transponders operating in the C-band.

Telkom-3
The Telkom-3 satellite was built in Russia by ISS Reshetnev using their Ekspress 1000N platform. The payload of 32 C-band transponders and 10 Ku-transponders were provided by Alcatel.

The satellite was launched on August 7, 2012, but a premature shut down of the upper stage's Briz M engine resulted in the satellite being placed in an incorrect orbit, rather than the intended geostationary orbit at 118 degrees East. Both Telkom-1 and Telkom-2 remain operational as of this writing.

Indostar (Cakrawarta)
PT MediaCitra Indostar was part of the Indovision group, a multichannel payTV company, starting operation using channels on the Palapa C2 satellite. However, the company had ambitious plans to provide the world's first dedicated DBS for radio and TV for a single nation.

To accomplish this goal, the company planned to have four satellites—they would have been located at 115 degrees Wast, 106 degrees East, 107.5 degrees East and 119 degrees East. The first satellite was to have five S-band transponders for digital television and a second would have also carried an additional L-band transponders for CD quality radio.

Initially known as Indostar-1 and later renamed Cakrawarta-1 ("News Weapon"), the first satellite was ordered from CTA International (now Orbital Sciences Corp.) in 1993 and was to be based on the Star platform.

Indostar-1
The commercial Indostar system was to use USD100 hand-held radios, USD100 analog receivers and USD500 digital satellite decoders with satellite dishes from 0.7 to 1m in diameter—these were probably meant to have been marketed by Indostar to consumers, or by one of its associate companies.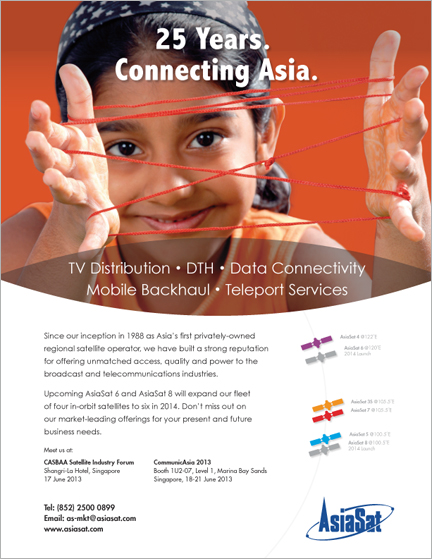 The first satellite was launched on November 12, 1997, and was placed at 107.5 degrees East. Indovision intended to use this satellite for its program until they could move to the use of IndoStar-2.

Indostar-2 was based on a Boeing BSS-601HP that was originally ordered as Galaxy 8iR, but was cancelled in 2004. The satellite, then fitted with 10 S-band transponders, was owned jointly by Protostar, a Bermuda company, and Indovision, and was launched on May 16, 2009 as Protostar-2/Indostar-2. It was located at 108 degrees East.

Prototstar went out of business in October of 2009 and Protostar/Indostar-2 was sold to SES as SES-7 and remained at the 108 degrees East slot, where it continues to provide services to Indovision today.

Garuda
ACeS (Asia Cellular Satellite) was a regional satellite telecommunications company that offered GSM-like satellite telephony services to Asian market, covering Indonesia as well as Malaysia, Thailand, Philippines, Sri Lanka, Vietnam, China and India. The company only offered the Ericsson R190 hand phone—when Ericsson went out of the mobile phone business in 2001, ACeS had no other handset available to offer to its customers.

Garuda-1
The Garuda-1 satellite was launched on February 12, 2000, and was located at 123 degrees East. It was built by Lockheed Martin using the A2100 platform that was fitted with transponders in the C- and L-bands, with a capacity for 11,000 simultaneous telephone connections.

The satellite was to operate with terrestrial gateways in the C-band and interface through the L-band directly with subscribers, using 140 spot beams that covered the entireity of Asia.

The ACeS network was designed to serve up to two million subscribers and aimed at markets that were not served by regular terrestrial cellular networks, such as rural areas, mining industries and marine applications. However, sales grew slowly and after five years of operation, ACeS had fewer than 20,000 subscribers. With the company failing to attract more customers, and its only satellite nearing its end of life, ACeS, which by then had amassed huge debts, entered into a collaboration agreement with Inmarsat in 2006. This essentially meant that the the remaning assets were taken over by Inmarsat and ACeS ceased to exist.

A second satellite, Garuda-2, was ordered in 1999 with the intention to use this satellite as a back-up and to allow expansion of operations into western and central Asia, the Middle East, Europe and northern Africa. This never materialized as the satellite was cancelled.

M2A
During the 1990s, PT Pasifik Satelit Nusantara (PSN), which was established in 1991, ordered a LS-1300S space platform from Space Systems/Loral (SS/L) to be used for the Multi-Media Asia (M2A) satellite system. To be fitted with 84 C-band and X-band transponders, this satellite was expected to provide multi-beam coverage of the Asia Pacific region, including Indonesia, Australia, India, China, Indochina, Korea, Japan and ASEAN. The C-band transponders were to handle four million fixed telephone lines and 100 television channels, whereas the X-band transponders were to provide gateway services. Services were to include low cost rural telephony, data, facsimile, Internet access, and video multi-media services to a potential subscriber base of millions.

The contract was cancelled in 1998 and then re-instated again and, in 2001, a Delta 4M launch was booked to occur in 2003. However, the entire project was cancelled once again. Pasifik Satelit Nusantara continues to operate as a communications service provider but does not own its own satellite.



About the author
Jos Heyman is the Managing Director of Tiros Space Information, a Western Australian consultancy specializing in the dissemination of information on the scientific exploration and commercial application of space for use by educational as well as commercial organisations. An accountant by profession, Jos is the editor of the TSI News Bulletin and is also a regular contributor to the British Interplanetary Society's Spaceflight journal. Jos is also a Senior Contributor for SatMagazine.