Satellite facilities requiring multi-channel, multi-transponder, and multi-satellite downlink signal reception, monitoring and L-band distribution include CATV and IPTV headends, DTH broadcast centers, certain government agencies and communications ministries, teleports, and even satellite TT&C (telemetry, tracking & control) sites that need to monitor large numbers of signals. The Etisalat super headend case is an excellent example of the kind of modern L-band distribution solution that makes business sense to deploy today in large scale downlink operations.
Etisalat is one of the largest telecommunications companies in the world and a leading operator in the Middle East and Africa (MENA). The Company decided to expand an existing CATV headend in the U.A.E. by adding a 700-channel IPTV infrastructure. The headend system required a massive state-of-the art, satellite signal downlink system to ensure signal quality, redundancy, monitoring and control. This article unveils, via a case study of the solution integrated by prime contractor Huawei and employing an RF distribution system from DEV Systemtechnik, how such a huge system of this type can be efficiently designed to achieve lower power, rack space, and cost.
Changing Mideast Lifestyles: More Entertainment. More TV
Headquartered in Dubai, Etisalat is the largest carrier of international voice traffic in the Middle East and Africa and the 12th largest voice carrier in the world. It operates in 18 countries across Asia, the Middle East and Africa, serving over 100 million customers, providing mobile and fixed video, data, and TV services. The company's next-generation IPTV service has been marketed to regional consumers under the brand names e-Life and e-Vision. "Etisalat has been a pioneer in the world of telecoms and entertainment, providing rich content to TV viewing customers in the UAE for over 11 years," says Matthew Willsher, chief marketing officer, Etisalat. As demand for more content and sophisticated features has grown along with viewer tastes, Etisalat has taken action to bring more channels, content and features to market. "Over the years, we have keenly listened to our customers and enriched their home entertainment as per their changing lifestyles," says Willsher.
In addition to local and regional Arabic channels, programming received through Etisalat's head end in the U.A.E. comes from international satellite distributed networks such as BBC, Eurosport, Fox Movies, Fox Sports, Discovery Networks, National Geographic Channels, ESPN, The Filipino Channel, Arirang TV, NHK from Japan, Indian networks, Nickelodeon VH1, MTV Music, E!, and BET.
Meeting Channel Growth
As part of a major expansion with new channels and services, Etisalat decided to expand its head end to support a huge 700-channel IPTV system. It also decided to hire a system integrator to help upgrade its facilities. "For the largest IPTV platform in the World we required a massive satellite downlink system that can pull entertainment, news, and information from more than seven hundred satellite TV channels" says a Senior Manager of Etisalat. The integrator would be required to deliver a state-of-the-art system without causing any interruption or disturbance to the regular operation of the existing on-air CATV head end. The installation and all equipment had to be fully redundant with no single point of failure.
Following a bidding process, Etisalat selected China-headquartered Huawei as its prime contractor for the job. With USD 28 Billion in 2010 sales, Huawei (www.huawei.com) is a leading global information and communications technology (ICT) solutions provider whose products are deployed in over 140 countries.
For the satellite downlink RF distribution segment of the system, Huawei turned to the RF experts, DEV Systemtechnik (www.dev-systemtechnik.com), headquared in Friedberg, Germany. DEV's contribution to the system covers the part from the antennas to the receivers. (Top left in Figure 1). "DEV's high-performance L-Band distribution system ensures superior signal quality, redundancy, signal monitoring and controllability in less rack space, using less power, and for a lower total cost of ownership, which is important to Etisalat," according to Etisalat's manage involved in the project.
A total of 128 L-band signals are first split between the existing on air CATV system and the new system and then distributed to the 1+1 receiver sub-system by more than 70 rack-mounted distribution amplifiers (model DEV 2190). (Please see Figure 1.)
State-of-the-Art L-Band Distribution System
The L-band Signal Distribution System relies on the DEV 2190, a next-generation L-band signal distribution and management appliance ideal for large satellite ground stations receiving many signals. This product (See Figure 2 Photo) accommodates up to 3 power supplies and 16 amplifiers in the front side of a 4RU chassis. The splitters and/or matrix switches are located in the back. Fixed and matrix distribution can be mixed. Each Chassis allows for 16, 32, 48 or 64 outputs (matrix switches 4:x or 8:x) and a maximum of 128 outputs for splitters (1:x), if desired with mixed configuration and impedances (50 or 75 Ohm) for inputs and outputs. Optical inputs and redundant amplifiers are available as an option.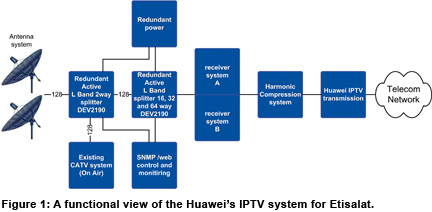 This solution delivers the highest commercially available level of RF performance in reliable, compact, space and power-conserving devices that reduce rack space cost, and power consumption, helping to minimize ongoing operational expenses for the facility.
Flexibility and Control of RF Routing and Distribution
"DEV's system also gives us more flexibility and control over incoming satellite RF signal routing and distribution, making it easier for us to expand in the future," says Etisalat's manager involved in the project. The Signal Distribution System is controlled and monitored via web interface or SNMP and enables the adjustment of gain and RF sensing thresholds as well as LNB bias current. The variable tilt functionality for extended L-band ensures a constant signal level over the entire frequency range, an essential feature for high-availability applications. Signal LEDs in the front panel show key operational parameters at a glance, for example, that the unit is properly functioning locally or remotely, that the power supplies are doing fine, the temperature of the distribution amplifier modules is within limits, and that the CPU is communicating properly with the system. It also indicates if there are alarms or error messages requiring operator attention. These features give Etisalat flexibility, and control in a cost-effective package.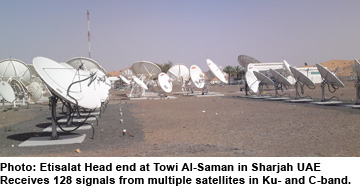 In discussing the satellite RF portion of the project, a responsible Huawei representative says "We choose DEV Systemtechnik because of reputation, recommendations, product range, functionality, German engineering and product reliability. DEV was very flexible during the delivery phase of the project and suggested a phased delivery in order to assist with the equipment installation process, which turned out to be very helpful. DEV guarantees 100 percent availability of all equipment, and signals exceeded our expectations in all respects. We got all that we required from the equipment plus the unique addition of SNMP and web page monitoring. System engineering changes proposed by DEV also proved to be very successful."
The solution that was implemented represents the latest in RF distribution technology of this type. Component redundancy, device level redundancy, and system design redundancy with extensive monitor and control features ensure continuous on-air operations.
Signal Recording Now Part of The Mix
Signal Recording captures signal properties in the input path of the system and records them in user-defined time intervals—so system administrators get topical feedback on signal changes over time and see the dependence of signal properties on environmental influences such as interference, precipitation, and temperature. DEV's L-band Signal Distribution System now comes with a Signal Recording function as a standard feature that gives ground station operators easy and affordable access to recorded RF signal parameters over time, which can help in efforts to identify and mitigate interference at head ends. Signal Recording allows a user to access the RF signal level of any L-Band signal and/or LNB feeder current directly via the web interface of the DEV 2190. Recorded data are displayed in a user-friendly graphical user interface, and can be exported. Systems already in the field can add Signal Recording by purchasing a software upgrade.
Quick Delivery, On-Site Training Always A Must
Etisalat's tight schedule for the project meant that Huawei, and therefore its key subcontractors like DEV were required to perform exceptionally. "We had to deliver very fast and started to produce equipment even before we received a formal order," says Joerg Sommerschuh, DEV's area manager. "A lot of on-site service was necessary, especially factory acceptance tests and support for the deployment of the no-single-point-of-failure structure for the site acceptance test."
Making L-Band Distribution Easier
The Etisalat super head end case is an excellent example of the kind of L-band distribution solution that makes sense to deploy today in CATV and IPTV head ends. Other suitable applications include DTH broadcast centers, government satellite monitoring facilities, and teleports and even satellite TT&C (tracking, telemetry, and control) facilities that need to route and distribute large numbers of L-band signals. Extensive built-in monitor and control features, switching, and redundancy options—all without the added costs of an external M&C system required for some older generation solutions—make the new generation of L-Band signal management solutions easier than ever for operators. Given the many other challenges that satellite ground facilities face today, this should be welcome news to earth station designers and operators.
About the author
Daniel Freyer is Founder of AdWavez Marketing (http://www.adwavez.com), a marketing agency serving clients in the satellite and technology industries. He has over 20 years of global industry experience helping spacecraft manufacturers, satellite operators, service providers, broadcast and telecoms end-users, equipment manufacturers and system integrators grow their businesses.
* * * * * * * * *
DEV Systemtechnik develops and produces a complete range of leading-edge, high-performance products and systems for the optical and electrical transmission of Radio Frequency (RF) signals via coaxial cable or fiber for satellite, cable, and broadcast television head ends. DEV products include distribution amplifiers, splitters and combiners, switching systems, distributing matrices, routing products, multiplexers, and fiber-optic RF signal transmission systems – all built to meet the highest standards of system availability, reliability and controllability. Named several times to the Deloitte Fast 50 list, DEV has achieved a compound growth rate of 462 percent over five years.

New DEV Core Function Products (CFP) Hit Market
Known for its high-end products and RF signal transmission quality, DEV also recently started shipping the first models in its new CFP (Core Function Products) series of RF Switches, Combiners and Splitters, which are used to route and distribute RF signals within earth stations and head ends. DEV's new CFP series offers up to 70 percent cost savings for cable and satellite head ends by streamlining devices down to their core features, according to the company.

DEV says it can offer its CFP products at substantially lower cost than the standard full-featured versions of DEV products because the new CFP units come without all the extra power supplies, alarm, monitoring, and sensing features provided in DEV's standard models, which package in lots of additional features. Among the first DEV CFP models available are bi-directional RF switches, the DEV 1228 (up to 4x1:8) and the DEV 1236 (up to 2x1:16). Specified for the 10 to 2300 MHz frequency range, DEV's CFP switches offer excellent RF transmission quality, high isolation, flat frequency response and low ripple. Read more at: http://www.satnews.com/cgi-bin/story.cgi?number=2040537623

DEV America LP, the company's U.S.-based subsidiary is exhibiting at Satellite 2012 in Washington, DC., Booth: 1630.