Despite the prevailing uncertainty in the global economy, Hughes continued impressive growth in 2010, once again led by our highly successful consumer business in North America which surpassed 550,000 subscribers in Q3. New orders in that quarter alone grew by a whopping 164 percent over the third quarter of 2009, evidencing a resurgent enterprise business across multiple verticals both domestically and abroad. Our strategy of leveraging service revenues by continually introducing innovative products and applications that fuel demand, continues to succeed. A growing base of new and repeat customers in our North America, Europe, India, and Brazil service businesses now generates over 70 percent of overall company revenues, driving profitability ever higher.
I'm proud to say that we received numerous awards recognizing our success, including 'Fastest Growing Technology Company in North America' of the Deloitte 2010 Technology Fast 500™, and as Euroconsult's 'Broadband Satellite Operator of the Year'. In addition, our Indian subsidiary, Hughes Communications India Ltd. (HCIL), was recognized as the Best VSAT Operator in India at the Telecom Operator Awards.
In North America, our HughesNet® high-speed satellite Internet business earned the company an A+ rating from the Better Business Bureau (BBB), based on strong yearly gain of 20 percent in services revenue and a total subscriber base of 558,000 as of September 30, first in the marketplace. We are continuing to focus new consumer activations on our groundbreaking, switch-in-the-sky SPACEWAY® 3 satellite, which now serves over 60 percent of all subscribers. I am also delighted to report excellent progress on development of Jupiter™, our next-generation, high-throughput satellite, which will bring over 100 Gbps of additional Ka-band capacity over North America and is on schedule for launch in the first half of 2012.
A landmark event for Hughes this year was the award of $58.7 million as the only national provider of high-speed satellite Internet service under The American Recovery and Reinvestment Act of 2009. Administered by the U.S. Department of Agriculture's Rural Utilities Service (RUS), this award is an important part of the government's investment in broadband projects to bring jobs and economic opportunity to communities nationwide.
We're very excited that RUS recognizes the essential role that satellite plays in helping bridge the digital divide in the U.S., and has selected Hughes as a prime mover to make our high-speed Internet access available to the millions of unserved consumers and small businesses across the country. Funds from the award are being used in our Broadband NOW (No One Waits) program to expand HughesNet service in communities across the U.S., which will bring all the benefits of broadband to an estimated 106,000 qualified new subscribers.
Our enterprise business growth rebounded this year, domestically and internationally, with substantial new orders from major enterprises and government agencies. As a result, our non-consumer backlog crossed $1 billion for an all-time high. Today, Hughes is one of the world's premier managed service providers, with more than 300,000 enterprise and government sites under contract and employing a range of technologies, including satellite, DSL, fiber, and wireless. For example, we signed a contract valued at $60 million with one of the top drugstore chains in the U.S. for a high-availability managed broadband network to deliver advanced applications to more than 4,700 retail locations.
We also signed multi-site, managed services contracts with a leading broadline retailer, a major fashion apparel and home furnishing retailer, and a number of state governments. These contracts represent the growing community of large enterprises and government agencies that rely on Hughes to manage complex networks, ensuring reliable and secure connectivity, and peak performance of critical applications.
Our branch server-based managed services not only supply enterprise-wide network management, but also include value-added services such as optimizing web access, accelerating protocols and applications, and overlaying a blanket of security to ensure network safety at all locations.
Internationally, our subsidiaries continue to grow at a healthy rate, driven by enterprise demand for high quality, turnkey managed services. The fastest growing is Hughes Brazil, which is well-positioned to take advantage of expanding enterprise and government projects as that economy flourishes. For example, a major reseller agreement was signed with Primenet valued at over $13 million over 60 months which calls for them to sign up a minimum of 1,000 sites by the end of the first quarter of 2011. In addition, Vivo, one of Brazil's largest cellular operators, signed a $7 million contract extension for satellite backhaul connectivity to its cell sites provided by Hughes through its nationwide service.
Among numerous other wins, Hughes India recently signed a managed services agreement with Allahabad Bank to extend connectivity to its remaining 1,400 branches using both terrestrial MPLS and satellite technologies as part of its Core Banking Solutions (CBS) Phase II project.
Meanwhile, our European subsidiary announced the sale of a sixth HX broadband satellite hub and an additional 2,000 HX broadband terminals to Bentley Walker, a leading international satellite Internet services provider which is expanding its service footprint and solutions to military personnel in Afghanistan and Iraq.
Hughes continues its commitment to help governments bridge the digital divide, bringing broadband to unserved communities around the world. In China, to meet the growing demand in the world's largest telecom market, we formed HughesNet China Co. Ltd., a joint venture of Hughes and China UnifiedNet. HughesNet China and its licensed partner, Beijing UnifiedNet (together known as "Hughes China") will offer a wide range of managed broadband network services to leading telecom carriers and enterprises, and will support the government's initiatives in expanding rural development through access to education and emergency communications across China.
In Europe, Hughes expanded a multi-year, strategic partnership with Avanti Communications Group plc to supply advanced Ka-band networking infrastructure for its HYLAS 2 satellite, building on last year's deal for HYLAS 1.This important win raises total orders to $42 million for Hughes to supply 56 HN System gateways for both satellites and an initial 50,000 terminals to bring affordable, high-speed communications to consumers and businesses starting in early 2011. Both deals include acquisition of satellite capacity by Hughes to deliver Ka-band broadband services across Europe, the Middle East, and Africa to its growing base of small business and enterprise customers.
This year we also announced the formation of Hughes Network Systems Australia Pty. Ltd. (known as Hughes Australia) to serve this strategic and rapidly growing market. Australia's NBN (National Broadband Network) is another example of a government–subsidized initiative to bring affordable broadband Internet access to all its population, exploiting the power and continent-wide reach of Ka-band satellite technology and services.
An emerging global opportunity is broadband on planes, boats and trains. In the U.S., Southwest Airlines began offering broadband Internet access to passengers using their Wi-Fi-enabled PDAs and laptops using an onboard system supplied by Row 44 and powered by a Hughes HX satellite communications platform and nationwide service. For defense and emergency response applications, Hughes developed a groundbreaking airborne video solution this year in conjunction with several partners which was demonstrated to a key government agency, confirming full D-1 video resolution at air-to-ground user data rates of over 2 Mbps. And fleets of numerous maritime customers were outfitted with Hughes broadband–on–the–go satellite technology, including several providing services in support of the massive oil spill clean-up in the Gulf of Mexico.
We can conclude that 2010 was a very good year for Hughes and for the satellite industry, and all signals point to a promising future. Demand for broadband continues at healthy double-digit growth rates globally in developed and developing countries alike, with many governments now actively subsidizing satellite technology to reach consumers and small businesses in so-called unserved and underserved areas. The resurgence of the enterprise market is evidence that an economic recovery has begun and hopefully will gain momentum next year and beyond.
It remains for us to do what we do best: keep pushing the envelope on broadband technologies, products and services, delivering ever more value and competitive-edge benefits to our customers—a strategy that has helped us to successfully navigate through the storms of prior years and positions us for strong growth well into the future.

In the past three years, a dedicated team established as the Hughes Defense and Intelligence Systems Division (DISD) has made significant strides applying the company's highly successful commercial satellite networking technology for military and government customers. Several groundbreaking solutions were demonstrated during 2010, evidencing Hughes' commitment to research and development, with the goal of delivering advanced communications systems that meet the military's needs today and the innovations for the military of tomorrow.
Hughes takes great pride in providing solutions to support the men and women serving in the U.S. and Coalition forces, and that directly address the 2010 Quadrennial Defense Review (QDR) recommendations, namely "the capabilities, flexibility and robustness of U.S. forces across the board will be improved by fielding more and better enabling systems, including intelligence surveillance and reconnaissance, electronic attack capabilities, communications networks and more resilient base infrastructure, and enhanced cyber defenses." Highlighted below are our most notable achievements during the past year.
Early in the year, Hughes participated in the Coalition Warrior Interoperability Demonstration (CWID), directed by the Joint Chiefs of Staff, to test homeland defense applications of its award-winning Ka-band SPACEWAY® 3 satellite, the world's first commercial satellite system with on-board packet switching/routing, and ten times the capacity of conventional, Ku-band bent-pipe satellites.
According to the CWID Final Report issued in February, SPACEWAY 3 successfully demonstrated high-definition video teleconferencing between the U.S. Northern Command (USNORTHCOM), the Naval Surface Warfare Center, Dahlgren Division (NSWCDD), and the Space and Naval Warfare Systems Center, San Diego (SSC Pacific). The report noted that the SPACEWAY 3 system established a highly reliable broadband satellite link that maintained 100 percent connectivity, as well as maximized bandwidth for internet, data, VoIP, videoconferencing, and IP-based applications.
"It's better than anything I've ever seen," noted a warfighter from the CWID Final Report. "If you need a semi-portable satellite communications system, this will work as described."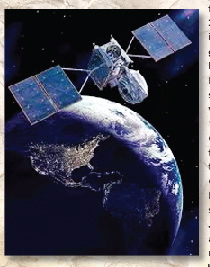 Hughes DISD is proud of the work accomplished in the CWID trial and looks forward to continuing to demonstrate SPACEWAY 3 as well as demonstrating the capabilities of Hughes' latest satellite under development, Jupiter™, scheduled for launch in the first half of 2012. Jupiter is a next generation, high-throughput Ka-band satellite system with more than 100 Gbps of capacity, 100 times greater than today's conventional Ku-band satellites. Jupiter's advanced multi-spot beam, bent-pipe architecture will also support other waveforms for military use. Through partnerships, Hughes is developing a worldwide, Ka-band network based on Jupiter technology.
This summer, Hughes DISD demonstrated its Advanced Airborne Video Solution to a U.S. Government agency — with extremely positive results. High quality, D-1 video resolutions were consistently delivered using a fully configured Albatross aircraft at air-to-ground user data rates of over 2 Mbps, which is significantly greater than other offerings on the market today.
As situational awareness becomes ever more essential to achieve mission success, the Company considers it a requirement to develop solutions that are leading-edge and cost-effective, with minimal set-up times. The Advanced Airborne Video Solution confirms these principles and is based on a commercial-off-the-shelf (COTS) platform that delivers unmatched performance while operating at affordable broadband satellite data rates.
This autumn, Hughes DISD developed a prototype system to operate at Ku-band on small antennas that are less than 9-inches in diameter. With many U.S. and Coalition troops in mountainous or urban conflict zones, SATCOM-on-the-move (SOTM) is the only reliable and effective solution to maintain net-centric communications. Solutions with radically smaller antennas translate into greater mobility and limited detection by enemy forces.
Rugged and highly portable SOTM terminals are also vital to maintaining communications with the Global Information Grid (GIG), especially in challenging environments. Hughes DISD expanded collaborative efforts to offer its commercially successful HX broadband satellite technology for integration into a variety of lightweight, easily portable SOTM terminals, optimized for Wideband Global SATCOM (WGS) use by the U.S. Department of Defense and Coalition forces. Our HX technology brings numerous benefits, including being fully compliant with Federal Information Processing Standards (FIPS) 140-2 cryptographic security, as well as with the DVB-S2 standard (Digital Video Broadcasting — Second Generation receiving capability and Time Division Multiple Access (TDMA) return channels). The Company looks forward to continuing to work with all of the partners to deliver the best possible solutions for military and government users.
Hughes also introduced its HX Expert Network Management System (ExpertNMS™). ExpertNMS provides superior usability, featuring an intuitive and interactive interface, and advanced diagnostics monitoring to optimize network performance. ExpertNMS has been trialed by a number of U.S. and Coalition military organizations and received very positive feedback.
As 2011 quickly approaches, Hughes DISD is looking to expand its offerings in airborne Intelligence, Surveillance and Reconnaissance (ISR) applications and continues to grow its classified business. Work continues in developing enhanced mobility systems with ever more compact footprints and improved cost-effectiveness. Hughes is also successfully growing its business globally, including international defense markets.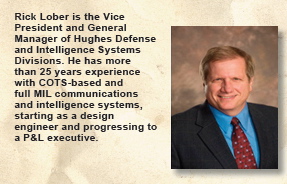 Hughes DISD is not in the business of selling boxes — solutions are provided. At headquarters in Germantown, Maryland, Hughes DISD has a number of labs where talented personnel continually work to evolve and develop new solutions which are ideal for military customers. The products integrate into military networks, and the back-end service for these networks is often provided, as well as Network Management Systems to monitor and maintain their operation. Hughes looks forward to continuing to provide net-centric communications and new innovations for our military and government customers.