The O3b Journey Begins
China is actively exploring commercial opportunities to boost its share of the global satellite-launching market, in an attempt to challenge U.S. and European dominance of this field, according to a recent infopiece in China Daily.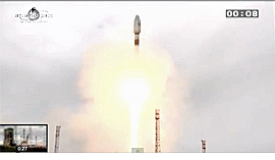 A day's delay, and a red hold did not dampen spirits when the successful launch finally occurred on June 25, 2013. An Arianespace Soyuz ST-B rocket successfully launched four O3b satellites from the Kourou Spaceport in French Guiana. The launch, the second Soyuz to lift-off in close succession, was scheduled for 18:54 UTC. However, due to a red hold, the teams opted for a launch 33 minutes later. The mission used a Soyuz-STB/Fregat-MT, a Soyuz-2-1b optimized for commercial launches from the Centre Spatial Guyanais in French Guiana, with a Fregat upper stage.
Arianespace played its crucial role in improving the world's connectivity with a successful medium-lift Soyuz launch that orbited O3b Networks' initial four satellites.
The cluster of spacecraft lifted off on Arianespace's maiden Soyuz mission for O3b Networks, creating the way for the establishment of telecommunications and Internet services over Asia, Africa, South America, Australia and the Middle East that combine the global reach of satellite coverage with the speed of a fiber-optic network.

The statement from Thales Alenia Space: The first four satellites in the O3b medium Earth orbit constellation were successfully launched today by Arianespace for operator O3b Networks, using a Soyuz rocket from the Guiana Space Center in French Guiana. The second batch of four satellites will also be launched this year, and the third batch in the first half of 2014.
Positioned at an altitude of 8,062 kilometers along the Equator, about four times closer to the Earth than geostationary satellites, these Ka-band satellites will provide telecommunications services and Internet connectivity combining high speed, low cost and reduced latency for emerging markets in Asia, Africa and the Middle East. O3b Networks will provide telecom operators with trunking capacity and connectivity for mobile networks, at broadband speeds comparable to those offered by fiber-optic networks.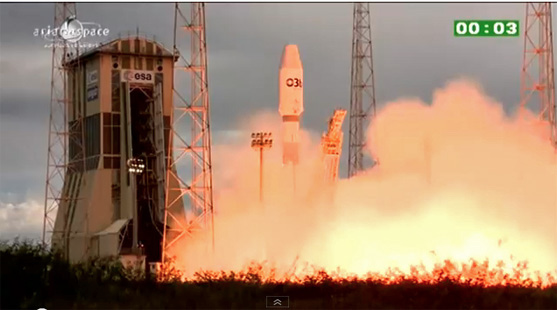 "We are very pleased with the success of this first launch, alongside O3b Networks and Arianespace," said Nathalie Smirnov, Director of Telecommunications at Thales Alenia Space. "It marks a major step forward in the development of O3b Networks, and is also a very concrete initiative to reduce the digital divide. Everybody at our company is obviously fully mobilized to prepare for the two remaining launches."
O3b satellites are located in a so-called "repeating" Equatorial orbit, enabling a given ground station to see the same satellite every six hours, which considerably
simplifies satellite architecture. Weighing 700kg. at launch, each O3b satellite is based on a platform offering 1.5kW of power. The payload comprises 12 mobile antennas and 10 Ka-band transponders.
Thales Alenia Space has received orders for a total of 117 satellites in constellations (12 for O3b, 81 for Iridium NEXT and 24 for Globalstar's Second Generation satellites). Thales Alenia Space is now marketing the new EliteBus platform, already validated in orbit. EliteBus is designed for enhanced cost competitiveness, based on efficient volume production and supply chain management. In addition to telecommunications applications, EliteBus can meet requirements for Earth observation, navigation and other civil and defense missions.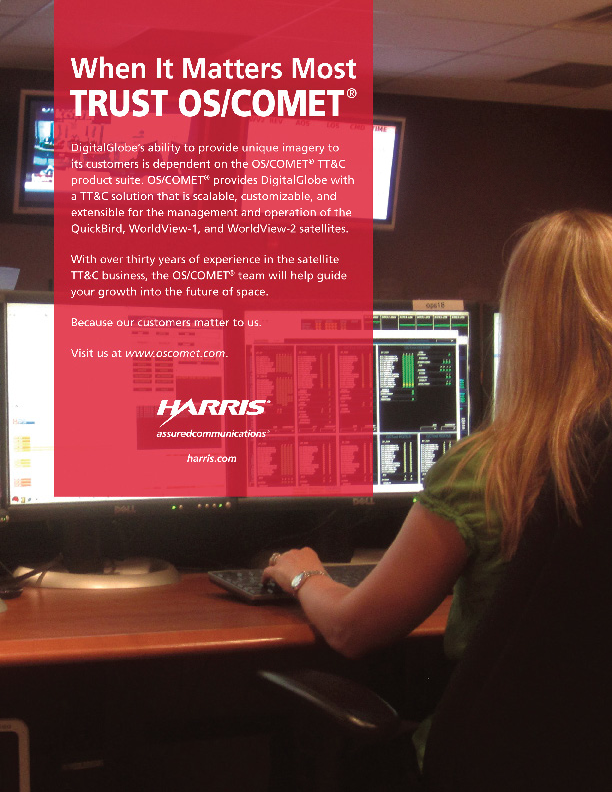 The O3b Networks' strategy is to provide billions of consumers and businesses in nearly 180 countries with low-cost, high-speed, low latency Internet and mobile connectivity.
The just-launched payload is for the first four communications satellites for the company. These will be the first satellites of Jersey, a small island in the English Channel, which is a British Crown Dependency, but is not part of the United Kingdom.
The spacecraft have a trapezoidal-shaped main body, which helped facilitate their integration on the payload system, which is a tube-shaped dispenser system, with the satellites mated to the upper and lower attach points.
The launch was designated VS05 in Arianespace's launcher family numbering system and this mission involved a flight duration of 2 hours and 22 minutes.
After the powered phases for the Soyuz ST-B vehicle's first three stages, the Fregat-MT upper stage performed four burns, allowing deployment of the O3b spacecraft.
The O3b Networks' slogan for this crucial launch was: "The Journey Begins," with these words even emblazoned on a charter aircraft that brought its executives, as well as personnel from Arianespace, satellite manufacturer Thales Alenia Space and other guests, to French Guiana from Paris.
"Definitely, we can now say that 'the O3b journey has begun,'" said Arianespace Chairman & CEO Stéphane Israël in comments from the mission control center after confirmation of the Soyuz mission success. "Let me tell you that there is no better reward for Arianespace than seeing the happy faces of our customer in the front row. In this very moment, pride and gratitude are the two words coming naturally to my mind."
Israël noted that O3b Networks is the 33rd new entrant in the satellite telecommunications business to select Arianespace for launches that have started their operations.
A total of 12 O3b Networks' satellites are to be orbited by Arianespace in groups of four, with the next mission planned for later this year, and another in 2014. Thales Alenia Space produced the Ka-band relay platforms.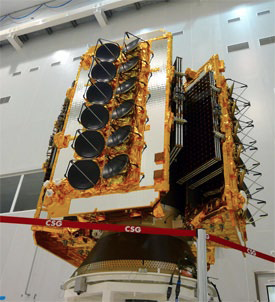 Total payload lift performance for this mission, was 3,204kg. This flight was the third since Stéphane Israël became Arianespace's new Chairman & CEO, which he noted in post-launch comments, acknowledging that the company's worldwide reputation is more than deserved.
"Arianespace's key success factors are the commitment of its institutional and industrial partners, the complementarity, reliability and availability of its launch vehicle family, as well as the dedication and competency of its teams," Israël said. "Indeed, I wanted tonight to pay a tribute to the women and men who make Arianespace what it is on a daily basis, wherever they are located, in Evry, Kourou, or in our commercial offices abroad."
The next Arianespace mission is scheduled for July 25, using a heavy-lift Ariane 5 to orbit the Alphasat and INSAT-3D satellites.
Despite both the Soyuz for this mission, and the Soyuz carrying Resurs-R launching around two hours apart, (a coincidence caused by a 24 hour scrub due to weather constraints for the O3B mission), Tuesday's launches did not set a record for the shortest gap between two launches of the same family of rocket.
The record that was broken was one that occurred on August 18, 1960, when the U.S. Air Force conducted two launches less than two minutes apart. The launch vehicles were a Thor DM-18 Agena-A that lifted off from Vandenberg Air Force Base, which was then followed by a Thor DM-21 AbleStar from Cape Canaveral, which failed to orbit.
The next Soyuz launch after the O3b mission is expected to occur on July 27th, with a Soyuz-U orbiting Progress M-20M, a cargo spacecraft bound for the International Space Station.
* * * * * * * * * * * * * *
It's All About Correct Positioning
CSR plc has debuted their SiRFstarV™ 5e, a Global Navigation Satellite System (GNSS) engine optimized to enable highly accurate location positioning for devices including mobile phones, cameras, and health and fitness products.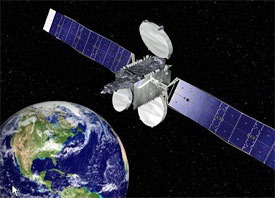 By supporting fully concurrent GLONASS, GPS, QZSS and SBAS from ROM, the highest accuracy and fastest time-to-first-fix (TTFF) are ensured.
Wireless solutions specialist Telit Communications plc will be using the solution for its Jupiter SE868-V2 module, which was launched at CTIA Wireless 2013 in Las Vegas. The 11x11mm QFN packaged receiver module integrates 5e, TCXO, SAW and RTC oscillator into a small convenient package, accelerating time-to-market and reducing product development risks.
CSR believes its advanced power saving modes make it extremely battery-power friendly and ideal for wearable and personal navigation applications. SiRFstarV 5e offers a range of features to increase accuracy, improve time to first fix and preserve battery power to enable a better user experience. These include:
– InstantFixTM Extended Ephemeris (EE)—Devices without wireless connectivity, such as cameras, are able to overcome slow TTFF, a common annoyance for the end user. 5e is capable of autonomously forward predicting EE for three days locally, and for connected devices the solution supports server based EE for up to 31 day for GPS and up to 14 day GLONASS EE
– Direct to battery capability—The GNSS chip can connect directly to a Lithium battery supply, enabling system cost reduction and increased power efficiency. This is implemented by an integrated switched PMU, reducing system level power and eBOM costs
– Design flexibility for optimal solution cost—With clear attention to solution implementation, 5e is designed for small size and low power. For example, UART and SPI Flash drive levels are drivable from 1.8v to 3.3v, eliminating the need for level shifters and increasing implementation flexibility
– Intelligent design—The 5e is designed to be optimised for low power battery operated devices. For instance, in asset tracking applications, the 5e engine will intelligently decide how long to try to acquire satellite signal based around its environment, saving a significant amount of battery power
SiRFstarV 5e is offered in a size optimal 0.4mm pitch Wafer Level Chip Scale Package (WLCSP) and a 0.5mm pitch Ball Grid Array (BGA) for low cost PCB applications.
Additional information is available at http://www.csr.com/
* * * * * * * * * * * * * *
4K Coming Of Age
Intelsat S.A. (and Ericsson have announced the successful demonstration of a true 4K Ultra High Definition (UHD), end-to-end video transmission over satellite to Turner Broadcasting's facilities in Atlanta, Georgia.
This was the first transmission of a UHD signal over satellite in North America, and the demonstration proves that the satellite delivery chain can accommodate the next-generation signals as soon as broadcasters are ready to offer them.
During the demonstration, Intelsat's Galaxy 13 satellite delivered a 4:2:2 10-bit, 4K UHD signal at 60 frames per second, which resulted in an immersive viewing experience. The 100Mbps video feed was encoded and decoded in real time by Ericsson, using its AVP 2000 contribution encoders and RX8200 receivers, capable of 4K UHD operations as well as HD and SD contribution at the highest quality. Newtec provided the modulation and demodulation hardware, featuring Clean Channel Technology®, and the satellite downlink antenna was provided by Turner Broadcasting.
An earlier test between Newtec and satellite transmission provider PSSI Global Services, which was conducted in preparation for the UHD demonstration, achieved 140Mbps over a 36MHz transponder on Galaxy 13 to a 4.6-meter antenna.
"4K UHD is the next evolutionary step for television broadcasting—we will be ready to support the transition to full-time distribution in this new format," said Peter Ostapiuk, Intelsat's vice president of media product management.
"We are tremendously pleased with the outcome of today's demonstration," said Giles Wilson, head of TV compression business, Ericsson. "It shows what is feasible in terms of meeting consumer demand for the highest quality possible."
* * * * * * * * * * * * * *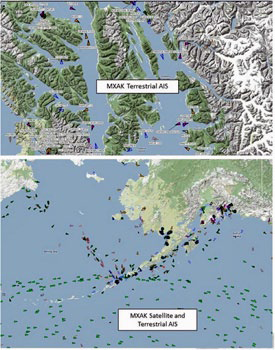 A Tracking Alliance
exactEarth has teamed up with the Marine Exchange of Alaska (MXAK) to form the Alaska vessel tracking alliance which is built on the MXAK PacTracs product offering. PacTracs is a vessel tracking display system that uses the MXAK's 100 coastal Automatic Identification System (AIS) receivers throughout Alaska.
Users are now able to upgrade their PacTracs service to include the exactAIS® satellite feed from exactEarth. This upgrade will expand coverage from the coastal waters around Alaska to include the entire North Pacific and the Arctic. Coverage will now extend from 45 degrees north latitude all the way to the North Pole.
Vessel tracking is the cornerstone of MXAK's services. This new hybrid AIS and satellite tracking system will address all aspects of the organization's mission of providing services that aid safe, secure, efficient and environmentally responsible maritime operations.
"The Marine Exchange of Alaska provides the Alaska maritime community with many valuable services, which now will include exactEarth's satellite coverage of vessel movements on the open ocean. We are excited to support the PacTracs vessel tracking application for the Alaska maritime community," said Mr. Chandler Smith of exactEarth-USA.
* * * * * * * * * * * * * *
Hot Zone Initiations In Africa
Q-KON has launched a HotZone Internet access and distribution solution in Africa.
The offering is primarily aimed at entrepreneurs who want to leverage off connectivity for their businesses as well as establishments that want to provide this service to patrons and guests.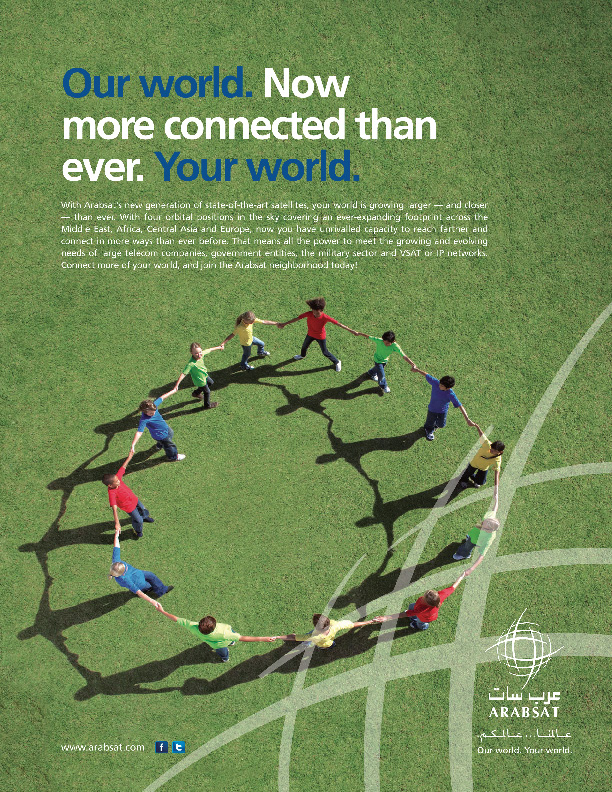 The StarLight HotZone consists of a VSAT terminal, wireless access controller with a printer and a keypad. It comes pre-configured with 4Mbps downlink speed and 512Kbps uplink speed and works on a franchise basis. In addition to being straightforward in terms of implementation and setup, Q-KON points out the solution's flexibility and adaptability to user requirements.
Logistically, a would-be investor or franchisee in Internet services needs to install a VSAT antenna with a satellite modem, access controller, voucher printer and keypad at their premises. Once the site is activated by the Q-KON Networks Operating Centre (NOC), the franchisee engages Q-KON to purchase the pre-paid data bundle using the online user portal.
The site is now ready to distribute Internet to patrons and guests. A guest can buy a voucher in any of the designated denominations. The desk assistant will issue the guest with a voucher by selecting the option on a keypad. The voucher will be printed with an access code and PIN which needs to be typed into the portal page when accessing the HotZone. The guest will be allowed access to the Internet and the access controller will manage the usage until the purchased bundle is finished. The purchased voucher will expire if not used within the same calendar month that it was purchased.
* * * * * * * * * * * * * *
Algorithmic Advances
Astrium and CNES, have achieved a major improvement in Pléiades image quality, including sharper products and enhanced geometry.
A new algorithm, developed by the French Space Agency, provides images with better-drawn, neater contours, with a better understanding of the surface texture.
These improvements greatly facilitate the analysis of the image (photo-interpretation) and also improve the accuracy of 3D models resulting from stereo taken images. These gains encompass:
Better pan-sharpening
More accurate RPCs (Rational Polynomial Coefficient) improving ortho-rectification and stereoscopic quality
An almost perfect focal plane characterization
All Pléiades 1A and 1B images processed now will be of better quality including archived data that is reprocessed. Astrium Services and CNES work in a continuous partnership to improve the quality of images available.
* * * * * * * * * * * * * *
The Ins + Outs Of A Buy Out
CPI International, Inc. and its wholly owned subsidiary Communications & Power Industries LLC (CPI) have acquired MCL, Inc., a manufacturer of power amplifier products and systems for the satellite communications market, and a wholly owned subsidiary of MITEQ, Inc.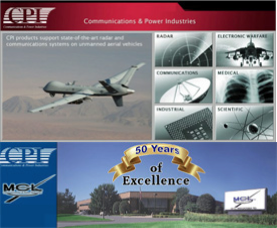 CPI is a leading provider of microwave, radio frequency (RF), power and control solutions for critical defense, communications, medical and other applications. MITEQ manufactures RF microwave components and satellite communications (SATCOM) products.
Under the terms of the agreement, CPI acquired the assets of MCL using cash on hand. The acquisition will be integrated into CPI's Satcom Division.
CPI will honor MCL's current sales commitments, and will continue to operate MCL's manufacturing facility in Bolingbrook, Illinois, for the period necessary to fulfill these backlog commitments. Following the completion of these backlog commitments, CPI will address customers' needs with products from its Satcom Division in Georgetown, Ontario, Canada and Palo Alto, California.
CPI will continue to support MCL's installed base of products and customers worldwide. CPI will maintain a service center for MCL products in the Chicago area and expects to retain MCL's existing global network of authorized service providers. Several of MCL's key managers and employees will transition into roles at CPI supporting MCL products.
* * * * * * * * * * * * * *
Suite Security Solution—Cytelics(sm)
Globecomm Systems Inc., a communications solutions provider, has launched Cytelics®, an end–to-end cyber security solutions service.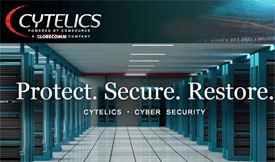 Cytelics will be offered through Comsource, a Globecomm company specializing in engineering, software development and interoperability testing.
Cytelics is included with many industry specific systems and solutions and is designed for commercial and industrial organizations that focus on manufacturing, transportation, power/energy utilities, and other heavy industry. These companies are dependent on Industrial Controls Systems (ICS), and can utilize Cytelics to secure their manufacturing business line.
Cyber Security solutions also cover sectors using complex production networks such as broadcast networks, telecomm operators, and educational institutions. Cytelics offers a comprehensive and customizable suite of network security services and technologies.
Cytelics cyber security solutions are custom-designed for target industries by encompassing ICS, automation systems, SCADA, information security, IT systems, and physical security into a complete lifecycle offering. These include:
– Risk Assessment of networks to determine vulnerabilities and business exposure.
– Remediation solutions that correct network and
systems vulnerabilities.
– Risk mitigation solutions harden the network and ensure industry best practices.
– Vigilance that continually detects, deters, and defends against threats.
– Custom network design and implementation to secure networks and ICS
Byron Parker, Comsource President, said: "The launch of Cytelics will uniquely position Globecomm in the Cyber Security market. Through Comsource's accredited security laboratories and network testing facilities and Globecomm's ability to deliver custom secure communications networks, we provide the flexibility to develop customized solutions for any type of cyber threat.
* * * * * * * * * * * * * *
Voice Power
Alianza, a leader in cloud voice platforms, has announced that ViaSat Inc. has selected the company's VoIP solution to power ViaSat's newly launched Exede® Voice service.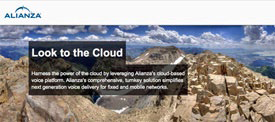 ViaSat turned to Alianza's turnkey wholesale solution to successfully address market timing, product and cost requirements. Alianza's software-as-a-service (SaaS) model applied to wholesale voice helps enable service providers to maximize voice profitability and minimize risk.
ViaSat selected Alianza's cloud voice platform after an extensive evaluation of voice delivery options. Alianza provided a superior time to market, voice quality, operational control and business case for ViaSat's new voice service.
ViaSat made extensive use of Alianza's application programming interface (API) to integrate the service administration, customer care and reporting functions into its back-office systems, resulting in significantly less time and resources required to manage and scale Exede Voice.
"At ViaSat, our engineers and technical team focused on optimizing every point in the Exede network to deliver superior call quality," said Lisa Scalpone, vice president, Satellite Services. "Alianza will enable us to effectively manage and scale our back-office functions. Together, these capabilities are the foundation of an end-to-end customer experience that delivers quality, value and convenience."

Powered by the ViaSat-1 satellite, ViaSat's high-speed Exede Internet serves approximately 300,000 subscribers and covers about 80 percent of the U.S. population. Launched June 17, Exede Voice is the first satellite VoIP residential telephone service introduced in the U.S.
"With an offer including Exede Voice, Internet and satellite television, ViaSat is delivering a triple-play communications and entertainment service bundle for consumers," said Brian Beutler, CEO and co-founder of Alianza. "Our cloud voice platform provides ViaSat with the right capabilities at a cost that makes clear business sense."