The Direct-to-Home (DTH) business in the Middle East is in an absolute mess.

On the 'glass half-full' basis, a handful of broadcasters — plus the satellite broadcasting industry — is having a glorious time. Capacity demand, for Eutelsat, Arabsat and Nilesat is at an all-time high and there are more than 1,000 channels on air.
However, on the 'glass half-empty' side of the equation, piracy is rife and is being described as 'a perfect storm' for the MENA region.
Indeed, allegations of State-backed piracy are commonplace. 2018 was a true nightmare for the main DTH payTV broadcaster in the region and has resulted in OSN (the former Orbit Showtime Network) witnessing their main shareholder, KIPCO, putting their majority stake in the company up for sale.
Moreover, the piracy shenanigans by the wholesale signal theft from BeIN Sports by beoutQ is decimating the manner in which sports rights are managed across the region — more in a moment.
A recent interview with Christophe Firth, a principal at management consulting business A. T. Kearney, and carried by Thomson Reuters' ZAWYA publication, and that publication's journalist Matt Smith, said that rampant piracy as well as "plunging" advertising revenues (down 30 to 50 percent over the pastfive5 years), as well as the rise of Over-the-Top (OTT) rivals have pushed OSN into further losses. Kuwait sovereign wealth investment firm KIPCO reportedly injected about $60 million into OSN last year, but has now put OSN up for sale — ZAWYA says OSN's losses last year were about $125 million.
In March, a payTV pirate was fined a miserable AED 50,000 (about $13,600) and sentenced to three months in prison for infringing OSN's copyrights and intellectual property rights. The dealer was pirating output from India's Dish TV in the United Arab Emirates.
The fine is quite modest, considering that the pirate was found with more than 2,000 illegal Set-Top Boxes (STBs), smart cards and —– according to the authorities —– a substantial amount of cash in his possession. The STBs and smart cards were destroyed and the dealer must pay compensation to OSN.
OSN has been trying to halt the illegal sale of DishTV India and Bharti Airtel receivers in the UAE and other Gulf Cooperation Council (GCC) countries. OSN has also filed lawsuits for infringement of their copyrights and damages at the Delhi High Court and has already obtained an injunction against DishTV India, which prevents Dish from exporting their receivers to countries outside India and from receiving any subscription revenues from outside India.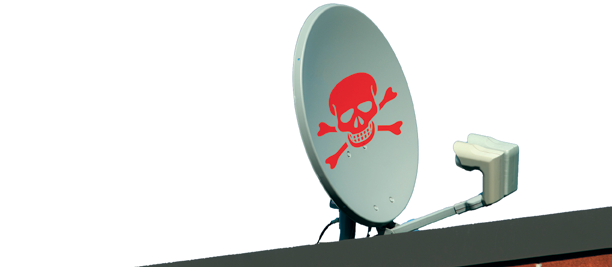 Simon Wilkes, the General Counsel of OSN, said, "We are thankful to the Courts for their unambiguous verdict against TV piracy. The ruling sends a very clear message that selling Dish TV India subscriptions in the UAE is criminal, and any dealers doing so will be prosecuted. We hope that the stern and decisive actions being taken will continue to discourage the practice of selling or using pirate IPTV decoders and DishTV India in the UAE. The Public Prosecutor's Office, Department of Economic Development in Sharjah, Sharjah Police and the Dubai Forensics Laboratory have given their full support in the fight against piracy, and this ruling is another testament to the commitment and resolve of the UAE to uphold copyright law and protect the interests of lawful businesses."
This single instance is but the latest in a long line of transgressions where pirates are given a slap on the wrist while they are, at the same time, making fortunes through the sale of cloned cards or so-called 'Dreamboxes.'
For example, Kudelski's Nagra conditional access division, where Simon Trudelle (Senior Director Product Marketing at Nagra), said, "As we all know we have challenges in the MENA region as far as piracy is concerned. No longer is it simply a question of commercial piracy, which is bad enough, but we now have political piracy which with beIN Media and the problems from Saudi Arabia is a real concern. It doesn't happen in other regions of the world, and is now a fight between Saudi Arabia and Qatar and is completely changing the piracy landscape."
The fight between beIN Media and signal theft by beoutQ — and the fact that premium sport is available at extremely low cost by 'subscribers' to beoutQ — has forced OSN to dump all their sports channels (except for some cricket coverage) — transmissions ended on March 31st.
OSN's recently appointed CEO Patrick Tillieux said the changes would allow for more movies to be screened and for additional programming that will be skewed toward female viewers. He also promised more frequent 'pop up' channels plus a "refresh" of their overall entertainment experience.
Tillieux is the fourth recent CEO to attempt a rescue of OSN and is under considerable pressure with majority-owner KIPCO seeking to exit the operation. Tillieux joined OSN last November and took over from former Sky CFO Martin Stewart, who himself took over from David Butorac in 2016.
Nagra's Trudelle added, "As a technology vendor we have been working with beIN and helping them protect their property. We already had a relationship with them but we are now having to do a lot more. We have discovered that the pirates working with beoutQ are really very sophisticated and skilled operators. It is the same with our competitors working in the region, and we are all working hard to help BeIN to stop this piracy. We are using all the solutions we have to disrupt and issue counter-measures, but the pirates are working just as hard to fight back. At this scale of piracy it is a huge challenge."
Trudelle explained how piracy is widespread throughout the MENA region. "Most pirates are dependent on so-called 'control word' sharing. Unfortunately, it is a key part of the DVB core protocol and is a weak point for all of us. The offenders extract this key word from a set-top box and then put the word onto internet servers and re-sharing for their customers to use. There is a huge black market, or perhaps more accurately a 'grey' market because consumers are paying real money for a decoder box, often bought through a retailer and often described as a Kodi [or XBMC] device.
"We have worked with broadcasters such a Canal Plus on their signals to North Africa and in a case that involved an estimated 200,000 units and which then people took out a low-cost subscription, perhaps a few dollars a month, to be constantly updated with the pirated control word. Some of these boxes would give access to every satellite in the region which had subscription TV available."
Talking specifically of the Saudi piracy of beIN Media, he said the pirates have managed to side-step the watermarking identifications embedded in a signal, "which only shows how sophisticated their operation is. They have even managed to ingest various feeds into four quarters [of the screen] from four different boxes and then rebuild the images into HD-quality signals, and this means it is difficult to trace the original source. They also have boxes in multiple countries across the region, which also makes life difficult. There's little doubt that when pirates are this clever, they will find these weak links. At the same time, the older pirate boxes cannot handle HD and certainly not 4K.
"The battle between beIN and beoutQ is complex. A satellite operator carrying pirated signals will know that they are infringing copyrights. But when political pressures are so high that there is literally little that they can do, it is difficult to say 'no.' The risks for the core rights holders are extremely difficult. They are selling their rights to broadcasters, often at very high prices, and it is their core business model which is under threat. At the end of the day, the authorized rights-holder might be paying a fortune and has little or no prospect of recovering their outlay because of piracy. When these rights come up for renewal, the soccer rights-owner, for example, might find a reluctance to find clients for payTV."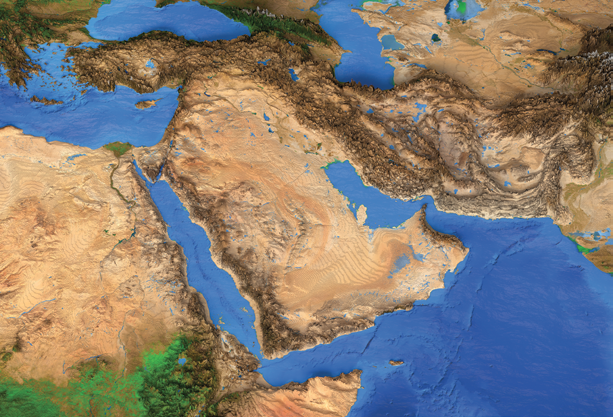 While OSN is suffering losses from this piracy, it is Qatar — where the soccer FIFA World Cup is due to be held next year — which is hugely embarrassed by the high-profile diplomatic row between the nation and Saudi Arabia. The beoutQ signals are carried by an equally embarrassed Arabsat, which has its headquarters in the Saudi capital of Riyadh.
Arabsat has the satellite's world most precarious balancing act. On the one hand, Arabsat's frequencies are being used by the unwanted Saudi pirates and the company would like nothing better than for the problem to go away. But being based in Riyadh, and with the Kingdom being Arabsat's largest shareholder, makes life doubly-difficult for Arabsat.
One report earlier this year described the Saudi pirates as the world's most sophisticated "bootlegging" operation, and condemned by the likes of FIFA, UEFA and other sports-rights holders. FIFA, UEFA, the English Premier League, La Liga, the German Bundesliga and the Asian Football Confederation have weighed in by blasting beoutQ's outrageous actions as "a clear and flagrant breach of our intellectual property rights.
"Collectively, we, as rights-holders in various football competitions, condemn the pirate entity beoutQ, which continues to abuse the operations of rights holders and legitimate broadcasters through its persistent and illegal screening of events for which it has made no effort to secure the rights."
Various legal actions have been initiated, but legal actions of this magnitude always run slowly and, with the Kingdom of Saudi Arabia involved, then any action will occur at a snail-pace.
Indeed, beIN Media Group is gaining increasing support from the USA's major sport and entertainment broadcasters in their anti-piracy drive. BeoutQ fills 10 channels of mostly BeIN Media pirated content which it uplinks to the region using Saudi-based Arabsat. BeIN Media is also asking U.S. authorities to place Saudi Arabia on its high profile and important 'priority watch list' due to the Kingdom's alleged support of beoutQ.
BeIN said on February 15 that they had delivered a 138 page dossier to the United States Trade Representative of evidence of Saudi Arabia's alleged and deliberate activity in this matter. BeIN argues that beoutQ "has since expanded to cover the most popular movies and television programming in the world, much of which is produced in the United States."
Qatar's satellite operator is Es'hailSat which carries the legitimate beIN Sport signals (and those of Al Jazeera), and its CEO Ali Ahmed Al-Kuwari summed up the position by saying, "There is an anti-piracy coalition and we are all members. These problems are addressed at our regular meetings and is a very hot topic for all of us. We try and support those affected by protecting them and giving them the very best quality of service. But if the proper regulations are ignored, and the pirates refuse to listen, this must result in government action. It is only governments which can now stop this piracy. Government must take action. For a satellite operator cannot be the decision maker on this level of piracy. Our support will continue, but beIN is suffering very badly from piracy, as are the content providers with the major sports rights holders being badly affected."
Mr. Al-Kuwari added that the language of government and international organizations is usually diplomatic. He argued that this must change and added, "Most of the international organizations try to be diplomatic, and neutral. They do not want to be seen as taking sides, so in my view the likes of the ITU will not get very far. But there has to be enforcement, and punishment by way of fines."
The current financial pressure on the likes of OSN only confirms these anxieties. Nagra's Trudelle noted, "In my view the legitimate broadcasters might have to come up with another strategy, and to recognize that there's a large share of the market that will never pay for their TV. They might have to consider switching to a streaming model themselves, where there will be a reliable on-line transmission and which can more easily be controlled and monitored. They can still consider premium services, but it has to be a truly superior experience, with perhaps loyalty schemes and thus transform the 'free' model into some sort or improved monetization model.
"This could mean that the buying of rights might have to change in the MENA region. The broadcaster might switch from satellite, deliver an improved on-line experience. Today, it isn't possible because broadband supply is poor or not sufficiently deployed."
Senior Columnist Chris Forrester is a well-known broadcasting journalist and industry consultant. He reports on all aspects of broadcasting with special emphasis on content, the business of television and emerging applications. He founded Rapid TV News and has edited Interspace and its successor Inside Satellite TV since 1996. He also files for Advanced-Television.com . In November 1998 he was appointed an Associate (professor) of the prestigious Adham Center for Television Journalism, part of the American University in Cairo (AUC), in recognition of his extensive coverage of the Arab media market.
---
How bad is the beIN Sport piracy?
According to 2019 data from Digital TV Research, payTV revenues for 20 MENA countries (including Turkey and Israel, which are outside the scope of our coverage) fell by 11 percent between 2016 and 2018 to just under $3 billion.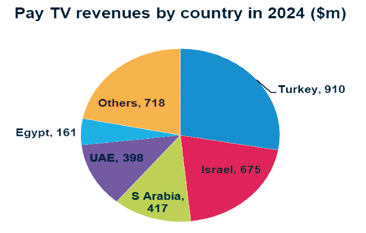 Given the hangover from the beIN ban and falling ARPUs in general, revenues in 2024 ($3.28 billion) will still be lower than in 2016 ($3.36 billion).
Concentrating just on the 13 Arabic-speaking countries, pay TV revenues fell by a massive 16 percent from $1,254 million in 2016 to $1,059 million in 2018.
The total will recover, said Digital TV Research, to reach $1,432 million by 2024.
PayTV subscriptions fell by 9.5 percent between 2016 and 2018 to 3.40 million, but will progress to 5.23 million by 2024.
Simon Murray, Principal Analyst at Digital TV Research, said, "Pay TV in the MENA region has been hit by the Saudi-led ban on the sale of Qatar-backed beIN decoders and subscriptions since mid-2017
The ban has been compounded by beoutQ, an illegal platform that retransmits some of beIN's content especially its exclusive sports rights. The region is no stranger to piracy, but the sophistication of the beoutQ operation is beyond anything seen before.
beIN is fiercely protesting beoutQ, with the support of major content owners, especially sports federations. We believe that the situation will be resolved in 2019; given the international pressure to drop the ban and to close beoutQ."
The MENA players, including those based in Qatar, can only such will be the case.
---