Moving into the second half of 2013, Spacecom, the operator of the AMOS satellite fleet and purveyor of the AMOS brand, is moving ever closer to becoming a global satellite operator.
Spacecom's AMOS fleet currently consists of the AMOS-2 and AMOS-3 satellites co-located at the 4 degrees West orbital location that serves Central and Eastern Europe (CEE), the Middle East and the U.S. East Coast, and AMOS-5 located at 17°E serving Africa and the Middle East. Just launched is the AMOS-4 to the 65 degrees East prime orbital position where it will serve Russia, China and South Asia with valuable Ku-and Ka-band capacity.
Together, these satellites offer a wide range of communication and broadcast services via Direct-To-Home (DTH) and Direct Broadcast Satellite (DBS) operators, Internet Service Providers (ISPs), telecom operators, network integrators and government agencies.
Europe is a key market for Spacecom. During two decades of operation in the CEE region, long-term cooperations and partnerships have been developed with key players and major media groups. AMOS-2 and AMOS-3 provide satellite services to three DTH platforms in the region: T-Home SatTV (Magyar Telekom) in Hungary and Magio TV (Slovak Telekom) in Slovakia—both are subsidiaries of the Deutsche Telekom group—and Xtra-TV in the Ukraine.
In addition, Israel's Yes DTH platform also operates via AMOS-2 and AMOS-3. Over the past 18 months, cooperation has been furthered with Magyar Telekom, with new follow-on, multi-million dollar, long-term contracts to add greater bandwidth to these platforms. These DTH operators anchor Spacecom's business in Europe. With one of the strongest satellite presences in CEE, AMOS works with leaders such as HBO for its European cable and IPTV distribution needs, the Ukraine's Inter Media Group and MTV channels, among others.
The AMOS constellation beams over Europe enables the company to provide excellent, strong broadcast neighborhoods. Business plans for the future include continuing the pursuit of broadcast and emerging broadband opportunities within this crucial region. The Ukraine and the Balkan region are seen as a strong growth markets for Spacecom.
AMOS-6 is the next satellite on track for launch for European coverage. To be co-located at the 4 degrees West orbital position, AMOS-6 will be larger than AMOS-2 and AMOS-3 combined and will include Ka-band spot beams as well as Ku-band services. As a larger satellite, AMOS-6 will strengthen the AMOS brand by serving Western Europe in addition to CEE. It will also extend the brand to regions of Africa that will provide inter-connectivity between the continents. Scheduled for launch in 2015, the satellite will replace AMOS-2 when its service ends later in the decade.
AMOS-6 will be well prepared for the market with one of the most important and latest technologies to grace the satellite industry—the Ka-band spot beam. This technology will be used for broadband Internet services for the consumer market. With AMOS-6 to be located at the 4 degrees West orbital position, markets in Western, Eastern and Central Europe as well as Africa can be approached. The opportunities being raised due to Ka-band service are exciting and will bring new clients to the AMOS brand.
AMOS-4 over Asia expands our service area to reach nearly 80 percent of the global population. Customers are offered DTH, video distribution, VSAT communications, and broadband Internet services via the satellite's multiple Ku- and Ka-band transponders.
The company's pre-sales efforts went well and two long term agreements in two major markets were secured in the Chinese and South Asian regions as well as Russia. These two contracts will enable service to be delivered over a wide geographical range and will provide an excellent economic lever for Spacecom partners to offer a broad array of advanced services. New contracts will be added to fill capacity on the AMOS-4.
AMOS-5, serving Africa with connectivity to Europe and the Middle East, has also been a powerful driver for the company. Since its launch in 2012, the satellite's C- and Ku-band capacity have been meeting the needs and requirements of a large number of African and European broadcast and data service operators.
From its 17 degrees East orbital position, AMOS-5's beams supply broadcast and data services to the entire African continent, making it a prime carrier of African satellite communications traffic in broadcast and data services. Spacecom clients in this region include Vodaphone, Orange Business Services, Infrasat, France 24, African government agencies, and many others.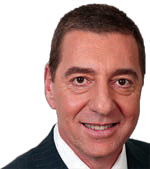 About the author
Jacob Keret brings to his position more than 20 years of global business and management experience in the aerospace and telecommunications arena. Jacob served for six years as vice president of marketing and sales at Starling Advanced Communications, an innovator in satellite communication systems. Prior to that, Jacob co-founded Spacecom Satellite Communication Services, a service provider for AMOS satellites. In his role as vice president of marketing and sales at Spacecom, he led a team that generated several dozen million U.S. dollars in sales within a few years, and helped build the company into a leader in several European markets. During his nine years of service at Spacecom, Jacob was personally responsible for the successful AMOS 1, 2 and 3 satellite project businesses. Previously, he held the position of marketing manager in the MBT Division, Space Directorate of Israel Aircraft Industries (IAI).