Inmarsat + Arianespace—Alphasat Away
Alphasat, designated I-4A F4 by Inmarsat was launched on an Ariane 5 ECA, which is the latest version of the Ariane 5 launchers. Alphasat is Europe's largest ever launch telecommunications satellite.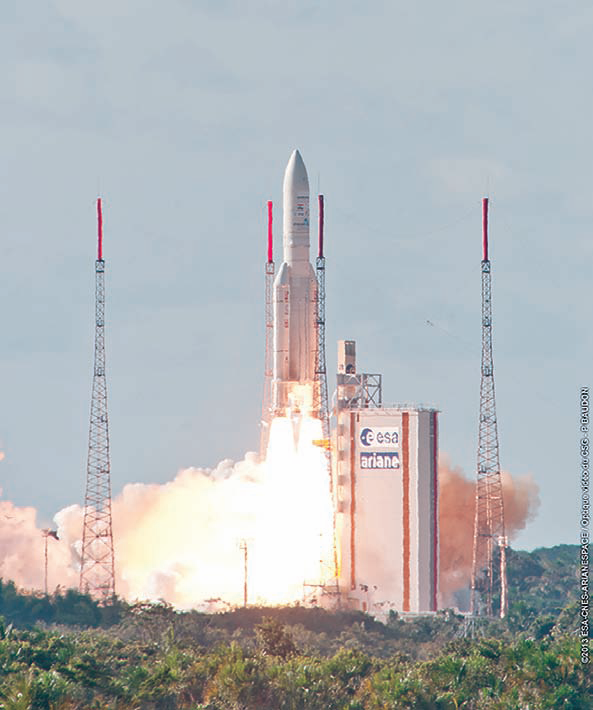 The launch occurred from the Guiana Space Centre in Kourou, French Guiana, at 8:54 p.m. BST on July 25th. Arianespace confirmed a successful spacecraft separation at 27 minutes 45 seconds after launch and the Alphasat Mission Operations Team confirmed telemetry reception and that they had command of the satellite at 9:47 p.m. BST.
Inmarsat is the owner and operator of Alphasat, one of the most technically advanced telecommunications satellites ever constructed for civilian applications. With a US$350 million investment from Inmarsat, Alphasat complements the company's award-winning L-band satellite fleet, which has been powering global broadband connectivity for government and commercialcustomers on land, sea and in the air since 2009.
With the successful acquisition of the satellite confirmed, the Alphasat Mission Operations Team will complete partial solar array deployment overnight and commence orbit-raising on Friday night, to place the satellite into its final geostationary orbit position. This operation is scheduled to be completed onthe morning of July 31st.
Rupert Pearce, CEO of Inmarsat, said, "Alphasat will strengthen our existingI-4 series satellite constellation, providing coverage over Europe, the Middle East and Africa. The launch demonstrates Inmarsat's long-term commitment to L-band services, and marks a significant milestone in the evolution of Inmarsat's flagship satellite fleet, bringing new capabilities both in terms of performance and resource availability.
Designed and manufactured by Astrium, Alphasat is the largest and most sophisticated European telecommunications satellite ever built. It is part of the European Space Agency (ESA) initiative to provide a new spacecraft platform(Alphabus) capable of carrying a large state-of-art communications payload. Developed by Astrium and Thales Alenia Space under a joint ESA and CNES contract, Alphabus allows the European space hardware manufacturingindustry to address the top end of the telecom satellite market. It is also a showcase of Astrium's capability in the areas of satellite mobile payloads and on-board digital signal processing, particularly in the UK.

Alphasat is an example of partnership with industry (Public-Private-Partnership) with the European Space Agency teaming up with Inmarsat to create new servicesand jobs. It is the largest Public-Private-Partnership space project in Europe.
* * * * * * * * *
SSL + Eutelsat—Bringing The 1300 Platform Into Play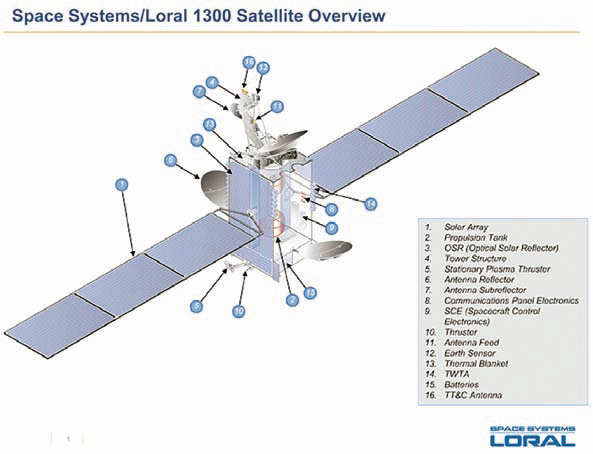 Space Systems/Loral (SSL) has been selected to provide a multimission satellite to Eutelsat, one of the world's leading satellite operators.
Leveraging SSL's long-term experience with high throughput payloads and satellites that serve multiple missions, the satellite will open new markets for Eutelsat for broadcast and broadband services in Brazil and across Latin America.
"Both Eutelsat and SSL have a mission to broaden the world's ability to communicate through satellite," said John Celli, president of SSL. "This is a complex, flexible and powerful satellite that we are providing to Eutelsat, and we are very glad to have the opportunity to work together."
The satellite, to be known as EUTELSAT 65 West A, will provide approximately 16kW of power at end of life. It will be equipped with 10 C- and 24 Ku-band transponders for video services in addition to 24 Ka-band spot beams for broadband connectivity in key regions. It will be located at 65 degrees West. EUTELSAT 65 West A is based on the highly reliable SSL 1300 satellite platform that provides the flexibility for a broad range of applications and technology advances.
Scheduled for launch in early 2016, the satellite is designed to deliver service for 15 years or more.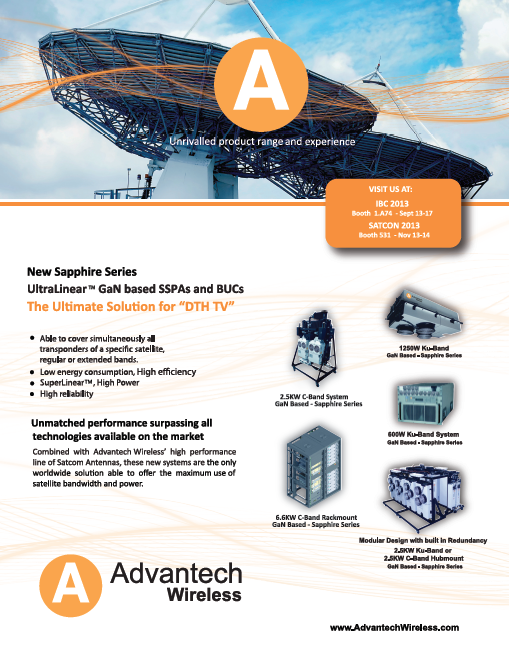 * * * * * * * * *
e2v + Astrium—A Spatial Sentinel
e2v has signed a contract worth 2.8 million euros with Astrium to supplyimaging sensors to equip the European Space Agency's (ESA) Sentinel 4 Ultraviolet Visible Near-infrared (UVN) instrument, which will gather data on the quality of the Earth's atmosphere and its chemical composition from geostationary orbit.
Sentinel 4 is part of the Global Monitoring for Environment and Security (GMES) initiative, which is a joint undertaking of the European Commission and the European Space Agency. It will deliver environmental and security services in Europe, in response to the ever-increasing demands for effective environmental policies. ESA is responsible for the Space component of GMES, of which the five families of Sentinel missions are key components. Within this program, Sentinel 4 will be carried into orbit onboard the Meteosat Third Generation (MTG) geostationary satellite and enable seamless observations of Europe and North Africa to be taken hourly.
e2v's space qualified, custom Charge Coupled Device (CCDs) image sensors will be produced using cutting edge technologies, including back illumination, which delivers the best Quantum Efficiency (QE) and Modulation Transfer Function (MTF) over the wavelength range of interest for this hyperspectral imaging system. The sensors are mounted in an e2v designed package assembly which manages the electrical, thermal, mechanical and optical interfaces to the instrument. The contract is carried out with funding from the European Union.
* * * * * * * * *
SES—SES-6 Satellite Is On Track + On Task
SES S.A. has announced that the SE6 satellite has successfully completed its extensive in-orbit testing and is fully operational and in commercial service at the orbital position of 40.5 degrees West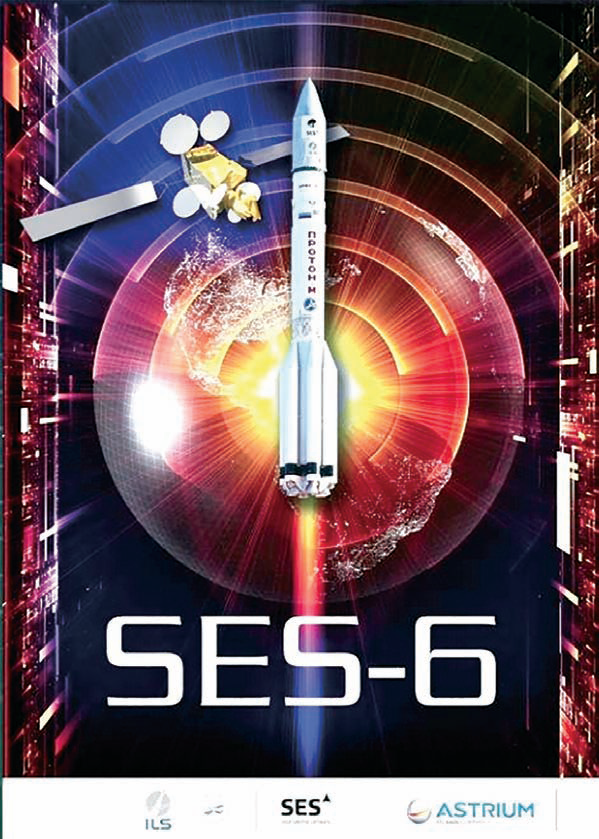 The 53rd SES satellite was successfully launched on board an ILS Proton booster from Baikonur, Kazakhstan, on June 4, 2013. SES-6 was built by EADS Astrium in Toulouse, France, and is based on the highly reliable Eurostar E3000 platform.
The satellite is equipped with 43 C-band and 48 Ku-band transponders. SES-6 had a launch mass of 6,100kg., features a wingspan of 40m with its solar arrays deployed, and is designed for 13kW of spacecraft power at the end of its 15 year design lifetime. The satellite offers comprehensive coverage of North America, Latin America, Europe and the Atlantic Ocean.
SES-6 replaces SES' NSS-806 satellite at the prime orbital position of 40.5 degrees West, providing continuity of service and expansion capacity in the C-band for video neighborhoods in Latin America and the Caribbean
The largest Ku-band customer on SES-6 is the Brazilian telecommunication group, Oi. As a new anchor customer, Oi signed a significant long-term capacity agreement to provide Direct-to-Home (DTH) services within Brazil.
* * * * * * * * *
NASA—The Magnificent Magnetometer
The GOES-R Magnetometer Engineering Development Unit has recently completed an important development in the construction of the spacecraft, after a successful boom deployment test at an ATK facility in Goleta, California.
The Geostationary Operational Environmental Satellite-R Series advanced spacecraft and instrument technology will result in more timely and accurate weather forecasts. The satellite will improve support for the detection and observations of meteorological phenomena and directly affect public safety, protection of property, and ultimately, economic health and development.
The magnetometer boom will deploy after the GOES-R spacecraft launches, separates from its launch vehicle and undergoes a series of orbit-raising maneuvers. The magnetometer will provide measurements of the space environment magnetic field, which controls charged particle dynamics in the outer region of the magnetosphere. These particles pose a threat to spacecraft and human spaceflight.
GOES-R will be more advanced than NOAA's current GOES fleet. The satellites are expected to more than double the clarity of today's GOES imagery and provide more atmospheric observations than current capabilities with more frequent images.
* * * * * * * * *
Investigate IBC2013
With most of the world's leading media technology brands—executives from Amazon to ZDF—an attendee's appointments at IBC should be highly productive as well as lots of fun. If you're going to attend this important event, take note of the hardcore technology debates, influential speakers and surprising exclusives.

Whether your interest is in content distribution, second screen monetization, or next generation audio, the IBC Exhibition and Conference (IBC) contains just about everyone and everything you need to know that will impact the electronic media industry. With only a few days remaining until the doors open, here are a few of the activities that will be taking place at IBC2013.
Tomorrow's World Displayed In The Future Zone
Witness augmented reality broadcasting; test drive the next generation surround sound home audio; see pictures you have never seen before in advanced, high dynamic range; explore targeted advertising made possible via facial recognition. All of this and more ground breaking R+D that may well drive the industry is available to experience in the Future Zone: http://www.ibc.org/page.cfm/link=628
Sixes and Sevens Over Ones + Zeros
Juggling recording formats? Consider data management a risk? Confused about archive needs? Visit IBC Workflow Solutions: http://www.ibc.org/page.cfm/link=504 in Hall 9 to explore how IT conundrums can be solved with no-nonsense advice and information about file-based planning and implementation from the experts, including case study sessions from Cinergy, Sony Media Cloud Services and Quantel.
The Competition Is Getting Hot
A 100 m.p.h. view of a cricket ball bowled at you; the live 70-day Olympic Torch Relay delivered over IP and cellular networks; a scripting and scheduling tool for soaps; and the high frame rate action of The Hobbit all compete for a coveted IBC Innovation Award: http://www.ibc.org/page.cfm/link=722 in the Content Creation category. All of the winners for the IBC Awards will be announced on Sunday, September 15th, starting at 6:30 p.m.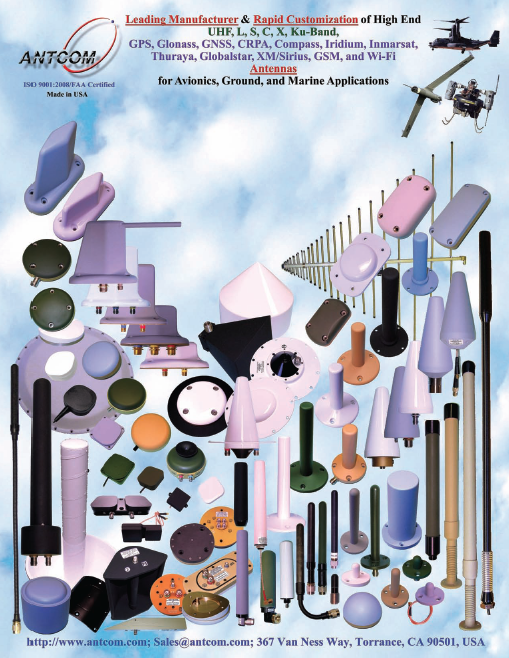 Where's The Money?
The second screen promises to change the way content is delivered on the main TV screen. However, arguably, there has been no breakthrough application to date. Zeebox, CEO, Anthony Rose, promises to show delegates the money in "Where is the Value in Second Screen Content?" on Friday September 13th, at 3:30 p.m. This is one of the thought,= provoking sessions related to the IBC2013 Conference theme—"Create a More Engaging Entertainment Experience." Download the conference program and start planning for action: http://www.ibc.org/files/ibc1219_conference_brochure_v5.pdf.
Inspirational Conference Headliners
Exchange candid opinion, obtain key advice and build knowledge with more than 300 inspirational speakers at the IBC Conference that include Bob Harris, CTO, Channel 4; Andy Brown, Chairman, Kantar Media; and Rajesh Kamat, CEO, CA Media. Access any five sessions of your choice, including the IBC Keynotes, when you purchase a Bronze Pass: http://www.ibc.org/page.cfm/link=478 on all conference passes.
Meet Friends, Network + Influence Making
In addition to presentations, demonstrations and seminars, IBC will host a plethora of places to meet with those engaging in business meetings. Networking is at its most social at the Beach, or, the IBC Pub, or more focused at the IBC Feature Areas throughout the 14 halls of the exhibition. Or, attend dedicated events within the conference. There's free registration for the IBC Exhibition at: http://www.ibc.org/page.cfm/link=478.
* * * * * * * * *
NOAA—Pushing The Teraflops
Whizzing through 213 trillion calculations per second, newly upgraded supercomputers of NOAA's National Weather Service are now more than twice as fast in processing sophisticated computer models to provide more accurate forecasts further out in time.
As the hurricane season ramps up, forecasters will be armed with an enhanced hurricane model that will improve track and intensity forecasts. The scientific data and insights that these newly upgraded supercomputers will provide are essential to help government officials, communities, and businesses better understand and manage the risks associated with extreme weather and water events.
In support of the nation's Climate Action Plan, steps by the government will be taken such as this to analyze and predict climate variability amid an increasing number of extreme natural events affecting the nation.
"These improvements are just the beginning and build on our previous success. They lay the foundation for further computing enhancements and more accurate forecast models that are within reach," said Louis W. Uccellini, Ph.D., director of NOAA's National Weather Service. "These upgrades are a game-changer for the entire public and private weather industry. In addition to the benefits to our own forecasters and products, we will provide our private sector partners with better information to empower them to enhance their services."
Nicknamed "Tide," the supercomputer in Reston, Virginia, and its Orlando-based backup named "Gyre," are operating with 213 teraflops (TF)—up from the 90 TF with the computers that preceded them. This higher processing power allows the National Weather Service to implement an enhanced Hurricane Weather Research and Forecasting (HWRF) model.
"These forecasting advances can save lives," said U.S. Sen. Bill Nelson, who helped get funding to add even more capacity to the supercomputer. "It's going to allow for better tracking of life-threatening storms and more accurately predict when and where they'll hit, and with what intensity."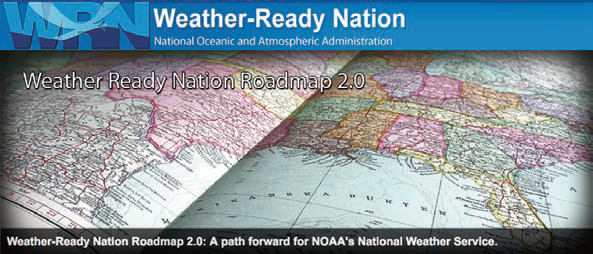 With improved physics and a storm-tracking algorithm, the model has displayed up to a 15 percent improvement in both track and intensity forecasts, compared to last year's version of the model.
The upgraded HWRF is also capable of processing real-time data collected from the inner core of a tropical system by the tail Doppler radar attached to NOAA's P3 hurricane hunter aircraft, data which are expected to produce even greater forecast improvements.
"Next comes the quantum leap," added Uccellini. Following this round of long-planned upgrades, funding requested in the FY 2014 President's Budget, in addition to funding provided to NOAA by Congress in the spring of 2013 as part of the Hurricane Sandy emergency supplemental appropriations bill, would increase computing power even further to 1,950 TF by summer 2015.
"That gives us the necessary computer power to run an enhanced version of our primary forecast model, the Global Forecast System," said Uccellini.
"Given recent events like the tornado in Moore, Oklahoma or Superstorm Sandy, federal weather resources and personnel should be considered vital national assets. These upgrades assure world-class capabilities and a continued pathway to keep American lives and property safer," said J. Marshall Shepherd Ph.D., president of the American Meteorological Society and Professor at the University of Georgia. "As a father of two children and a scientist that understands looming weather threats, I take comfort in these developments."
Investments in supercomputing power for weather prediction are another step in NOAA's efforts to build a Weather-Ready Nation. NOAA's Weather-Ready Nation initiative, launched nearly two-years ago, has resulted in improvements in products, services and the way information is communicated to the public and partners. These improvements increase resilience to severe weather and reduce the potential of significant societal and economic impacts from severe weather. A Weather-Ready Nation is a society that is prepared for, and responds effectively to, weather-related events.
* * * * * * * * *
HITS®—A Quantum Move
HITS®, a division of Comcast Wholesale, has announced plans to further expand the new HITS Q2™ MPEG-2 satellite-based content distribution platform.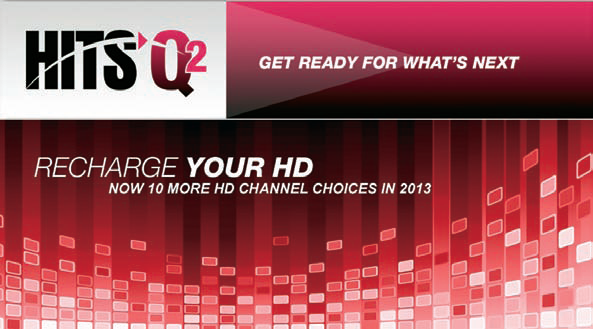 The advanced encoding technology available on the newly upgraded platform delivers more channels using the same bandwidth.
The upgraded technology allows HITS to add 10 new HD channels and three new SD channels to its HITS Quantum SD/HD lineup. This brings the total number of HD channels on HITS Quantum to 34, a 42 percent increase in the number of HD networks available to cable operators.
Ten new HD channels will be added to the expanded HITS Quantum HD lineup in the third quarter of 2013, including Bio HD, Bravo HD, CNBC HD+, DIY Network HD, E! HD, Hub HD, Investigation Discovery HD, MSNBC HD, Nat Geo Wild HD and OWN HD.
"The advanced video compression technology used on the upgraded HITS Quantum platform allows cable operators to offer more HD channels using significantly less bandwidth, without compromising the viewing experience," said Leslie Russell, Vice President and General Manager for HITS.
In addition to the new HD services, HITS announced the launch of three new SD services including Fuel TV, Nick2 and MSG National as part of the recent "Q2" upgrade. Launched in April, the upgrade uses 256 QAM DVB-S2 technology on 75 percent of the HITS multiplexes. By freeing up as much as 25 percent of local bandwidth using existing MPEG-2 architecture, the upgrade enables cable operators to add more SD and HD signals using fewer satellite receivers and their existing customer premise equipment (CPE).
* * * * * * * * *
Rockwell Collins + ARINC—Acquisition In The Works
ARINC Incorporated has entered into a definitive agreement to be purchased by Cedar Rapids, Iowa-based Rockwell Collins, Inc. (NYSE: COL) for $1.39 billion.
The sale is expected to close later this year, subject to customary regulatory closing conditions. Founded in 1929 as a communications provider for airlines during the emergence of commercial air travel in the United States, ARINC has evolved into a leading provider of engineering solutions in the aerospace, aviation, airports, government, networks, security, transportation industries and public safety with products and services in over 150 countries worldwide. The company is headquartered in Annapolis, Maryland with regional headquarters in London and Singapore.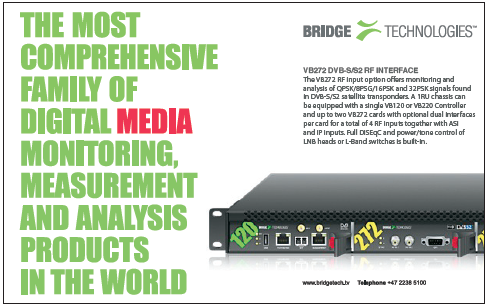 "Rockwell Collins shares a culture of engineering excellence, strong client relationships and a focus on customer service that mirrors ARINC's own." said John Belcher, ARINC Chairman and Chief Executive Officer. "We believe this transaction will benefit both company's customer bases by bringing new and innovative solutions to the market."
"ARINC is an excellent strategic fit that builds on Rockwell Collins industry leading avionics and cabin technologies," said Kelly Ortberg, Rockwell Collins Chief Executive Officer and President. "The acquisition will allow the company to combine our in-flight systems with ARINC's extensive air-to-ground communications services to take advantage of the growing demand for aviation information management solutions. ARINC also provides communication and information processing for the rail, industrial security and public safety industries, enabling us to diversify and complement our aviation technology business."
ARINC Incorporated, a portfolio company of The Carlyle Group, provides communications, engineering and integration solutions for commercial and government customers worldwide. Headquartered in Annapolis, Maryland with regional headquarters in London and Singapore, ARINC is ISO 9001:2008 and AS9100:2009 Rev C certified.
Rockwell Collins is a pioneer in the development and deployment of innovative communication and aviation electronic solutions for both commercial and government applications. Their expertise in flight deck avionics, cabin electronics, mission communications, information management, and simulation and training is delivered by 19,000 employees, and a global service and support network that crosses 27 countries.
Just prior to the acquisition notice from ARINC regarding the Rockwell Collins purchase, the company announced that its long-term customer, South African
* * * * * * * * *
ARINC + Air Canda—rouge Strategy Inclusion
ARINC, with recent news of their acquisition by Rockwell Collins (see above), has also announced that Air Canada rouge has selected them to provide it the full suite of GLOBALink(sm) Services to meet its air/ground communications needs worldwide.

Launched July 1, 2013, Air Canada rouge is North America's newest leisure group airline and a key part of Air Canada's growth strategy. While adapting several new business practices, Air Canada rouge is also relying on use of proven services and systems that have been successfully implemented by Air Canada, such as ARINC's GLOBALink air/ground voice and data services. Air Canada rouge will be using ARINC's GLOBALink/VHF, HF and Iridium data link services to provide continuous data communications between the flight crew and the various on-ground support organizations such as dispatch and maintenance. While ARINC's data link services will be Air Canada rouge's primary communications option, ARINC's GLOBALink voice services will provide continuous enroute voice operational control capability throughout the route structure.
"Air Canada rouge's success depends upon the team work of our employees and the support of trusted partners like ARINC," said Al Read, Vice President Operations for Air Canada rouge. "Our implementation with ARINC was very smooth and well executed, contributing to a highly successful launch of operations. ARINC's GLOBALink voice and data services provide us with fast, comprehensive and reliable operational command and control capability which translates into enhanced service and operational efficiency for us and our customers. We are pleased to be using ARINC as our communication platform of choice."
* * * * * * * * *
ARINC + South African Airways—Five Years' Flying Partnership
Airways, had signed a five year exclusive data link contract for ARINC's GLOBALink ACARS Services.

This new agreement configures ARINC for all VHF, HF and Satellite ACARS traffic. ARINC also provides cabin connectivity on South African Airways long haul flights. South African Airways cited ARINC's superior service and technical support coupled with good commercials for the renewal.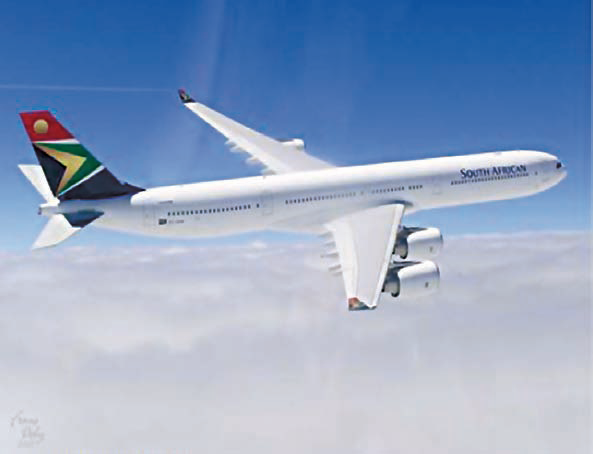 ARINC's exclusive ACARS data link services provide airlines with faster, comprehensive and more reliable operational messaging. Carriers using ARINC ACARS data link benefit from greater efficiency and on-time performance by eliminating the errors associated with voice communications. ARINC's ACARS data link services are built on an integrated worldwide network of VHF and HF ground stations, along with Inmarsat and Iridium satellite networks, to provide seamless data communications to aircraft anywhere in the world.
South African Airways will use ARINC's HFDL (High Frequency Data Link) service for cost-effective global coverage across oceans, continents and Polar Regions while seamlessly interfacing with VHF and SATCOM communications.
* * * * * * * * *
International Launch Services—Pysher To V.P.
International Launch Services (ILS) has appointed Kirk Pysher as vice president of mission assurance and product development.
Pysher will bolster ILS' focus on performance with responsibility for the overall quality review and monitoring of the Proton Quality Management System (QMS), oversight of Proton production processes and procedures, and regular reporting to industry customers and insurers on quality improvements performed by Khrunichev State Research and Production Space Center (Khrunichev). Pysher will report directly to the ILS President, Phil Slack. Pysher will also be responsible for overseeing ILS product development activities at Khrunichev, ILS' majority owner and manufacturer of the Proton launch vehicle, to include performance upgrades and new capabilities that align with customers' future requirements.

Pysher brings to ILS more than 20 years of experience serving the commercial launch industry, most recently as chief operating officer at Energia Logistics US, where he was responsible for all aspects of engineering and operations for the Sea Launch program. Prior to that post, he was the vice president and chief systems engineer for Boeing-Sea Launch. Pysher received a Masters and Bachelor of Science Degree in Civil Engineering from Penn State University and obtained a Lean Six Sigma Green Belt Certificate from Purdue University.
"Kirk is an excellent addition to our team and is a well-respected leader in the commercial launch services market. His extensive experience in launch services and international partnerships will serve our customers and the insurance community very well," said ILS President, Phil Slack.
* * * * * * * * *
DISH Puerto Rico + Claro—Hopper'ing To It
DISH Puerto Rico and Claro have introduced a bundled offer to consumers, delivering Puerto Ricans the best payTV, broadband and voice experience at the best value.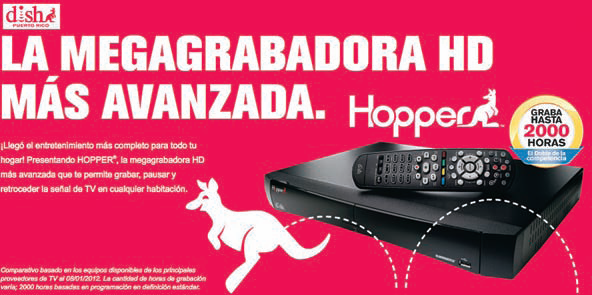 Bundled offers are now on sale in all Claro stores, Customer Service Centers and participating DISH retailers, supported by a multi-faceted marketing campaign that delivers on the alliance the powerhouses announced earlier this month.
"DISH continues to grow in Puerto Rico and it was natural to partner with the market leader to offer bundled services. This will enhance our expansion plan in the Island giving us a broader presence in more than 150 retail locations," said Joseph P. Clayton, DISH president and CEO. "We have an advantage over our competitors; DISH is the only provider to offer more than 100 channels in High Definition (HD), and the only one with the Hopper technology. With Claro, we have a superior offer over cable, which we are confident, will be appreciated by consumers."
"This alliance allows us to continue bringing Internet to more homes in Puerto Rico, together with DISH, the leader in payTV. It is an alliance between leaders that bring to market the most robust service offerings all on the same bill. With this, Claro is reaffirmed as the largest telecommunications and entertainment company, with the most coverage in all Puerto Rico," said Enrique Ortiz de Montellano, Claro president and CEO.
All bundle packages include a dedicated Internet with speed up to 50 mega, free modem Wi-Fi, access to hundreds Claro Wi-Fi hotspots on the Island and limitless telephony in all of Puerto Rico.

Bundle customers will have the choice to receive DISH's award-winning Hopper Whole-Home HD DVR with qualified packages. Introduced in Puerto Rico last October, Hopper allows DISH customers to record, pause and playback live programming and to continue watching the program paused from any TV in the home.
Customers will be able to access their live TV and DVR television recordings over the Internet on mobile devices like their laptop, tablet or smartphone. It includes features like AutoHop™, PrimeTime Anytime™ and a recording capability of up to 500 hours of high-definition or 2,000 hours of standard definition television.
All packages also include HD free for life, Blockbuster@Home free for 3 months and four free premium movie channels—HBO, Cinemax, Showtime and Starz—for three months.
These DISH bundle services will be available at more than 150 locations in Puerto Rico including all Claro stores, Customer Service Centers and participating DISH retail locations, and soon through authorized Claro retailers.
Through the partnership, customers will be able to add their DISH service to their Claro invoice and take advantage of Claro's convenient methods of payments for their TV and telecommunications needs. These include payment in stores and in Claro's Customer Service Centers, over the Internet, eBill, by phone and through ATM machines.
"We are very excited to continue working with South African Airways," said Alexis i, Senior Director, Aviation Solutions, at ARINC EMEA. "We believe this renewal demonstrates the value ARINC provides our customers and positions us well for future growth in Africa."
* * * * * * * * *
Es'hailSat + Arabsat—The Tie That SatBroadcasts

Es'hailSat, the Qatar Satellite Company, and Arabsat have signed a strategic partnership agreement to promote closer co-operation between the two companies and strengthen the reach and penetration of the 26 degrees East hot spot neighborhood for TV broadcasting.
Under the terms of the agreement, Es'hailSat will acquire the rights to 500MHz of premium Ku-band bandwidth at the 26.0 East TV broadcasting hot-spot. Es'hailSat's second satellite, Es'hail 2, will use these frequencies and will be designed to provide DTH and other telecommunications services from the 26 degrees East hot spot.
This will significantly increase Es'hailSat's capacity at the 25.5 / 26.0 East TV broadcasting hot-spot, and will strengthen Es'hailSat's in-orbit back-up capability when both Es'hail 1 and Es'hail 2 are operational. Furthermore, the arrangement between Es'hailSat and ARABSAT will pave the way for enhanced operational flexibility and mutual in-orbit back-up between the two satellite fleets.
The agreement was signed in Doha by Mr. Ali Al Kuwari, Es'hailSat's CEO and Mr. Khalid Balkheyour, President + CEO of ARABSAT in the presence of HE Dr. Hessa Al Jaber, Minister of Information + Communication Technology (Qatar) and Fareed Khashoggi Chairman of the Board of Directors of ARABSAT.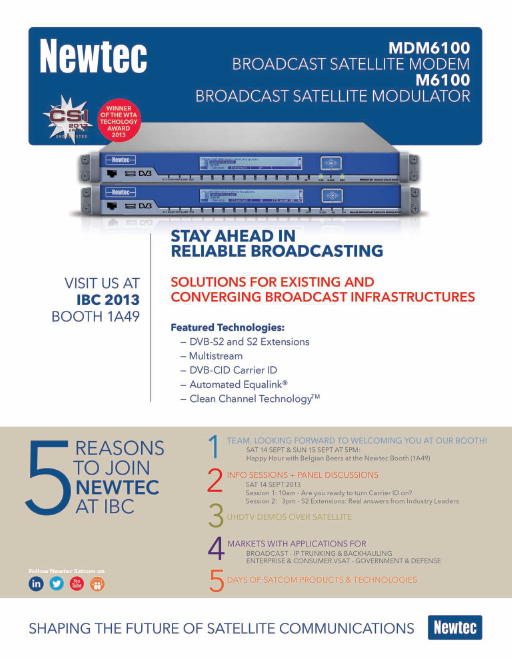 Commenting on the agreement, Es'hailSat CEO, Ali Ahmed Al Kuwari, said: "We are delighted to be able to work with ARABSAT on the development of the 26 degrees East prime TV broadcasting hot-spot. With our first satellite – Es'hail 1—scheduled for launch on August 29th, 2013, and our plans for Es'hail 2 now confirmed, we are moving closer to providing the necessary capacity to enable our customers to substantially increase their communications capability, particularly in broadcasting in HD and 3D".
Khalid Balkheyour , ARABSAT President + CEO Said " we are very pleased with this strategic long-term partnership with Es'hailSat which will strengthen ARABSAT hot spot 26 degrees east and will provide a strong boost for Es'hailSat. This partnership will provide our customers and viewers with more alternatives and variety of contents that will be beneficial for both operators and will make 26 degrees East the premium hot spot of the region. We wish Es'hailSat success in launching Es'hail 1 at the end of this month, and all the success and prosperity in launching and operating more satellites."
Es'hailSat, the Qatar Satellite Company, was established in 2010. Based in Doha, Qatar, the company will own and operate satellites to serve broadcasters, businesses and governments.
Es'hailSat contracted with Space Systems/Loral to build its first satellite called Es'hail 1 which will provide television, voice, Internet, corporate and government services across the Middle East and North Africa region and beyond.
Founded in 1976, ARABSAT has been serving the growing needs of the Arab world for over 30 years. Now one of the world's top satellite operators and by far, the leading satellite services provider in the Arab world, it carries more than 4,50 TV channels, 160 radio stations, three payTV networks and wide variety of HD channels reaching tens of millions of homes in more than 80 countries across the Middle East, Africa, Europe—and around the world—including an audience of more than 170 million viewers in the Middle East and North Africa (MENA) region alone tuned into Arabsat's video "hotspot" at 26 degrees East.
* * * * * * * * *
PCI Geomatics—SAR Learning Path
The company has now made available its Synthetic Aperture Radar (SAR) image analysis in Geomatica online training sessions.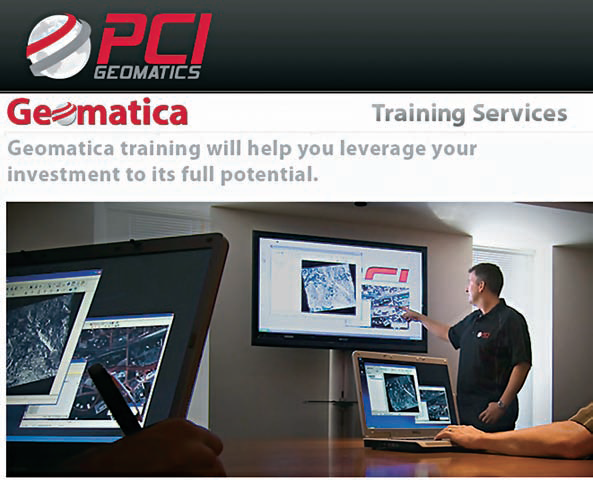 Participants in the course will explore data-processing techniques in Focus, a module of Geomatica. The course will take participants through basic techniques in ingesting, calibrating, and displaying SAR data. The course will also cover more advanced techniques, such as applying radiometric enhancements, processing detected data (single or dual polarization), performing unsupervised coherent and incoherent polarimetric decomposition, analyzing polarimetric discriminators, and performing coherent change detection with polarimetric data.
The first session of this online course is being delivered in support of The Esri and PCI Natural Resources Imagery Grant Program. Program participants will be developing projects that increase efficiency, productivity, and accuracy in the use of SAR and optical imagery for detecting and analyzing land-cover change.
"There is strong interest in using SAR data in GIS workflows," said Punarvasu Pillalamarri, Product Manager at PCI Geomatics. "This advanced course exploring data preparation, processing, and analysis techniques for working with SAR data is an excellent opportunity for GIS professionals to use SAR imagery in new ways.
"SAR imagery provides a unique layer of information that is captured from active sensors, such as RADARSAT-2, TerraSAR-X, and other commercial space-borne SAR sensors," said John Wessels, Senior SAR Scientist at PCI Geomatics. "New sources of SAR imagery are becoming available over the coming years, and PCI continues to lead the way in developing sensor-agnostic, powerful tools to extract information from SAR imagery," he added.
This course also covers the SAR Polarimetry Target Analysis (SPTA) tool. Participants will use the tool to define a series of targets and perform an in-depth analysis of their polarimetric properties. They will learn how to generate and analyze numerical and graphical outputs, including customized histogram and polarimetric response plots.
The SAR Image Analysis in Geomatica training program is the latest in a series of instructor-led online training programs delivered by PCI Geomatics throughout the year. For a complete listing of course descriptions, dates, and times, visit http://www.pcigeomatics.com/training.
* * * * * * * * *
MEASAT Satellite Systems—Mathur To Senior Director
MEASAT Satellite Systems Sdn. Bhd. ("MEASAT") has promoted Vishal Mathur from Director (South Asia) to Senior Director, Sales and Marketing.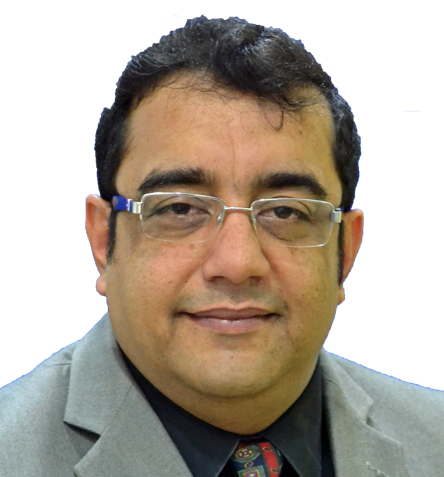 In his new role, Vishal will be responsible to build the MEASAT's customer base with a focus in the broadcasting and DTH customer segments.
Vishal joined MEASAT in 2006. During his seven (7) years with MEASAT, Vishal has been instrumental in expanding the company's position across South Asia.
Prior to joining MEASAT, Vishal has also served as Assistant Vice-President at Zee Telefilms, International division, ESPN Star Sports and Ten Sports channels handling the Affiliate sales business in India.
Vishal holds a Bachelor of Commerce and a post graduate diploma in Business Management from the University of Rajasthan, Jaipur.
* * * * * * * * *
Harris + FAA—Taking It Digital
Harris Corporation (NYSE:HRS) has received authorization from the Federal Aviation Administration to begin work on the seven-year, $150 million Data Communications Network Services (DCNS) element of its Data Communications Integrated Services (DCIS) program.

DCNS will help to transition U.S. air traffic control from primarily analog voice communications to digital data connectivity—significantly increasing the efficiency and safety of the nation's air traffic control system. Under DCNS, Harris will provide the terrestrial circuits and very high frequency data links that connect ground-based air traffic controllers and airborne flight crews. This will enable air traffic controllers and pilots to communicate more effectively by supplementing traditional voice communications with data to enhance departure clearances, weather route, and other air traffic procedures. These enhanced procedures will save fuel, reduce flight times, and increase air traffic capacity.
Harris DCNS partners include ARINC, SITA, and Thales. The DCNS tasks will be performed under the $331 million Data Communications Integrated Services contract, which was awarded to Harris in September 2012. Under that contract, the company is helping the FAA to integrate its end-to-end data communications system.
* * * * * * * * *
Blue Sky Network—A Heli Of A Good Job
This Company has the capability to provide lifesaving coverage.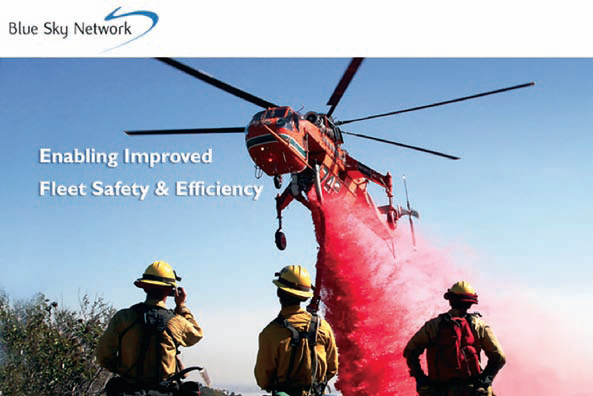 Blue Sky Network, a leading supplier of satellite tracking and communication solutions for aviation, land and marine use, today announced that its New SkyRouter cloud-based web portal and its D1000 Series has been selected by Erickson Air-Crane Incorporated (NASDAQ: EAC).
New SkyRouter provides comprehensive satellite tracking, and when used in combination with Blue Sky Network's leading D1000 Automated Flight Following (AFF) compliant tracking hardware, it provides Erickson assets with near real-time data while on location, and enhanced situational awareness and fire retardant usage. With Blue Sky Network, Erickson is benefiting from increased efficiency, safety, and two-way communication around the world.
"Blue Sky Network's satellite tracking solution enables crucial communication with our pilots and aircraft in remote areas. Communication is constant and uninterrupted, an essential feature during firefighting operations," said Erickson Marketing Communications Manager Brian Carlson. "We selected Blue Sky Network because they provide superior reliability and coverage for our fleets, and enable us to differentiate our operations during critical missions such as aerial firefighting."
Erickson has become a leading, and rapidly growing, global provider of aviation services to a diverse mix of end markets, including firefighting. The company acquired Evergreen Helicopters, Inc., a diversified global provider of cargo and personnel air transport services to government and commercial customers. By leveraging tools like Blue Sky Network's New Sky Router and D1000 Series tracking hardware, the company benefits from features like satellite tracking and M2M communication to help ensure fires are extinguished efficiently. Erickson has deployed aerial firefighting resources worldwide in areas like Australia, Italy, Greece, and the southwestern United States.
To support Erickson, Blue Sky Network's D1000 Series contains a RS232 port that enables the collection of intelligent asset data, such as the amount of fire retardant being dropped on fires, from external sensors. When paired with the ACH1000, the D1000 Series provides the ability to make voice calls and the benefit of two-way messaging between aircraft and command centers. With New Sky Router, the D1000 Series allows fleet managers to maintain, view and communicate with multiple assets simultaneously on a single map from a centralized command center.
"We maintain a strong commit to the aviation industry and continue to enhance our offerings in cockpit with M2M asset intelligence," said Jon Gilbert, CEO and founder of Blue Sky Network. "Our longstanding relationship with Erickson and the continued incorporation of our solutions into their fleets is a testament to industry adoption of compelling features that enhance fleet operations and our ability to support critical missions like aerial firefighting."
* * * * * * * * *
India—A Leak Is A Game Changer
India's efforts to power Geosynchronous Satellite Launch Vehicle using an indigenous cryogenic engine continue to be jinxed. The Indian Space Research Organisation (ISRO) called off the launch of GSLV-D5 recently after scientists detected a leak in the second stage liquid propellant tank of the Polar Satellite Launch Vehicle (PSLV) launch vehicle.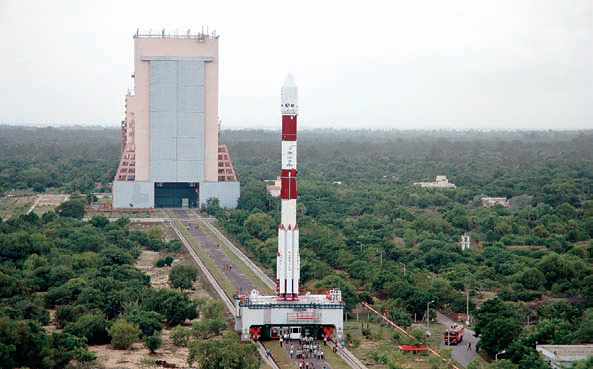 The mood at the Satish Dhawan Space Centre at Sriharikota changed from anticipation to disappointment within minutes. The mission was called off an hour and 14 minutes before the designated lift-off at 4:50 p.m. GSLV-D5, powered by an indigenous cryogenic engine, was to launch the Indian telecommunication satellite GSAT-14.
"...we detected a leak in the fuel system of the second stage of the vehicle. We are calling off the launch," Isro chairman K. Radhakrishnan said.
He told reporters that scientists were draining nitrogen tetroxide fuel from the second stage remotely as it was unsafe to go near the launch pad. Scientists will also drain out highly combustible liquid hydrogen and liquid oxygen from the cryogenic engine. "We need to look at what went wrong and what action needs to be taken before further preparations for the launch," Radhakrishnan said.
Asked if the leak posed a threat to the vehicle while it was at the launch pad, a scientist said it would be assessed only after studying the vehicle further. The rocket will be taken to the vehicle assembly building where a close inspection will be carried out to ascertain the damage.
The GSLV-D5 launch is crucial as it would demonstrate the country's ability to develop and use cryogenic engines that are inevitable for the launch of big telecommunication satellites and Isro's ambitious projects, including manned missions. PSLVs, which India has mastered, can only carry satellites weighing less than 1,500kg.
* * * * * * * * *
Aerojet Rocketdyne—First Of Four Ship
Aerojet Rocketdyne, a GenCorp company, announced that it has shipped the first set of four Solar Electric Propulsion (SEP) thrusters for the Geostationary Operational Environmental Satellite-R Series (GOES-R).

Aerojet Rocketdyne shipped the first set of four solar electric propulsion thrusters to Lockheed Martin at NASA's Stennis Space Center. Lockheed Martin will integrate the Aerojet Rocketdyne SEP thrusters and associated power conditioning units and electrical cabling with the GOES-R spacecraft. It will then be shipped to Lockheed Martin's facility near Denver Colorado where it will undergo final integration and testing.
The completed satellite will ultimately be shipped to Cape Canaveral Air Force Station in Florida to support a planned late 2015 or early 2016 launch on an Atlas V 541 expendable launch vehicle.
"Aerojet Rocketdyne pioneered the use of SEP on commercial, NASA and DoD satellites, and we are excited to now extend these mission cost savings advantages to NASA, NOAA and the GOES series of weather satellites," said Warren M. Boley, Jr., Aerojet Rocketdyne president. "I'd like to congratulate our Redmond, Washington team for their dedication to mission success supplying high quality SEP flight hardware for another major government flight program."
Aerojet Rocketdyne's Redmond Space Systems Business Unit is the world's leading supplier of Solar Electric Propulsion systems, with more than 500 SEP thrusters and in excess of 100 SEP power processors flown with 100 percent mission success. Aerojet Rocketdyne has successfully flown four different types of SEP products.
The GOES-R SEP thrusters are commonly referred to as arcjet thrusters. Arcjet thrusters use the electric power generated by the spacecraft's solar arrays to generate and sustain an electric arc inside a hydrazine rocket engine, boosting the performance of the engine by a factor of 3.
The arcjet thrusters enable launch of the GOES-R satellite on an Atlas V 541, resulting in substantial launch cost savings over an all-chemical propulsion approach.
The GOES-R series is a collaborative development and acquisition effort between the National Oceanic and Atmospheric Administration (NOAA) and NASA. The GOES-R satellite will provide continuous imagery and atmospheric measurements of Earth's Western Hemisphere and space weather monitoring, resulting in more timely and accurate weather forecasts. It will improve support for the detection and observations of meteorological phenomena and directly affect public safety, protection of property, and ultimately, economic health and development. The first launch of the GOES-R series satellite is scheduled for a late 2015 or early 2016 launch.
Aerojet Rocketdyne is an aerospace and defense provider of propulsion and energetics to the space, missile defense, strategic, tactical missile and armaments areas in support of domestic and international markets. GenCorp is a diversified company that provides innovative solutions that create value for its customers in the aerospace and defense, energy and real estate markets.