This is a big deal... perhaps one of the most important questions customers pose to their satellite providers surrounds whether or not your infrastructure investment is sufficient enough to handle rapid and exponential growth in big data requirements.
If your provider continuously manages and grows every facet of their infrastructure, from cables to antennas to servers to teleports, then they are one of the few who can answer "yes" to such an inquiry. However, today's "yes" is tomorrow's "no" unless the company continues to refine and upgrade their facility to remain well ahead of the curve— what's next is always bigger than what is, and what you think is coming is probably already here. That's the rule of big data.
In today's world, billions of devices are connected in real-time to millions of individual networks. The amount of global data and the platforms to manage it continue to grow and grow… and grow. That's because data is always valuable. Data is always moving, always flowing. Yet, data needs to be stored and must be available at any time, and at any point.
Simultaneously, yesterday's complex proprietary systems—formerly the domain of large or well-funded enterprises—or managing, analyzing and transmitting data are now available to virtually all, virtually limitless in scope. So, it seems, are the requirements and investment for those that support and drive big data, those who deploy and manage the technology that make this all happen.
For satellite communication providers, remaining ahead of the curve means connecting the dots, seen and unseen, and investing in tomorrow's technology immediately. Today's protocols may completely transform within the span of a year. Therefore, adapting to technology and making investments to upgrade teleports is critical to meeting the demand of big data. While these investments can be enormous, they are necessary to service customers.
The investment checklist for satellite communications providers includes critical areas such as:
Specialization
Is your provider able to leverage emerging and/or advanced platforms for data delivery? For example, consider the extended C-band Insat for satellite operators. Such requires unique equipment far above the normal cost and is configured on an extended band to provide the teleport with far less interference than the crowded lower bands, where everyone currently resides. The business implications and the dramatic differentiation aren't difficult to comprehend. Those that provide or access this specialized service gain an advantage over those that don't—it's all driven by the increasing volume of big data, and the value of incremental control (with corresponding reductions in interference and traffic) in moving and storing big data when and where required.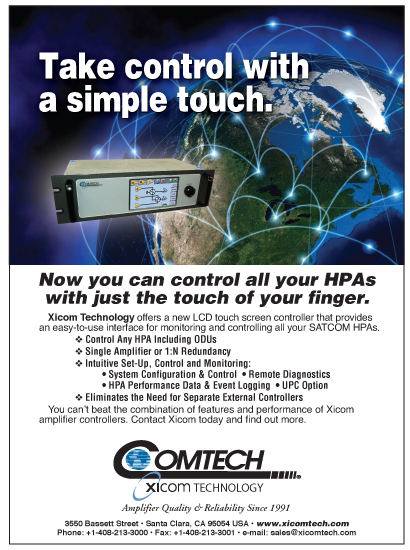 Redundancy
Is your provider able to achieve all-encompassing redundancy, including every aspect from incoming feeds through teleport delivery? 2N redundancy should be achieved for each aspect of service, including electrical feeders, converters, power distribution, UPS (uninterrupted power supply), environmental controls (e.g., air conditioning within control and data centers) and cooling towers. Big data doesn't tolerate bottlenecks or breakdowns.
Scope
Is your provider deployed across the globe? Do their transport capabilities permit point-specific transfer and delivery within remote regions? The goal is to achieve maximum or optimal coverage with the least amount of high-performance antenna and satellite equipment. Doing so reduces the volume of control and maintenance, while allowing operations staff to focus and isolate efforts on a few key pieces, rather than many. Big data is everywhere and should be accessible at any point, when required, with optimal efficiency and delivery.
Cost Control
Is your provider effective at leveraging technology to minimize or reduce cost of service? For teleport providers, one particularly expensive area of business is satellite capacity. A small number of providers (including EMC) work to identify and develop platforms that drive reductions in bandwidth, thereby reducing the burden and associated costs of satellite usage. These cost control initiatives are popular within the industry and among customers and prospects. Bandwidth cancellation appliances, such as EMC's NRS, are saving MHz for dozens of satellite links. As big data continues to grow, research and development that leads to more efficient and less burdensome means of transporting data will be of ever-increasing importance.
Connectivity
Does your provider's capability extend to fiber deployment? Leading teleport providers invest in optimal connection with fiber optic POP (Point Of Presence) rings to enable robust accessibility and performance for customers via the Internet. These rings typically provide superior POP connectivity for critical business functions (e.g., transactions, monitoring, continuity). Engaging and monitoring fiber optic requirements translates to superior big data delivery and service across the board.

Emerging Markets Communications (EMC) has made a significant investment to its teleport infrastructure in Raisting, Germany, to accommodate the growing data requirements of customers. Aside from the massive size of these teleports with antennas ranging from 11 to 32 meters in size, they are fully redundant and serve as disaster recovery for customers. EMC provides service from a semi-exclusive satellite band (extended band) that is less crowded than the traditional C-band, with far less interference. This strategic decision required an investment in the existing teleport infrastructure that included new fiber, up and down converters, and high powered amplifiers. EMC is dedicated to future-proofing its communications solutions to meet the trending requirements of customers.
About the author
Blake Mclane is the President of Emerging Markets Communications Corp (EMC), a global satellite and terrestrial communications company specializing in delivering mission-critical network services for the global energy industry, mobile network operators, carriers, governments, NGOs and worldwide enterprises with locations in the most remote and/or challenging areas of the world. Blake is responsible for continuing to drive global growth for EMC, particularly in the oil and gas industry, with a focus on maintaining strategic operational excellence and innovation for the company.
With more than 20 years of technology expertise, with a specialization in oil and gas, Blake's proven success in sales, marketing and operations within global, national, regional and start-up companies positions him as strategic leader for EMC. An early trendsetter in professional services, Blake is well known in the corporate community for excellence in service delivery and longstanding client relationships.
For more information, visit www.emc-corp.net.