Each spring, the Space Foundation's National Space Symposium is offered in conjunction with a separate Space Foundation cyber conference. Cyber 1.3 is a full-day event taking place on April 8th at The Broadmoor Hotel in Colorado Springs, Colorado, immediately preceding the opening ceremony of the 29th National Space Symposium.
Cyber 1.3 is for anyone with an interest in, or responsibility for, the cyber domain, whether government policymaker, industry executive or military cyber professional/practitioner at any level.
Secure online registration for both Cyber 1.3 and the Space Symposium is available online now at
www. NationalSpaceSymposium.org
. Plus, an early bird discount for the Space Symposium is in effect through March 15.
General Hyten is Cyber 1.3 Luncheon Speaker
Lieutenant General John E. Hyten, USAF, vice commander, Air Force Space Command, will be the featured speaker at the Cyber 1.3 conference luncheon. As vice commander, Hyten assists the commander in organizing, equipping, training and maintaining mission-ready space and cyberspace forces and capabilities for North American Aerospace Defense Command, U.S. Strategic Command and the other functional and geographic combatant commands.
Cyber 1.3 Panel Discussions
Topics for discussion among leading cyber professionals at Cyber 1.3 will include...
• Cyber Pearl Harbor: Who-What-How?
• Collateral Damage in Cyber Operations
• Digital Natives and Their Solutions
• Humans Wanted? Humans Needed? The Future of Cyber
• Joint Cyber Operations with Friends and Allies
The Cyber 1.3 registration fee includes:
• A networking breakfast, co-sponsored by Booz Allen Hamilton
• Featured speaker Major General Suzanne Vautrinot, USAF, commander, 24th Air Force, and commander, Air Force Network Operations
• The Cyber 1.3 luncheon, featuring Lieutenant General John E. Hyten, USAF, vice commander, Air Force Space Command
• A closing networking reception, co-sponsored by General Dynamics Advanced Information Systems

The rate for active military/government personnel is $395 for the one-day conference. The standard industry rate is $495, which can be combined with Space Symposium registration for additional savings. Register now for Cyber 1.3 at
www. NationalSpaceSymposium.org
.
International Participation @ Space Symposium
The Space Symposium will be held April 8th through the 11th at The Broadmoor Hotel and is expected to bring together more than 9,000 international participants from all sectors of the global space spectrum to address opportunities and issues. Some of the Space Symposium's key speakers and panelists will include: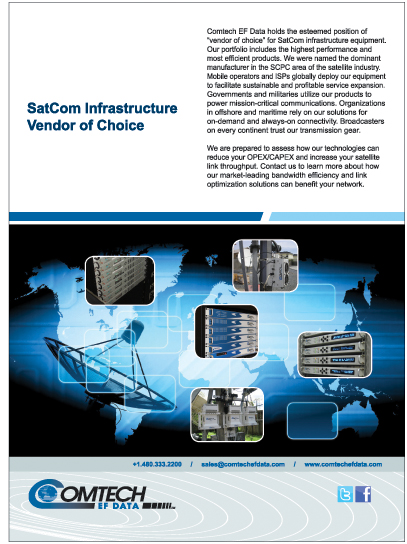 • Andrea Jaime Albalat, executive director, Space Generation Advisory Council
• Wanda M. Austin, Ph.D., president, The Aerospace Corp.
• Craig R. Barrett, Ph.D., retired CEO/chairman of the board, Intel Corporation
• Romain Bausch, president & CEO, SES
• Charles F. Bolden, Jr., administrator, NASA
• Yannick d'Escatha, president, Centre National d'Études Spatiales (CNES)
• Lieutenant General David A Deptula, USAF, Ret., president, The Deptula Group
• Jean-Jacques Dordain, director general, The European Space Agency (ESA)
• General Howell Estes, III, USAF, Ret., president, Howell Estes & Associates, Inc.
• Admiral Mark P. Fitzgerald, USN, Ret., president, Aragosto Global, LLC
• Lori B. Garver, deputy administrator, NASA
• Samer Halawi, chief executive officer, Thuraya
• Lieutenant General Susan J. Helms, USAF, commander, 14th Air Force (Air Forces Strategic) Air Force Space Command, and commander, Joint Functional Component Command for Space
• Kiyoshi Higuchi, vice president, Japan Aerospace Exploration Agency (JAXA)
• Yasushi Horikawa, Ph.D., chairman, United Nations Committee on the Peaceful Uses of Outer Space
• Susan J. Irwin, president, Euroconsult USA
• Jean-Yves Le Gall, chairman & CEO, Arianespace
• Gilles Leclerc, Acting President, Canadian Space Agency
• Gerrit Nieuwpoort, Ph.D., director, Netherlands Space Office (NSO)
• Luigi Pasquali, president and chief executive officer, Thales Alenia Space Italia
• Frank A. Rose, deputy assistant secretary of state for Space and Defense Policy
• Kay N. Sears, president, Intelsat General
• General William L. Shelton, USAF, commander, Air Force Space Command
• Johann-Dietrich Worner, chairman, German Aerospace Center (DLR)
General Kehler is Corporate Partnership Dinner Speaker
General C. Robert Kehler, USAF, commander, U.S. Strategic Command, is this year's featured speaker at the Space Symposium Corporate Partnership Dinner, sponsored by Raytheon. The dinner will be held April 9th at The Broadmoor Hotel.
As commander, U.S. Strategic Command, Kehler is responsible for the plans and operations for all U.S. forces conducting strategic deterrence and Department of Defense space and cyberspace operations. Previously, he served as commander, Air Force Space Command, based at Peterson AFB, Colorado.
A key event at the annual Space Symposium, the Corporate Partnership Dinner recognizes the organizations that support Space Foundation programs. Admission to the dinner is included with military/government registration, and is an extra purchase for industry attendees. Seating is limited and the event tends to sell out early.
Reserve Dinner Tickets Now
Register for the Space Symposium and reserve dinner tickets now at
www.NationalSpaceSymposium.org/register
.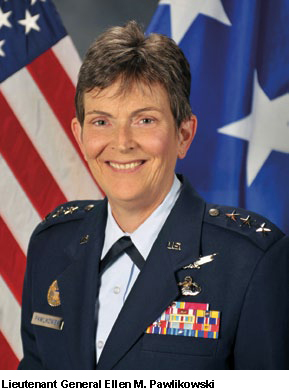 Gen. Pawlikowski is Acquisition Luncheon Speaker
Lieutenant General Ellen M. Pawlikowski, USAF, commander, Space and Missile Systems Center, Air Force Space Command, will discuss the importance of space to national security at the final luncheon of the Space Symposium. The Acquisition Luncheon will be held on Thursday, April 11th, at The Broadmoor Hotel, and is co-sponsored by United Launch Alliance.
Pawlikowski was the featured speaker at last year's Acquisition Luncheon and she will continue her message for this year's attendees, addressing budget reductions and priorities in the current global space environment. As the U.S. Air Force program executive officer for space, Pawlikowski manages research, design, development, acquisition and sustainment of satellites and the associated command and control systems.
Luncheon Tickets
The Acquisition Luncheon fills quickly, so early registration for the Space Symposium and advance meal ticket selection is encouraged—additional meal tickets may also be purchased.
See details about Space Symposium registration and meal selection at
www.NationalSpaceSymposium. org/register
, which includes a live chat tab for customer service questions.